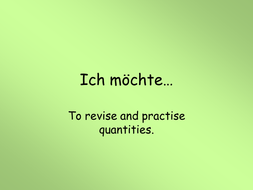 Quantities
Powerpoint for market quantities.
Read more
About this resource
Info
Created: Oct 8, 2009
Updated: Aug 19, 2015
This resource is designed for US teachers. View UK version .
Other resources by this author
powerpoint to practise past tense
swifty81
handoutand powerpoint. Song to tune of "she'll be coming round the mountain"
swifty81
<p>Introduction to directions/places in town. Spanish. Initial introduction done by flashcards.</p>
swifty81
Popular paid resources
Powerpoint introducing various ways of greeting people in German and how to answer the question 'wie geht's?'. Includes listening exercise.
CrookedSteeple
Lesson introducing rooms in the house, including a guessing-game for the starter, a match-up, a reading activity, battleships for speaking practice...
hasslethehog
Powerpoint introducing sports in German including lots of activities such as points games and matching exercises.
CrookedSteeple
New resources
Exam-style article and gap fill on whether modern technology is a blessing or a curse - could be followed by the AQA oral card (June 2011 I think?)...
leptir109
Updated resources
Print on cardstock, 1 set per 3-4 students. Set has 51 pictures of food and drinks and the word in German. Use to play Concentration, Slap, Old Mai...
jer520
Gabriele Münter quotes, on her painting art & life with the Blaue Reiter-artists in Munich and Murnau - free art-resource for pupils, students,...
Matrozenhof
German Expressionism, described in quotes of the involved Expressionist artists + art images - free art-resource for pupils, students, teachers Quo...
Matrozenhof