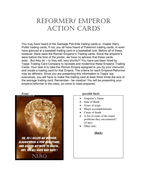 Rome: Reformer/ Emperor Action Cards
Rome: Reformer/ Emperor Action Cards

You may have heard of the Garbage Pail Kids trading cards or maybe Harry Potter trading cards, If not, you all have heard of Pokemon trading cards, or even have glanced at a baseball trading card or a basketball one. Before all of these, however, there were the Roman Emperor's Trading cards. Since the emperor's were before the time of the printer, we have no witness that these cards exist…But they do – or they will, very shortly!!! You have just been hired by Topps Trading Card Company to recreate and modernize these Emperor Trading Cards. Your task is to take the Roman Empire assigned to you by your instructor, and create a trading card for that Empire. The criteria for each Emperor/Reformer may be different. Since you are presenting this information to Topps' top executives, you will have to make this trading card at least three times the size of the average trading card. Remember-- be creative! You will be presenting your emperor/reformer to the class, so come to class prepared.
Read more
About this resource
Info
Created: Aug 25, 2016
Updated: Feb 22, 2018