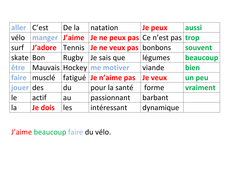 Sentence building group activity
You need to cut up the words to allow the students to build sentences by moving the words around. Good for kineasthetic learners. You can run a little competition with it.
About this resource
Info
Created: Feb 12, 2012
Updated: Aug 19, 2015
This resource is designed for US teachers. View UK version .
Other resources by this author
Bank of questions for oral exam with underlined question words and verbs in bold. Follows the IGCSE syllabus but can be adapted to other exam board...
iamw
The power point presentation takes your students through various steps to understanding how to ask questions with a question word and 'est-ce que'....
iamw
Slide show teaching how to build long sentences. Last slide is a board game to be printed and played in groups.
iamw
Popular paid resources
PowerPoint and accompanying workpack designed to encourage pupils to use a variety of complex structures in their spoken and written French. An ext...
maryjane1969
This is a lesson I produced for my Lower Sixth to introduce the subjunctive. There is a worksheet to accompany the presentation with a fairly compr...
maryjane1969
Print out the cards and laminate them. Pupils work in pairs or small groups and race against each other to form the perfect tense with the cards af...
maryjane1969
New resources
Quiz sur Noel : multiple choice exercise on the topic of Christmas
Zoe2007
Powerpoint slides and worksheets introducing and practising language to discuss helping marginalised people in society. There are links to five rel...
lucyday73
Quick printable to cut out, laminate and label: Rooms in a primary school Items in a classroom Raise the profile of French in your school by making...
naomifrench
Updated resources
Gap fill activity for learning and practicing the names for facial features in French. I have included a range of worksheets to suit varying abilit...
labellaroma
I did this with year 11 to prepare for the speaking exam. We looked at how to form questions, how to recognise questions and then we looked at the ...
sapetrie
A guide created for year 10 just starting their GCSE to help them pick the correct tense for writing/translation into French. Particularly to point...
sapetrie