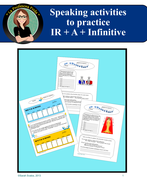 Spanish IR + A + Infinitive Communicative Activities
This packet contains 3 partner communicative activities to help your students practice IR + A + Infinitive.

1. Students talk about their plans for next week.
2. Students pretend to be a famous person planning a vacation.
3. Students plan their own vacation.
Read more