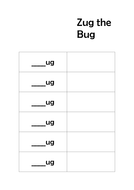 UG sound/create a word
Spin the spinner, use a whiteboard pen to add the onset sound to the rhyme on the base, read the word then match the correct picture. I made the backboard more interesting by drawing the main character (Zug) on the based board before laminnating.
Read more
This resource is designed for US teachers. View UK version .