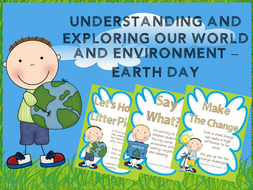 Understanding of the World and the Environment - Earth Day
A bundle of three fun resources that are great for developing understanding of the world and the environment. Includes two short resources and one in-depth unit of work.

Make the Change - an in-depth resource to develop research, presentation, project management and writing sills

Say What Definition Match - teaches key words including reuse, recycle, reduce in a fun definition match activity

Earth Day Litter Pick - a fun activity to get children thinking about the rubbish that's thrown away.
Read more