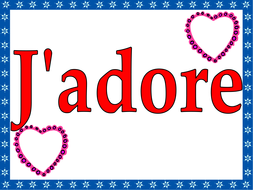 Wall displays
18 slides of language info to put up in your classroom including 2 slides of cultural pictures.
This resource is designed for US teachers. View UK version .
Other resources by this author
Levels 1-7. I actually found this on the TES (thank you) but it started at level 3. Levels 1 and 2 have been added and a brief header page to highl...
ddrishti
This is based on describing an actor/actress' character and is geared towards lower ability year 9.
ddrishti
This is an IWB lesson with starter, listening based on You Tube video and a paired oral activity. The You Tube video is linked to the picture on th...
ddrishti
Popular paid resources
PowerPoint and accompanying workpack designed to encourage pupils to use a variety of complex structures in their spoken and written French. An ext...
maryjane1969
Print out the cards and laminate them. Pupils work in pairs or small groups and race against each other to form the perfect tense with the cards af...
maryjane1969
This is a lesson I produced for my Lower Sixth to introduce the subjunctive. There is a worksheet to accompany the presentation with a fairly compr...
maryjane1969
New resources
Quiz sur Noel : multiple choice exercise on the topic of Christmas
Zoe2007
Powerpoint slides and worksheets introducing and practising language to discuss helping marginalised people in society. There are links to five rel...
lucyday73
Quick printable to cut out, laminate and label: Rooms in a primary school Items in a classroom Raise the profile of French in your school by making...
naomifrench
Updated resources
Chaim Soutine, in sourced quotes by the painter-artist on his painting art and artistic life in France source for pupils, students and teachers in ...
Matrozenhof
Joan Mitchell quotes, on her abstract painting art & artist life first in American Abstract-Expressionism, later in France for pupils, students...
Matrozenhof
Impressionism and its artists, short described and explained + art-images for pupils, students and teachers in art Impressionism was the first mode...
Matrozenhof