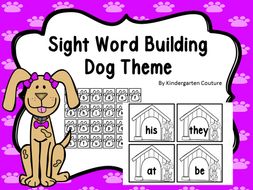 Word Building (Sight Words) Dog Theme -Editable
Save Your Ink. This center is in black and white only. You can copy on color paper if you choose. Here is a fun way to practice sight words with a dog theme. Students select a task card. Read the sight word on the dog house and build the word using dog print letter tiles or ones you already have. Next record the words built. A recording sheet with space for 12 words is provided. An editable page is provided so that you can type any words you are working on. Word cards would also be useful for flash cards, memory or other sight word games that you know. To use the editable page you must have PowerPoint on your computer, and you must be able to save your final product as a PDF.
Words included are from the Dolch first 50 not including on letter words.
Read more