Author on Tes: Exploring the link between the topic and the real world
English author Michael Ratcliffe, aka mratcliffe88, describes how finding the link between the topic and the real world can help create engaging classroom resources.
Tell us about your teaching experience.
I've now been teaching for seven years and it's become not only a career, but a passion. My roles have varied from classroom teacher, key stage 3 leader and key stage 5 leader to whole school literacy coordinator and union rep. These roles have aided my development in and out of the classroom. I've put myself into schools that have been graded outstanding and all the way to special measures. With this variety of experience, I've ensured that my behaviour management is outstanding and my lessons can challenge, differentiate, inspire and motivate, regardless of the setting.
How do you get students to engage with your resources?
My students engage because I'm lively and passionate about my subject. English can be a real struggle for some pupils, but I ensure that all lessons, no matter the topic, are relevant to them and their lives; this is the hook. In every lesson, I strive to ensure that all pupils are challenged through differentiation by offering tasks of different varieties, using questioning to raise the challenge and provide a positive atmosphere in which learning is a mixture of celebrating trying and challenging improvement.
When you're creating a resource, where do you start?
For me, personally, a quality resource needs to be bright, engaging and relevant to the pupil. Students say they study Shakespeare because they 'have' to, but why do they 'have' to? They should 'want' to! For example, my GCSE scheme of work for Macbeth offers over 50 resources, differentiated and challenging, ready to go! Language is also important at GCSE and A-level, preparing pupils for their exam. It inspired me to write this GCSE lesson and A- level scheme of work to help students plan for the writing section.
What is your tip for creating engaging resources?
Simply remember that if you find that link between the topic and their lives right now, you'll conquer engagement and guarantee a fantastic resource that all teachers and pupils can engage with. Go forth and teach!
Quick links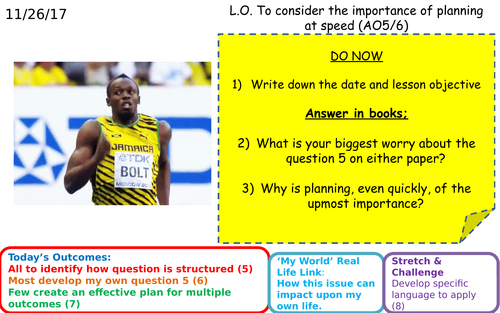 One of my all-time favourite lessons to teach!

This hour long lesson can be used with any GCSE group as it all about them, they pretty much create this revision lesson! This is used at the end of a unit on question 5 for paper 2 (19th/20th-21st century non fiction) and tests pupils on their knowledge of question 5.

It requires pupils to create and devise their own question, in the style of question 5. This tests pupils knowledge of how the structure is constructed (tone, form, audience). Following them creating their own question they then take part in a carousel activity of speed planning, rather than speed dating! They are given a set amount of time (that is up to you as the teacher) and need to recognise the PAF of the question (created by a pupil in the group) and create device examples they can use in their answer and a structural plan - when their time is us then they swap/move on to the next question.

This is about how pupils need to revise planning at speed, as they will in their exam, for a variety of different forms, audiences, and tones.

Pupils really enjoyed and was a useful revision tool once they had used in lesson!

Thanks for looking!
By
mratcliffe88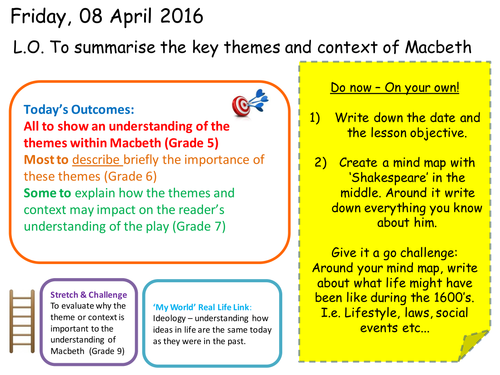 Designed for year 10 for hour long lessons. Opening lesson studies the key themes of Macbeth as a general introduction - also set the standard for the rules in the classroom as the first lesson of a new scheme. Will upload further lessons as and when created (usually weekly). Designed for the Edexcel 9-1 GCSE specification; therefore lessons will cover skills that are pretty much covered in every specification but AO's might be different - check your specification to make sure.

N.B. The PowerPoints change to blue backgrounds to ensure Dyslexia friendly; you can obviously change this if you wish!
By
mratcliffe88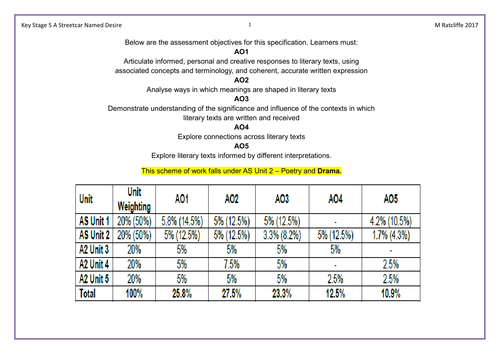 Written for the EDUQAS A Level English Literature exam, this scheme of work is a detailed, 12 week overview (one term) to assist you in the teaching of the play. It features a weekly overview and detailed, weekly tasks including ideas for More Able pupils and Support for weaker pupils. The assessment objectives are also mapped to each of the weeks and there is a, suggested, weekly task to consolidate learning. Many thanks for looking!
By
mratcliffe88