Back-to-school ideas for MFL teachers
Grammar displays, target language prompts and first lesson inspiration for teachers of French, Spanish and German
The start of the new academic year is a great opportunity to capitalise on students' energy and get them excited about languages. From setting out your routines and target language expectations, to refreshing knowledge of tenses, opinions and connectives, we've selected some of the best MFL resources to help you get your displays looking brand new and to make those first few lessons as engaging as possible.
French
Introduce the perfect tense using this clear-cut slideshow that includes both regular and irregular verbs. If you would rather dive into a more detailed presentation, try this two-lesson resource and get down to the nitty-gritty of Passé Composé. 
Looking to make your lessons more fun? Check out this murder mystery and this interactive board game to make learning grammar more engaging. 
German
Get learners acquainted with the perfect and imperfect tenses in German using a mneumonic from this thorough resource. If you prefer to introduce grammar in context, why not try these activities that urge students to use the perfect tense to talk about the weather?
Looking to make your lessons more fun? Check out this review game and choose from five translation activities. Alternatively, try out one of the games in this interactive presentation and ensure learners use das Perfekt across different contexts. 
An introduction to the formation and correct word order of the perfect tense in German.
This technique is one I created myself (based on my childhood pet!) which works brilliantly with a wide-range of ages and abilities, particularly in ensuring that perfect tense sentences have the correct word order.
This resource contains:
a memorable pnemonic to remember the word order of perfect tense sentences
explanations of how to form regular past participles
examples of irregular past participles
an explanation and examples of the time, manner, place rule
a review of what is meant by a 'subject' of a sentence
By
chrisferguson13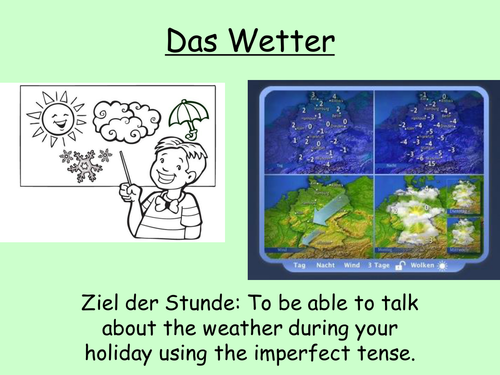 A Powerpoint to help pupils review previous vocabulary related to describing the weather in German plus introduction to saying the weather in various past tenses (imperfect and perfect tense). Plus, a short worksheet to help pupils identify the differences between the three tenses. Not intended to take up an entire lesson, feel free to add whatever suits you.
By
mllemaki
This is a fast paced activity reviewing the perfect tense conjugation of German verbs. There are over 100 slides and five games to play. Slides give the English and pupils have ten seconds to find the German translation. The presentation is easily adaptable and can be used either as a whole lesson or as several short activities within a lesson. You can come back to it as often as you like. It helps pupils to perfect their translation of verbs in preparation for exams and helps boost confidence when speaking.
By
Maryjane Bennett
Spanish
Benefit from the discovery-learning tasks in this introductory presentation and familiarize your class with the perfect tenses in Spanish. To show how the tense is used in context, take a look at this bundle and help pupils improve their grammar as well as reading comprehension skills.  
Looking to make your lessons more fun? Check out these battleship games for a quick or a lengthy review of el pretérito perfecto compuesto.