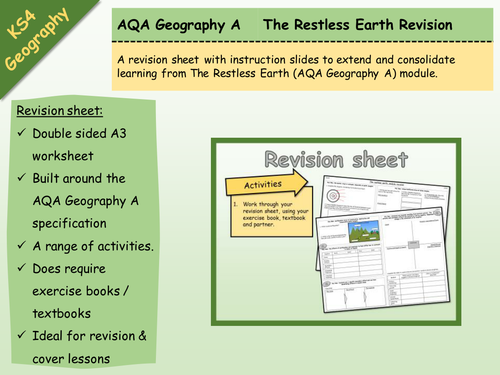 Double sided A3 revision sheet built around the AQA Geography A Restless Earth module. The sheet is structured around the Key Ideas, and has a range of activities. Essentially, they're just populating the sheet as a revision tool Does require exercise books / internet / textbooks. Ideal as module revision, exam revision or lesson cover.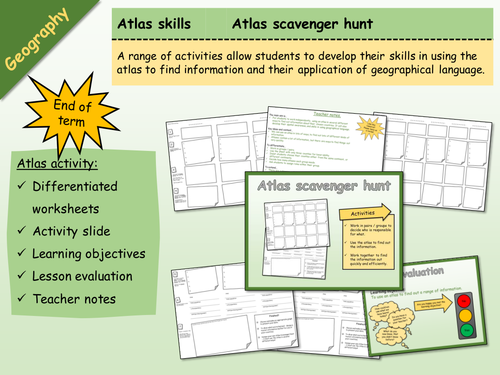 Whole lesson with instructions and teacher notes. Ideal for end of term. The main aim is… For students to work independently, using an atlas in several different ways to find out information about their chosen countries. It will also develop their spatial awareness, and skills in using geographical language. Key ideas and content… We can use an atlas in lots of ways, to find out lots of different kinds of information. Atlases contain a lot of information, but there are ways to find things out very quickly. Print in A3 - double sided.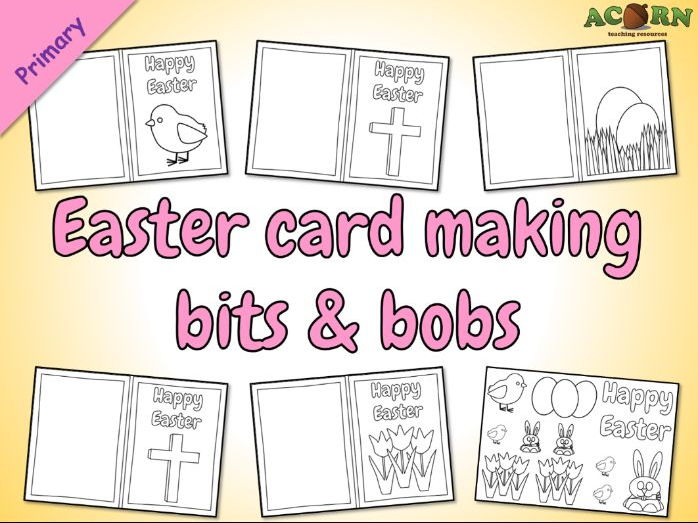 A selection of black & white outline card templates with an Easter theme. www.acornteachingresources.com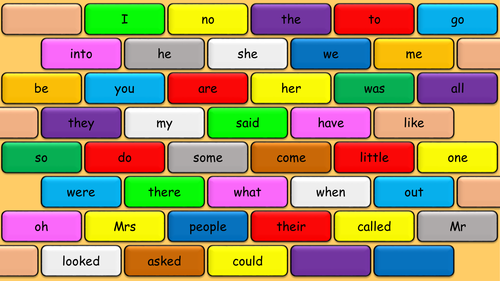 Complete set of tricky words on bricks, can be used as a word mat to support reading / writing in lessons, or used for display. One in colour, and the other in black and white - which could be used as a resource for children to colour in the words they can read / spell.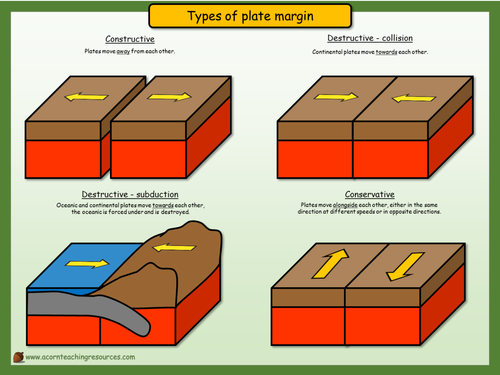 Print in A3 A simple wall display to show the direction of plate movement. www.acornteachingresources.com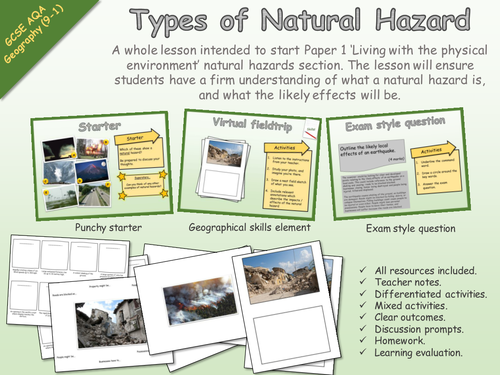 New 9-1 AQA Geography Living with the physical environment A whole lesson intended to start Paper 1 'Living with the physical environment' natural hazards section. The lesson will ensure students have a firm understanding of what a natural hazard is, and what the likely effects will be. All resources included. Teacher notes. Differentiated activities. Mixed activities. Clear outcomes. Discussion prompts. Homework. Learning evaluation.
Whole lesson / Revision - Geography - AQA Geography A - Water on the Land Long and cross profiles, erosion, transportation and deposition. A revision lesson looking at - key idea: the shape of river valleys changes as rivers flow downstream due to the dominance of different processes. Several activities which result in written work or annotated diagrams - perfect for revision! Key points, diagrams and animations help explain / revisit learning. Whole lesson: Snappy starter > Key points explained > Animated diagrams > Transportation poster > Literacy activity > Diagrams > Teacher notes / lesson plan > Fully resourced and ready to go! All of our premium resources have received a 5/5* review as of 25th January 2017! www.acornteachingresources.com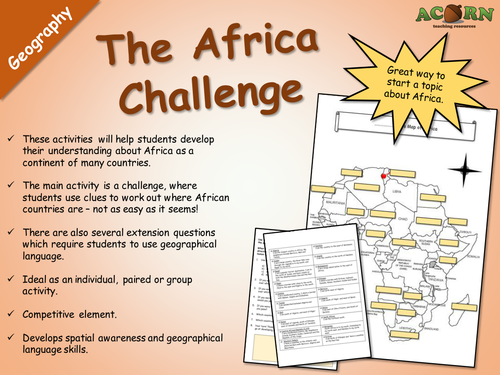 Ideal for KS3, but could be used with KS4. Introduce the continent of Africa and develop their spatial awareness of this massive continent. These activities will help students develop their understanding about Africa as a continent of many countries. The main activity is a challenge, where students use clues to work out where African countries are – not as easy as it seems! There are also several extension questions which require students to use geographical language. Ideal as an individual, paired or group activity. Competitive element. Develops spatial awareness and geographical language skills. As of the 16th February, all of our premium resources have received a 5/5* review.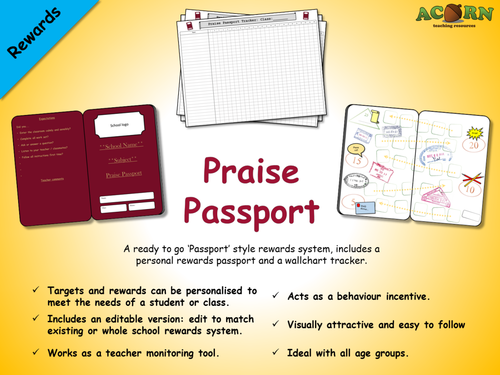 An attractive ready to go rewards system, ideal for classroom use. Included is the passport and a supporting wall chart. Targets and rewards can be personalised to meet the needs of a student or class. Includes an editable version: edit to match existing or whole school rewards system. Works as a teacher monitoring tool. Acts as a behaviour incentive. Visually attractive and easy to follow Ideal with all age groups. All reviews for our paid resources have received a 5/5 review (As of 17th January 2017)
Geography - Easter Atlas Skills (scavenger hunt activity sheet) A double sided worksheet intended to use with pairs and small groups - all they need is an Atlas or two. Teacher notes are included with some suggestions. Basically, they are required to use an Atlas in several ways to find out a range of information (some of which is linked to Easter). There are a few other activities on the sheet (such as design an Easter egg). Great for end of term activities, and will work with KS3 and KS4 students. All reviews for our premium products have been 5/5* (As of February 21st 2017).
Geography - Settlement Shapes (Whole lesson) A whole lesson with a range of differentiated activities aimed at teaching students the features of, and differences between; linear, nucleated and dispersed settlement shapes. Includes: snappy starter, animated explainers, key points, class discussion, differentiated activities, assessment opportunities, a homework task and lesson evaluation. All resources are included, along with a lesson plan and teacher notes. The main aim is… For students to learn the features of, and differences between linear, nucleated and dispersed settlement shapes. Key ideas and content… Nucleated, linear and dispersed are all settlement shapes. Settlements grow in different shapes for different reasons. Nucleated settlements will grow around a feature. Linear settlements will grow along a feature. To differentiate… There is differentiation in the lesson. Provide the essential words for the summary activity. Students could work on the photo analysis together. To extend… Use the superstar activities. Get the maps out / photocopy and cut out to pick out actual settlement shapes. To assess… The photo analysis and the summary activity allow progress to be demonstrated and assessed. The homework could also be assessed. All reviews for our premium products have been 5/5* (As of 21st February 2017)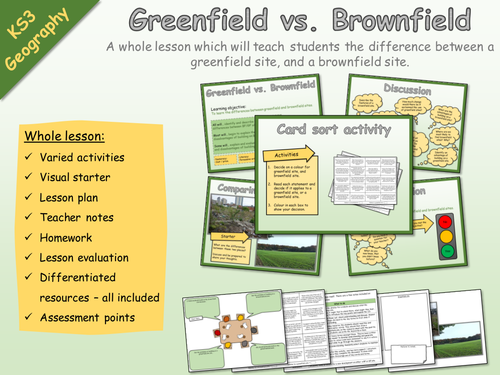 KS3 Geography - Settlement - Brownfield and greenfield sites A whole lesson which will teach students the difference between a greenfield site, and a brownfield site. Whole lesson: Varied activities Visual starter Lesson plan Teacher notes Homework Lesson evaluation Differentiated resources – all included Assessment points
A double sided A3 revision sheet / A4 revision booklet with instruction slides to extend and consolidate learning from the Tourism (AQA Geography A) module. The end result is a concise revision tool. Double sided A3 worksheet or 5 page A4 booklet > Built around the AQA Geography A specification > A range of activities > Does require exercise books / textbooks > Ideal for revision & cover lessons The main aim is… To revise and extend learning from the module by working through a structured revision sheet. The sheet has been built around the outgoing AQA geography A specification. Key ideas and content… The whole module!! Tourism is a case study heavy module, so the revision material has ended up with a lot of tables to simplify the key ideas. To differentiate… Model examples and provide support. Break down into timed sections to allow progress checks. Students should be encouraged to draw links between sections. Next steps… I use this before the module exam. Use to practise answering some exam questions. www.acornteachingresources.com All reviews for our premium resources have been 5/5* (as of 4th March 2017)
Geography - AQA 1-9 - The Living World - Protecting Cold Environments (Whole lesson) A whole lesson (possibly a double with lower ability groups) which enables students to explore how the balance between economic development, and conservation, can be managed in cold environments. There are a range of differentiated activities which teach students the strategies they're requires to know. Culminating in students developing a mark scheme and answering a GCSE style exam question. Whole lesson > Key terms starter > Discussion prompts > Key ideas > Research activity > Exam style question with breakdown and structure > Class discussion > Learning evaluation > Summary activity > Homework > Lesson plan > Teacher notes > Fully resourced > Differentiated > The main aim is… To develop understanding of the issue between economic development and conservation. To discuss the balance of economic development, sustainable development and the need to protect wilderness areas. Key ideas and content… There are four strategies we need to know. There are advantages and disadvantages. Different people will have different opinions. To differentiate… See lesson plan, the notes in red are suggestions for lower ability groups. This lesson would certainly run over more than one session – for instance the exam style question work could be a lesson in itself with a lower ability group. To extend… See lesson plan, the notes in green are suggestions for higher ability groups. Introduce a research aspect to the main activity – students can research an example for each strategy. To assess… The summary activity can be assessed. The discussion points also provide assessment opportunities in lesson. All reviews for our premium products have been 5/5* (As of 26th February 201&) www.acornteachingresources.com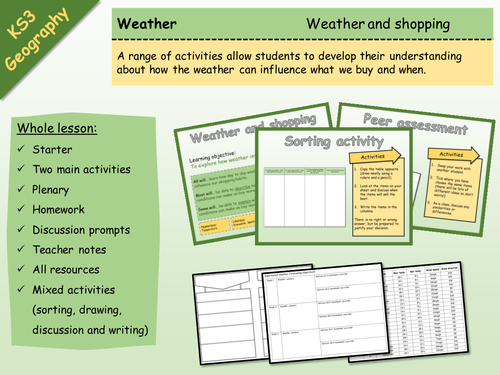 A range of activities allow students to develop their understanding about how the weather can influence what we buy and when. Whole lesson: Starter Two main activities Plenary Homework Discussion prompts Teacher notes All resources Mixed activities (sorting, drawing, discussion and writing)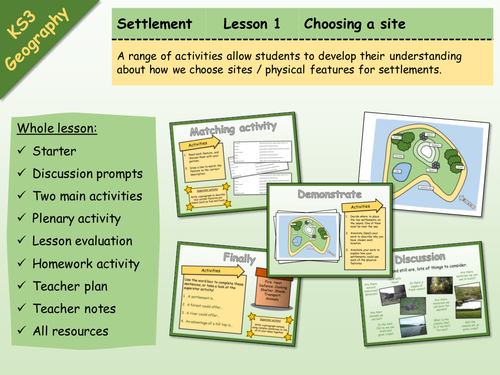 Whole lesson with all resources included. Learning objective: To learn why sites for settlements were chosen. A range of activities allow students to develop their understanding about how we choose sites / physical features for settlements. Whole lesson: Starter Discussion prompts Two main activities Plenary activity Lesson evaluation Homework activity Teacher plan Teacher notes All resources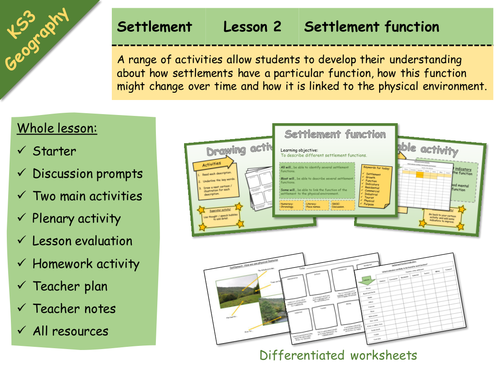 Whole lesson with all resources included. Learning objective: To describe different settlement functions. A range of activities allow students to develop their understanding about how settlements have a particular function, how this function might change over time and how it is linked to the physical environment. Whole lesson: Starter Discussion prompts Two main activities Plenary activity Lesson evaluation Homework activity Teacher plan Teacher notes All resources - differentiated worksheets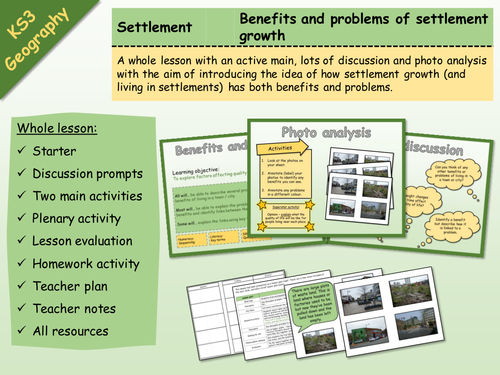 Whole lesson with all resources included. Learning objective: To explore factors affecting quality of life in large settlements. Whole lesson: Starter Discussion prompts Two main activities Plenary activity Lesson evaluation Homework activity Teacher plan Teacher notes All resources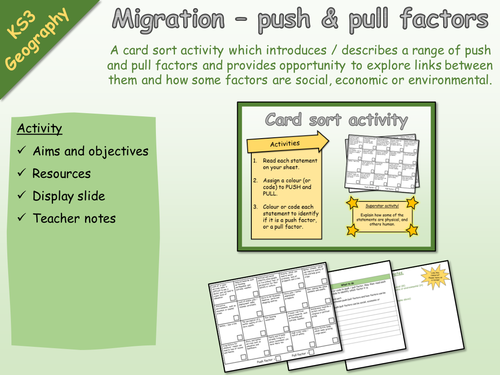 KS3 Geography - Activity - Migration - Push and pull factors A card sort activity which introduces / describes a range of push and pull factors and provides opportunity to explore links between them and how some factors are social, economic or environmental. Activity Aims and objectives Resources Display slide Teacher notes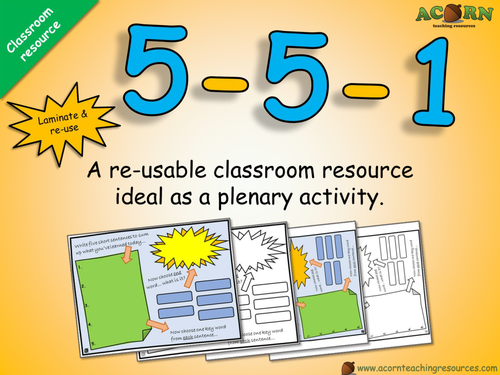 A re-usable classroom resource ideal as a plenary activity. There are larger versions intended to be printed in A3 and laminated, and smaller versions print and stick in books. Both in colour and black and white. www.acornteachingresources.com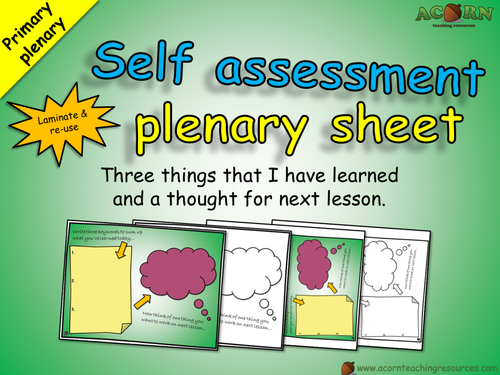 Three things that I have learned and a thought for next lesson. A re-usable classroom resource ideal as a plenary activity. There are larger versions intended to be printed in A3 and laminated, and smaller versions print and stick in books. Both in colour and black and white. www.acornteachingresources.com