80Uploads
33k+Views
10k+Downloads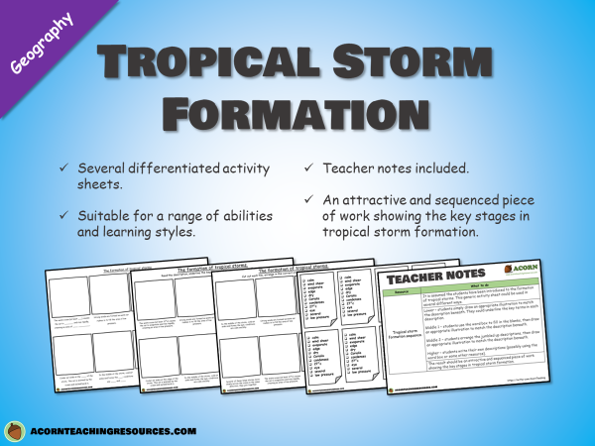 Several differentiated activity sheets. Suitable for a range of abilities and learning styles. Teacher notes included. An attractive and sequenced piece of work showing the key stages in tropical storm formation. This resource will help in the teaching of tropical storm formation at a range of ages and abilities.

These are intended to be viewed as the students see the room, so they're suitable to display on the screen / whiteboard. They're in a dyslexia friendly font and should be easy to edit to suit your requirements. Each table or group can be edited (colour etc.) for carousel / differentiation purposes. It's best to keep a master copy of the template you use and duplicate it as needed. To duplicate a slide, simply right click on it and click 'duplicate slide'. The final slide is a 'build you own' template. Drag and drop from the units provided, copy and paste where necessary to suit your own classroom layout. These are fully editable. If you have any comments then please let us know via Facebook, Twitter or e-mail.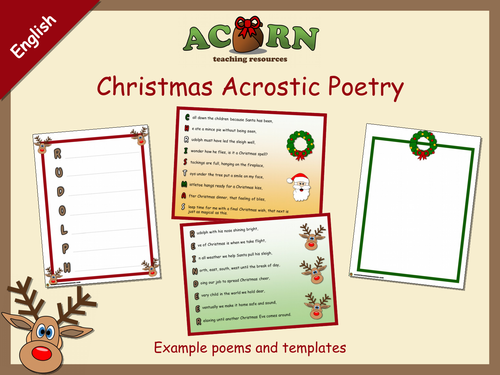 Christmas Acrostic Poetry Examples poems and templates. Great end of year activity.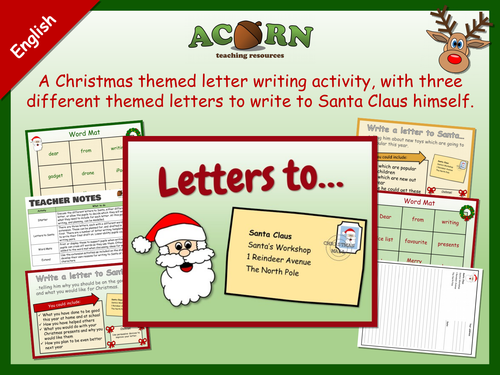 Letters to Santa - English lesson - Christmas writing activities A Christmas themed letter writing activity, with three different themed letters to write to Santa Claus himself. There are three letters, each with a different word mat and extension. There are a number of letter writing templates for the pupils to write their final draft on. Fully resourced, visually attractive and ready to teach. Ideal for fun end of term lessons / teach key skills from the curriculum.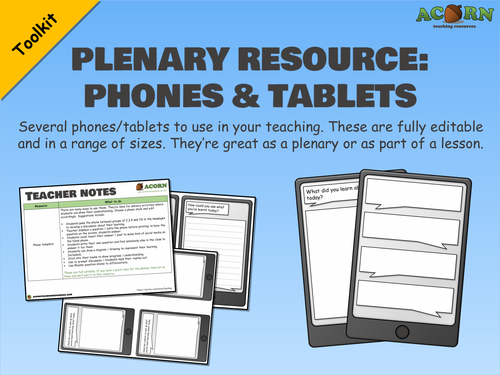 Several phones/tablets to use in your teaching. These are fully editable and in a range of sizes. They're great as a plenary or as part of a lesson. There are many ways to use these. They're ideal for plenary activities where students can show their understanding. Choose a phone style and edit accordingly. Suggestions include: Students pass the phone between groups of 2,3,4 and fill in the messages to develop a discussion about their learning. Teacher displays a question / edits the phone before printing to have the question on the screen, students answer. Students could tweet their answer / post to some kind of social media on the blank phone. Students write their own question and find somebody else in the class to answer it for them. Students can draw a diagram / drawing to represent their learning (included). Stick into their books to show progress / understanding. Use to prompt discussion / students read their replies out. Use Blooms question stems to differentiate. These are full editable. If you have a great idea for the phones then let us know and we'll add it to this resource.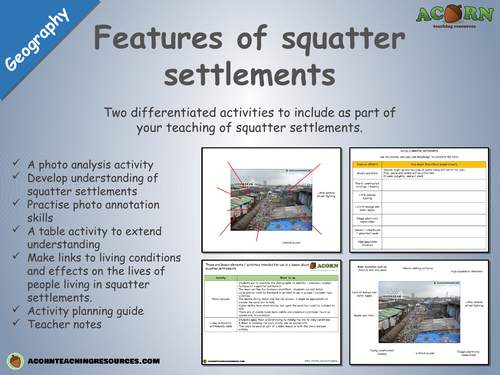 Two differentiated activities to include as part of your teaching of squatter settlements. A photo analysis activity Develop understanding of squatter settlements Practise photo annotation skills A table activity to extend understanding Make links to living conditions and effects on the lives of people living in squatter settlements. Activity planning guide Teacher notes

A whole Christmas themed lesson where pupils can practise their persuasive writing skills by applying for jobs at the North Pole. Great end of term literacy activity for a range of ages and abilities. Fully resourced and ready to teach with a range of visually attractive resources. Includes teacher notes and lesson plan.

- 11 Christmas themed newspaper templates with headlines and planning sheets - Includes a blank templates for students to create their own - Perfect for end of year Festive fun - Create a literacy link to any Christmas topic - Great display work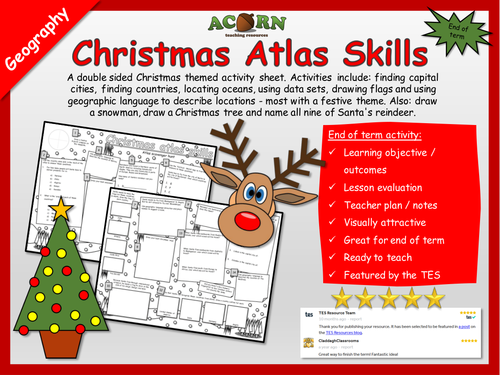 Fun and visually attractive, this Christmas themed atlas work sheet is great for end of term group activities. All you need is an atlas. A double sided Christmas themed activity sheet. Activities include: finding capital cities, finding countries, locating oceans, using data sets, drawing flags and using geographic language to describe locations - most with a festive theme. Also: draw a snowman, draw a Christmas tree and name all nine of Santa's reindeer. Included is a display slide with learning objectives and outcomes, an activity slide with instructions, teacher notes and a lesson plan. This resource was featured by the TES in their blog last year, and recieved a 5* review.

A range of activities with the aim of teaching students about the Saffir-Simpson hurricane wind scale. Visually attractive, differentiated and fully resourced for a range of abilities. Whole lesson: snappy starter, varied activities, key points, class discussion, assessment opportunities, a homework task and lesson evaluation. All resources included, along with lesson plan and teacher notes. This lesson has planned activities which show the teacher and the students their progress throughout.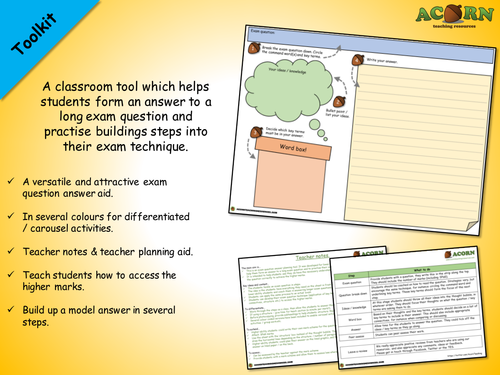 The main aim is… This is an exam question answer planning tool. It was developed for lower ability students; to help them form an answer to a long exam question and to practise their exam technique. It is intended to help students see they do have the necessary understanding, but also answer the question correctly to achieve the higher marks. Key ideas and content… The students tackle an exam question in steps. The idea is the students have everything they need on the sheet in front of them, to help focus lower ability students and coach them in answering longer exam questions. Students can apply the same process to an actual exam. Students can develop their exam question technique (application of key terms, use of connectives, structure etc.) to access the higher marks. To differentiate… Work through the steps as a class, then allow the students to answer the actual question. If using a structure – give time for teach section (a minute per mark?). Before photocopying, provide subheadings to help students structure their answer. Several colour coded versions have been included to enable carousel activities / differentiated activities / group work etc. To extend… Higher ability students could write their own mark scheme for the question on the back. Attach SPaG marks. Use the sheet with the 'structure' box instead of the thought bubble. The students will have to draw the horizontal lines depending on the structure / number of paragraphs. Higher ability students could plan their answer on the lined graphic, and then write their actual answer on lined paper / on the back. To assess… Can be assessed by the teacher against the mark scheme. Provide students with a mark scheme and allow them to assess/see where the marks come from.

Two activity sheets intended to be used as part of a lesson. The theme of the lesson should be along the lines of 'Life in a squatter settlement', and could be taught with KS3 or KS4 students. Resource 1: the effects on peoples lives The main aim is for students to appreciate how the conditions / characteristics of a squatter settlement affect people's lives. The task is for students to complete the sheet in a few different ways. There are nine problems / effects associated with living in a squatter settlement. For each effect, they must list the associated problems, and for several, also draw the problem. Ask the students the question – how would this affect your life if you lived there? There will be some repetition. There are three blank cards as well, these are intended for higher ability students, or for the teacher to edit so as to include a problem which may be appropriate to the theme of their teaching. Higher ability students can cut the cards out afterwards and glue them in their exercise books – this is an opportunity to identify links between the problems. There are several, and the whole activity is very open ended. Students could also sort their ideas into social, political and economic – they could use three different colours and a key to show this. There are some answers on the next sheet, although there are many more. Resource 2: the informal economy of a squatter settlement The main aim is for students to appreciate how people can earn money within a squatter settlement. The focus should be on how the work is informal and doesn't contribute to the tax base / official figures. This kind of work can be contained within a squatter settlement, but not necessarily so. This is an opportunity to draw a strong link to rural-urban migration; how the residents are often uneducated and unskilled, but wanting and needing to work. The task is simple, for each form of employment, the student must draw an appropriate illustration. Model for lower ability, ask higher ability to include speech bubbles, or some form of written communication. Use as an opportunity to clear up any misunderstanding about what each term means. All reviews for our paid resources have been 5/5* (as of March 19th 2017)

A double sided A3 revision sheet / A4 revision booklet with instruction slides to extend and consolidate learning from the Tourism (AQA Geography A) module. The end result is a concise revision tool. Double sided A3 worksheet or 5 page A4 booklet > Built around the AQA Geography A specification > A range of activities > Does require exercise books / textbooks > Ideal for revision & cover lessons The main aim is… To revise and extend learning from the module by working through a structured revision sheet. The sheet has been built around the outgoing AQA geography A specification. Key ideas and content… The whole module!! Tourism is a case study heavy module, so the revision material has ended up with a lot of tables to simplify the key ideas. To differentiate… Model examples and provide support. Break down into timed sections to allow progress checks. Students should be encouraged to draw links between sections. Next steps… I use this before the module exam. Use to practise answering some exam questions. www.acornteachingresources.com All reviews for our premium resources have been 5/5* (as of 4th March 2017)

An introduction to the subject – whole lesson. There are a range of activities which will show progress and develop vocabulary throughout the lesson. The main aim is… An introduction to the subject of geography. To appreciate there are lots of topics within geography. Key ideas and content… Place is the main theme, and ties the subject together. We study both the natural and the man made. There are links and connections between the different topic areas. To differentiate… See lesson plan – red for lower and green for higher. The acrostics could be used instead of the literacy activity. Students could add to the word box as a pair or table. To extend… See lesson plan. Students could research other topic areas and create their own activity. This is intended as an introductory lesson – other activities could easily be included to further develop understanding. To assess… Use the literacy activity. www.acornteachingresource.com All reviews for our premium resources have been 5/5* (as of 3rd March 2017)

Show and assess progress with these 'plenary pyramid' templates. Great as a lesson plenary, or a structure for peer assessment. Includes a display slide. www.acornteachingresources.com

Geography - AQA 1-9 - The Living World - Protecting Cold Environments (Whole lesson) A whole lesson (possibly a double with lower ability groups) which enables students to explore how the balance between economic development, and conservation, can be managed in cold environments. There are a range of differentiated activities which teach students the strategies they're requires to know. Culminating in students developing a mark scheme and answering a GCSE style exam question. Whole lesson > Key terms starter > Discussion prompts > Key ideas > Research activity > Exam style question with breakdown and structure > Class discussion > Learning evaluation > Summary activity > Homework > Lesson plan > Teacher notes > Fully resourced > Differentiated > The main aim is… To develop understanding of the issue between economic development and conservation. To discuss the balance of economic development, sustainable development and the need to protect wilderness areas. Key ideas and content… There are four strategies we need to know. There are advantages and disadvantages. Different people will have different opinions. To differentiate… See lesson plan, the notes in red are suggestions for lower ability groups. This lesson would certainly run over more than one session – for instance the exam style question work could be a lesson in itself with a lower ability group. To extend… See lesson plan, the notes in green are suggestions for higher ability groups. Introduce a research aspect to the main activity – students can research an example for each strategy. To assess… The summary activity can be assessed. The discussion points also provide assessment opportunities in lesson. All reviews for our premium products have been 5/5* (As of 26th February 201&) www.acornteachingresources.com

Our Easter themed bundle includes a range of our resources, great for end of term activities. There is a literacy theme, but also a few resources to jazz up the classroom. Easter acrostic poems: examples and templates Easter bunting: print / colour and hang up! Easter card making bits & bobs Easter egg design: templates and design proposals Easter news article activity: newspaper templates and example headlines Spring Senses Poetry: a whole lesson with a range of differentiated activities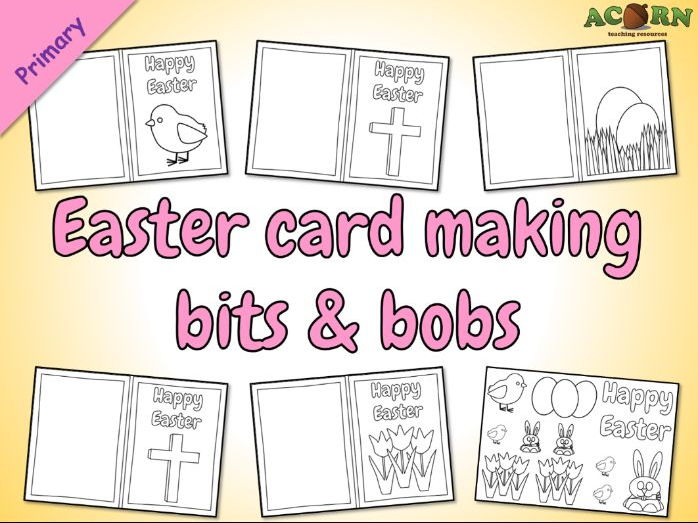 A selection of black & white outline card templates with an Easter theme. www.acornteachingresources.com

Diamond 9 templates - great as part of an activity where students need to rank, prioritise or make decisions.