BioInspired's Shop
FE Biology teacher sharing resources I have made for my own lessons.
29Uploads
6k+Views
4k+Downloads
FE Biology teacher sharing resources I have made for my own lessons.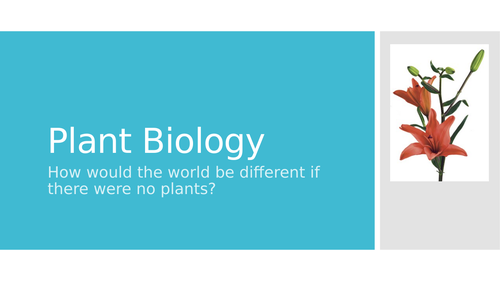 Created for a low-attaining year 7 class but could be used across KS2-3. This resource is a whole lesson, consisting of a worksheet and accompanying powerpoint presentation. There are 8 tasks designed to help pupils develop their understanding of the anatomy of flowering plants, including labelling diagrams, filling in the blanks, a hands on flower dissection, creative task and plenary questions. To deliver this lesson you will need to provide flowers such as lillies or daffodils and print the worksheet.

Get hands on with science at home! Make your own skittle rainbow using resources you most likely already have at home, or you can easily purchase from a supermarket. A fun activity that most primary and secondary students can engage with (ideally suited to KS2/KS3). Includes a list of resources, easy to follow method, scientific description of how it works, things to think about and questions to answer. Please comment if you have any questions or feedback.

Whole lesson about binary fission using the learning loop approach. Created for AQA GCSE Biology, but could be adapted. Feel free to feedback if you use this resource :)

A science placemat to print in A3 and laminate. Stick a few down on tables or around the edge of the room so pupils can use them as a self-help resource. Includes naming common equipment, units, drawing graphs, designing experiment and other core skills for science at KS3/4. Placemat is in Word format so feel free to edit it in any way you wish to suit your classes needs. NOTE: check format before printing- format may be skewed if opening in different versions of word so check before printing, you may have to rearrange things slightly.

Powerpoint presentation for a lesson introducing the hormonal control of blood glucose concentration. Written for AQA A-level biology but easily adapted. Specification points covered: The factors that influence blood glucose concentration. The role of the liver in glycogenesis, glycogenolysis and gluconeogenesis. The action of insulin by: • attaching to receptors on the surfaces of target cells • controlling the uptake of glucose by regulating the inclusion of channel proteins in the surface membranes of target cells • activating enzymes involved in the conversion of glucose to glycogen. The action of glucagon by: • attaching to receptors on the surfaces of target cells • activating enzymes involved in the conversion of glycogen to glucose • activating enzymes involved in the conversion of glycerol and amino acids into glucose. Does not cover the role of adrenaline or the second messenger model.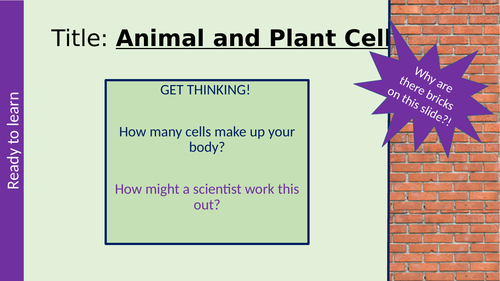 A complete lesson about plant and animal cells for AQA B1. Powerpoint Presentation with a series of activities and resources to print.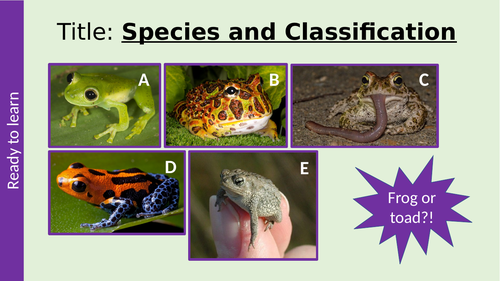 PowerPoint presentation on species, courtship behaviour and classification - used for AQA A Level Biology (2 hour lesson) but could be easily adapted. Topic 3.4.5 Specification points covered: Two organisms belong to the same species if they are able to produce fertile offspring. Courtship behaviour as a necessary precursor to successful mating. The role of courtship in species recognition. A phylogenetic classification system attempts to arrange species into groups based on their evolutionary origins and relationships. It uses a hierarchy in which smaller groups are placed within larger groups, with no overlap between groups. Each group is called a taxon (plural taxa). One hierarchy comprises the taxa: domain, kingdom, phylum, class, order, family, genus and species. Each species is universally identified by a binomial consisting of the name of its genus and species, eg, Homo sapiens.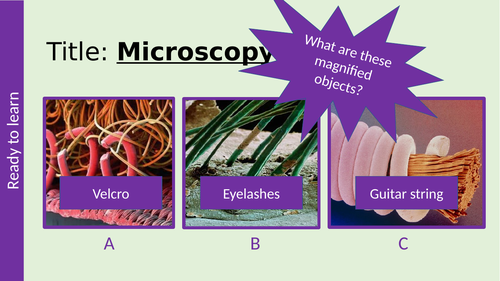 PowerPoint presentation on microscopy - using light microscopes and comparing light and electron microscopes for AQA GCSE Biology. Full lesson using the learning loop format. Learning Objectives:  Prepare slides of plant and animal cells and describe the procedure. Correctly use a microscope to observe cells under different magnifications. Describe the differences in magnification and resolution of light and electron microscopes. Explain how electron microscopy has increased understanding of organelles. Calculate the magnification of a light microscope. Carry out calculations using the formula: real size = image size/magnification Rearrange the equation to calculate image size or magnification. Convert values for the units: cm, mm, µm and nm.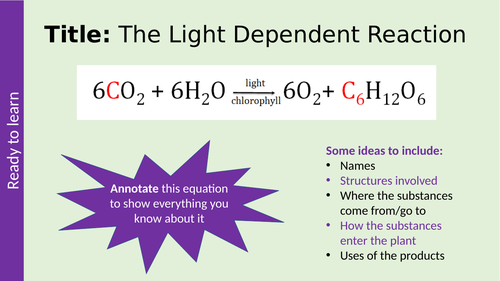 Powerpoint presentation on the light-dependent reaction of photosynthesis for AQA A-level Biology. Full lesson ('learning loop' style lesson) includes starter, objectives, summary content slides, practise question and mark scheme and evaluation. Covers specification points: The light-dependent reaction in such detail as to show that: • chlorophyll absorbs light, leading to photoionisation of chlorophyll • some of the energy from electrons released during photoionisation is conserved in the production of ATP and reduced NADP • the production of ATP involves electron transfer associated with the transfer of electrons down the electron transfer chain and passage of protons across chloroplast membranes and is catalysed by ATP synthase embedded in these membranes (chemiosomotic theory) • photolysis of water produces protons, electrons and oxygen.

Speak like a scientist display - science keywords and definitions

Created as a whole class activity for Biology Week (2018 but could easily be adapted). Students make giant organelles and assemble them into a giant cell. Very open activity, created for a nurture/SEN year 8 class but could be adapted for any KS3 science.

A collection of extracurricular competitions, books and events for A-level biology students. These opportunities could all be used to enhance students UCAS personal statements and explore their passion for biology outside of the classroom. Available as a powerpoint and pdf to share with students. Feel free to comment anything you think should be added!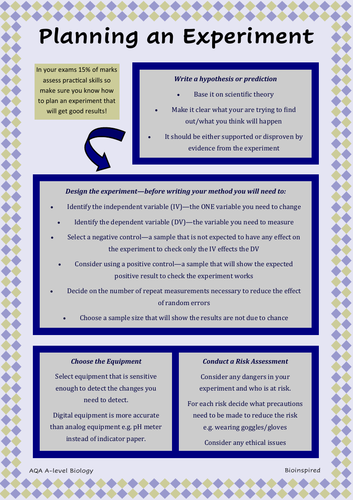 Worksheet for teaching planning experiments in Biology at A level and GCSE, designed to use with AQA.

Complete 2 hour lesson on interpreting phylogenetic trees and clarifying evolutionary relationships using DNA sequences, proteins amino acid sequences and immunological techniques. For AQA A level biology 3.4.5 Species and Taxonomy. Uses the 'learning loop' lesson format, with plenty of short practise tasks and exam questions. Could be easily adapted to suit a different lesson length.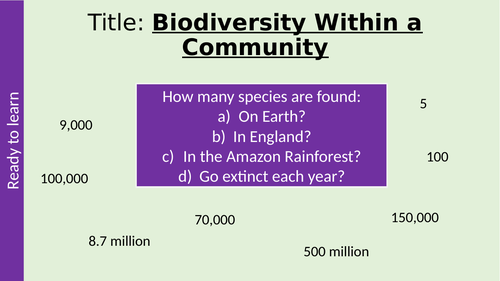 Complete PowerPoint presentation for a 2 hour lesson on biodiversity within communities for AQA A Level Biology. Includes calculating the index of diversity, impact of agriculture on biodiversity and conservation techniques. New content slides and accompanying activities in the 'learning loop' format. Covers specification points: Biodiversity can relate to a range of habitats, from a small local habitat to the Earth. Species richness is a measure of the number of different species in a community. An index of diversity describes the relationship between the number of species in a community and the number of individuals in each species. Calculation of an index of diversity (d) from the formula d = N (N − 1) /n (n − 1) where N = total number of organisms of all species and n = total number of organisms of each species. Farming techniques reduce biodiversity. The balance between conservation and farming.