Bluebell78's Shop
GCSE and A-Level Chemistry Resources, with some more general KS3 Science lessons, PowerPoints and worksheets.
78Uploads
552k+Views
338k+Downloads
GCSE and A-Level Chemistry Resources, with some more general KS3 Science lessons, PowerPoints and worksheets.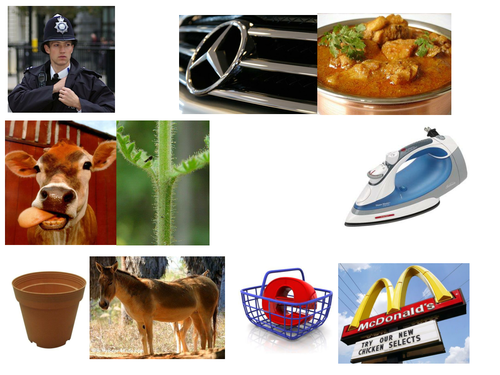 I usually get students to do this lesson after completing a practical investigation into metal properties. Answers to first slide: copper, mercury, tungstem/tungsten, (I know I cheated!) iron and potassium. Mind map to be copied into books. The Passport Control I get students to act out in pairs at the end of the lesson.I usually finish off by showing YouTube clips of exceptions to the rules, such as a cannon ball floating on mercury - a liquid, but still dense.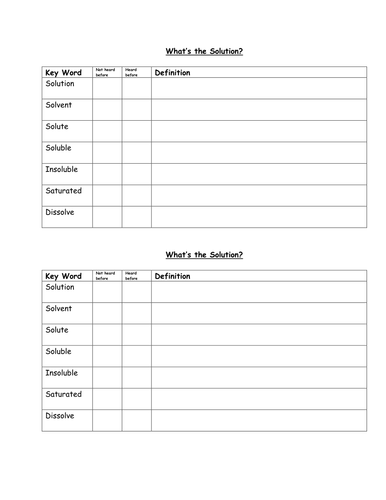 Selection of solutions resources. Including two ppts of core notes. Key words handout, HW handout and a couple of sheets relating to possible pracs and demos. Also a stepping stones frame work for students to use to plan a method for obtaining pure salt from rock salt. Beat the teacher is a simple wrap up - you read the script out loud, students put their hands up when they hear a mistake, but most importantly offer a correction.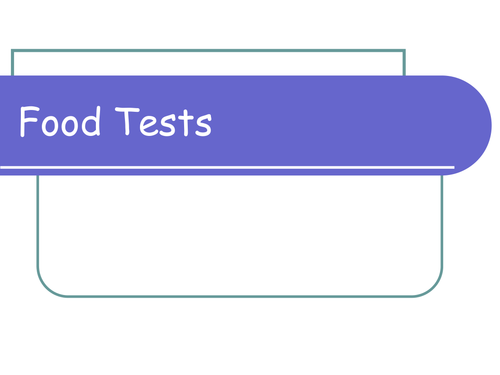 Simple Power Point which could be used as a wrap up after completing food tests or as a starter before students carry out food tests on different foods.

Simple worksheet used to introduce pyramids of numbers and biomass. Students will need three different coloured pencils or felt pens, a ruler and pencil to complete.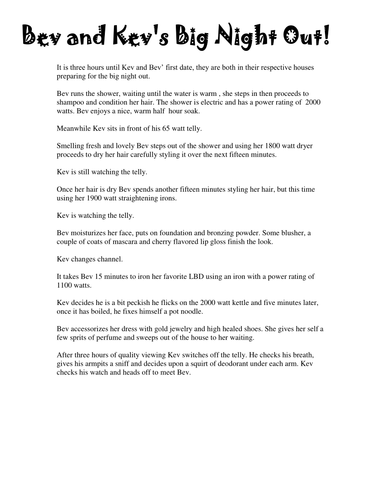 A script about Bev and Kev preparing for a their first date, to be read by the teacher and acted out by a pair of students. It is even more effective if you bring in props like a TV remote, hairdryer etc. The remainder of students in the class listen carefully to the story so that they can calculate the cost of preparing for a date, using the student worksheet. An education as to why it is only fair for a man to pay for dinner on a first date, if nothing else!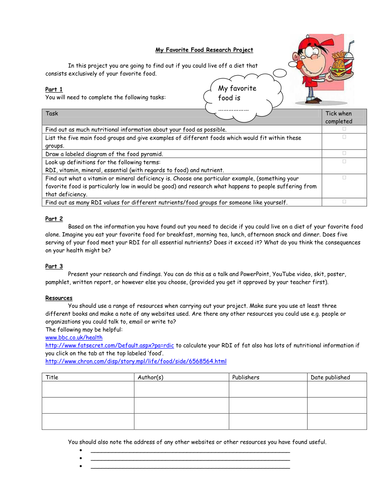 Research project where students learn by carrying out an inquiry as to whether they could live on their favorite food alone. Requires them to copy out a food pyramid, find out about different sources of nutrients and investigate deficiencies. Access to co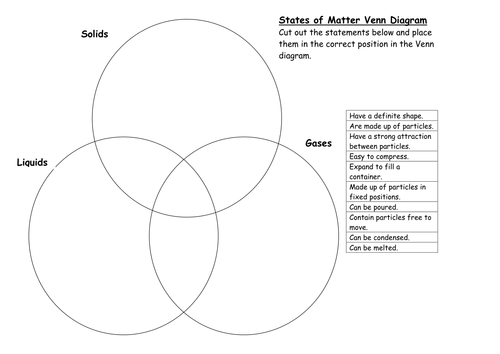 Simple Venn diagram worksheet. Students have to place the statements in the correct place on the Venn diagram. Another plenary I find works really well with this topic is to arrange pupils into groups of two or three and provide each group with a petri dish lid or base and a lump of plastacine. Get the students to make particles out of the plastacine, then arrange them in the petri dish as you would find them in solids, liquids etc. The nice thing about making the partcles in the petri dishes is that you can put them on the projector and get the rest of the class to assess them.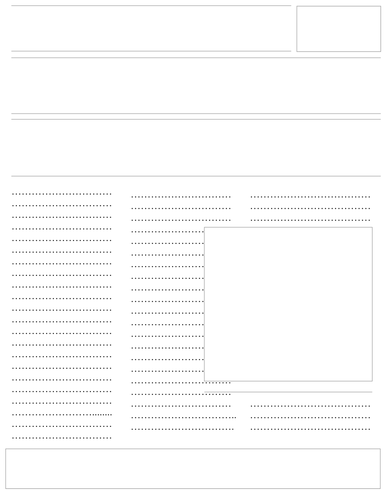 These are tasks aimed to accompany the awesome NASA Amazing Space website. www.amazing-space.stsci.edu. Print out one of the star witness articles of the class to read. Then get cracking with the tasks. You will find it useful to have copies of the Hubble Space Telescope downloadable PDF from the capture --> picture it, part of the website too.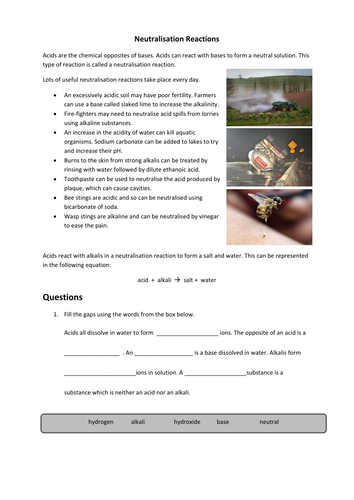 Worksheet about lots of useful neutralisation reactions. Could be set for homework or used for cover lesson.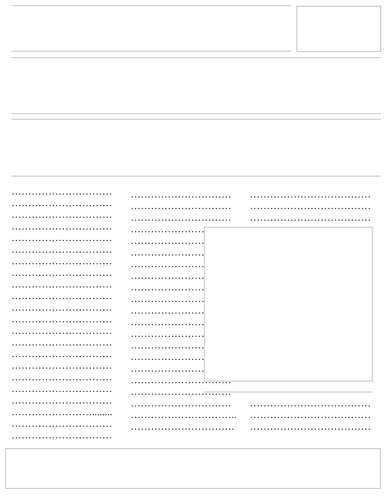 <p>Blank template students can use to create a newpaper front page.</p>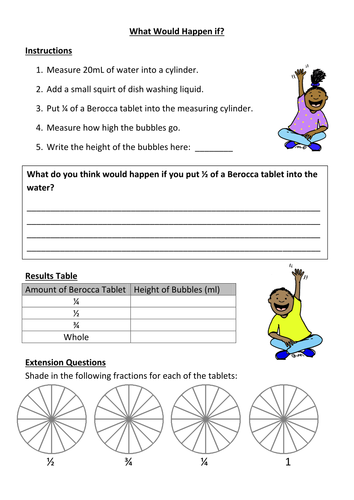 A simple experiement focused on helping students make a prediction. I provided each group with a bag of Berocca tablets already broken into quarters, so they had to work out how many ¼ s made a ½ etc. It is a good idea to do this in a tray as it may overflow – although usually it runs out of water first; which is another good talking point.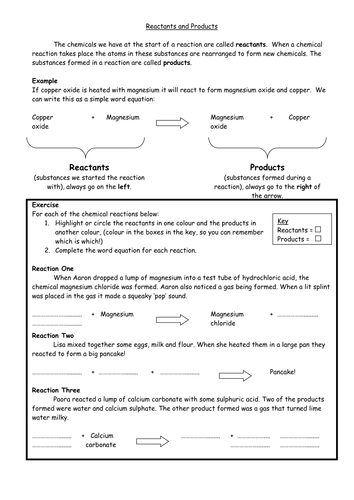 Simple Handout aimed at helping to introduce students to the terms reactants andproducts and to basic word equations.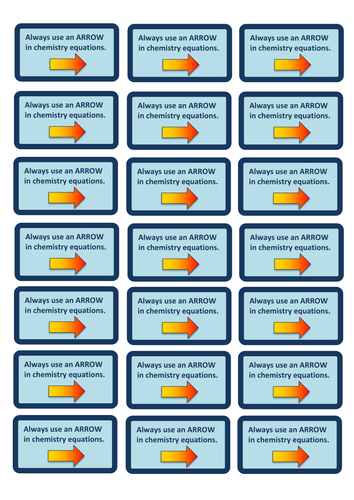 19 Different Marking Stickers! Made to help save time writing the same comments in every book, these also have a greater impact on pupil attention thanks to their bright colours and pictures. They also went down really well during a recent inspection! I have included both a PDF and Word version, (I use a Mac so there may be some reformatting of the later required on PC), so you can make alterations to better suit your classes. I've designed them with a large white boarder around the outside to help save printing 'faff'. To go on a 21 page of stickers (7 x 3). Comments include: Always use arrows in chemistry equations Cations are pussytive Fill the innermost shells first Mass number is the more MASSIVE number next to an element on the periodic table To work out the number of neutrons... Please let me know if there are any others you would like me to add.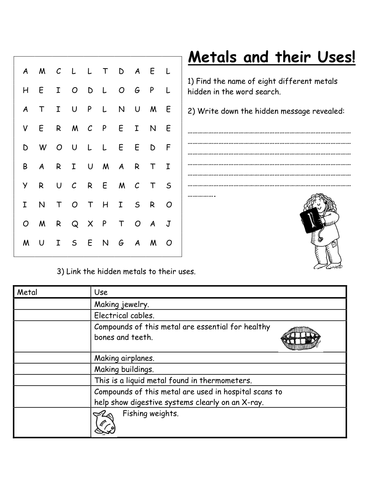 <p>Students have to find the name of different metals and then link them to the correct use.</p>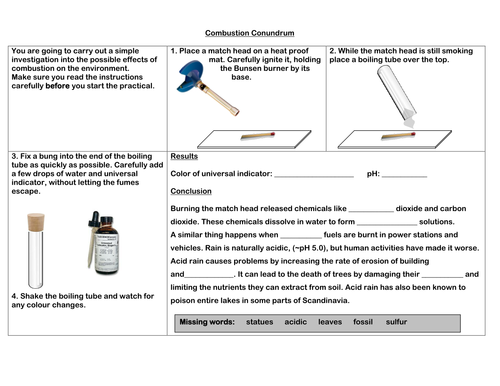 Handout with illustrated method and questions. A nice, effective practical to introduce acid rain.

A worksheet with instructions for the student version of the classic demo, with a few questions thrown in for good measure.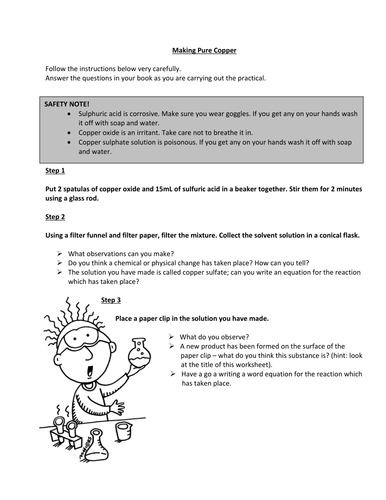 handout with practical instructions for making copper from copper oxide via copper sulfate. Also contains a few questions for students to answer. May be useful after studying displacement reactions, (no matter how well you have taught this some students will still say the orange material appearing on the paperclip is rust!) May also be used after introducing equations.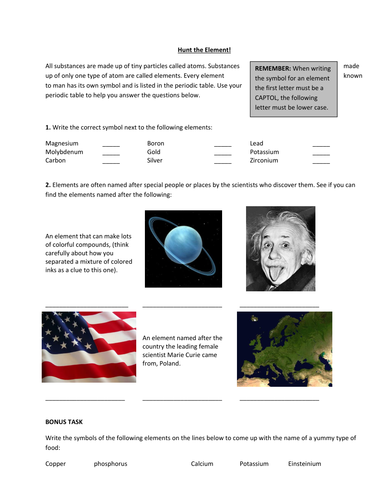 Simple handout to help students find their way around the periodic table. Students will need a copy of the periodic table with both the symbols and names of elements on.