Miss Jepson's Shop
Secondary science teacher with a specialism in chemistry. Head of Chemistry and Applied science BTEC.
52Uploads
60k+Views
94k+Downloads
Secondary science teacher with a specialism in chemistry. Head of Chemistry and Applied science BTEC.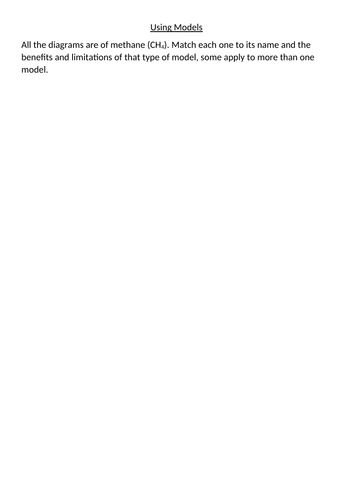 A set of lessons to complete the bonding unit I have here: https://www.tes.com/teaching-resource/resource-12542237 As I teach I will upload more resources. Lesson 1: Electron arrangement recap Lesson 2: Metallic and covalent bonding recap Lesson 3: Ionic bonding diagrams (w/s used found here: https://www.tes.com/teaching-resource/ionic-bonding-differentiated-ws-11071574) Lesson 4: Continued practice (w/s extension found here: https://www.tes.com/teaching-resource/working-out-ionic-formula-11984397) Lesson 5: Ionic properties including model uses (extra resources including card sort found here for free https://www.tes.com/teaching-resource/resource-12056725) Lesson 6: Reactivity of metals Lesson 7: Displacement reactions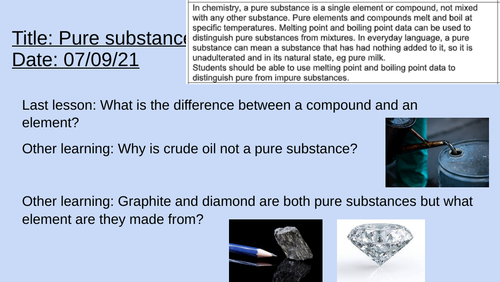 A full unit that covers the trilogy part of the AQA Chemical analysis unit (foundation and higher), this was taught to sets 1-3 so has some differentiation in the exam questions/tasks. I will edit this with every lesson that I make until the unit is complete. Lesson 1: Pure substances Lesson 2: Formulations Lesson 3: Chromatography introduction Lesson 4: Rf values Lesson 5: required practical Lesson 6: tests for gases Lesson 7: revision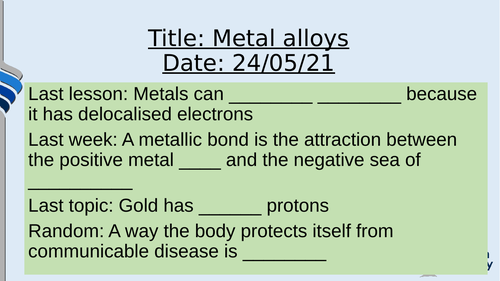 A unit that covers the first half of the bonding topic covering the following lessons (made for low ability): Lesson 1: Covalent bonding Lesson 2: Drawing covalent bonds Lesson 3: Small covalent molecules Lesson 4: Giant covalent molecules (fact find for students to complete) Lesson 5: Diamond vs Graphite Lesson 6: Fullerenes Lesson 7: Nanoparticles Lesson 8: Metals Lesson 9: Metallic bonds Lessond 10: Metallic bonding and properties of metals Lesson 11: Alloys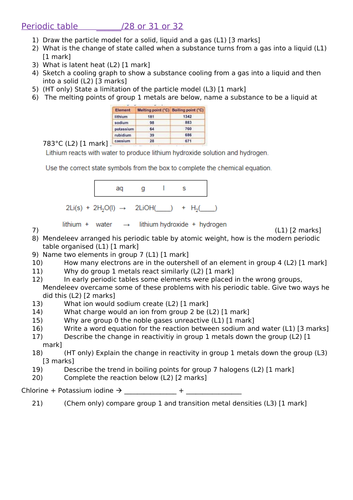 Atomic structure and the periodic table have been split into two units - this is the second half of the unit Lesson 1: Solids/liquids/gases Lesson 2: Changes of state Lesson 3: Graph state changes - linked to latent heat in physics Lesson 4: Patterns in the periodic table Lesson 5: Histroy of the periodic table Lesson 6: Group 1 Lesson 7: Metals and non-metals Lesson 8: Group 7 Lesson 9: Group 0 Also included: Glossary, answers, prior knowledge check, test and markscheme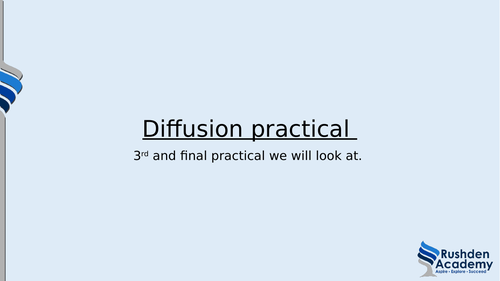 A set of lessons used to teach the unit 3 content for the exam about the diffusion practical. These have been taught in 2 hour sessions so may need breaking up if you have shorter lessons. Lesson 1 + 2 = Practical introduction (method evaluation focus) Lesson 3 + 4 = Practical Part A (practice with agar) Lesson 5 + 6 = Part B practice Lesson 7+ 8 = Part A + B in new format practice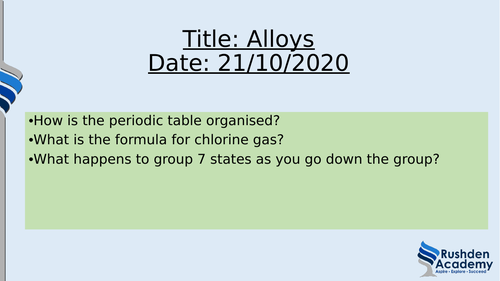 A set of lessons that can be used for triple and trilogy students (higher and foundation) for the unit of using resources. Reduse, reuse, recycle and corrosion powerpoints are not included as it is purchased from a seller.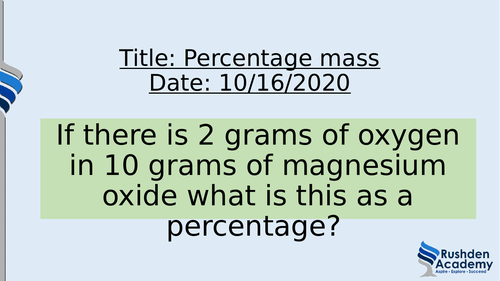 A complete unit for the atomic structure part of the 1st unit in Chemistry Contains: Lesson 1: Atoms, elements, compounds and mixtures lesson 2: conservation of mass and balancing Lesson 3: History of atomic models Lesson 4: Comparing models Lesson 5: Subatomic particles Lesson 6: Electron configuration Lesson 7: Modelling atoms using paper plates and counters Lesson 8: Drawing atoms Lesson 9: Size of atoms and isotopes Lesson 10: Relative atomic mass and isotopes Lesson 11: Relative formula mass Lesson 12: % composition mass - worksheet used in lesson found here: https://www.tes.com/teaching-resource/differentiated-worksheet-on-percentage-composition-by-mass-11538849 Also included: Student spec sheet Key word match up activity SLOP booklet + questions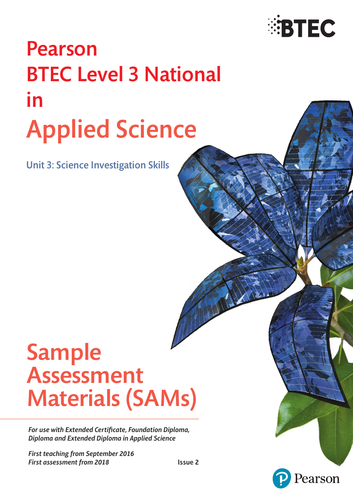 A set of lessons used to teach the unit 3 content for the exam about the fuels practical. These have been taught in 2 hour sessions so may need breaking up if you have shorter lessons. Lesson 1 + 2: Intro to the specification, combustion, word + symbol equations, pollutants from fuels Lesson 3 + 4: Moles, mole calcs, energy calculations, calories Lesson 5 + 6: practical trial (SAMS) + Modeling drawing tables and graphs from data Lesson 7 + 8: Write up of Part B (SAMS and 2017)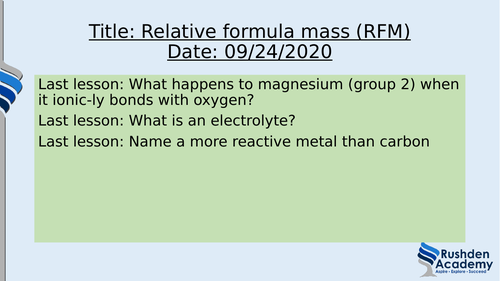 A unit of lessons and worksheets that have been used to cover all the foundation topics in the AQA trilogy quantitiative chemistry unit. I have taught these lessons with a bottom set who are very weak, so lots of going over concepts and revisiting and practice. Lessons: Relative formula mass Balancing equations (this spanned 2 hours) Conservation of mass Uncertainty RFM recap Concentration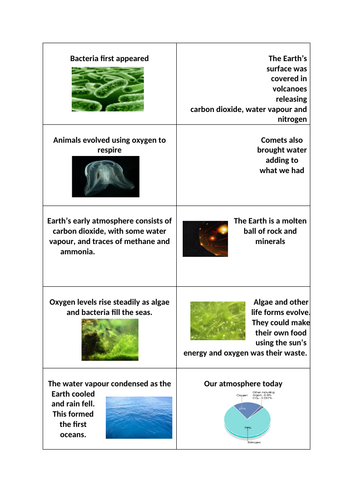 A unit that can be used for trilogy or triples. Early atmosphere (powerpoint and cut and stick) Atmosphere now (powerpoint, pie chart outlines, exam questions) How carbon dioxide decreased (powerpoint and match up activity) Combustion and pollution (powerpoint, use of whiteboards) Greenhouse gases, effect and carbon footprint (powerpoint) Revision lesson Also included: Specification sheet Key word match up and answers Broadsheet Exam questions Test and markscheme Optional timeline creating lesson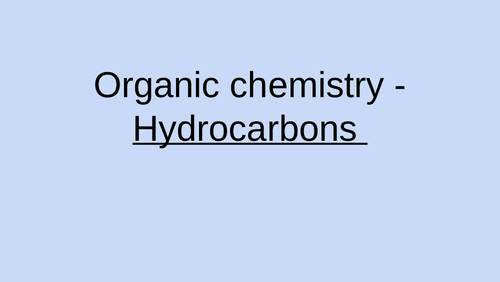 An entire unit of 6 x 1 hour lessons with worksheets used for the organic chemistry unit in GCSE AQA Chemistry. Triple content is included at the end of the lesson (if there is anything extra it is clearly signposted after a slide), this can be included/moved around in the lesson depending on the students being taught. There are also three extra lessons that cover purely triple content.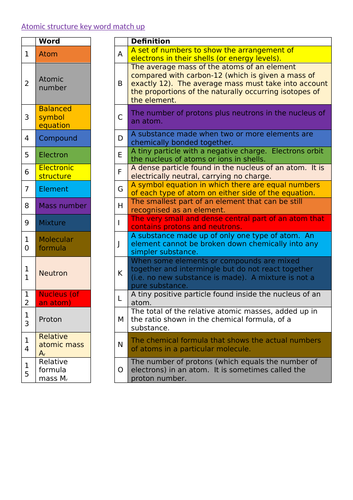 Glossary match-up activities and answers for students to complete for each unit. Units have been slightly changed, split up etc. I have uploaded in my shop (free) the specification of the altered units along with prior knowledge and common misconception checks.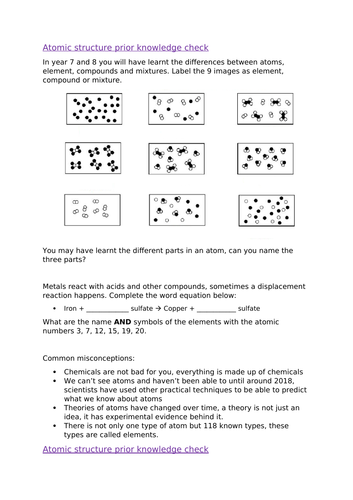 Prior knowledge and common misconception sheets for each of the units for GCSE AQA Chemistry. Units have been changed slightly, split up etc to aid in teaching, I have uploaded the specification sheets in my shop (free) to show what is taught in each unit.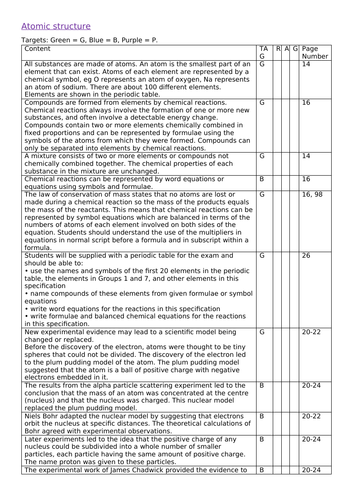 Sheets for GCSE Chemistry that have the specification in the order that we teach them. Orders from the original specification has been changed for easy of teaching and learning including moving some parts of the specification around, splitting up units and interleaving with other subjects such as physics.

A set of talked over powerpoints going through the organic chemistry unit. It includes exam questions/formats and long/short answer question walk through. Can be used as at home/online learning Used for AQA Trilogy and triple chemistry. Lesson 1: Crude oil and fractional distillation Lesson 2: Alkanes Lesson 3: Combustion + triple content of alkene combustion Lesson 4: Alkenes + triple content of reactions of alkenes Lesson 5: Cracking Lesson 6: Polymers Triple only lessons 1: Alcohols 2: Carboxylic acids 3: Addition and condensation polymers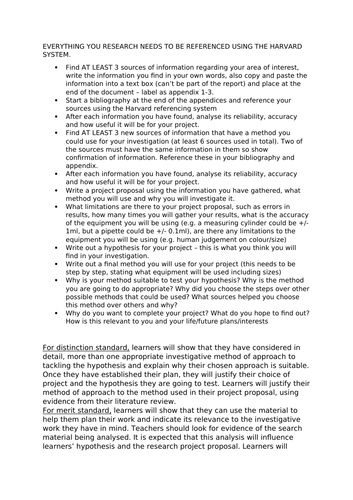 Help sheets to allow students to complete assignments with a bit more support. This unit is very individual but should allow all students to achieve distinction.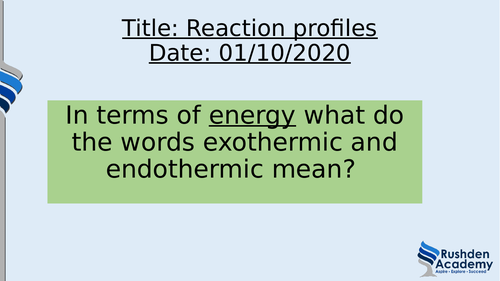 Can be used for KS3 or KS4 - really helped students understand moving the reactants and products on the axis. The cardsort needs to be cut out (I laminated a set of 15 that can be used again and again).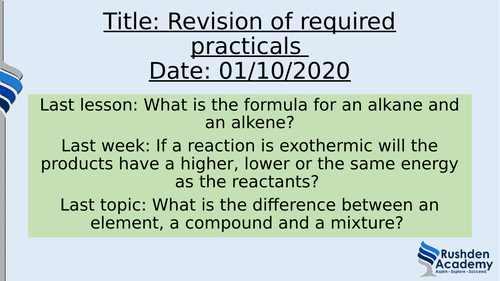 To help with the AQA required practicals and picking out some of the practical skills whilst being generalised to chemistry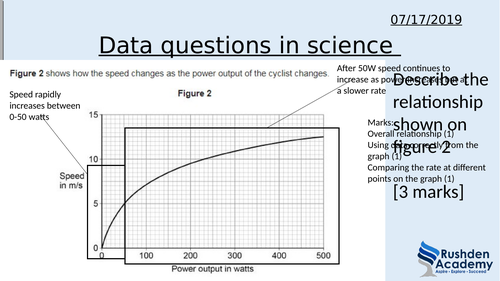 An intervention lesson based around data in science questions that students have struggled with. Lasts an hour. Questions taken from AQA spec and printed as a booklet.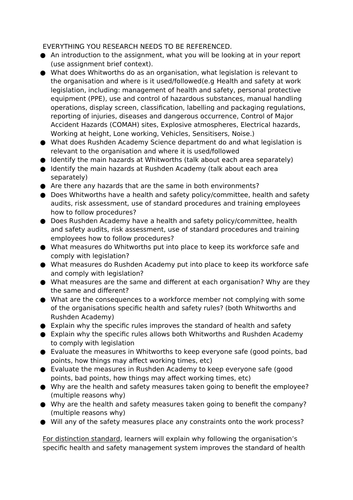 Help sheets created for students to help with assignments. I took students on a visit for assignment A and D to Whitworths food analysis lab and to Northampton General Hospital pathology lab. Edit assignments A and D for where you have taken the students on a visit.