FoodResourceCentre's Shop
DT Teacher. Food Degree. Teacher with over 15 years experience. Resources for Food and DT.
13Uploads
2k+Views
833Downloads
DT Teacher. Food Degree. Teacher with over 15 years experience. Resources for Food and DT.
Enzymic browning experiment - fully planned lesson with resources. Help your students understand enzymic browning through this experiment led lesson. It is fully resourced and planned. Students will find out about enzymic browning and then complete an experiment to support their work. An ideal lesson to get them prepared for NEA1. PowerPoint Worksheet Plans
Nutrition Exam and Mark Scheme - GCSE Food Preparation and Nutrition. This exam is for the nutrition part of the specification. It is set up to test student knowledge on nutrition. It follows the AQA specification with the first part of the exam multiple choice. This is followed by longer written style exam questions. Complete with mark scheme.
**Level 3 Food Science and Nutrition ** Unit 2 - AC 2.1 This PowerPoint resource looks at food intolerances as it prepares students for AC 2.1 of Unit 2. It includes lactose, wheat intolerance and chemicals in food.
Food Temperatures, Safety and Hygiene - Food A quick homework activity to plot the range of temperatures in the food industry. This includes freezer, fridge zone, danger zone, hot holding and cooked food. This is followed by two questions to check understanding. Answer sheet included.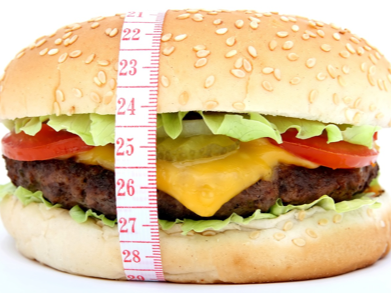 Diet Related Disease - Full lesson plan - Fully resourced - GCSE Food Preparation and Nutrition. PowerPoint, Resources and Lesson Plans. This lesson gets students to look at dietary related diseases. This includes cardiovascular, skeletal, anaemia and type 2 diabetes. Students look at what makes a healthy diet and then have to research each dietary related diseases. These gather sheets have been differentiated three ways to support learners meeting the learning objective. This resources is fully planned. It is following the AQA specification, however is suitable for any specification.
How to joint a chicken. A practical activity with supporting PowerPoint and A3 worksheet. This is a step by step guide to jointing a chicken. Teach your students a complex practical skill. Useful fro Key Stage Four and Key Stage Five.
Four lessons of Food Hygiene for GCSE food Preparation and nutrition. Includes practical, plans, PowerPoints and Homework. This is designed for AQA GCSE Food Preparation and Nutrition but can be used for any exam board. Four lessons (7 hours) of teaching, fully planned and resourced. Lesson 1 - Look at microorganisms and how they grow. looks at how food can be contaminated. Student activity of how to keep food safe during preparation. The practical is jointing a chicken to be used in a series of lessons later in this resource. A jointing chicken practical sheet is included. Homework is key temperature to keep food safe. Lesson 2 - looks at the principles of food safety in storage and cooking. The practical activity used the chicken breasts from the previous lesson to make a stuffed chicken breast. Lesson 3 - Looks at food safety in purchasing food. Lesson 4 - Concludes the four lesson series with defrosting and the remaining food principles. It looks at high risk foods. The practical is a roast chicken risotto. Exam practice is included. All lessons are resourced and planned with short term and medium term plans.
Chemical and Functional properties of protein. Gluten, Foam Formation, Denaturation and Coagulation. Fully resourced and planned four lesson series. Lesson 1 (2 hours) - Foam Formation and practical recipe of Swiss Roll. Student activity of storyboard on foam formation. Lesson 2 (2 hours) - Denaturation and Coagulation. Practical Task - Tandori Chicken. Theory on coagulation and denaturation. Lesson 3 (1 Hour) - Protein and Denaturation, Gluten Formation. Student activity to produce flash cards. Science Demonstration. Milk curdling. Lesson 4 (2 Hours) - Gluten. Practical Bread, Science Investigation = Gluten All lessons fully resourced and planned. Suitable for all exam boards but designed for AQA.
Raising agents, cake making methods, - Food science experiment work. This is a fully planned unit of work. It is aimed at upper KS3 students or lower KS4 students to help them prepare for GCSE Food Preparation and Nutrition. It contains lesson PowerPoint and lesson plans. This has been planned to take 12 hours of teaching. The first lesson looks at raising agents as a whole. The unit of work then looks at cake making methods and how the raising agents work in each. Lesson 1 - Introducing raising agents. This lesson looks at steam as a raising agent. Practical task is to make rough puff pastry (to freeze and use in lesson 2). There is also a Yorkshire pudding experiment that introduces students to a hypothesis, results and conclusion. Lesson 2 - Palmiers or sausage roll practical. Brief work on different types of pastry. Lesson 3 - Cake making methods - Function of ingredients in cake making methods. Student experiment work looks at how baking powder effects a small cake. This looks at making a fair test and recording results. Lesson 4 - Looking at rubbing in method and looking at chemical and mechanical raising agents. Lesson 5 - Whisking method - Practical is swiss roll. There is an examination questions and links to nutrition to compare a whisked and creamed cake. Lesson 6 - Victoria Sandwich cake and chemical raising agents. Full lesson plans and medium term plans included.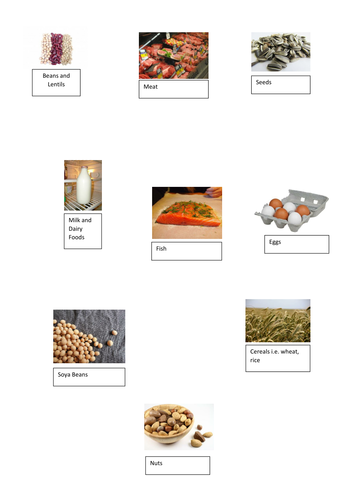 This is a protein unit of work for GCSE Food Preparation and Nutrition course. Originally taught on the AQA specification but will cross over to other exam boards . It is a 7 hour, fully resourced unit of work to include activities, practicals, teaching PowerPoint, Medium term plan and short term plans. Lesson 1 - 2 hours - Brief intro to FPN, healthy eating and then looks at Protein. Looks at functions and sources of protein and then high biological and low biological value proteins Lesson 2 - 1 hour - looking at protein DRV's and excess and deficiency. Lesson 3 - Practical - 2 hours - Meatballs> Theory looks at protein denaturing Lesson 4 - Fish Cakes - Practical - 2 Hours - Also looks at recapping knowledge.
Costing spreadsheet and student help guide. Get your students to calculate costings easily. All they need to do is fill in the correct information. It will then calculate the cost of each ingredient and total cost. Add the number of portions and it calculates the the cost per portion and selling price. Top tips: Add the price in pence without any domination signs. i.e £1.07 would be entered as 107 When entering weight or units purchased don't add the g or ml sign. The amount used in recipe and the amount bought column need to be the same domination i.e. needed 1 onion so bought 3 onions or needed 100g of onion and bought a 1000g.
**Controlled Assessment Tracker - Level 1/2 Hospitality and Catering ** This tracker will automatically calculate the students final grade once each AC grade has been entered. This is useful as the lowest grade is the grade the student gains for the entire piece. Simple to use with drop down lists. All you need to enter are the student details and target grade. Comes with instructions for use. You can add columns before target grade but please don't delete after target grade column as it will affect the tracker.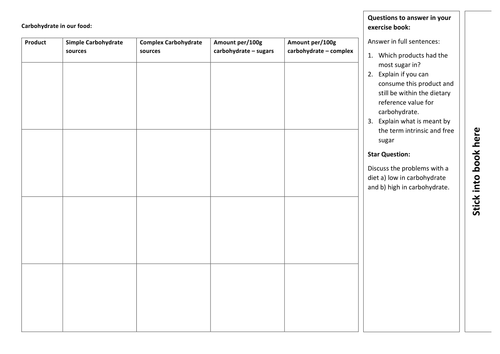 This resource is for a 5 hour unit of work looking at Energy, Carbohydrate and Fat. It contains teaching PowerPoint, Activities, Medium term plan and individual lesson plans. It was originally written for AQA GCSE Food Preparation and Nutrition but can be used by either exam boards. Lesson 1 (1 Hour) - Looking at carbohydrate and the function, sources, excess and deficiency. Includes activity to look at food labels and calculate carbohydrates. Lesson 2 (2 hour) - Fats - look at the chemical make-up of fat> Students then work on independent research looking into fat. Lesson 3 (2 hour) - Practical - Quiche - Theory looking at energy balance and body mass index .