Grefintec's Shop
Resources made by me and shared for free.
66Uploads
73k+Views
62k+Downloads
Resources made by me and shared for free.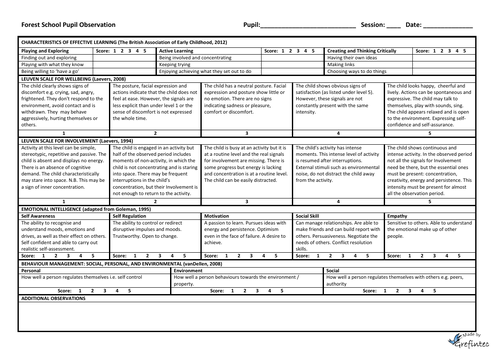 Created for the Forest School's Leadership Qualification (Level 3). Specifically for Unit 5: 2 – Be able to assess the impact of Forest School on participants. 2.1 – Observe 3 individuals and assess the impact of Forest School on their behaviour and learning References British Association of Early Childhood Education (BAECE) (2012) Early Years Foundation Stage. Development Matters. London: Early Education. Goleman, D. (1995). Emotional intelligence. Bantam Books, Inc. Laevers, F. (1994) The Leuven Involvement Scale for Young Children. Experiential Education Series, No 1. Leuven: Centre for Experiential Education. Laevers, F. (Ed.) (2008). Well-being and Involvement in Care Settings. A Process-oriented Self-evaluation Instrument (SiCs). Brussel: Kind & Gezin. VanDellen, M. R. (2008). Social, personal and environmental influences on self-control. [Online] Available at: https://dukespace.lib.duke.edu/dspace/bitstream/handle/10161/612/D_VanDellen_Michelle_a_200805.pdf?sequence=1&isAllowed=y (last accessed 05.01.2020).

A Learning Outcomes/Objectives Slide proforma which can be added to your own lesson PowerPoint to show pupils which outcomes/objectives aim to be achieved during the lesson. Differentiated using Bloom's taxonomy enabling you to clearly show lower and higher level outcomes/objectives. Just adapt to your own requirements by deleting the boxes that you do not need - an example is given with three outcomes. Just type in the outcomes into the colour coordinated text box. Keywords: Bloom's taxonomy, knowledge, comprehension, application, analysis, evaluation, synthesis, lesson outcomes, lesson objectives, higher level, lower level, differentiation.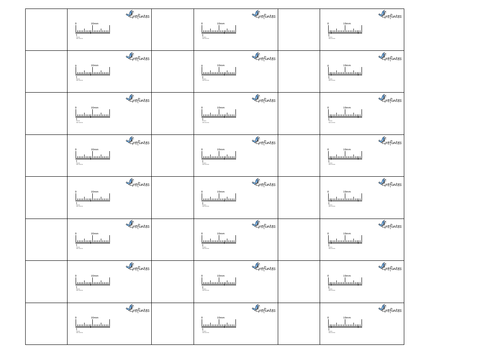 Whilst I do not claim that these are of the quality you would purchase from a science shop, they are certainly good enough for use in class. Obviously quality is also dependent upon your printer and please only print on printable OHP acetate film . If you use the incorrect type it can melt inside your printer and wreck it. Method Print out on printable transparency acetate film 24 micrometers per A4 sheet Cut out and use directly (no need to put on a slide) Each interval is 500um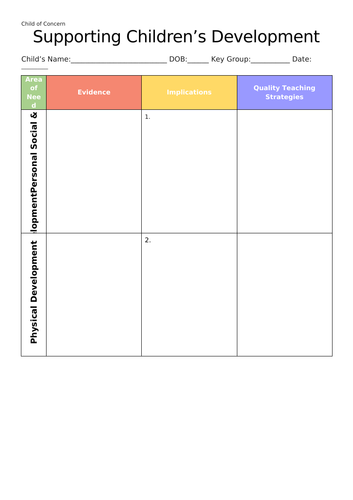 This is the form I created for use in my setting's 'Child of concern' meetings. It enables us to record why we are concerned, the potential implications and the quality teaching strategies we will use as a class team to support that child's development. Linked to the 3 prime areas of the EYFS.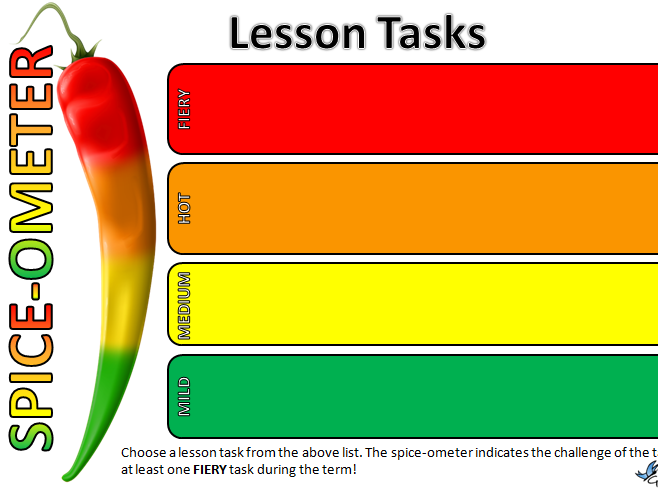 A whole school PowerPoint slide to present differentiated lesson tasks. This differentiated task sheet enables students to take ownership for their own learning. The resource has been created using PowerPoint, this means that text boxes can be inserted onto the challenge levels to describe the tasks. I suggest two or three choices of task per challenge level. The challenge levels are indicated by spiciness, the spicier the task, the more challenging it is. Keywords: whole school, lesson, task sheet, worksheet, class template, chili, differentiated

A set of dominoes to use as a plenary or as a revision resource. Students have to cut out the dominoes and then match up the questions with the answers. All are from the GCSE biology topic 'plant hormones'.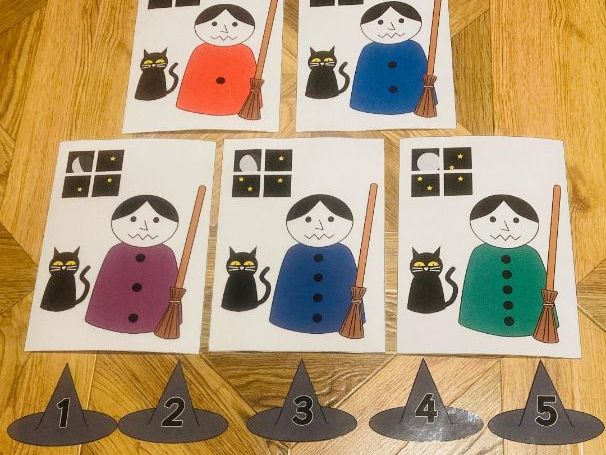 Explore numbers, developing an understanding that they represent quantities and use them to count, create sequences and describe order. Skill development supported by this resource include: Match numeral and quantity. Recognition of numerals 1-5. Make comparisons between quantities. Use some language of quantities, such as 'more' and 'a lot'. Develop subitising skills. Number order. Use some number names accurately in play.

Revision mat created for use with a unit delivered at my school entitled 'Materials and Everyday Chemistry'. It is a rather composite course including elements of 'How Science works' in addition to ks3 chemistry Material covered includes: Definitions, diffusion, hydrocarbon, pH, graphing and tabling skills, calculating percentage increase and decrease, fuel triangle, experimental accuracy and uncertainties.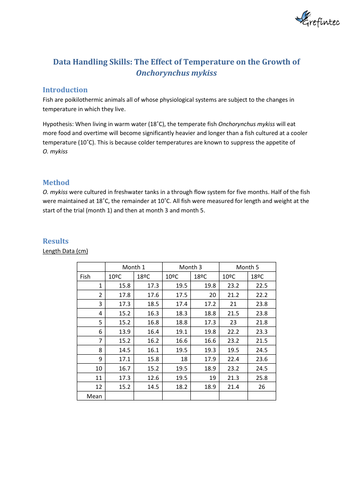 I have created this worksheet to support A-Levels students to plot data accurately, but could easily be used with GCSE students. I deliver it as part of a lesson, prior to them doing a practical where they are required to demonstrate this as a skill. The data looks at the effect of temperature on the growth of * Onchorynchus mykiss* (Rainbow trout).

An easy resource to learn and play with to develop early numeracy skills. Numbers whose height is proportional to their value. For example, two 'fives' are the height of one 'ten'. Can be used to develop understanding of size and amount as well as being a tool to develop understanding of number bonds. The figures also have dots on which are equivalent to their value, so support development of understanding of value and amount. Also helps to develop the skill of subitising. How to use: Print out (on plain or coloured paper/card) Cut around the rectangular shape Use like this - Can be used to create matching patterns, can be coloured in or drawn on. Alternatively laminate for longevity. When laminated can also be used as a wipe clean writing tool. Create challenges eg Can you choose numbers which when added together are the same height as the number 10?

Keywords linked to variation and classification. Developed for use with a Ks3 science class but could be used for GCSE. A great way to settle a class whilst consolidating learning of definitions linked to the topic.

Analogy for Competitive and Non- Competitive Enzyme Inhibition Rate Graph Situation: Preschool birthday party game of musical chairs. The preschoolers are the substrate, the chairs are the enzymes, dads are competitive inhibitors and siblings are non-competitive inhibitors. Competitive Inhibition Some of the parent's want to play. But the more parents there are the less likely the preschoolers are going to get a seat when the music stops. Eventually there will be a point when they are out competed for the seats because there are so many parents playing Non Competitive Inhibition The preschoolers have older siblings who are too cool to be at a party like this. When the music starts they run around pushing the chairs over so they can't be used in the game anymore. It doesn't matter how many preschoolers there are, they can't ever fill all of the chairs because some are out of action.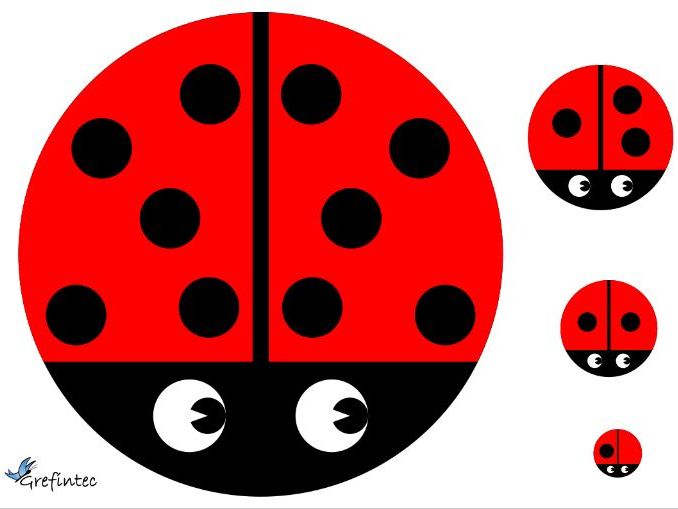 Help develop understanding of size and amount by using these proportionally sized ladybirds. The more spots (1-10) they have, the bigger they are. Idea: Hide around the room to be discovered. Once found, the children can be encourage to line them up in size order and/or using the number of spots. Print our a couple of sets and have a race, who can organise them the quickest. Is it quicker to do it by size or by counting the spots?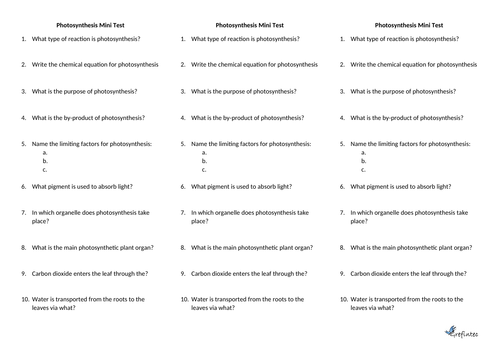 I have created this mini test as a quick assessment of my Year 10's photosynthesis knowledge. Formated with three tests to a page so can be easily answered on the sheet and stuck in books without lots of printing. Answers included.

The theorist Piaget was the first person to define the term subitising as the ability to instantly recognise the number of objects in a small group without needing to count them. This simple game helps children to learn this key skill. Take the pattern for the number three on a dice, children can recognise that this represents the value of three even if they can't read the number '3'. Children can also see numbers within numbers using dot patters. For example, they can see the numbers two and one within three. When we played this game, children took turns to choose a counter and match it to the number pattern. It proved to be very popular!

Pupils are asked to complete the table as part of an explore task. To be delivered as part of the curriculum for AQA GCSE 4.1.3.1 Diffusion Research can be conducted using textbooks or as part of a websearch Diffusion: adaptations, root, small intestine, leaves, kidney and lungs

Certificate of Achievement, created for my nursery school leavers. Can be edited.

This year we are unable to make the traditional take home, end of year gifts to share with families, as the majority of my nursery class is at home. I still wanted them to have something special to celebrate the end of the academic year. So, I have created a template for an activity for them to do at home with support from parents/guardians. We have heard so much about curves during the ongoing pandemic that I thought it would be nice to take control of one for ourselves! There are two versions, one is to be completed using a pencil and ruler, and there is a second version which is to be completed using a needle and thread. We sent this version home to all of the children with a plastic needle and thread. Linked to the EYFS it is also a learning activity, helping to develop those all important numeracy skills and fine motor skills.

Pupils are asked to complete a storyboard to illustrate what happens when a bacteria enters their body. The process starts from the moment 'Toby' gets scratched by his cat. His blood begins to clot then the immune system uses phagocytes and lymphocytes to target the bacteria. Key words: Y shaped molecules, antibodies, phagocyte, phagocytosis, lymphocyte, agglutination, immune system, bacteria, storyboard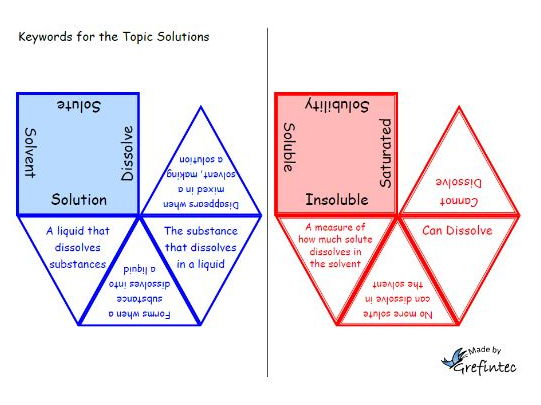 Keystage 3 Resource A card sort where pupils are asked to match keywords with their definitions. Each central square has four keywords printed on each side. The definitions are on triangles which match up to the appropriate keyword. There are two sets of keywords, one in red and one in blue. They are also single or double bordered which means that the sets can still be identified when printed in greyscale. The card sort has been designed so that minimum cutting is required! Keywords: Solution, soluble, insoluble, saturated, dissolve, solubility, solvent, solute