Hashtag_Teached's Shop
"Education is the most powerful weapon which you can use to change the world" - Nelson Mandela
331Uploads
32k+Views
1k+Downloads
"Education is the most powerful weapon which you can use to change the world" - Nelson Mandela

This fun and student-friendly self-reflection form will be the hit of your class as student see that their input matters and they are given the opportunity to self-evaluate. Students will be able to track their behavior over time as they see how they give themselves more smiley faces over time. This simple form can serve as awesome documentation and a point of conversations with students and families!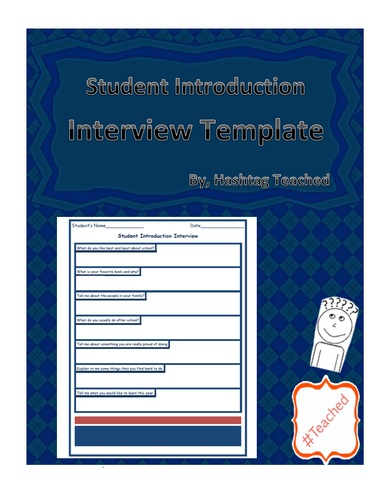 Check out this awesome and simple interview template that can be used to get to know your students! This is an awesome activity to sue the first weeks of school to help build relationships, rapport, and understandings. This can be adapted for students to interview each other, for the teacher to interview the students, or for the students to fill out on their own. Because of the variety of formatting of implementation, this is easily differentiated!

This awesome and kid-friendly template will change the dynamics of your classroom! So many of our kiddos just need to get some things of their chests and this is their ability to do so! By placing a stack of these templates somewhere in your classroom and having a teddy bear near by (not included :)) students can use classroom procedures to vent about things they want to share related to tattling. It will be awesome documentation for you, and allows you to address the issues as time allows, which we all know is rare!

Check out this fun and relatable accountable talk poster set. Using these prompts, students will be able to engage in constructive conversations that are meaningful and promote depth of knowledge thought. As these are implemented, students will begin thinking more critically and challenging thoughts, not people. There are 8 posters included that are meant to be laminated and hung. I would also suggest printing it on different color paper if possible. There is a bonus one pager that has all 8 posters in mini size for students to have their own sheet to relate to!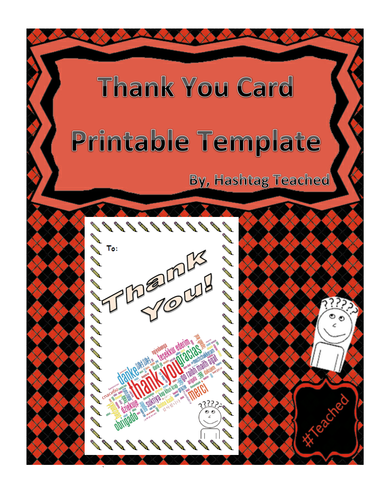 Instead of having to buy thank you cards every holiday and every year, check out this simple Thank You Card Template that you can print on card stock and customize as you please! With a multicultural theme and student friendly design, students and their parents will appreciate this simple gesture after giving you your holiday gift! The template comes in two formats, each of which are to be printed back to back. The first on is a half page format, and the other is two per page becoming a quarter of a page size. Simply print page 2-3, or 4-5 for the format of your choice! This can also easily be used to thank other staff members such as custodians, cafeteria staff, Aids, or other teachers!