Jbuxton1996's Shop
Teacher of secondary PE, A-Level PE and BTEC Sport.
119Uploads
28k+Views
25k+Downloads
Teacher of secondary PE, A-Level PE and BTEC Sport.

122 page powerpoint covering all content needed for Unit 7 on the new Pearson applied general spec. PP includes tasks and activities to complete in and out of lesson time. It also includes guidance on the different assignments / assessments involved in the unit.

Powerpoints, workbook and some summary sheets for the below topics; Attitude Arousal Motivation Anxiety Aggression Group Dynamics Leadership Attribution Self confidence / efficacy Social facilitation / Inhibition Goal Setting Personality

Powerpoint for training impacts on lifestyle disease.

Resourse bundle with workbook, powerpoints and some summary sheets for the Biomechanics topics; Newtons Laws Force Technology Centre of Mass & Stability Free Body Diagrams Angular Motion Linear Motion Projectile Motion Magnus Force & Bernoulli Principle Lever Systems

Condensed notes around diet, nutrition and ergogenic aids content onto 2 sides of A4. Answer sheet included!!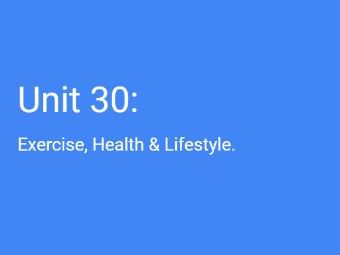 Unit powerpoint to cover content for unit 30 - exercise, health and lifestyle.

Summary sheet looking at the 4 eras of sport on the OCR course… Each time period summarised onto 1 side of a4. e.g. pre-ind. / post-ind. / 20th / 21st century… Answer sheet provided…!

Summary sheet condensing the following onto 2 sides of A4; Newtons Laws Forces Free body diagrams Answer sheet included!!!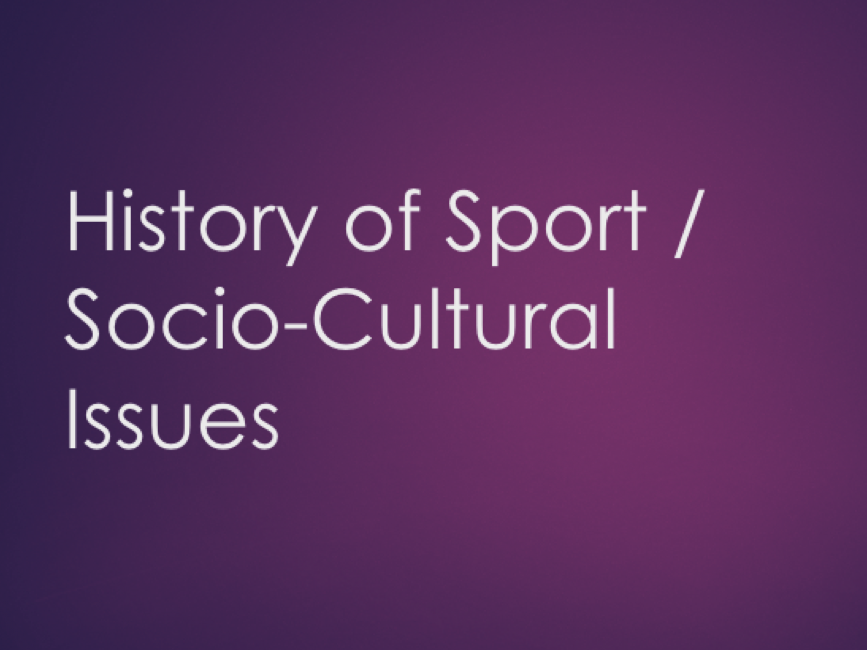 This 81 slide Powerpoint includes all needed / relevant content on the following topics (looking at the socio-cultural issues faced in each time period and their effect on sport); Sport in Pre-Industrial Britain Sport in Post-Industrial Britain Sport in the 20th Century Sport in the 21st Century (globalisation of sport, e.g. golden triangle, media coverage etc…) Within each topic are relevant past paper questions from the OCR spec and the answers are included; as well as many other little tasks to complete.

66 Page A-Level PE Exercise Physiology Workbook. Excellent resource for A-Level students to either work through in lessons or as revision. I personally use this for my students to make notes in within lessons. Included in each topic, is all areas of the OCR spec that is needed to b covered; as well as group and individual tasks to complete. Topics covered: Periodisation VO2 Max Strength Flexibility Training, lifestyle and disease Functions of diet: Key nutrients Ergogenic Aids Injury Prevention

This resource pack contains a full PowerPoint for teaching Theories of Learning. Included in this is tasks to allow students to apply their knowledge. Also included is a summary sheet for students to condense the key points onto one side of A4.

Bundle of workbook and powerpoints for the Exercise Physiology topics; VO2 Max Flexibility Strength Diet Ergogenic Aids Lifestyle Diseases Periodisation Injuries Summary sheets for some topics also included.

Bundle of a workbook, Powerpoints & Summary Sheets for the below skill acquisition topics; Transfer Stages of learning Guidance Feedback Memory Models Skill Classification Learning Theories

Summary sheet for all content on energy systems and the energy continuum. Answer sheet also included!

This resource allows students to work through the Anatomy & Physiology topic for A-Level PE (OCR). Included for each topic is; Information / content Assessment objectives Group Tasks Individual tasks Images to help explain topics Questions based on exam topics It is the perfect resource for your students to make notes on, as oppose to copying straight into books.

This resource includes a PowerPoint that covers 4 lessons on the Respiratory System, as well as resources to accompany the lesson. Included in the PowerPoint is all information required and lots of tasks to apply this knowledge.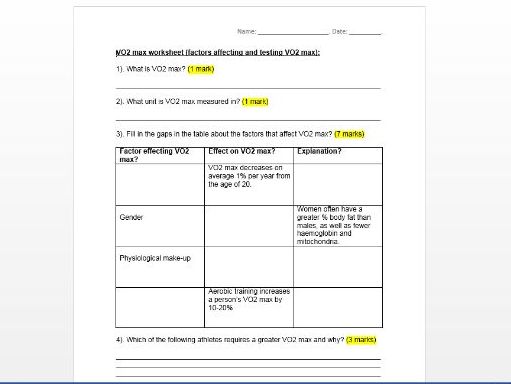 This resource tests your students knowledge on all areas in the VO2 max content (definition, factors affecting, training VO2 max and adaptations).

This activity sheet allows you to assess what your students know about injuries before you have taught this topic. It then provides the opportunity to show what they have learned after this has been taught to evidence progress.