Jbuxton1996's Shop
Teacher of secondary PE, A-Level PE and BTEC Sport.
107Uploads
16k+Views
7k+Downloads
Teacher of secondary PE, A-Level PE and BTEC Sport.

This bundle includes all resources needed to teach Joints, Movements and Muscles on the OCR A-Level PE course. Included is a PowerPoint presentation, split into numerous lessons, as well as resource sheets to support each lesson.

This activity sheet allows you to assess what your students know about injuries before you have taught this topic. It then provides the opportunity to show what they have learned after this has been taught to evidence progress.

This resource includes all content needed to teach the following Biomechanics topics; Lever Systems (1st 2nd and 3rd class, examples in the body, how to draw them, Calculations of force at a lever, AO3 analysis of each type etc…) Centre of Mass (definition, lines of gravity, points of contact, factors affecting centre of mass, sporting examples etc…) Stability (definition, factors affecting, maximising / minimising stability, sporting examples) Also included within the powerpoint is past paper questions around these topics.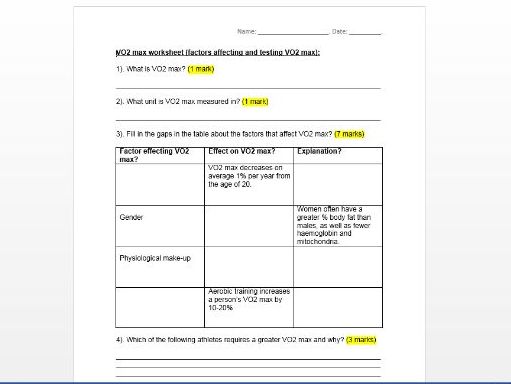 This resource tests your students knowledge on all areas in the VO2 max content (definition, factors affecting, training VO2 max and adaptations).

This resource pack contains a full PowerPoint for teaching Theories of Learning. Included in this is tasks to allow students to apply their knowledge. Also included is a summary sheet for students to condense the key points onto one side of A4.

PowerPoint covering all relevant information needed for pupils to complete the assessment on the exercise referral process. Extra tasks included within slides.

This bundle is suitable for any teacher teaching Unit 16 BTEC L3. The included PowerPoints cover; Pass: P2, P3, P4, P5 and P6. Merit: M2 and M3. Distinction: D2. The PowerPoints include relevant information, group and individual activities and example of how to complete the assignments.

Here is a PowerPoint to guide your students through P4 of Unit 16, which involves prescribing exercise for three different specific groups. Tasks within the PowerPoint.

This powerpoint will guide your students through P3 and M2 tasks relating to the benefits of exercise for specific groups.

This PowerPoint should be used to teach and guide pupils through the tasks P6 and M3, which is to describe and explain what makes up a balanced diet. Tasks / activities and examples have been included within the PowerPoint.

This task allows pupils to create their own sportsperson and link all the topics you have taught so far to them. This is a useful revision task that I set my A-Level class to complete over half-term. This can then be added to after covering new topics.

This PowerPoint will help you guide pupils in achieving their P4, M2 and D1 tasks. Tasks are included within the powerpoint slides and good standard examples have been provided.

PowerPoint to guide pupils through P5, M3, D2 and P6 of unit 16. Template lesson plan for pupils to use has been included.

Here is a powerpoint to guide your pupils through P4 task of Unit 14 of the BTEC L3 Course. Included is all the information they need, groups tasks and written examples that meet their criteria.

This PowerPoint will allow you to teach your pupils all the information needed for tasks; P1, M1 and D1. Within the powerpoint, I have also included individual and whole class activities and examples of how their assignment should be completed.

This PowerPoint will guide you through all your pupils need to know to achieve and complete their P2 task.

This resource will allow you to teach and guide your pupils through the P3, M2 and D1 tasks of Unit 19 on the BTEC L3 course. Included are individual and whole class activities, as well as guidance for how to conduct the practical elements of this task.

This PowerPoint will help you guide and teach your pupils through the P4 and M3 tasks of Unit 19. Included in the PowerPoint is tasks and examples of how their assessment should be completed, as well as all the information the pupils will need to complete this task.

This bundle contains the full set of resources needed to teach Unit 19 to your class. Within each powerpoint, there are individual and group tasks, as well as guidance on how to implement the practical element of this unit into your lesson.

This activity challanges your students to link as many A-Level concepts across the curriculum and between topic areas. This can be done from knowledge recall or with the help of notes and textbooks.