The Teacher Traveller's Shop
26Uploads
5k+Views
743Downloads
Huge Supertato bundle to support a superhero topic! My classes absolutely love superheroes as well as this book every year, so I thought it was about time that I make some resources to support and extend their learning further during this topic. So in this pack you have... - Designing a evil pea trap worksheets (4 differentiated worksheets to support children at differing levels) - Evil Pea Bordered paper - A letter addressed to the children from the evil pea - Speech bubbles from captured vegetables! - 2 Task cards - What is the evil pea saying speech bubbles to encourage writing (2 differentiated versions). - What is supertato saying speech bubbles to encourage writing (2 differentiated versions). I hope your class of children enjoy these resources as much as mine did :) Thank you, The Teacher Traveller
A gorgeous little A5 sheet complete with a poem to show how children have grown! Download and print your poem sheet, then measure your class children with string. Add the string to the sheet and you have a special little keepsake for parents and carers :) I have included a photo to show what mine look like completed. The download includes 6 poem sheets, two have 'Reception Class, 2017' included, two have 'Reception Class, 2018' and two are blank. Have fun, The Teacher Traveller
LEARNING SHAPES WITH TOY CARS! This huge pack includes: Four task cards. Five different style road tracks (which can be printed as many times as you need!). Eleven pre-made shape roads (circle, star, rectangle/oblong, square, triangle, semi-circle, pentagon, hexagon, heptagon, octagon, diamond/rhombus). Make your own shape roads or drive around the ready made ones again and again! This pack helps children to recognise, name and explore 2D shapes in a practical and fun way. Simply print out the road tracks, cut them out and allow the children to challenge themselves to make as many different 2D shapes as they can! They can then test out the roads they have built by using toy cars on them! Pack also includes eleven common 2D shapes which have already been made into roads for the children to drive over with little toy cars. Great for really embedding the children's knowledge of shapes and for opportunities for teacher assessment. Perfect for… Encouraging mathematical language Practical based learning Shape recognition Spacial awareness Happy driving and learning! The Teacher Traveller.
CABIN CREW PREPARE FOR TAKE OFF! Over 100 pages of airport and aeroplane resources to support a role play area, travel or around the world topic! In this pack you will find… 20 airport/aeroplane phases written on globes. 39 different flags from countries around the world. Cloud bunting. Writing sheets with both a globe border/aeroplane border. 8 different language speech bubbles. 8 role play badges for children to wear 2 travel posters. 'What to pack for travelling' writing stimulus sheets. Role play luggage tags. Huge departures/arrivals board. 30 'I can see' cards featuring photos of famous landmarks/places around the world (can be blown up to use as both posters or cards). 16 airport signs. 'What to pack' checklists. 17 'Animals Around The World' cards. These stand up when folded over, and feature both photos of the animal, as well as the name of/outline of the place in the world they can be found on the back of the card. 6 flight departure and arrival to continents posters. Clouds featuring 'welcome aboard' insert school name 'airways'. Boarding passes and role play Passports. This pack truly took me an incredible amount of time to create, but I had a lot of fun making it and I hope that by sharing it with others, I can save them some time too. I hope other children enjoy these resources as much as my class did! The Teacher Traveller
I WILL HUFF AND I WILL PUFF AND I WILL BLOW YOUR HOUSE DOWN! Pack complete with three different design sheets for children to complete before building their houses, as well as two decorative speech bubbles to be framed in the classroom, or cut out and laminated to further support the story. The Teacher Traveller
'In a world where you can be anything, be kind" Poster for display in any classroom setting :) The Teacher Traveller
Instruction sheets for children to fill in on how to help to save a tired bee by giving it a drink of sugary water. Two sheets included (one with the words 'first', 'next' and 'finally' for prompts, and one which is blank) The Teacher Traveller
Children to place hooped cereal such as cheerios or fruit loops in the middle of the letters to make words, then read them :) Pack includes 6 pages of word cards (18 words containing 'oo' to make in total), plus a sheet of blank spaces for children to practise writing these words afterwards. Simple, cheap, fun and learning to read and write without even knowing it :) The Teacher Traveller
30 pages of fun … To support the topic of the Gingerbread Man! My class adore this story, so I created Gingerbread Man themed resources for them to use to support my teaching and their learning. In this pack you will find… Gingerbread Man speech bubbles to encourage creative writing (2 versions included). Lined paper with a Gingerbread Man border for children to write on (my class wrote their own versions of the story!). Numbers on Gingerbread Men (I use these as flash cards, ask the children to place them into number order, daily interventions, etc). Cut and stick the gingerbread men into number order activity sheet (two versions: numbers 1-10 and numbers 11-20). Design your own Gingerbread Man sheet. Lovely Gingerbread Man themed bunting to decorate your classroom (mine is in my role play area and my writing area!). Pre writing trace the Gingerbread Man's tracks sheet to develop fine motor skills, pencil grip and control. Number lines (two versions: numbers 1-10 and numbers 1-20). 56 Gingerbread men addition cards (completely differentiated to target a range of mathematical abilities from addition with numbers under 5 to addition with numbers over 20). I hope your class enjoy these resources as much as mine did! The Teacher Traveller
FREEBEE :D Print and decorate with nature! I ask children to create their bunny rabbits by using natural materials that have been found in the playground! Leaves make the most perfect rabbit ears! You can also use… Grass Stones Flowers Sticks Soil Seeds Pine cones Straw This activity has endless benefits, the most obvious being developing creativity in children, fine motor skills, sensory skills and of course an appreciation of natural resources they might otherwise not use. Have fun! The Teacher Traveller :)
Read the tricky word, write the tricky word then brush it off the tooth! Included are the entire set of phase 2, phase 3, phase 4 and phase 5 tricky words! Each tooth has a guidance line for children to practice writing their word. All you need to do is print and laminate! Perfect for. . . Healthy eating topics Fine motor skill development Spelling practise Working in pairs (one child to write, one child to check the word is spelt correctly and brush it off!) Activity works best if children are 'brushing' the words off the tooth with a real toothbrush. Have fun!
11 pages of witch style ideas… Design your own broomstick and write your own potions! Task cards/key word cards included. Have fun! The Teacher Traveller.
FREE DOWNLOAD :) Children write best when they are given something meaningful to write about. After all, who wouldn't want to write something silly in a puppet giraffe's speech bubble?! Development matters early learning goals for writing included on each page :) Have fun! The Teacher Traveller :)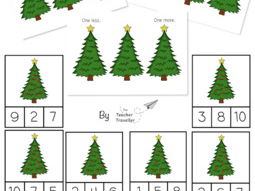 Christmas tree themed maths! Christmas trees for children to add on baubles then ether subtract or add up the total amounts (we used small dot stickers, but children could paint/draw these on too!). Christmas trees for children to add on baubles then find one more one less of their chosen amount (we used small dot stickers, but children could paint/draw these on too!) Christmas tree counting - Children to count the total amount of baubles on the trees, then peg the correct numeral. Merry Christmas Everyone, The Teacher Traveller :)
Ready for some creative Easter themed writing! Celebrate Easter with these cute Easter Bunny resources. This pack contains writing templates (which when cut out make a gorgeous display) as well as a bunny themed phase 2 and phase 3 sound mat to support children in their writing. The writing templates include the words: 'If I were the Easter Bunny' 'My Easter Bunny Story' All templates include different versions including narrow lines, wide lines and plain spaces. I have also left some completely plain sheets to allow teachers and children to use this resource in their own way. Enjoy!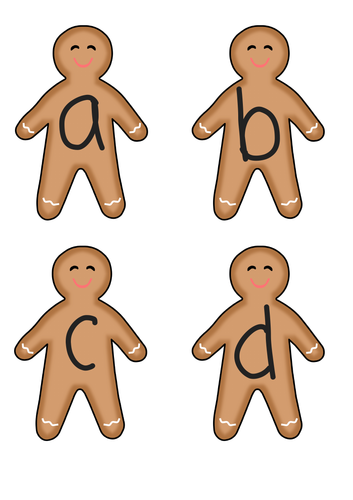 Entire alphabet set on Gingerbread Men Biscuits! Perfect for… Supporting the topic of the Gingerbread Man Pre-writing practise Letter formation Letter recognition Word building Spelling Phonics Have fun, The Teacher Traveller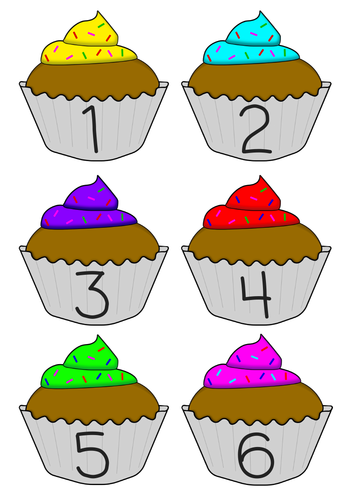 A lovely little number set on various coloured cupcakes :) Perfect for… -Placing into number order -Daily interventions -Hiding around the room for a number hunt -Finding one more/one less than the number -Birthdays -Calculating (turn two over and add/subtract/multiply them) -Matching a quantity to the number on the cupcake (e.g. candles) Enjoy, The Teacher Traveller :)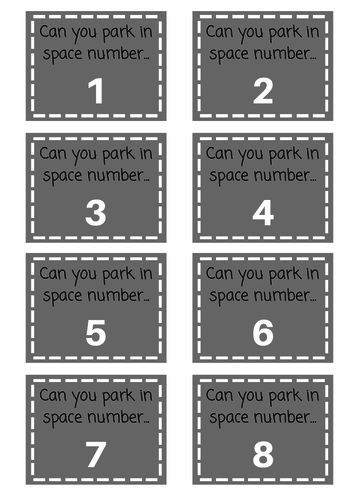 Can you park in space number… Four? Eight? Ten? Can you park in a space which has a number one less than three? Can you park in the number spaces in order? The opportunities for this activity are endless as children use toy cars to park on given numbers, learning without actually knowing it - through play. Perfect for… Number recognition Number ordering One more, one less than a number Strengthening little fingers and fine motor skills Teacher assessment Intervention groups/target children Continuous provision This pack comes with two numbered car park mats (with numbers from 1 - 20), a handy prompt card for adults containing questions to challenge and extend children, a set of 20 number cards telling children which numbers to park their car on, and finally a record sheet for children to record the numbers that they have found. Happy driving! The Teacher Traveller.
Eyes on the road! These mini roads encourage children to segment and blend together CVC words! Children can either use their fingers to move along the road, or a little toy car. As they 'drive' past the letters, they say them (segmenting), then when they reach the end of the road, they blend them together to read the full word (blending). These little roads add a bit of fun to practising those early skills necessary to reading! 32 different CVC words included on roads which can be printed to different sized papers depending on how large you would like them. Have fun and happy road reading! - The Teacher Traveller :)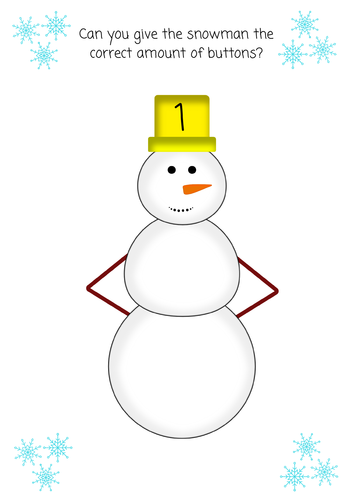 Children can paint on the correct amount of buttons or the resource can be printed and laminated for children to count place physical buttons onto the snowman :) Three different colour sets to choose from (Red, Blue, Yellow) and numbers from one to ten. Have fun and Merry Christmas, The Teacher Traveller
Have your class giggling away at the silly snowmen they make, whilst learning all about 2D shapes! Pack includes: - 2D snowmen style shapes to cut out (square, circle, triangle, rectangle, diamond, hexagon and pentagon). - 14 idea cards which prompt children to use certain shapes, or be creative with whatever shapes they wish. - Two blank worksheets to stick their silly shape snowmen on. - A shape record sheet for children to tick off the shapes they have used (also can be used for the teacher to assess the shapes the children know). Some people prefer this to be a cutting and sticking activity, some choose to laminate the shapes and use them as interventions. I have done both and both work fine! :) Happy Christmas Everyone, The Teacher Traveller :)