The Teacher Traveller's Shop
45Uploads
23k+Views
3k+Downloads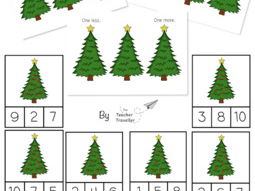 Christmas tree themed maths! Christmas trees for children to add on baubles then ether subtract or add up the total amounts (we used small dot stickers, but children could paint/draw these on too!). Christmas trees for children to add on baubles then find one more one less of their chosen amount (we used small dot stickers, but children could paint/draw these on too!) Christmas tree counting - Children to count the total amount of baubles on the trees, then peg the correct numeral. Merry Christmas Everyone, The Teacher Traveller :)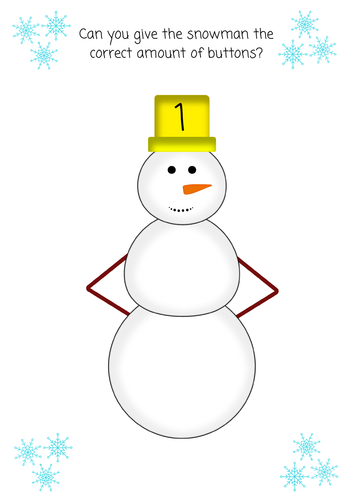 Children can paint on the correct amount of buttons or the resource can be printed and laminated for children to count place physical buttons onto the snowman :) Three different colour sets to choose from (Red, Blue, Yellow) and numbers from one to ten. Have fun and Merry Christmas, The Teacher Traveller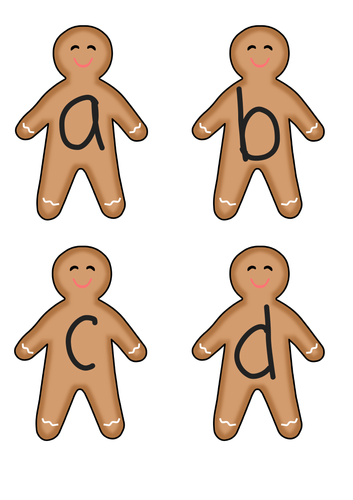 Entire alphabet set on Gingerbread Men Biscuits! Perfect for… Supporting the topic of the Gingerbread Man Pre-writing practise Letter formation Letter recognition Word building Spelling Phonics Have fun, The Teacher Traveller

Read the CVC word, then check you have got it correct when you open up the beard to reveal the picture! Children can also reverse this, beginning with the beard 'open', spelling the word from the picture, then checking they have spelt it correctly. Perfect for… Segmenting and blending practise Christmas topic Fine motor skill development Spelling practise Working in pairs (one child to read, one child to check the word has been read correctly by opening the flap) Working independently (children can self assess) Writing Have fun! The Teacher Traveller

Children place their fingers at the dragon's tail and follow the long winding body until they reach a word. Can they read all the tricky words on the dragon? When they can read all the words, they can colour in the dragon! Plain version, as well as colour version included. Phase 2 and phase 3 tricky words. Perfect for Chinese New Year and reading practice. Have fun, The Teacher Traveller

Gorgeous little number fairies (numbered 1-20) in three different styles (blonde hair, red hair and brown hair)… Use us to… Enhance a small world area. Cut and stick in arts and craft projects. Practise addition. Play 'snap' or 'pairs'. Teach and explore number ordering. Build a fairy garden. Go on a fairy number hunt. Teach odd and even numbers. Explore number bonds. Flash card number recognition. Have fun, The Teacher Traveller ✈️

Over 50 pages of apple themed activities and role play resources! Pack includes… 35 key words displayed on apple themed cards 'Closed and Open' sign, 'Opening Times' sign and a 'Welcome to our apple orchard' sign. An apple worksheet for children to label and describe the five senses used when exploring apples. 15 different repeating pattern strips using different coloured apples, all differentiated to suit difficulty (either laminate, or children cut and stick on the next apple to complete the pattern) A sheet of apples to cut out (red, green and yellow) Apple shaped template with lines inside for children to write on. Apple colouring in sheet 3 tree activity sheets with numbers on the trunks for children to cut and stick the correct amount of apples on. 18 different apple photos with a gorgeous bright blue square border. 1 sheet of decorative 'pick me' apples Various role play signs ('how much are 3 apples', etc) A 1-10 apple number mat Price tags in 'p' (1p - 20p) Apple bunting Yellow, green and red apple signs Large tree play dough mats for children to create playdough apples and place the correct amount on the tree (numbered 1-10) Have fun, The Teacher Traveller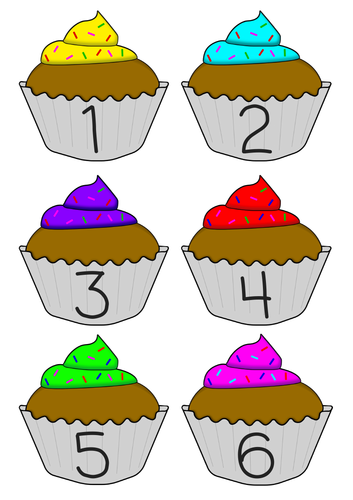 A lovely little number set on various coloured cupcakes :) Perfect for… -Placing into number order -Daily interventions -Hiding around the room for a number hunt -Finding one more/one less than the number -Birthdays -Calculating (turn two over and add/subtract/multiply them) -Matching a quantity to the number on the cupcake (e.g. candles) Enjoy, The Teacher Traveller :)

11 pages of witch style ideas… Design your own broomstick and write your own potions! Task cards/key word cards included. Have fun! The Teacher Traveller.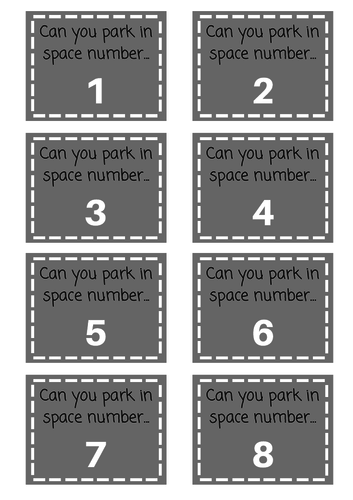 Can you park in space number… Four? Eight? Ten? Can you park in a space which has a number one less than three? Can you park in the number spaces in order? The opportunities for this activity are endless as children use toy cars to park on given numbers, learning without actually knowing it - through play. Perfect for… Number recognition Number ordering One more, one less than a number Strengthening little fingers and fine motor skills Teacher assessment Intervention groups/target children Continuous provision This pack comes with two numbered car park mats (with numbers from 1 - 20), a handy prompt card for adults containing questions to challenge and extend children, a set of 20 number cards telling children which numbers to park their car on, and finally a record sheet for children to record the numbers that they have found. Happy driving! The Teacher Traveller.

32 different pseudo words for children to segment, blend and read - all on pink, child friendly little monsters! This pack helps to introduce pseudo words as fake words as they have been linked to the names of the monsters to make it more meaningful. Pseudo words help to check that children are able to read non familiar words, rather than solely relying on good vocabulary knowledge or visual memory of words. Pack includes: 32 different pseudo words. A large format (4 monsters to a page) to allow them to be easily cut out and made into flashcards. A small format (16 monsters to a page) to use when testing children. Monsters with 'sound buttons' included on the words. Have fun! The Teacher Traveller

LEARNING SHAPES WITH TOY CARS! This huge pack includes: Four task cards. Five different style road tracks (which can be printed as many times as you need!). Eleven pre-made shape roads (circle, star, rectangle/oblong, square, triangle, semi-circle, pentagon, hexagon, heptagon, octagon, diamond/rhombus). Make your own shape roads or drive around the ready made ones again and again! This pack helps children to recognise, name and explore 2D shapes in a practical and fun way. Simply print out the road tracks, cut them out and allow the children to challenge themselves to make as many different 2D shapes as they can! They can then test out the roads they have built by using toy cars on them! Pack also includes eleven common 2D shapes which have already been made into roads for the children to drive over with little toy cars. Great for really embedding the children's knowledge of shapes and for opportunities for teacher assessment. Perfect for… Encouraging mathematical language Practical based learning Shape recognition Spacial awareness Happy driving and learning! The Teacher Traveller.

Ready for some creative Easter themed writing! Celebrate Easter with these cute Easter Bunny resources. This pack contains writing templates (which when cut out make a gorgeous display) as well as a bunny themed phase 2 and phase 3 sound mat to support children in their writing. The writing templates include the words: 'If I were the Easter Bunny' 'My Easter Bunny Story' All templates include different versions including narrow lines, wide lines and plain spaces. I have also left some completely plain sheets to allow teachers and children to use this resource in their own way. Enjoy!

In this pack you will find… 2 different subtraction activity sheets where children simply cross out the amount of peas they are subtracting, then count the total. 2 different 'counting on' activity sheets where children use the numeral given on the pea pod to count on from and find the total. One more and one less pea pods 8 different subtraction sentence cards for laminating, as well as copies of these 8 cards without the numeral for support (16 in total). Numeral matching cards (1-10). Count the amount of peas then correctly match them to the numeral given on the pea pod. 6 high quality photos of peas and pea pods. Cut and stick activity for children to add their own amount of peas to a pea pod and write the total. Have fun! The Teacher Traveller

Teaching children how to keep hedgehogs safe this November… Included in this pack… 15 high quality photos of hedgehogs Poem sheet Hedgehog letter Hedgehog mask template Hedgehog colouring in sheet/adding spikes Task/activity cards Hedgehog/bonfire vocabulary cards Hedgehog letter template for children to write a reply on Hedgehog peg activity (numerals 1-10) Hedgehog labeling sheet List writing templates I have provided both a coloured background sheet and a plain white background should you wish to save printer ink :) Enjoy, The Teacher Traveller

I WILL HUFF AND PUFF AND BLOW YOUR HOUSE DOWN! Pack complete with three different design sheets for children to complete before building their houses, as well as two decorative speech bubbles to be framed in the classroom, or cut out and laminated to further support the story. Have fun, The Teacher Traveller

30 pages of fun … To support the topic of the Gingerbread Man! My class adore this story, so I created Gingerbread Man themed resources for them to use to support my teaching and their learning. In this pack you will find… Gingerbread Man speech bubbles to encourage creative writing (2 versions included). Lined paper with a Gingerbread Man border for children to write on (my class wrote their own versions of the story!). Numbers on Gingerbread Men (I use these as flash cards, ask the children to place them into number order, daily interventions, etc). Cut and stick the gingerbread men into number order activity sheet (two versions: numbers 1-10 and numbers 11-20). Design your own Gingerbread Man sheet. Lovely Gingerbread Man themed bunting to decorate your classroom (mine is in my role play area and my writing area!). Pre writing trace the Gingerbread Man's tracks sheet to develop fine motor skills, pencil grip and control. Number lines (two versions: numbers 1-10 and numbers 1-20). 56 Gingerbread men addition cards (completely differentiated to target a range of mathematical abilities from addition with numbers under 5 to addition with numbers over 20). I hope your class enjoy these resources as much as mine did! The Teacher Traveller

Search for the objects, count and write the numeral! Great for… One to one correspondence Halloween Numeral formation Scanning skills Interventions Homework tasks Two different sheets included (counting amounts up to ten), ten different halloween themed items to find. Have fun! The Teacher Traveller

FREEBEE :D Print and decorate with nature! I ask children to create their bunny rabbits by using natural materials that have been found in the playground! Leaves make the most perfect rabbit ears! You can also use… Grass Stones Flowers Sticks Soil Seeds Pine cones Straw This activity has endless benefits, the most obvious being developing creativity in children, fine motor skills, sensory skills and of course an appreciation of natural resources they might otherwise not use. Have fun! The Teacher Traveller :)

'Work In Progress' signs, FREE download! Busy children are often expected to stop what they are enthralled with and return the classroom to a tidy state, whether what they are playing with is completed or not. These 'Work In Progress' signs I created for children to put on models or construction that they have not yet completed in order to protect what is being built so that others know not to tidy it away. No more anxiety over "but it's not finished!" and I convey the message that the ideas and creations of a child are respected and viewed as far more important than the tidiness of the room. The idea is working too well for me to not share it, so here is a link to download copies of the resources I have made, help yourselves. #givechildrenownership #workinprogress #simpleyetsignificant #EYFS #reception #letthembelittle #learningthroughplay #makeitfun #activelearning #theteachertraveller #messylearning #funlearning #earlyyears #teacher #learn #littleones #kindergarten #geraldthetravellinggiraffe #teach #explore #noworksheetsallowed