Kerry Furneaux FRSA's Shop
Offering 'stuff' that will make your life easier!
2Uploads
5k+Views
939Downloads
Offering 'stuff' that will make your life easier!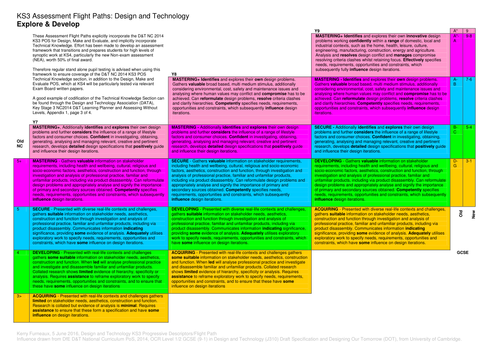 These Assessment Flight Paths explicitly incorporate the D&T NC 2014 KS3 PoS for Design, Make and Evaluate, and implicitly incorporate Technical Knowledge. Effort has been made to develop an assessment framework that transitions and prepares students for high levels of synoptic work at KS4, particularly the new Non-Exam Assessment (NEA), worth 50% of final award. Therefore regular stand alone pupil testing is advised when using this framework to ensure coverage of the D&T NC 2014 KS3 PoS Technical Knowledge section, in addition to the Design, Make and Evaluate PoS, which at KS4 will be particularly tested via relevant Exam Board written papers. A good example of codification of the Technical Knowledge Section can be found through the Design and Technology Association (DATA), Key Stage 3 NC 2014 D&T Learning Planner and Assessing Without Levels, Appendix 1, page 3 of 4. In addition to the DfE D&T National Curriculum PoS, 2014, influence has been drawn from the V1 - OCR Level 1/2 GCSE (9-1) in Design and Technology (J310) Draft Specification and Designing Our Tomorrow (DOT), from University of Cambridge.
These documents are designed to be used by teachers and pupils to: provide an accessible, bite sized checklist against which to cross reference student completion against strand assessment criteria breaks down each Strand into its component parts, giving students clarity over what they need to include to maximize their coverage of work that will gain marks gives guidance, using pupil speak, to explain the purpose, intent, focus, pitfalls and thrust of each Strand, supporting and aiding pupils' understanding of a non linear approach to true iterative design.