Culture NetWorld
Everything you need to teach and help your students become bilingual in English and French.
93Uploads
36k+Views
20k+Downloads
Everything you need to teach and help your students become bilingual in English and French.

Powerpoint on Easter Tradition in France. Learn vocabulary with pronunciation + game Make a Easter poem about eggs. Lots of fun!!

You will find: - A story "Rencontre avec une sorcière" (Meeting a witch)- using the past tenses (passé-composé et imparfait). The story is being read twice, very clearly, by a French native speaker. It is also available written on a worksheet with questions and on a PowerPoint presentation (.ppt). It includes the whole analysis of the text (setting, characters, tenses, halloween vocabulary about a witch). As an extra, you will find a link to Geography as the story is happening somewhere special, in a French speaking country... There is also a written task at the end that is clearly set with strategies given on how to complete it best. Every single task is available on audio.

It includes a PPT with 48 slides introducing all of the verbs that use the auxiliary "ETRE" in the past tense (passé-composé) with the infinitive, the past participle, clear examples of sentences for each verb. It also highlights the few verbs that can actually use both ETRE or AVOIR in the past tense according to their meaning. The whole presentation is made very interactive for the students to resolve an "Acrostiche" (mnemonic strategy) that will help them remember the list of verbs. It also comes with 2 innovative posters showing the verbs using ETRE and the ones using both ETRE ou AVOIR. Finally, you will also find a worksheet for the students to fill up as you go through the slides.

25 high quality flashcards to teach some Christmas vocabulary in Spanish

Encourage your students to find reasons to respect each other. In this presentation, they have to imagine a future where "someone" will help them and imagine that maybe today that same "someone" is being bullied. Would they have bullied that "someone" if they would have known the future? Everyone has the potential to help or even save someone else's life. There is an activity with examples for your students to draw or write about an imaginary future and two present situations (one bullying and one not bullying/ respect). There are clear examples of structured sentences, working on present tense, infinitive and present participle)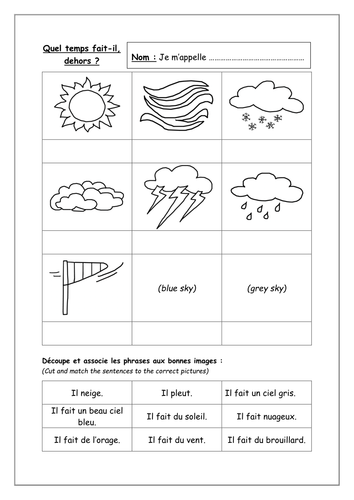 QCA Scheme of Work: KS2 Unit 12 : Quel temps fait-il ? KS3 Unit 7 : Les autres pays. Section 6 : The weather. Objective: I can talk about the weather outside. ('Je parle du temps qu'il fait, dehors.') Content: 1.PowerPoint- 15 slides (All slides have French native voice recorded.) - Teach nine expressions about the weather. - Play Noughts and Crosses with two different level of difficulties. - Match the expressions to the pictures. 2.Homework: Worksheet with expressions to cut and match to the pictures. 3.Detailed lesson plan. Skills: Listening, speaking, reading.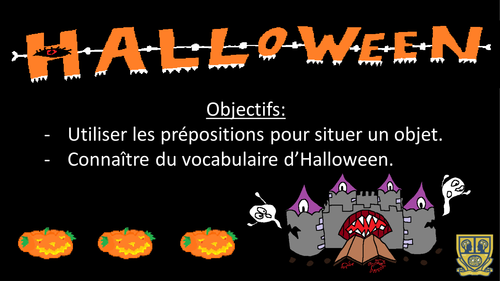 Objectives: -Use the prepositions (in, on, under, next to, behind...) to describe where the pumpkins are. -Learn some vocabulary about Halloween. This package contains: - Interactive Power Point Presentation (19 slides) with objectives, vocabulary, sentences and "Hide and seek the pumpkin" games. All the slides contain audio sequences recorded by a native French speaker. (single vocabulary words are being repeated three times to encourage the students to practice and rapidely improve their French speaking skills- sentences are repeated once)- Just need to press on the microphone buttons! - "Hide & Seek the pumpkins" game to print. This game can be played in pairs or with two small groups. - "Key learning" sheets that can be laminated for display or given as a reference. - Written task I hope you find this package useful. Please don't hesitate to write a short feedback after downloading it. Merci!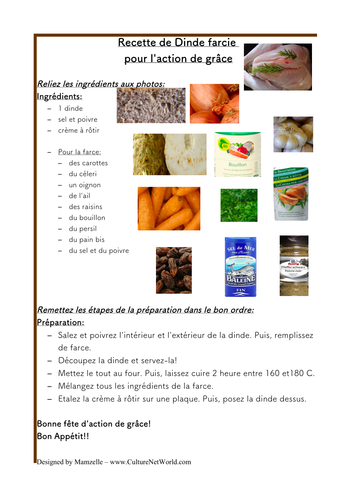 Teach your student a French recipe to cook a turkey in order to celebrate Thanksgiving. Learn about ingredients and step-by-step instructions.

To be used each September 26th Brainstorm about why people should learn a second language.

PowerPoint presentations, Flashcards, French Advent Calendar, games ... Everything you need for your students this December.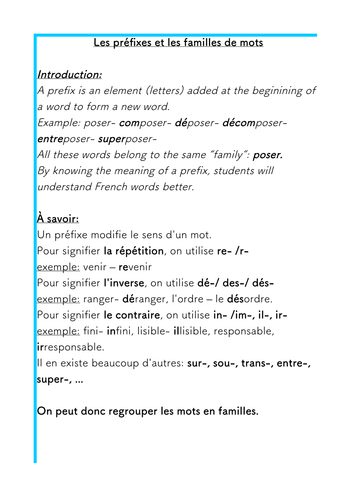 Worksheets explaining prefixes in French and how you can improve your level in French by understanding what they mean. There are some exercises to practice in class or at home.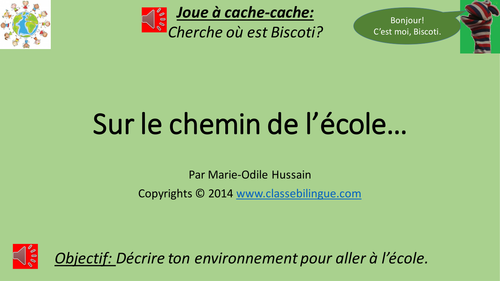 On my way to school... PowerPoint with 25 slides, including: -photos taken in Switzerland. -new vocabulary. -patterned sentences. 'I pass near.../ I see...&' -voice recorded by a French native speaker. -Hide and Seek game on each slide to help children stay focused and interested. -Grammar point. -Homework set. Find more information on www.classebilingue.com and follow &';classe bilingue' on Facebook!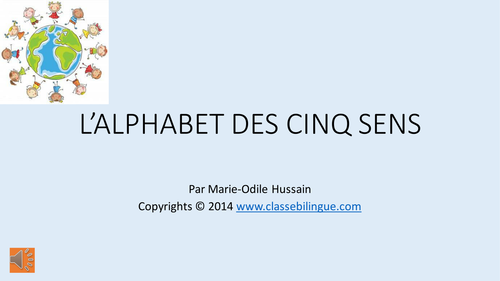 PowerPoint Presentation to teach words beginning with the letter Aa. Each slide has: -pictures. -words. -audio recording. The children learn to: -say words. -think about the meaning of a sentence. -make full sentences which are simple and short. -talk about the five senses. -improve their prononciation.

High quality Advent Calendar: 25 mini cards to print back to back and give away to your students each day in December. On one side, there is a beautiful Christmas background with the date. On the other side, there is a very nice picture with the expression written in French. Tell your student about the origin of the Advent Calendar, when people used to give away little religious cards to the children during the Advent, before Christmas. Here, the cards are not religious but they remind us of the origin of the Advent Calendar and it is a nice way to share something useful with your students at a low price. They will love collecting their mini Christmas cards!! As an idea, you can also print it larger to display in your classroom. Please leave me a comment after your purchase! Thank you!!! Mamzelle

Thanks to this FUN and FAST cards GAME, your students will be able to learn or practice Christmas vocabulary efficiently. There are 42 cards all together (21 cards with pictures and 21 with colourful words), the rules and a list of the pictures and words used. This game can be played by 2 players or 2 teams. It is fun and fast! It is perfect to use as a centre of activity for special French Christmas lessons. Basically, there is always a common pair between two cards (2 identical words/ 2 identical pictures/ identical word-picture).

You will find a PowerPoint Presentation with questions and answers about the cultural origins of the Advent Calendar. There are 3 types of worksheets for your students according to their level of ability: Easy (facile)- where the students have to pick one of the correct answers amongst 3 possibilities. Average (moyen)- where the students have to fill up the answers with a missing expression. Difficult (Difficile)- where the students have to write down their own answers.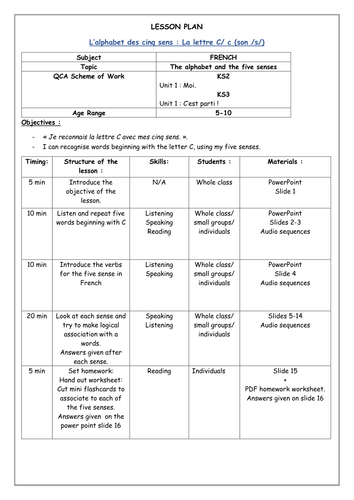 Teach five words in French beginning with C ([s] sound) and match them to the five senses to make full sentences, such as 'I see a boat'. Learn about another way to say 'I touch' ('I hold', 'I wear') Improve your pronounciation and reading skills by listening to french native speaker audio sequences. Content: -18 slides power point with colourful pictures and audio sequences. - Worksheet with mini flashcards (pictures+words) to associate to each of the five senses. - Detailed lesson plan. Skills: KS2/3 Age: 5-10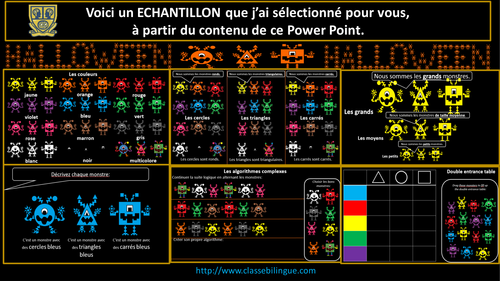 I have designed this package especially for Halloween. You will find: -An Interactive power point presentation with audio sequences on most of the 38 slides, with activities that will enhance students speaking skills, especially their pronunciation and the order of the words in French (eg un petit monstre jaune meaning a small yellow monster...) - 60 mini flashcards with colourful monsters in 5 different shapes that can be used for different games. - a set of 6 double entrance tables with shapes and colours. (link with maths) - a set of 3 different monster masks to decorate for Halloween. - a set of 6 workseets with 5 different patterns each (30 all together) with different level of difficulties. - a set of 3 worksheets with monsters t cut ut and order in a sequence (size) - a worksheet to practice adding monsters and write the answers in French (un, deux, trois, quatre, cinq) I hope you will find this package very useful and fun for your students. MERCI de me faire confiance!

Introduce some beautifully designed Christmas Vocabulary (25 words/ expressions) in French on your IWB.