219Uploads
1229k+Views
1656k+Downloads

2 Tiny Seed by Eric Carle activities. Using the text to gather information, find things that help and hurt the tiny seed.

242 Page phonics spelling & phonics reading book! SEE VIDEO. Complete phonics book which can be used alongside any phonics scheme . Beginning with group 1 phonics sounds, and logically and sequentially building to cover all blends, digraphs, trigraphs and dipthongs in English phonics. For each sound, blend, digraph, trigraph or diphthong there are 5 or 6 phonics pages: Add the blend or digraph to the word and connect to the matching picture Clear clip-art (black and white - perfect for colouring) labeling page using 9 carefully chosen example phone words/clip-art followed by a fun read and draw page Write the blend or digraph and read the words with the aid of sound buttons and lines under each grapheme. Find, highlight and write the words containing each specific blend (or digraph, trigraph etc.) then a cloze page of decoadable sentences which have been carefully sequenced to progressively incorporate words that are consistent with the letters and corresponding phonemes that have been taught to the new reader/speller in previous pages of the book (plus sight words) Could be made into a 242 page phonics workbook, or individual pages can be printed off and photocopied. (I have uploaded two versions of the book - the original 168 page standard version, and a 242 extended version) Perfect for beginner readers and spellers. Also great for EAL students to help build vocabulary alongside reading and spelling skills. Made by an experienced phonics teacher, and used in classrooms weekly. #phonics #spelling #reading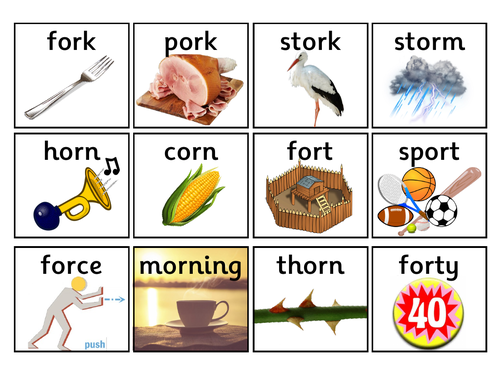 (Letters and Sounds Phase 5) alternative spellings for 'or' sorting cards, illustrated sentence, phoneme spotter story, blending for reading sheets and worksheets. Sorting cards/Flashcards, sentences, worksheets and phoneme spotter include: Review spelling of 'or' as in for, fork, stork, pork. 'or' = 'al' as in talk, walk, wall, stalk 'or' = 'our' as in pour, court, mourn, fourteen. 'or' = 'augh' as in taught, naughty, caught, daughter. Can be used to support teaching of Phase 5 Week 21

Flashcards to help learn the phonics sounds with pictures of the Jolly Phonics actions to aid memory recall. Hope that people find them useful.

10 adjectives worksheets; Range of levels from gaining initial knowledge to applying it in sentence writing. Hope that people find them useful. Please rate and comment if you do! Please also see my adjective, nouns and verb flashcards / display cards https://www.tes.com/teaching-resource/nouns-verbs-adjectives-display-cards-12216145 And my posters: https://www.tes.com/teaching-resource/verbs-nouns-adjectives-posters-12212892

Adverbs of manner lace mat / table mat to support students choosing and using more adventurous adverbs of manner.

To support teaching of spellings for 'ee': ee, ea, e_e, ie, y, and ey. (Phase 5 Week 23) ee as in bee, tree, green, cheeks. ea as in beads, steam, read, team. e_e as in delete, complete, even, concrete. ie as in alien, piece, thief, field. y as in happy, funny, chatty, windy. ey as in key, chimney, turkey, journey. Sorting cards,worksheets, illustrated sentences,spelling grids, and clip-art bingo. Illustrated sorting cards (2 versions - 1 with word label and 1 with seperate matching word grid) Each spelling with 12 example words. Differentiated Worksheets for ie = ee y = ee split digraph e_e = ee Spelling tables with word bank (2 versions) Illustrated example sentences for P5 W23 Letters and Sound plan document. Bingo cards and words for split digraph e_e, ee and ea.

Subject Verb Agreement PowerPoint with 5 worksheets about the basic rules of subject-verb agreements. Subject Verb Agreement PowerPoint progression: 1)Starts by reviewing what the subject and verb of a sentence is. 2)Then an example slide of the grammar rule. 3)Main part of the PowerPoint provides example sentences with various different subjects and students choose the correct form of the verb, on a click the correct form of the verb floats into place. (rule is removed after a few slides, but then reappears so that you can reinforce [or correct] the rule). Fun story style to keep students engaged. 4)Ends with a simple task instructing students to write examples for different subjects and pronouns. I use it with a ESL after-school class and mini-whiteboards for pairs of students to make it into a quiz game format. Also included are 5 carefully designed, story-style, fun worksheets which provide reinforcement and practice for the rule. 1 of the worksheets repeats the examples used in the PowerPoint.

/igh/ trigraph labeling worksheets. Using 12 extra clear, black and white, clip-art images. Differentiated​ with and without workbank, and wordbank with and without sound buttons.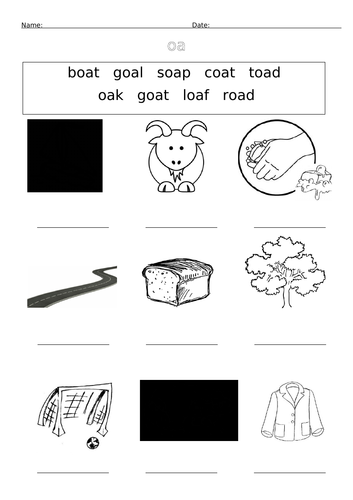 oa labelling worksheet and ow (making the oa sound) labeling worksheet. Plus an 'oa' and 'ow' cloze activity. oa = goat, boat, oak, soap, toad, road, etc. ow = slow, snow, blow, yellow, pillow etc. Please see my 242 page Phonics Skills Book Phase 3 - Phase 5 resource. https://www.tes.com/teaching-resource/phonics-skills-book-phase-3-phase-5-11872855

(Letters and Sounds Phase 5) alternative spellings for 'air' sorting cards, illustrated sentence, phoneme spotter story and worksheets. 2 versions of clip-art sorting cards with all example words for all 4 spellings for air (air, ere, ear, are) - 1 version picture with word (sort into spelling groups) & 1 version match picture to word (focus on reading) 11 Illustrated sentences (from letters and sound plan + homophone examples) 3 Worksheet focusing on 1 spelling (i.e. air worksheet, ere worksheet, are worksheet) 1 homophone and homograph choice worksheet. 1 phoneme spotter story

Adjective, adverb, verb, & noun mats bundle. All mats are differentiated and illustrated.

Contractions anchor chart / contractions poster, contractions worksheets, contractions quiz-quiz-trade cards. Variety of contraction activities - differentiated.

Alternative spellings for (y)oo Carefully chosen words and matching, clear images following Letters and Sounds Phase 5 Week 26 planning documents. alternative spelling of '(y)oo' = 'u_e' as in : use, muse, duke, value, cube, tune. alternative spelling of '(y)oo' = 'ue' as in : cue, venue, rescue, argue, due, hue. alternative spelling of '(y)oo' = 'ew'as in : stew, few, new, nephew, mildew. 2 versions of flashcards to support teaching of y(oo) 1)Flashcards with words and image on one card 2)Flashcards with word on one card and image on another card for matching/games Spelling tables for end of week's review (differentiated - 1 for labeling/1 for sound button drawing) Mixed word list (I usually enlarge photocopy upto A3 and do a reading game - missing one or two words as students listen and try to remember which words were missed)

Differentiated /oo/ digraph worksheets long /oo/ labeling short /oo/ labeling long OR short /oo/ ? worksheets Phoneme frame listen, spell and draw 16 words grid activity Differentiated versions include with or without word bank (and sound button or no sound button word bank versions) Using extra clear, black and white clip-art.

Pronunciations of 'Y' sorting flashcards, and matching read, sort and write worksheet ** and** Poster Alternative pronunciations of 'Y' 'y' as in 'ee' sound (e.g. baby, twenty) [10 images/words] y' as in 'ie' sound (e.g. cry, July) [10 images/words] y' as in 'i' sound (e.g. gym, crystal) [10 images/words] Standard pronunciation of 'y' 'y' as in 'y' sound (e.g. yam, yolk) [10 images/words] Poster, Flashcards, Worksheet Supports Phase 5 of Letters and Sounds.

45 /er/ digraph example words with clear clipart used to make 7 /er/ worksheets. Words come from the Letters and Sound Planning document and the Jolly Phonics word bank. Includes 13 differentiated worksheets. A selection of lower,middle and higher ability reading and spelling labeling worksheets, find-highlight-write worksheets, read and match worksheets, and partner write-read-check worksheets. Wordbank of used words for some of the labeling worksheets are on separate sheet; you can decide to give it or not to further differentiate/ extend (topmarks font and opendyslexic font versions of wordbank included) One of the uploaded versions includes only previously taught GPCs from earlier in the letters and sounds stage 3 teaching order. All clipart images are black and white, communications images.

Flashcards with images and words and a spelling table to support teaching of alternative spellings of /oa/ (Phase 5 Week 25) Review spelling: 'oa' as in coat, float, throat. Alternative spellings: 'ow' = 'oa' as in blow, elbow, shadow, 'oe' ='oa' as in toe, tomatoes, heroes, o_e = 'oa' as in smoke, telescope, cone, globe 'o' = 'oa' as in tomato, gecko, mango, no, so 16 clear images/words for each grapheme above used in: Flashcards with word and image on one card. Flashcards with image on one card and a matching flashcard/grid for the corresponding word. 2 versions of a 'spelling grid' (one version all 5 graphemes, one version 4 = /ow/,/oe/,/o_e/,/o/) with a accompanying word bank.

2 resources to support teaching of stage 5 week 8 of Letters and Sound alternative u pronunciation. U as in human, unicorn, tuna U as in butter, under, sun. 24 Word cards with images to be sorted into the matching u sound groups and a read and write in the correct column worksheet.