219Uploads
1229k+Views
1656k+Downloads

242 Page phonics spelling & phonics reading book! SEE VIDEO. Complete phonics book which can be used alongside any phonics scheme . Beginning with group 1 phonics sounds, and logically and sequentially building to cover all blends, digraphs, trigraphs and dipthongs in English phonics. For each sound, blend, digraph, trigraph or diphthong there are 5 or 6 phonics pages: Add the blend or digraph to the word and connect to the matching picture Clear clip-art (black and white - perfect for colouring) labeling page using 9 carefully chosen example phone words/clip-art followed by a fun read and draw page Write the blend or digraph and read the words with the aid of sound buttons and lines under each grapheme. Find, highlight and write the words containing each specific blend (or digraph, trigraph etc.) then a cloze page of decoadable sentences which have been carefully sequenced to progressively incorporate words that are consistent with the letters and corresponding phonemes that have been taught to the new reader/speller in previous pages of the book (plus sight words) Could be made into a 242 page phonics workbook, or individual pages can be printed off and photocopied. (I have uploaded two versions of the book - the original 168 page standard version, and a 242 extended version) Perfect for beginner readers and spellers. Also great for EAL students to help build vocabulary alongside reading and spelling skills. Made by an experienced phonics teacher, and used in classrooms weekly. #phonics #spelling #reading

Subject Verb Agreement PowerPoint with 5 worksheets about the basic rules of subject-verb agreements. Subject Verb Agreement PowerPoint progression: 1)Starts by reviewing what the subject and verb of a sentence is. 2)Then an example slide of the grammar rule. 3)Main part of the PowerPoint provides example sentences with various different subjects and students choose the correct form of the verb, on a click the correct form of the verb floats into place. (rule is removed after a few slides, but then reappears so that you can reinforce [or correct] the rule). Fun story style to keep students engaged. 4)Ends with a simple task instructing students to write examples for different subjects and pronouns. I use it with a ESL after-school class and mini-whiteboards for pairs of students to make it into a quiz game format. Also included are 5 carefully designed, story-style, fun worksheets which provide reinforcement and practice for the rule. 1 of the worksheets repeats the examples used in the PowerPoint.

/igh/ trigraph labeling worksheets. Using 12 extra clear, black and white, clip-art images. Differentiated​ with and without workbank, and wordbank with and without sound buttons.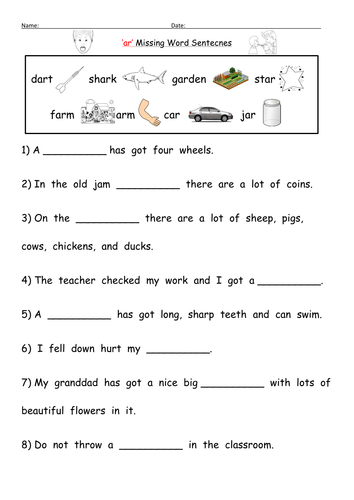 /ar/ digraph worksheets; 1)Labelling 9 clear clip-art pictures…arm, jar, star, car, farm, dart, shark, scarf, garden, 2) Cloze sentences worksheet using the same words. 3) Read/Cover/Write/Check table with illustrations. 4) Cut and stick with words broken into individual phonemes for students to spell words under the picture. Please see my 242 page Phonics Skills Book Phase 3 - Phase 5 resource. https://www.tes.com/teaching-resource/phonics-skills-book-phase-3-phase-5-11872855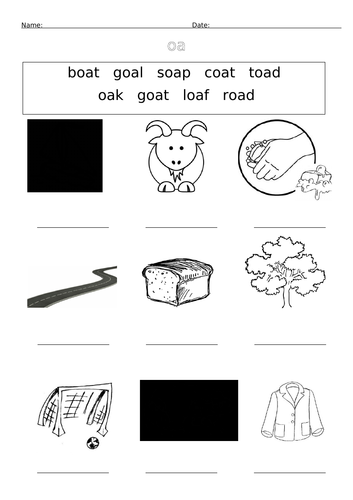 oa labelling worksheet and ow (making the oa sound) labeling worksheet. Plus an 'oa' and 'ow' cloze activity. oa = goat, boat, oak, soap, toad, road, etc. ow = slow, snow, blow, yellow, pillow etc. Please see my 242 page Phonics Skills Book Phase 3 - Phase 5 resource. https://www.tes.com/teaching-resource/phonics-skills-book-phase-3-phase-5-11872855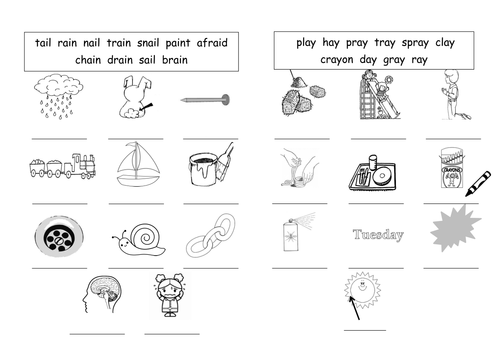 Two ways to make the long a sound: ai and ay. One labeling worksheet. One sorting the spellings in correct columns worksheet. Please see my 242 page Phonics Skills Book Phase 3 - Phase 5 resource. https://www.tes.com/teaching-resource/phonics-skills-book-phase-3-phase-5-11872855

Adjective, adverb, verb, & noun mats bundle. All mats are differentiated and illustrated.

Contractions anchor chart / contractions poster, contractions worksheets, contractions quiz-quiz-trade cards. Variety of contraction activities - differentiated.

Differentiated phase 3 phonics worksheets (weeks 5, 6, & 7) Vowel digraphs: /ar/, /or/, /ur/, /ow/, /oi/, /er/ Vowel trigraphs: /igh/, /ear/, /air/, /ure/ Each phase 3 digraph/trigraph has: A variety of differentiated labeling/spelling worksheets (LA / MA / HA). Choose the word from three words reading worksheet. 'Find the word' differentiated (LA / HA) reading and writing worksheets. All worksheets designed with reference to the Letters and Sounds Word Lists. e.g. All the example /ur/ words use only graphemes​ taught previously (i.e. during earlier weeks of phase 3 and during phase 2). Therefore all the words used should be fully decodable for the learner. Very clear black and white clip-art used. Perfect for colouring. I often photocopy and enlarge to A3 for whole class teaching and modeling of the worksheet. For earlier phase 3 consonant digraphs and vowel digraphs, please see my shop and/or bundle resource packs.

Phase 3, Roll it, Read it Dice Game Mats for Tricky and Decodabale Words. 4 beuatifuly and carfeully designed mats 2 mats with tricky words. 2 mats with decodable words.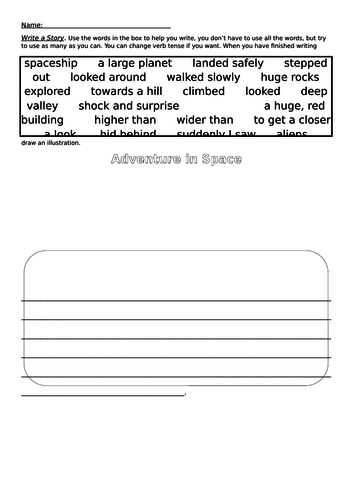 Use these writing frames to help Key Stage 1 and lower Key Stage 2 students write stories. 8 story idea writing frames with suggested words to help students write interesting stories. Appropriate possible word choices for characters, and setting and a selection of appropriate key phrases, adjectives and verbs which writers could incorporate into their stories. All or just a few of the words can be used. Although it may seem to a teacher or tutor that the plot is predetermined by the word selection children can write a multitude of different stories by selecting fewer or more words, putting words in different orders and by adding their own extra words and information to create a different story each time. (Differentiation by outcome) Designed to help young writers expand their vocabulary and have fun writing.

Split Digraph (Magic E) Flashcards /a_e/, /e_e/, /i_e/, /o_e/ & /u_e/ (long U and long /oo/ u_e) perfect for letters and sounds Phase 5 3 types of flashcard for each split digraph (i.e. 18 sets) Black & white split digraph word with clear illustration on one card Word on one card and illustration on another card (for matching & memory games) Sound button flashcards ALL suggested words from Letters and Sound Phase 5 Planning Document used, PLUS all words from Jolly Phonics suggested word list, PLUS some additional example words.

Everything you need for letters and sounds phase 3! Phonics Worksheets, table mats, and tricky words game for letters and sounds Phase 3. Everything taught is covered: j, v, w, x, y, z/zz, qu, ch, sh, th, ng, ai, ee, oa, short & long oo, ar, or, ur, ow, oi, er, igh, ear, air, ure

Adjectives mats & adjectives posters. Differentiated​ adjective scaffolds - one with many adjectives, one with less and larger font. Adjective mats are A4. Adjective posters are A3. Also uploaded the publisher file if you wish to edit the example words (the font used is Topmarks )

Verb mats (verb scaffolds) and matching style verb worksheets. Verbs grouped as 'moving verbs' 'speaking verbs' 'feeling verbs' 'thinking verbs' 'modal verbs' Differentiated versions uploaded.

Noun mats (noun scaffolds) and matching noun worksheets. Differentiated versions uploaded. Blank version also uploaded for children to make their own examples.

Animated & illustrated PowerPoint introduction to prefixes and suffixes and how they change the meaning of (base) words. Most common prefixes and suffixes covered. Each prefix or suffix is presented with 10+ logical examples in an engaging style. Think-pair-share activities for each prefix or suffix. Slide Order: Review of base words quickly covered with an identify the base word activity. Explanation and examples of common prefixes: 're', 'un', 'mis', 'pre', and 'dis'. Each prefix then followed with a think-pair-share activity. 20+ examples of words with the prefix then shown for students to self check against. Explanation and examples of common suffixes: '-ful', '-less', 'ly', 'er', 'est' Each suffix followed with a think-pair-share activity 20+ Examples of words with the suffix. Quite a long slide show if all done at once (whole lesson perhaps). Could be used to introduce/review just prefixes or suffixes in one lesson by showing only 1 half of the presentation. Some slides could also be hidden. Other than a brief explanation and examples for each prefix or suffix, I've tried to keep it quite straight forward so that their isn't too much lecturing or reading required. Recommend students use mini-whiteboards for the think-pair-shares or list on paper the examples pairs or small groups can come up with. Been designed with ESL grade 3, 4 and 5 students as the target pupils, so repetitive language used with vocabulary building as a desired outcome.

Position, direction and movement, anti-clockwise, clockwise, fractions of turns *Review clockwise and anti-clockwise turns by means of animated images of clocks and 11 other fun animated revolving images. *Learn quarter, two-quarter/half, three-quarters and four-quarters/whole fractions of a circle *simple following instruction game to review clockwise and anti-clockwise quarter, half, three-quarter and whole turns prior to or after watching a birds-eye animated image of a man standing on a divided circle making animated turns. *In pairs practice turning a pencil clockwise and anti-clockwise quarter, half, three-quarter and whole turns prior to or after viewing an example. PowerPoint whole-class teaching resource Two page worksheet (in word & PDF format) using the same pencil turns image to consolidate learning.

Helpful phonics bundle for Letters and Sounds phases 3 & 5 all graphemes covered. Includes; my best selling 242 page phonics book a carefully designed, and very useful phase 2 and 3 phonics mat a similar style double-sided, flippable phase 5 mat phase 3, sets 6 & 7 differentiated worksheets phase 3, sets 7 & 8 worksheets phase 3, sets 8,9 & 10 Split digraph flashcards a helpful medial vowel sounds mat a fun phase 3 tricky words game fun partner write & read activity worksheets /er/ digraph labeling worksheets /oo/ digraph labeling worksheets /igh/ trigraph labeling worksheets

Verb, Nouns, Adjectives Display Bundle. 162 Word Illustration Cards. 11 verb, noun, adj Definition Posters.