218Uploads
1210k+Views
1631k+Downloads

Old and Modern Bear activities. Labeling worksheets with 4 bears - 2 old and 2 modern. Old / New Features draw a line to link worksheet. Quiz-Quiz-Trade activity Cards with Key differentiating features of old and modern bears. Photos of bears to sort into old/new groups Key differentiating features labeled; Old bears with glass eyes, movable joints, long limbs, real fur, pointed muzzles etc. making them appear 'lifelike' Modern bears with plastic eyes, no movable joints, short limbs, fabric fur, rounded muzzles etc. making them appear 'cute'

242 Page phonics spelling & reading workbook! SEE VIDEO. Based on the teaching order in Jolly Phonics (could be used with any phonics scheme) using phonics words from the suggested word lists. Beginning with group 1 sounds, and logically and sequentially building to cover all blends, digraphs, trigraphs and dipthongs in English phonics. For each sound, blend, digraph, trigraph or diphthong there are 5 or 6 phonics pages: Add the blend or digraph to the word and connect to the matching picture Clear clip-art (black and white - perfect for colouring) labeling page using 9 carefully chosen example phone words/clip-art followed by a fun read and draw page Write the blend or digraph and read the words with the aid of sound buttons and lines under each grapheme. Find, highlight and write the words containing each specific blend (or digraph, trigraph etc.) then a cloze page of decoadable sentences which have been carefully sequenced to progressively incorporate words that are consistent with the letters and corresponding phonemes that have been taught to the new reader/speller in previous pages of the book (plus sight words) Could be made into a 242 page phonics workbook, or individual pages can be printed off and photocopied. (I have uploaded two versions of the book - the original 168 page standard version, and a 242 extended version) Perfect for beginner readers and spellers. Also great for EAL students to help build vocabulary alongside reading and spelling skills. Made by an experienced phonics teacher, and used in classrooms weekly. #phonics #spelling #reading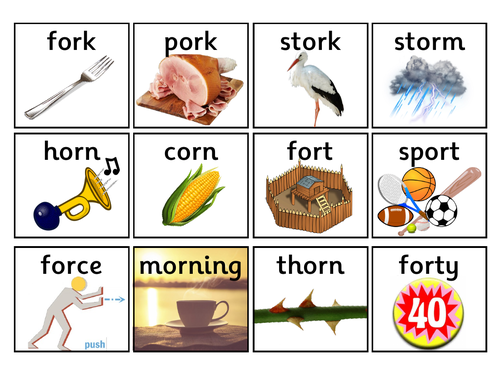 (Letters and Sounds Phase 5) alternative spellings for 'or' sorting cards, illustrated sentence, phoneme spotter story, blending for reading sheets and worksheets. Sorting cards/Flashcards, sentences, worksheets and phoneme spotter include: Review spelling of 'or' as in for, fork, stork, pork. 'or' = 'al' as in talk, walk, wall, stalk 'or' = 'our' as in pour, court, mourn, fourteen. 'or' = 'augh' as in taught, naughty, caught, daughter. Can be used to support teaching of Phase 5 Week 21

To support teaching of spellings for 'ee': ee, ea, e_e, ie, y, and ey. (Phase 5 Week 23) ee as in bee, tree, green, cheeks. ea as in beads, steam, read, team. e_e as in delete, complete, even, concrete. ie as in alien, piece, thief, field. y as in happy, funny, chatty, windy. ey as in key, chimney, turkey, journey. Sorting cards,worksheets, illustrated sentences,spelling grids, and clip-art bingo. Illustrated sorting cards (2 versions - 1 with word label and 1 with seperate matching word grid) Each spelling with 12 example words. Differentiated Worksheets for ie = ee y = ee split digraph e_e = ee Spelling tables with word bank (2 versions) Illustrated example sentences for P5 W23 Letters and Sound plan document. Bingo cards and words for split digraph e_e, ee and ea.

Compensation Strategy for Mental Subtraction. By visually illustrating the mental subtraction strategy of compensation by using moving base ten blocks and a bin my students where able to better understand how answers are adjusted by adding back or subtracting more and therefore compensating for the rounding which made the question easier. PowerPoint includes 5 examples with base ten blocks and 5 matching slides with matching sums but just the thought process and 2 additional examples without base ten blocks to help learners move from a pictorial representation to an abstract one. Download includes a double sided worksheet based around the PowerPoint teaching.

Contractions anchor chart / contractions poster, contractions worksheets, contractions quiz-quiz-trade cards. Variety of contraction activities - differentiated.

Made for my year 3 class who are just starting to formally learn their times-tables. Highly visual, interactive slides with arrays of dots, hundred squares, step counting, and various sum flashcards; PowerPoint activity/presentation progressing in this slide order: Counting in steps of three up to 102 from 0. Repeated addition/counting up in 3s to 190 on click Repeated addition/counting up in 3s to 190 automatic timed steps 100 square count in steps of three with pattern being revealed (2 secs each step). 100 square count in steps of three with pattern being revealed (1 sec each step). 3 times table with array in order 3 times table in order no array 3 times table out of order with array 3 times table out of order no array 3 times table, out of order, no array x24 questions 3 times table - see answer - give sum, out of order with array 3 times table - see answer - give sum, out of order no array Includes differentiated worksheets.

ea Alternative Pronunciation of ea. 'ea' as in head, feather, bread. (and 'ea' as in sea, dream, meat) Sorting flashcards with 42 images and words (21 for each pronunciation) and FInd, highlight, read and write in two column worksheet.

Helpful phonics bundle for Letters and Sounds phases 3 & 5 all graphemes covered. Includes; my best selling 242 page phonics book a carefully designed, and very useful phase 2 and 3 phonics mat a similar style double-sided, flippable phase 5 mat phase 3, sets 6 & 7 differentiated worksheets phase 3, sets 7 & 8 worksheets phase 3, sets 8,9 & 10 Split digraph flashcards a helpful medial vowel sounds mat a fun phase 3 tricky words game fun partner write & read activity worksheets /er/ digraph labeling worksheets /oo/ digraph labeling worksheets /igh/ trigraph labeling worksheets

Grid Method / Place Value PowerPoint uses arrays and smiley faces to show the mental multiplication strategy of using place value and knowledge of multiplication to work out the answers to larger 2-digit multiplication questions (such as 8 x 35, 9 x 33 etc.) No text to read or get distracted by. 12 examples which build from 4 x 18 & 3 x 22 on the first two slides up to 9 x 33 & 8 x 83 on the last two slides. All slides follow the same animations: *Array and multiplication problem is shown. Confused smiley bounces in (teacher explains that if you don't know your 83 times table you're going to be confused) *array changes to show place value calculations. *Confused face is replaced by a happy face as he can now do the multiplication problem. 12 examples clearly help grade 3,4 or 5 students master and understand this important skill. With matching differentiate worksheets.

Flashcards, worksheets and bingo to support teaching of alternative 'sh' Words from Letters and Sounds Phase 5 Week 28 plan plus additional words following spelling pattern. Alternative spellings for 'sh' 'ci' = 'sh' as in special, social, official, facial, etc. 'ti' = 'sh' as in station, patience, mention, position, etc. 's' or 'ss' = 'sh' as in passion, sure, sugar, session, mission, etc. Two version of mini-flashcards (1 with word and image useful for sorting / 1 with word and image on seperate cards for matching/games) using 58 carefully chosen example words. Bingo A5 sheets (6 words per player) Game using 28 alternative sh words. Images really help to support students understanding of the high level vocabulary.

Five times table with doubling and halving (multiply by 10 and halve strategy) Step counting, Visual Animated Grouping, Arrays, Flashcards, Tips and Tricks. All accessible from the main menu linking to each of the following elements: 1) Step counting hands (0-100) 2) Step counting flashcard (0-200) 3) Visual animated grouping of objects (1x5 up to 10x5) using ice-cream, balloons, fidget spinners, coffee cups, - Make a story to go with the visual 4) Arrays of dots with accompanying sums 5) Flashcards of sums in order, then another slide out of order.6) See product:give sum flashcards 7) click-to-show missing answer multiplication wheels (9 versions) 8) Slide that clearly shows product of times five always ends in a zero or a five; with two fix digits and flying in and out tens number 9) Visual explanation of the Multiply by 10 and Halve it trick: unifix cubes of x5 shown with a confused smiley, then unfix cubes showing x10 shown with a happy smiley, which is in turn covered to show that students can think times ten and then halve the answer to get the x5 answer. Includes differentiated multiply by ten and halve worksheets

10 adjectives worksheets; Range of levels from gaining initial knowledge to applying it in sentence writing. Hope that people find them useful. Please rate and comment if you do! Please also see my adjective, nouns and verb flashcards / display cards https://www.tes.com/teaching-resource/nouns-verbs-adjectives-display-cards-12216145 And my posters: https://www.tes.com/teaching-resource/verbs-nouns-adjectives-posters-12212892

Flashcards to help learn the phonics sounds with pictures of the Jolly Phonics actions to aid memory recall. Hope that people find them useful.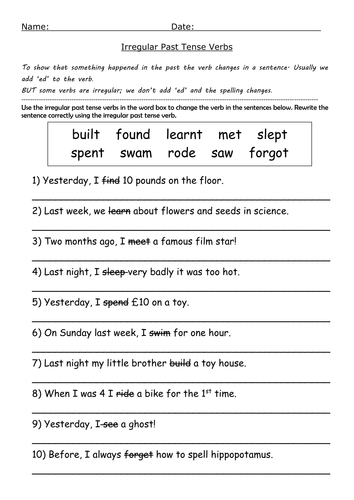 Irregular past tense verbs worksheet. 18 easy to read sentences: but with the simple present form of the verb being used ( crossed out text)...children have to read the sentence and rewrite it underneath changing the verb for the irregular past tense spelling of the verb. Irregular past tense verbs supplied in a text box. Easy to differentiate: remove text box, less or more sentences, don't strike through verb etc.

Eight Times Table trick of double-double-double. PowerPoint with an animation showing the double-double-double strategy to help students work out answers when multiplying by 8. Starts with some easier multiplications (1x8, 2x8, 5x8, 3x8), Then covers all the x8 facts upto x12, Then has some trickier numbers to multiply (two digit and three digits) Includes 7 matching style differentiated​ worksheets Also see my Multiplication Strategies pack which includes this trick and other common multiplication strategies; https://www.tes.com/teaching-resource/mental-multiplication-strategies-11756501

Doubling and halving using partitioning 2 3 & 4 digit numbers. Doubling and halving frames differentiated worksheets. Doubling related to multiplying by 2 and halving related to dividing by 2 with matching sum. Includes blank versions for further differentiation.

/igh/ trigraph labeling worksheets. Using 12 extra clear, black and white, clip-art images. Differentiated​ with and without workbank, and wordbank with and without sound buttons.

Adverbs of manner lace mat / table mat to support students choosing and using more adventurous adverbs of manner.

Differentiated /oo/ digraph worksheets long /oo/ labeling short /oo/ labeling long OR short /oo/ ? worksheets Phoneme frame listen, spell and draw 16 words grid activity Differentiated versions include with or without word bank (and sound button or no sound button word bank versions) Using extra clear, black and white clip-art.