219Uploads
1229k+Views
1656k+Downloads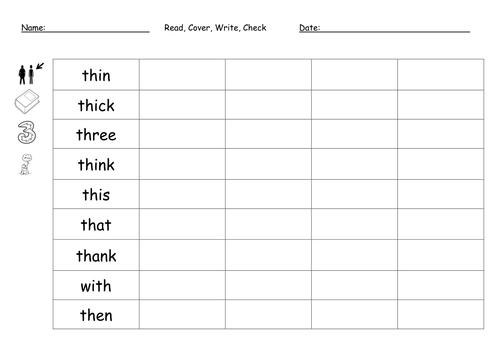 Th (voiced and unvoiced) 1st labelling worksheet. (three, thin, thick, thank, thunder, thorn, this, that, tooth) B&W clipart to label and colour. PLUS 'th' cloze sentences worksheet using the same words. PLUS read/cover/write/check th' words. And threw in a &'this' is a CVC'; and 'that is a CVC' writing worksheet to practice some HFW and enforce this/that spelling and use. Please see my 242 page phonics book. https://www.tes.com/teaching-resource/phonics-comprehension-skills-book-11872855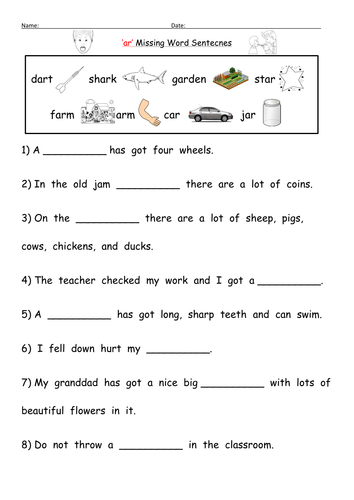 /ar/ digraph worksheets; 1)Labelling 9 clear clip-art pictures…arm, jar, star, car, farm, dart, shark, scarf, garden, 2) Cloze sentences worksheet using the same words. 3) Read/Cover/Write/Check table with illustrations. 4) Cut and stick with words broken into individual phonemes for students to spell words under the picture. Please see my 242 page Phonics Skills Book Phase 3 - Phase 5 resource. https://www.tes.com/teaching-resource/phonics-skills-book-phase-3-phase-5-11872855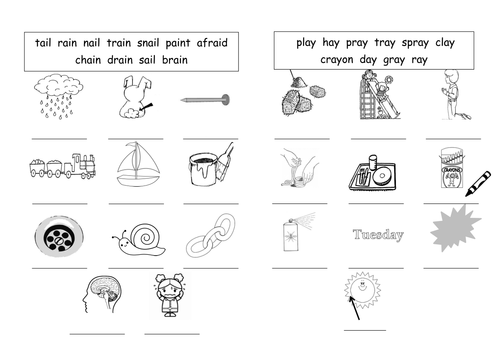 Two ways to make the long a sound: ai and ay. One labeling worksheet. One sorting the spellings in correct columns worksheet. Please see my 242 page Phonics Skills Book Phase 3 - Phase 5 resource. https://www.tes.com/teaching-resource/phonics-skills-book-phase-3-phase-5-11872855

Differentiated phonics​ worksheets for /j/, /v/, /w/, /x/, /y/, /z/ & /zz/, /qu/ Each sound has: Labeling worksheet (differentiated versions) Circle the matching word worksheet Find, Highlight and Write worksheet (differentiated versions) All worksheets designed with reference to the Letters and Sounds Word List. e.g. All the example /j/ words use only graphemes​ taught previously (i.e. during phase 2). The example /qu/ words might contain graphemes taught in previous weeks of phase 3 and those taught in phase 2. Very clear black and white clip-art used. I often enlarge the worksheets to A3 and use them for whole class teaching.

ea Alternative Pronunciation of ea. 'ea' as in head, feather, bread. (and 'ea' as in sea, dream, meat) Sorting flashcards with 42 images and words (21 for each pronunciation) and FInd, highlight, read and write in two column worksheet.

An introduction of the 'think multiplication strategy' to help with division. An animated, interactive PowerPoint presentation with arrays of dots to help students visualize related multiplication and division facts. A partially covered array showing only the number of rows in an array, but not the number of dots in each row is shown, along with a matching fact statement (e.g. "Altogether there are 40 dots") Students are encouraged to give the multiplication sentence AND related division sentence using the information shown (total number of dots & number of rows/groups) that helps work out the array proportions. e.g. 5 x ? = 40 and 40 ÷ 5= ?. 14 example arrays. Includes 3 level differentiated division / multiplication worksheet in same style, plus colour matching facts for all tables x2-x10

Position, direction and movement, anti-clockwise, clockwise, fractions of turns *Review clockwise and anti-clockwise turns by means of animated images of clocks and 11 other fun animated revolving images. *Learn quarter, two-quarter/half, three-quarters and four-quarters/whole fractions of a circle *simple following instruction game to review clockwise and anti-clockwise quarter, half, three-quarter and whole turns prior to or after watching a birds-eye animated image of a man standing on a divided circle making animated turns. *In pairs practice turning a pencil clockwise and anti-clockwise quarter, half, three-quarter and whole turns prior to or after viewing an example. PowerPoint whole-class teaching resource Two page worksheet (in word & PDF format) using the same pencil turns image to consolidate learning.

Animated & illustrated PowerPoint introduction to prefixes and suffixes and how they change the meaning of (base) words. Most common prefixes and suffixes covered. Each prefix or suffix is presented with 10+ logical examples in an engaging style. Think-pair-share activities for each prefix or suffix. Slide Order: Review of base words quickly covered with an identify the base word activity. Explanation and examples of common prefixes: 're', 'un', 'mis', 'pre', and 'dis'. Each prefix then followed with a think-pair-share activity. 20+ examples of words with the prefix then shown for students to self check against. Explanation and examples of common suffixes: '-ful', '-less', 'ly', 'er', 'est' Each suffix followed with a think-pair-share activity 20+ Examples of words with the suffix. Quite a long slide show if all done at once (whole lesson perhaps). Could be used to introduce/review just prefixes or suffixes in one lesson by showing only 1 half of the presentation. Some slides could also be hidden. Other than a brief explanation and examples for each prefix or suffix, I've tried to keep it quite straight forward so that their isn't too much lecturing or reading required. Recommend students use mini-whiteboards for the think-pair-shares or list on paper the examples pairs or small groups can come up with. Been designed with ESL grade 3, 4 and 5 students as the target pupils, so repetitive language used with vocabulary building as a desired outcome.

Carefully designed, double-sided, Phase 5 phonics mats. One side has grapheme and memorable clip-art example(s), reverse side has a list of example words (taken from Letters and Sound, Phase 5, Bank of Words). Each side is laid out in the reverse order - so that when the clip-art side is printed and put back-to-back with the word list side the words are directly behind the image. This helps the learner to find the spelling pattern they are looking for as the mat is 'flippable'. No title on the table mat to maximize examples.

Noun mats (noun scaffolds) and matching noun worksheets. Differentiated versions uploaded. Blank version also uploaded for children to make their own examples.

Two resources (3 PowerPoints and lots of worksheets) to help learners really understand mental subtraction.

Adjectives mats & adjectives posters. Differentiated​ adjective scaffolds - one with many adjectives, one with less and larger font. Adjective mats are A4. Adjective posters are A3. Also uploaded the publisher file if you wish to edit the example words (the font used is Topmarks )

Three times table multiplication worksheets. Differentiated three ways. Three times table trick worksheets with arrays. Skip counting by 3s worksheets with hundred square, groups of dice, skip counting practice.

Pronunciations of 'ou' sorting flashcards, read and colour the 4 pronunciations worksheet, and grouping and listing frame. Alternative pronunciations of 'ou' 'ou' as in 'oo' sound (e.g. you, group) 'ou' as in 'o' sound (e.g. could, should) 'ou' as in 'oa' sound (e.g. shoulder, boulder) Standard pronunciation of 'ou' 'ou' as in 'ou' sound (e.g. cloud, proud) Supports Phase 5 of Letters and Sounds.

Clear verbs, nouns, adjectives mats or posters with definition and clear pictures to illustrate a selection of verbs, nouns, adjectives. 11 A4 posters included 4 verb posters or mats. 3 noun posters or mats. 4 adjective posters or mats. 1 version of the verbs poster with verbs defined twice as; ' verbs are action words' twice as ' verbs are action words that describe what the noun is doing' 1 extra version of verb posters (e.g. 4 verb posters) as above but action words replaced with doing words. Ideal for introducing and/or reinforcing verbs and nouns in year 1 and 2. Make it into a display with the bundle (See below)

8 Mental Strategies for Multiplication These thoughtfully made PowerPoints are carefully designed to help students grasp commonly taught multiplication strategies ( and tricks) for x0, x1, x2, x3, x4, x5, x8, and x9 times tables. Ideal for years 3 and 4, but also helpful for year 5 and 6. To multiply by 2 = double the number To multiply by 3 = double the number and add a set To multiply by 4 = double, then double again. To multiply by 5 = multiply by 10 then halve To multiply by 8 = double-double-double To multiply by 9 = use your fingers/ the digits of answer added = 9 To multiply by 0 = the answer is always 0 To multiply by 1 = the answer is always that same number. All the PowerPoints include examples to 12 and extensions to large multiplications to show that the strategy really comes in useful for doing tricky mental multiplication. Please see video for a taster. All slide animations are activated when you click the mouse, giving teacher and student thinking and explaining time. Video is sped up to get through the examples. Includes some supporting, differentiated worksheets

Repeated addition, arrays and multiplication resources to help children understand the concepts of repeated addition, arrays and multiplication. 2 PowerPoints (2 facts & 5 facts) clearly demonstrate repeated addition and logically introduce groups of items, and then arrays. Includes 12 worksheet activities thoughtfully designed to allow students to develop repeated addition and multiplication skills and understanding. Worksheets include matching activities, cut and sticks, drawing, a booklet to make arrays and other helpful activities. (Most examples focus on the 2s, 5s and 10s facts - some worksheets are differentiated with more challenging examples) Perfect for years 1 and 2.

Think Addition Strategy to do Subtraction mental math 2 Presentations & 8 Worksheets - Think-addition-to-do-subtraction is a mental math strategy that introduces students to the concept that there is an inverse relationship between addition and subtraction. You think of an addition fact in the same fact family. For example, you can solve 10 - 4 = ? by thinking 4 + ? = 10 and knowing that 4 + 6 = 10. I made these two PowerPoints to help my grade 3 class (ages 8 & 9) with the think-addition strategy. Many of my students this year are slow to recall number-bond facts, and therefore this has hopefully helped them to see the inverse relationship between addition and subtraction. Could well be used in earlier grades. 1 PowerPoint of 25 sums with matching circles being added and taken away: mainly for subtraction sums between 10-20, but also has 4 slides for facts to 10. Slides can of course be hidden and order rearranged. 2nd PowerPoint of 20 larger sums with no circles: variety of examples within 100. Comes with seven subtraction think addition worksheets in PDF format of increasing difficulty, and 1 editable microsoft word worksheet.

Five times table with doubling and halving (multiply by 10 and halve strategy) Step counting, Visual Animated Grouping, Arrays, Flashcards, Tips and Tricks. All accessible from the main menu linking to each of the following elements: 1) Step counting hands (0-100) 2) Step counting flashcard (0-200) 3) Visual animated grouping of objects (1x5 up to 10x5) using ice-cream, balloons, fidget spinners, coffee cups, - Make a story to go with the visual 4) Arrays of dots with accompanying sums 5) Flashcards of sums in order, then another slide out of order.6) See product:give sum flashcards 7) click-to-show missing answer multiplication wheels (9 versions) 8) Slide that clearly shows product of times five always ends in a zero or a five; with two fix digits and flying in and out tens number 9) Visual explanation of the Multiply by 10 and Halve it trick: unifix cubes of x5 shown with a confused smiley, then unfix cubes showing x10 shown with a happy smiley, which is in turn covered to show that students can think times ten and then halve the answer to get the x5 answer. Includes differentiated multiply by ten and halve worksheets

Verb mats (verb scaffolds) and matching style verb worksheets. Verbs grouped as 'moving verbs' 'speaking verbs' 'feeling verbs' 'thinking verbs' 'modal verbs' Differentiated versions uploaded.