219Uploads
1229k+Views
1656k+Downloads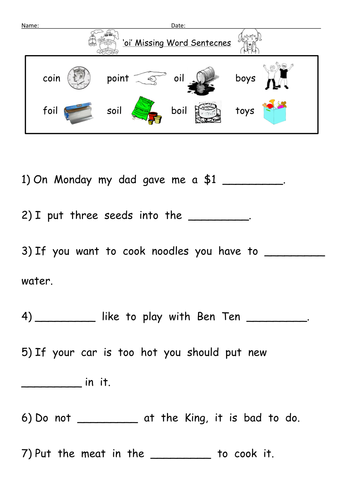 1)Simple labeling worksheet. oil, foil, boil, soil, coin, point, poison, toilet. Read the words in the box, then write it under the matching pictures. 2)'oi&' and &';oy' cloze sentences. 3)&'oi&'; and 'oy&' read/cover/write/check. 4)&';oi' and &'oy&'; label with boy and toy 5&6) Cut phonemes and spell next to the matching picture.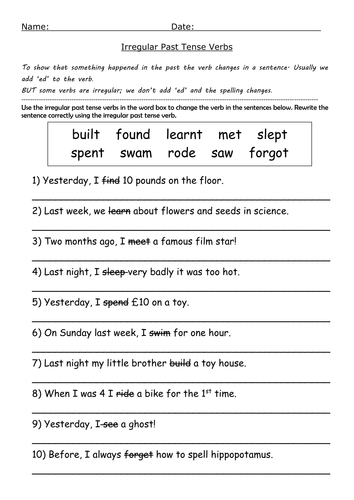 Irregular past tense verbs worksheet. 18 easy to read sentences: but with the simple present form of the verb being used ( crossed out text)...children have to read the sentence and rewrite it underneath changing the verb for the irregular past tense spelling of the verb. Irregular past tense verbs supplied in a text box. Easy to differentiate: remove text box, less or more sentences, don't strike through verb etc.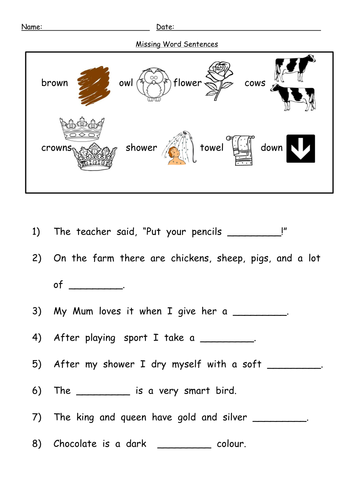 ow words making the /ou/ sound worksheets. introduction labeling worksheet with 12 clear clip art images cloze sentences using a selection of ow words in easy (?) to read sentences. Please see my 242 page Phonics Skills Book Phase 3 - Phase 5 resource. https://www.tes.com/teaching-resource/phonics-skills-book-phase-3-phase-5-11872855

Differentiated /oo/ digraph worksheets long /oo/ labeling short /oo/ labeling long OR short /oo/ ? worksheets Phoneme frame listen, spell and draw 16 words grid activity Differentiated versions include with or without word bank (and sound button or no sound button word bank versions) Using extra clear, black and white clip-art.

Adjective, adverb, verb, & noun mats bundle. All mats are differentiated and illustrated.

(Letters and Sounds Phase 5) alternative spellings for 'air' sorting cards, illustrated sentence, phoneme spotter story and worksheets. 2 versions of clip-art sorting cards with all example words for all 4 spellings for air (air, ere, ear, are) - 1 version picture with word (sort into spelling groups) & 1 version match picture to word (focus on reading) 11 Illustrated sentences (from letters and sound plan + homophone examples) 3 Worksheet focusing on 1 spelling (i.e. air worksheet, ere worksheet, are worksheet) 1 homophone and homograph choice worksheet. 1 phoneme spotter story

45 /er/ digraph example words with clear clipart used to make 7 /er/ worksheets. Words come from the Letters and Sound Planning document and the Jolly Phonics word bank. Includes 13 differentiated worksheets. A selection of lower,middle and higher ability reading and spelling labeling worksheets, find-highlight-write worksheets, read and match worksheets, and partner write-read-check worksheets. Wordbank of used words for some of the labeling worksheets are on separate sheet; you can decide to give it or not to further differentiate/ extend (topmarks font and opendyslexic font versions of wordbank included) One of the uploaded versions includes only previously taught GPCs from earlier in the letters and sounds stage 3 teaching order. All clipart images are black and white, communications images.

Differentiated phase 3 phonics worksheets (weeks 5, 6, & 7) Vowel digraphs: /ar/, /or/, /ur/, /ow/, /oi/, /er/ Vowel trigraphs: /igh/, /ear/, /air/, /ure/ Each phase 3 digraph/trigraph has: A variety of differentiated labeling/spelling worksheets (LA / MA / HA). Choose the word from three words reading worksheet. 'Find the word' differentiated (LA / HA) reading and writing worksheets. All worksheets designed with reference to the Letters and Sounds Word Lists. e.g. All the example /ur/ words use only graphemes​ taught previously (i.e. during earlier weeks of phase 3 and during phase 2). Therefore all the words used should be fully decodable for the learner. Very clear black and white clip-art used. Perfect for colouring. I often photocopy and enlarge to A3 for whole class teaching and modeling of the worksheet. For earlier phase 3 consonant digraphs and vowel digraphs, please see my shop and/or bundle resource packs.

Made for my grade 3 class who are just starting to formally learn their times-tables. Highly visual, interactive slides with arrays of dots, hundred square, step counting, various sum flashcards, animated finger trick illustration, and slides showing some of the patterns for the nines times table. PowerPoint activity/presentation progressing in this slide order: 1) Counting in steps of nine up to 216 from 0. 2) 100 square count in steps of nine with pattern being revealed (1.5 seconds each step). 3) 9 times table in order with array 4) 9 times table in order with no array 5) 9 times table out of order with no array - 12 questions 6) 9 times table out of order with no array - 24 questions 7) 9 times table - see answer - give sum, out of order, no array, 12 questions 8) 9 times table in order with finger trick 9) Animated slide that shows that the digits of the answers to nines times table sums always add upto 9. 10) Animated slide that shows that the tens digit goes up by one, and the ones digit goes down by one when the nines times table is recited in order. I have made PowerPoints for every times table which follow a similar order, but modified for each specific times-table. Please see my other resources.

Flashcards with images and words and a spelling table to support teaching of alternative spellings of /oa/ (Phase 5 Week 25) Review spelling: 'oa' as in coat, float, throat. Alternative spellings: 'ow' = 'oa' as in blow, elbow, shadow, 'oe' ='oa' as in toe, tomatoes, heroes, o_e = 'oa' as in smoke, telescope, cone, globe 'o' = 'oa' as in tomato, gecko, mango, no, so 16 clear images/words for each grapheme above used in: Flashcards with word and image on one card. Flashcards with image on one card and a matching flashcard/grid for the corresponding word. 2 versions of a 'spelling grid' (one version all 5 graphemes, one version 4 = /ow/,/oe/,/o_e/,/o/) with a accompanying word bank.

Pronunciations of 'Y' sorting flashcards, and matching read, sort and write worksheet ** and** Poster Alternative pronunciations of 'Y' 'y' as in 'ee' sound (e.g. baby, twenty) [10 images/words] y' as in 'ie' sound (e.g. cry, July) [10 images/words] y' as in 'i' sound (e.g. gym, crystal) [10 images/words] Standard pronunciation of 'y' 'y' as in 'y' sound (e.g. yam, yolk) [10 images/words] Poster, Flashcards, Worksheet Supports Phase 5 of Letters and Sounds.

2 resources to support teaching of stage 5 week 8 of Letters and Sound alternative u pronunciation. U as in human, unicorn, tuna U as in butter, under, sun. 24 Word cards with images to be sorted into the matching u sound groups and a read and write in the correct column worksheet.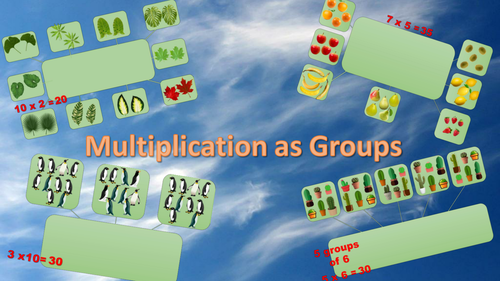 Visual Multiplication. See video. This PowerPoint is designed to introduce young students to multiplication visually with the use of multiplication input tables. All facts for the 2, 5 and 10 times tables presented plus 16 other mixed facts. A total of 43 multiplication examples. Different clipart themes for each of the 43 examples allowing for different story scenarios. (e.g. 3x5 uses 3 types of birds with 5 birds in each group) Matching turnaround facts are linked to from each slide. Chosen facts can be directly jumped to from menu slide. Multiplication sum, movement of items from small groups to one large group, and answer controlled by click of the mouse. Designed by a teacher and used in real grade 1 and 2 classrooms.

Grid Method / Place Value PowerPoint uses arrays and smiley faces to show the mental multiplication strategy of using place value and knowledge of multiplication to work out the answers to larger 2-digit multiplication questions (such as 8 x 35, 9 x 33 etc.) No text to read or get distracted by. 12 examples which build from 4 x 18 & 3 x 22 on the first two slides up to 9 x 33 & 8 x 83 on the last two slides. All slides follow the same animations: *Array and multiplication problem is shown. Confused smiley bounces in (teacher explains that if you don't know your 83 times table you're going to be confused) *array changes to show place value calculations. *Confused face is replaced by a happy face as he can now do the multiplication problem. 12 examples clearly help grade 3,4 or 5 students master and understand this important skill. With matching differentiate worksheets.

Alternative pronunciations for ey. ey = ai / as in they, grey, obey, prey, survey. ey = ee / as in key, money, turkey. To support Phase 5 Week 14 of Letters and Sounds. Includes: Image/Word Cards for sorting into each pronunciation. Memory Reading and Matching image memory game. ey write and link to matching pronunication of ey worksheet (differentiated​) Read, highlight, and write in matching column groups worksheet

Split Digraph (Magic E) Flashcards /a_e/, /e_e/, /i_e/, /o_e/ & /u_e/ (long U and long /oo/ u_e) perfect for letters and sounds Phase 5 3 types of flashcard for each split digraph (i.e. 18 sets) Black & white split digraph word with clear illustration on one card Word on one card and illustration on another card (for matching & memory games) Sound button flashcards ALL suggested words from Letters and Sound Phase 5 Planning Document used, PLUS all words from Jolly Phonics suggested word list, PLUS some additional example words.

This interactive (click to show answer) Multiplication Wheel PowerPoint covers all the times tables from x2 up to x12. Includes A5 multiplication wheel booklet. Each times table has 9 different multiplication wheels on 9 separate slides (linkable from a menu page): MISSING PRODUCTS (click inner number to reveal outer answer) 1) Wheel in order from 0 start 2) Wheel in order from 2 start 3) Wheel in order from 4 start 4) Wheel in mixed order, mix version 1 5) Wheel in mixed order, mix version 2 MISSING FACTORS (click outer number to reveal inner number) 6) Wheel in mixed order, mix version 1 7) Wheel in mixed order, mix version 2 MISSING PRODUCTS AND FACTORS (mixed missing inner and outer numbers) 8) Wheel in mixed order, mix version 1 9) Wheel in mixed order, mix version 2 Each slide can link back to main menu, or to that specific times table menu. Could be used as whole class quiz, warm up, game or as an individual program on a laptop for students to work on independently. ALSO INCLUDES MULTIPLICATION WHEEL BOOKLET. Two wheels on each A4 page, all times tables from 1-12, print back to back, fold, assemble in order, fill in the answers. Editable Word format and PDF included. My students love making these little books every year. Hope that you will use the 2 PowerPoints and booklet time and time again.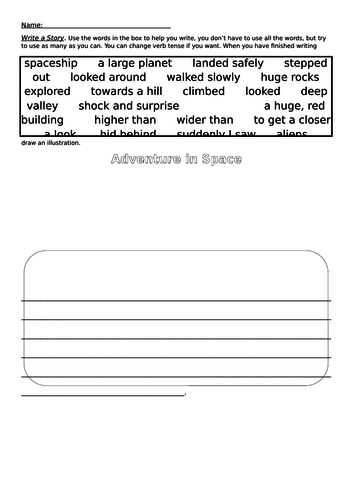 Use these writing frames to help Key Stage 1 and lower Key Stage 2 students write stories. 8 story idea writing frames with suggested words to help students write interesting stories. Appropriate possible word choices for characters, and setting and a selection of appropriate key phrases, adjectives and verbs which writers could incorporate into their stories. All or just a few of the words can be used. Although it may seem to a teacher or tutor that the plot is predetermined by the word selection children can write a multitude of different stories by selecting fewer or more words, putting words in different orders and by adding their own extra words and information to create a different story each time. (Differentiation by outcome) Designed to help young writers expand their vocabulary and have fun writing.

Phase 3, Roll it, Read it Dice Game Mats for Tricky and Decodabale Words. 4 beuatifuly and carfeully designed mats 2 mats with tricky words. 2 mats with decodable words.

Flashcards, worksheets and bingo to support teaching of alternative 'sh' Words from Letters and Sounds Phase 5 Week 28 plan plus additional words following spelling pattern. Alternative spellings for 'sh' 'ci' = 'sh' as in special, social, official, facial, etc. 'ti' = 'sh' as in station, patience, mention, position, etc. 's' or 'ss' = 'sh' as in passion, sure, sugar, session, mission, etc. Two version of mini-flashcards (1 with word and image useful for sorting / 1 with word and image on seperate cards for matching/games) using 58 carefully chosen example words. Bingo A5 sheets (6 words per player) Game using 28 alternative sh words. Images really help to support students understanding of the high level vocabulary.