237Uploads
29k+Views
23k+Downloads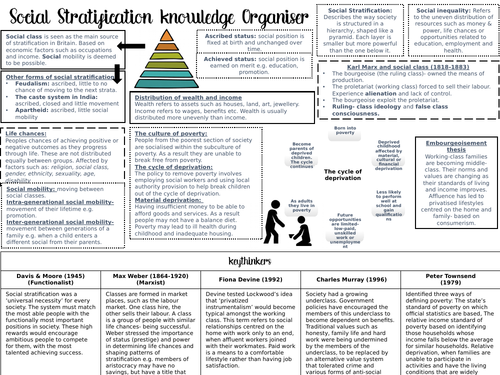 A complete bundle of knowledge organisers for the AQA New Specification (9-1) GCSE exam. These can be tweaked to suit other exam boards. Each knowledge organiser includes the Key Thinkers and a summary of key sociological theorists. Bundle includes: -Research Methods -Education -Family -Crime & Deviance -Social Stratification If you download, please leave a review.

This bundle includes 10 lessons including one mid unit assessment, one homework activity, a consolidation lesson, a knowledge retrieval quiz and a skills focus mini assessment. The bundle also includes the knowledge organiser and sociology tracker (which covers all of paper 1). If you buy, please leave a review. Bundle worth £33.50 if purchased separately.

14 lessons to teach the new specification content, tailored towards AQA but suitable for other exam boards. Lesson 15 would be an assessment, as this is a past paper from AQA I cannot upload but it can be found for free on their website. If you download please leave a review. Knowledge Organiser is now included with the bundle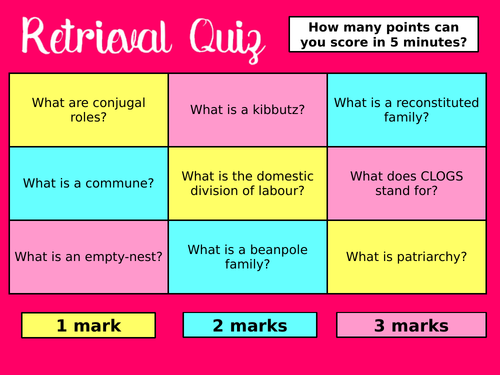 Lesson 13 looks at power distribution in the family. There are 2 video clips that look at domestic violence in the UK. Students then complete some comprehension questions.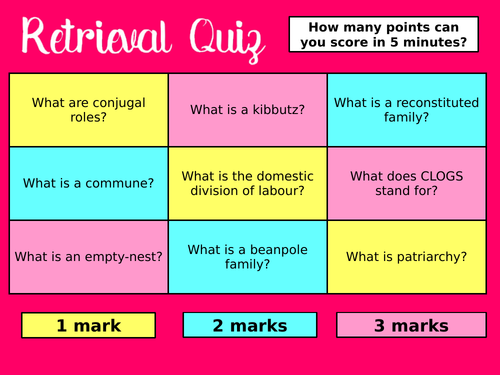 A lesson looking at Ann Oakley and the conventional family. There are some slides looking at the effects of the pressure of living a conventional lifestyle can have have on wellbeing such as financial implications, mental health issues etc. Students complete the proforma and comprehension questions.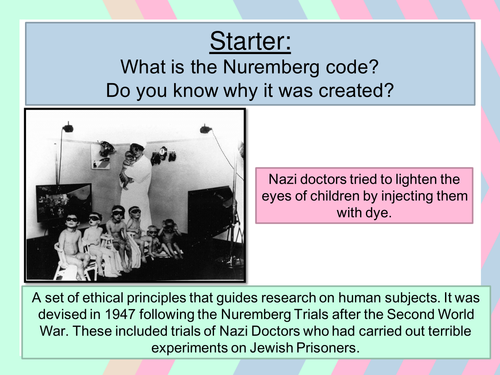 A bundle of resources to teach about the different types of research methods using in Health and Social Care. Suitable for Level 2 and Level 3 content (planned for Unit 4 of L3, but easy to differentiate for Level 2).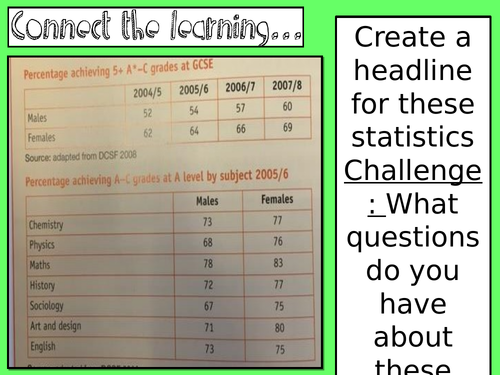 New AQA Specification 9-1. Lesson looking at how internal and external factors plus gender affect the educational achievement of boys and girls- what are the explanations for the improvements in girls achievements and what are the reasons for boys' underachievements.

A new unit of work using the PSHE association mapping structure for the new 2020 Relationship, Sex and Health Education area. This unit is aimed at Year 7. But suitable for any KS3 group. Lessons 4,8,9 are in my shop and are free downloads :) Please review if you download.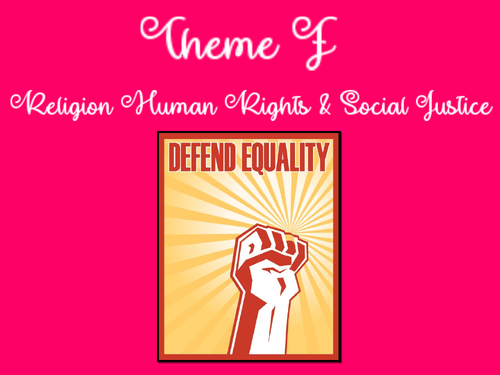 Planned to be delivered to students studying the AQA Specification A, but easily adapted for other exam boards. I have planned all content to be delivered during an intensive Easter School session, in which the aim is for students to understand the main content of the exam. There is a revision checklist, and some exam answer structure support included at the end of the powerpoint. Also suitable for a school VLE.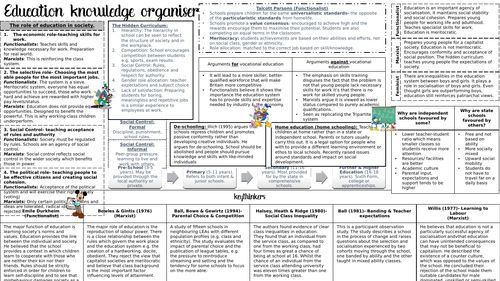 Planned for AQA but suitable for all exam boards if tweaked. Double sided as this is a huge unit! Please leave a review if you download.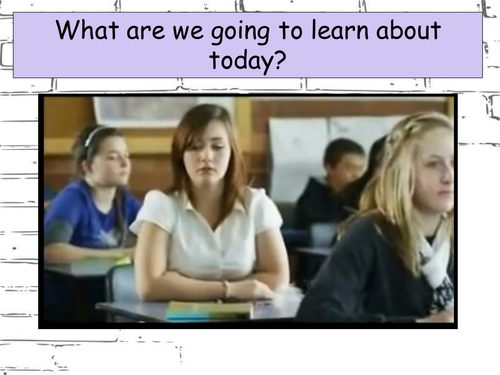 A lesson aimed at low KS4 (Y9) to teach about the dangers and consequences of sexting- including snapchat Leave a review, email misskwaddington@outlook.com and you can choose any single lesson to be emailed back to you for free!

This is an introductory unit aimed at students starting their GCSE in Sociology (suitable for any exam board). The lessons cover the main perspectives in Sociology, giving a brief overview of their theories, including key thinkers. This unit would be suitable for a non-specialist, alternatively it could be used for revision or as a refresher of the basics before an exam/assessment. Please leave a review, email misskwaddington@outlook.com when you have and I will send you any free lesson of your choice.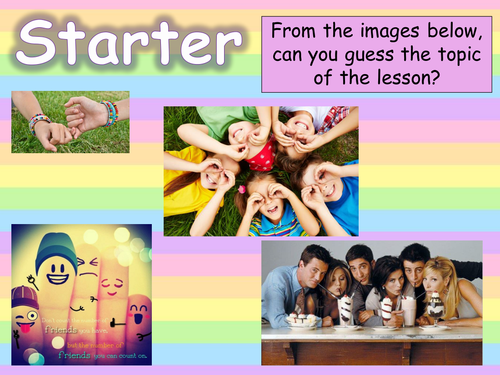 A lovely Year 7 lesson (suitable for primary school as well) based on the Rainbow People. Showing how it doesn't matter if people are different we can all be friends. Leave a review, email misskwaddington@outlook.com and you can choose any single lesson to be emailed back to you for free!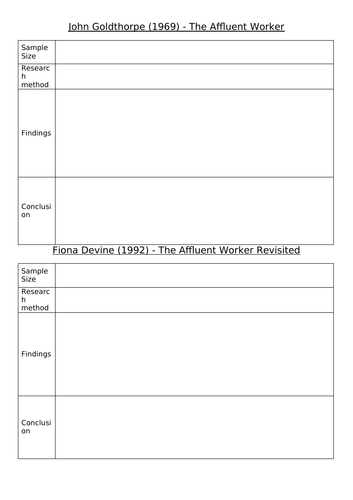 Planned for the 9-1 New Specification This lesson looks at the embourgeoisement thesis. Looking at Goldthorpe's (1969) The Affluent Worker study and Fiona Devine (1992) case study.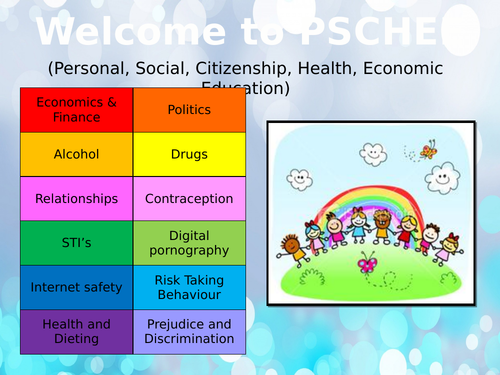 A PSHE/Careers/Enterprise style lesson to teach KS3/KS4 students how to open a bank account. Leave a review, email misskwaddington@outlook.com and you can choose any single lesson to be emailed back to you for free!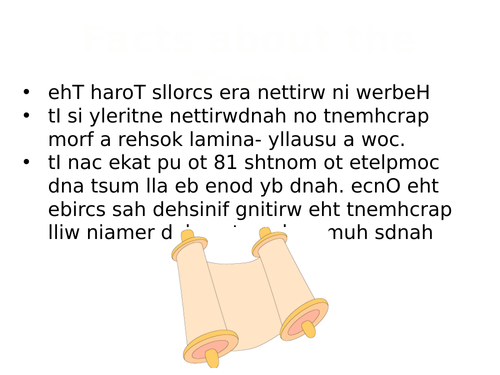 A new scheme of work aimed at KS3 Y7. This unit of work will be a Chronology of Monotheism. Starting with Genesis, moving through Judaism, Christianity and Islam. Each religion will cover Key religious figures, information on their holy book and a rite of passage/religious practice. The aim of this unit is to compliment our GCSE curriculum in which we study Christianity and Islam. The learning journey for the unit is included. L5- Looking at the Torah and it's importance. Free Resource as I have adapted a diamond 9 activity found on a free TES resource. Uses True Tube video clip.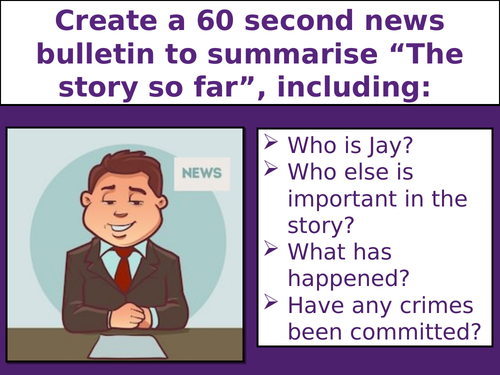 3 free lessons that look at young people joining gangs. Please take the time to review this resource if you download it- for free. L1 looks at why people may join a gang L2 Looks at the risks associated with gang behaviour L3 Looks at how to safely leave a gang. Each lesson has differentiated activities and a final task that will be marked as a final piece of work.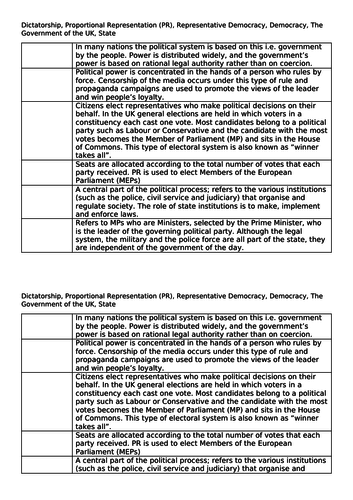 Planned for the new 9-1 AQA specification. This lesson is priced low as it is mainly a research task lesson. Students begin with the usual knowledge retention quiz, followed by a key terms match up to provide them with the basic keywords for this area. Students then complete a research task which has a challenge activity built into it. The aim is to give students 2 lessons and homework to complete this. The unit so far is very writing heavy so i like to build in some independent activities. Hence the low price of the resource.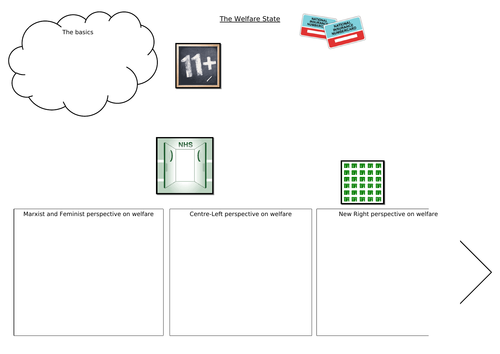 Planned for 9-1 AQA specification. This lesson can take 2 hours (double lesson) if you watch the documentary. Students complete an information sheet on what the Welfare State introduced after the war. They then look at New Right, Centre-Left, Marxist and Feminist perspectives on welfare. There are some extension questions for those who complete this. There is then a documentary about the benefits cap. The idea is to offer this as a possible solution, but for students to think about the implications of this. This documentary is not essential for the course, but it is a nice way for students to think about alternatives to the welfare state, or to consider if the welfare state is a worthwhile investment with taxation.