49Uploads
50k+Views
22k+Downloads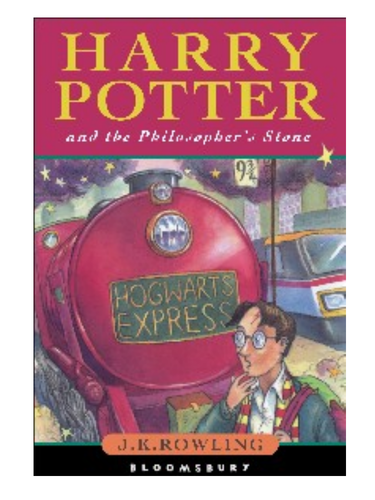 A series of 72 book cover posters to use as a display, cover rubbish walls, use as a background wall paper. All books that are either classic, current favourites, teen favourites or GCSE texts. I have these up covering my windows to stop the kids looking out... it sparks a lot of discussion and a few of them have even asked to borrow the books off me!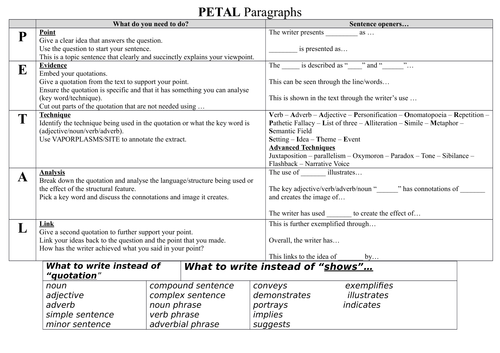 A great learning mat with a step by step guide for writing an effective paragraph that can apply to most Language style questions and Literature exam questions. This learning mat breaks down each component of the paragraph and offers a variety of sentence openers and academic language that students can use. A brilliant resource for differentiation of to give to students as a self-help sheet. I have these out on the tables almost every lesson! Review and follow :-)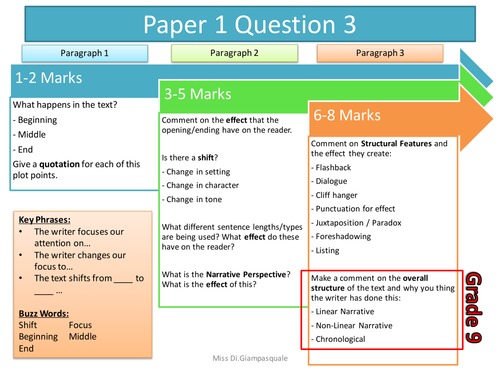 This powerpoint takes students through the skills needed to answer the question. It breaks the mark scheme down into manageable bite size pieces and provides students with essential subject terminology needed for answering this question. The other resource is great for printing off as a revision poster or learning mat to prompt students. Review and follow :-)

This is a colourful and visual resource giving a really great overview to aid in revision. This learning mat includes: - Plot summary - Character summaries with quotations - The ingredients of a tragedy Review and follow :-)

This pack of revision resources are engaging and visual. It includes: - Plot Summary - Character by character analysis - Theme analysis - Key Quotations with full analysis - Context infograph and research sheet - Character link up sheet This is perfect to give to students to aid in their revision.

This overview of the Language paper includes: - Timings - Marks - Hints and tip and various strategies for each question - A writing frame - A sample answer It's a great resources to give students for revision before their exam. It can also be used help students re-draft their answers on mock papers. Review and follow :-)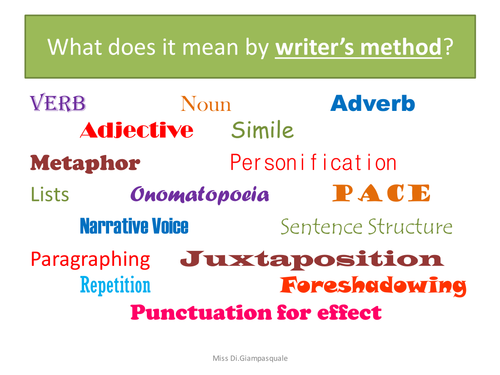 This powerpoint takes students through the criteria and the skills needed for this questions. Sources and sample answers are provided. The other resource is great to print as a revision poster or as a learning mat to prompt students. Review and follow :-)

This is a whole unit of work with a series of 9 fantastic lessons (each lesson lasts 80mins) that includes: - A break down of the criteria - Various activities - Sample Answers - Peer and Self Assessment tasks - Helpful acronyms to break down the skills - Strategies to structure answers - Colourful powerpoints - All sources for exam questions This is a great introduction to the Edexcel Language Paper 1 skills for both reading and writing. It covers how to analyse language and structure; how to evaluate a text; punctuation, language devices and structure of narrative writing. My year 11s have really enjoyed this unit and have made up to 3 levels of progress as a result! I hope your students find it as useful. Please review and follow :-)

A booklet of all 15 poems fully annotated with an analysis page for students to complete per poem. Absolutely brilliant for homework or revision.

This booklet contains a series of extracts from each chapter and exam questions to accompany these. It is written specifically for Edexcel, but is easily tweaked for any exam board by changing the mark schemes in the booklet. It also has a writing frame, sample answer and terminology glossary within to aid students in their essay writing. Great to accompany the reading of the text, or used for revision or as a home work booklet.

A colourful and visual resource giving a brilliant overview of the text that is perfect for exam revision. This learning mat includes: Plot summary Character summaries Key theme analysis Key quotations Review and follow :-)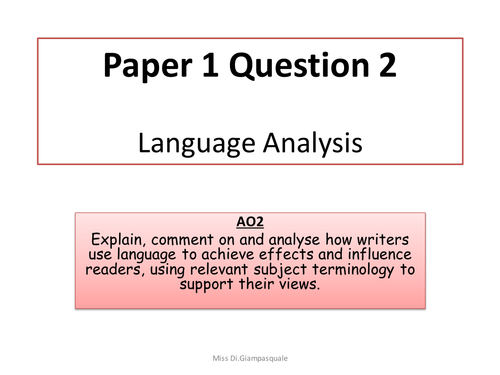 This powerpoint takes the students through the skills needed to effectively answer this question as well as providing a helpful acronym and writing frame to support the weaker students. All extracts are provided. The second resource is great to print as a revision poster or a learning mat to prompt students. Can be used as a stand alone lesson, for revision, for intervention or for first teaching of this question. Review and follow :-)

A set of extracts/keys scenes and various writing and essay activities to prepare students for the Literature exam. If you like it, please follow and review :-)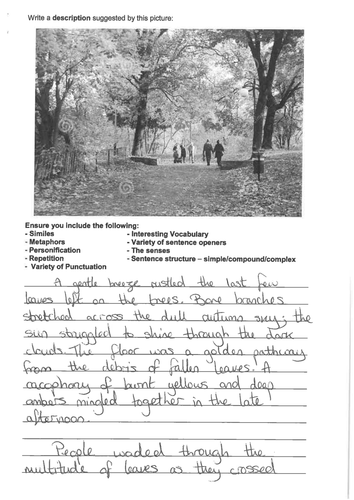 This is a Grade 9 sample answer for AQA descriptive writing. Can be used as a model with the students.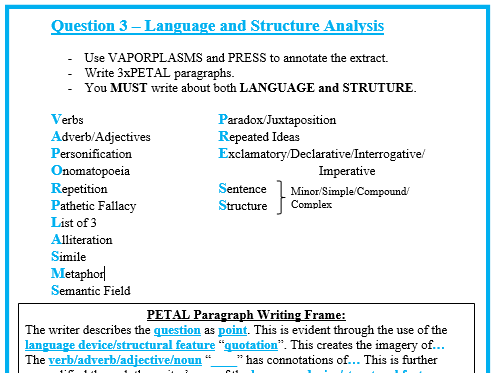 This pack provides a comprehensive overview of Language Paper 2. It includes: An exam paper the students can work on throughout Sample answers for each long answer question (this includes a grade 4-5/6-7/8-9 answer for each) An exam question on a different paper that students can then do as an assessment or homework Fully annotated exam questions so that student know what the question is asking them to do. How I have used this resource: I print the sample answers on different coloured paper and get students to rank them. They must then mark them as an examiner and justify why they have ranked them in this order. They then use the best answer to create their own sentence stems before they then write their own answer and peer assess. This has really improved the quality of their writing and students feel more confident on how to approach each question.

This is a learning mat with hints and tips of what students should be looking for in regards to the EVALUATE question on Language Paper One. It includes: Useful terms Sentence stems Leading questions It also includes a useful planning sheet to help students map out their ideas on a text.

A series of powerpoints and learning mats/revision posters that take students through the exam paper question by question. You can buy these resources separately, or save money and buy them in this bundle at 3 for the price of 2.

There is one slide per poem for all 15 poems in the cluster. On these slides: - A poem summary - Key quotation analysis - Questions - Links to themes These can be used as revision cards/posters or as starters. I use them for a quiz game... one student is the question master with the cards and asks the table questions based on the information. They then award the card to the student who answered the most/best. The student with the most cards at the ends winds.

A set of 18 extracts and exam questions based around the Edexcel Language Paper 1 Question 3. Each slide of the powerpoint is a different extract and has an acronym to help students remember language devices and structural features. Great for homework and revision. Review and follow :-)

A series of slides based on key characters to be used as a starter/plenary to help with revision - Students find key quotations about the character - Students analyse key quotations given - Students consider contextual information and the influence this had on the character.