depARTment
Art & Design & Technology resources
103Uploads
22k+Views
3k+Downloads
Art & Design & Technology resources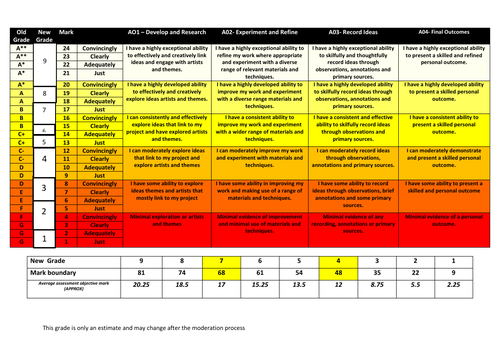 A handy resource to help break down the assessment objectives reflecting the 2019 August grade boundaries.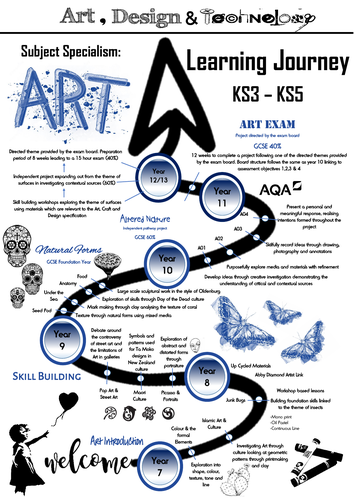 A completely adaptable resource to support the new Ofsted framework. This template can be changed along with all the icons and text to suit your department and SOW. The attached document is based on my own year 7 - 13 curriculum. Why is this useful? Demonstrates clear connections to the national curriculum Shows a clear link between KS3/ KS4 & KS5 SOW Promotes 'the big picture' Pupil friendly/parent friendly Used alongside curriculum planning and SOW as an overview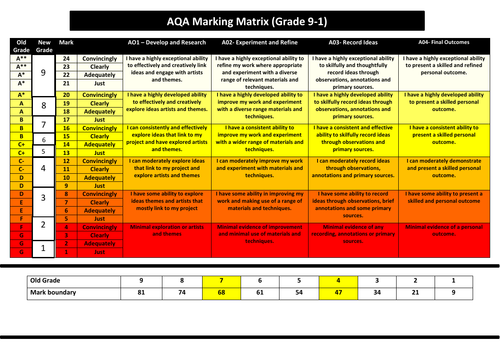 This resource is ideal to help you get your head around the new 9-1 grading system as well as a simplified rewording of the assessment and marking grid. Ideal for all staff and to help students to understand their attainment and progress in a more pupil friendly way.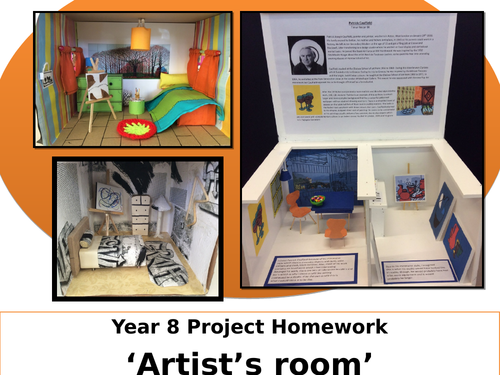 This resource encourages an alternative approach to homework which is engaging and creative. The task requires students to think in the mindset of a famous artist and design a three dimensional bedroom in their style. The powerpoint shows visual examples of a number of different bedroom designs from Banksy to Hockney with iconic furnishings and bedroom decor in the style of their artwork. A homework marking sheet is also attached for quick convenience in assessing the homework submission. Could also work as a class task.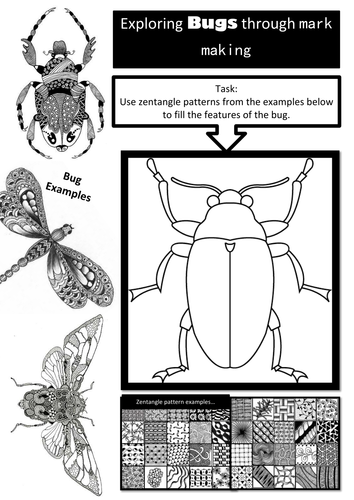 This resource allows students to develop skills in intricate design and symmetry. Pupils become engrossed in the 'zentangle' patterns and learning to apply them to the template to define bug features through contrast.
if your looking for a homework task that will engage, motivate and enthuse students, then this is perfect! This has been the most successful project homework I have set which allowed students to get creative in an exciting and relevant way. Pupils select an option (1-4) and apply the Pop Art style to a 3d object. See examples on the PowerPoint to encourage exceptional and inspiring results!
A collage based task ideal for a transition lesson, intro lesson, summer school, art taster or just a one off lesson Includes a PP and the lolly template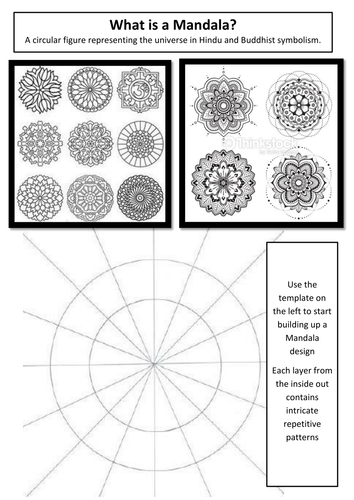 Pupils of KS3 will be able to use the grid to create inspirational Mandala designs whilst considering the formal elements of art. She resource caters for those of all abilities with guided starting points and examples.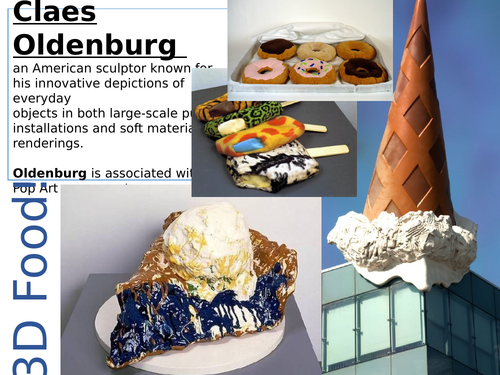 Claes Oldenburg Inspired 3d food art. This resource provides students with a thoughtful purpose looking at a variety of different food art options to be made from a cardboard base and mod roc application. Attached is the step by step differentiated construction guides for all 5 listed ideas in the powerpoint.
This resource introduces students to a variety of different creative careers centered around a comic strip task. Pupils explore the role of an illustrator, graphic designer, art director and animator and discover the importance of each position just to create one outcome. Students enjoyed the task were informed about the different creative roles in industry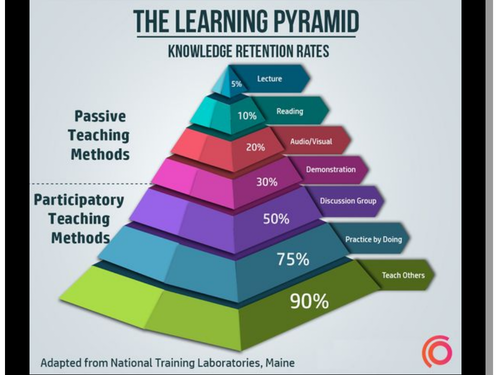 With the Ofsted focus on curriculum and the retention and recall of information - this resource provides some creative ideas on how to embed this into lessons. Templates are attached for ease and distribution to staff and ideas are supported with transferable instructions to share across subject areas.
A wide range of different art activities that allow for student to select and lead independent learning Activity types vary to allow for all students to complete regardless of their accessibility to resources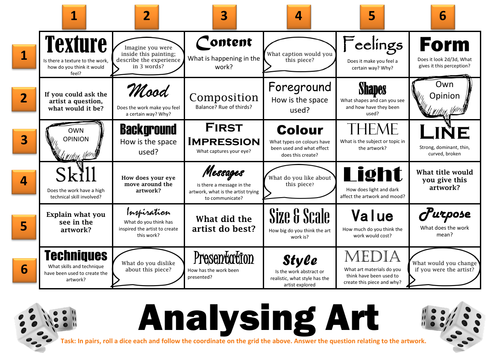 A fun and engaging way to get students to think about analysing Art. The grid is used to help promote discussion points, using dice to decide which question to talk about.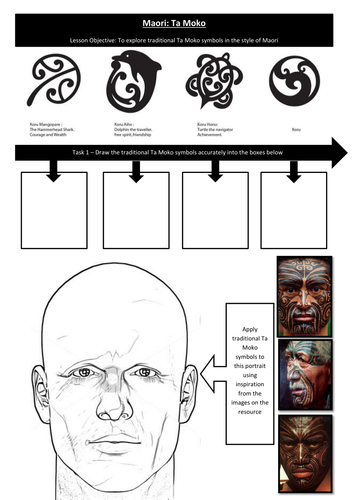 Pupils will be able to broaden their knowledge and experiment with a variety of different Ta Moko symbols through a drawing starter task. The main activity requires students to apply Ta Moko designs to a face template in a traditional Maori style.
A resource to support students who are selecting an independent project. This powerpoint introduces sub categories centered around the theme of 'Altered Nature'. The guide inspires pupils with interesting and exciting artists and has worked successfully in 2 departments who have needed a revamp in pupil interest. I have used this SOW as the main coursework project (unit 1 60%) for GCSE Art.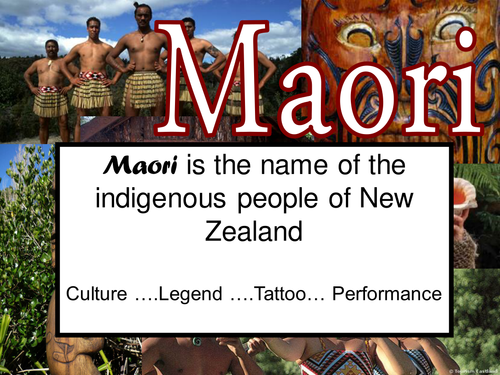 An introduction into the culture and traditions of Maori and Ta Moko. The powerpoint is relevant and contemporary and demonstrates the process of how to design and draw a Ta Moko.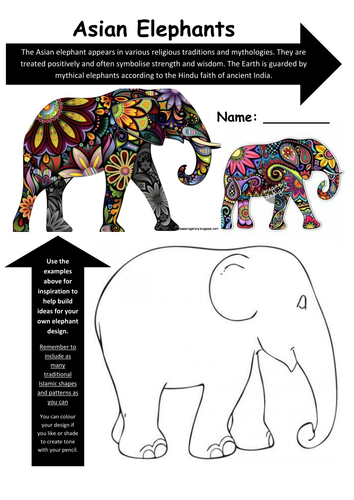 This resource is a fun packed activity for students of KS3 which looks at the importance of Asian elephants in Islamic culture. Students have an opportunity to work with traditioanl islamic patterns and apply in the style of the examplars to an elephant template. Students may apply colour to their design to reflect the tradtional colours used in Islamic culture. The resource contains a word document.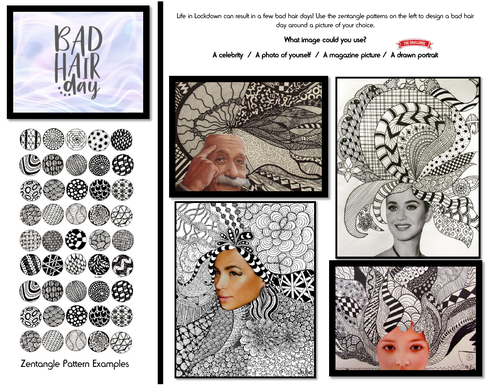 A one off lesson task using zentangle patterns to create a bad hair day design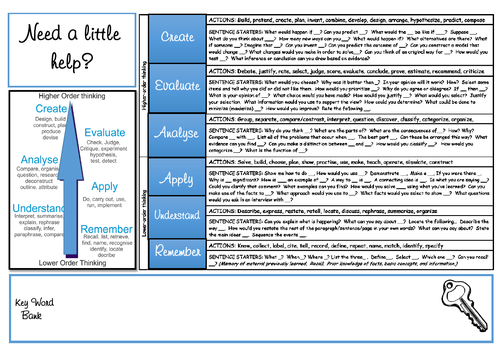 A handy resource to get students thinking about how to answer exam questions. Space also at the bottom for specific subject vocabulary