Anamcsorley's Shop
A Science teacher making quality resources for lower-level sets
15Uploads
3k+Views
353Downloads
A Science teacher making quality resources for lower-level sets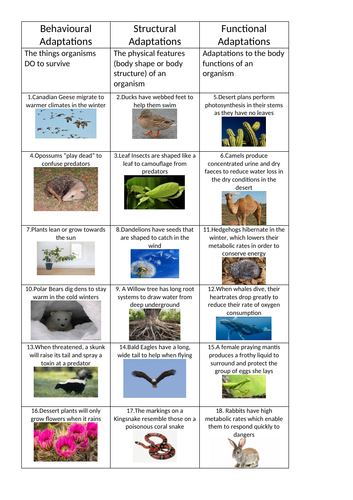 Pupils will sort cards (with written example of various adaptations) into 3 categories; behavioural, functional and structural. The definition of each is also included. This will allow students to compare the differences between each type of adaptation in both plants and animals. Importantly, many of the examples included are unfamiliar animals to encourage scientific curiosity and generally it is good practice for exam questions. Numbering of examples is simply there for convenience to make it easy to recognise which example is being refered to.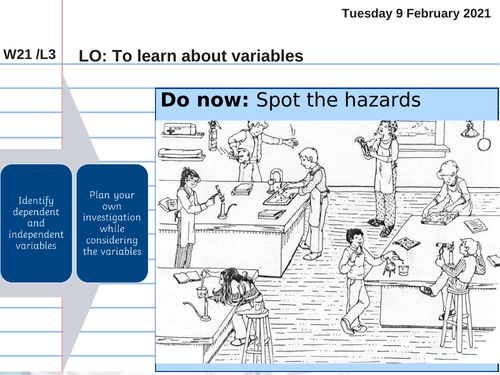 A handy resource to recap variables and use of units. Covers the definition of independent, dependent and control variables and how to identify them. Considers how to design tables and graphs using knowledge of dependent and independent variables. Designed for online teaching (live lessons or independent work) but will also work in the classroom. Tasks are timed and answers provided throughout.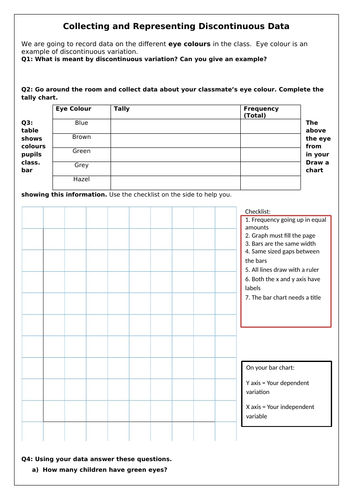 2 lessons. Continuous Variation and Discontinuous variation with integrated maths in science skills eg. graphs. All worksheets provided. Success Criteria: Describe the difference between continuous and discontinuous data Collect data for a discontinuous variable Draw a bar chart to represent some discontinuous data KS3 recall questions assessment point for photosynthesis and respiration. Mark scheme provided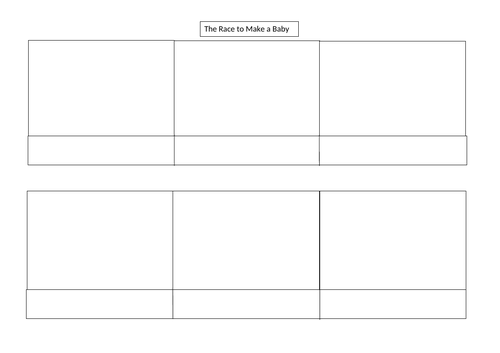 LO- To learn about fertilisation. Full powerpoint and differentiated worksheet Success Criteria: Name the human sex cells  Describe the journey of the sperm to the egg  Explain how identical and non-identical twins are formed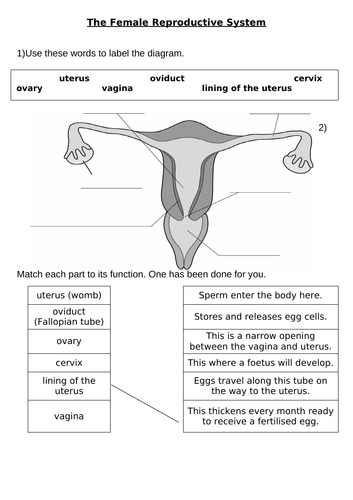 KS3 lesson on the female reproductive system. Full powerpoint and worksheets included. Success Criteria: Label parts of the female reproductive system Describe the function of each part from information given. 3 lessons on the male and female reproductive system and fertilisation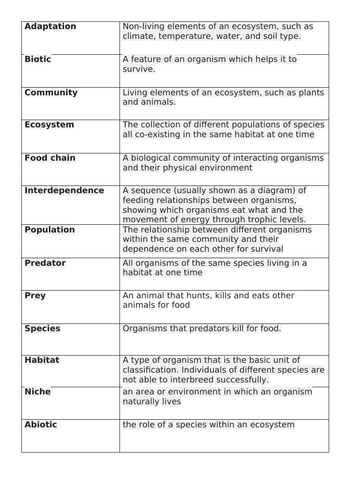 Vocab includes; Abiotic Adaptation Biotic Community Ecosystem Food chain Interdependence Population Predator Prey Species Habitat Niche A really simple starter task or plenary to predator and prey lesson. Can be used for primary or lower ability secondary classes (specifically designed for EAL) for recognition of animals, or made more difficult for higher ability classes by making them use key words such as predator/prey/habitat/adaptations etc. Assessment point targeted at KS3 (yr7) Genetics topic. Mark scheme included.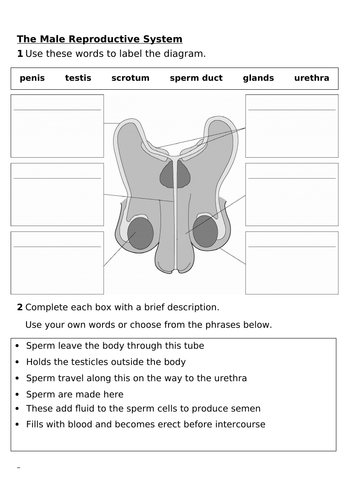 KS3- The male reproductive system powerpoint and worksheets Success criteria: Label parts of the male reproductive system Describe the function of each part from information given.