This notebook is complete with multiple sections for students to write notes, vocabulary, examples, and activities. The notebook is designed by learners of many different intelligences and include writing, artistic, research, and creative activities to reach all types of learners. Included within this product is a notes section for students to record important content for the subject matter. Also included is a research component in which students will research examples of the forms of government. A vocabulary section is included and a short project in which students will create their own unique government and piece of propaganda.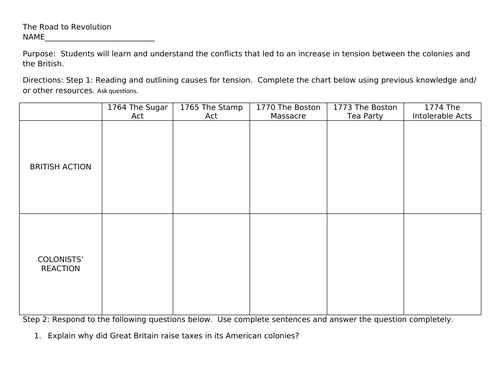 This handout includes a graphic organizer categorizing the actions of the British before the American Revolution and also the reactions of the American colonists in regards to the Sugar Act, the Stamp Act, the Boston Massacre, the Boston Tea Party, and the Intolerable Acts. The second page includes a cause and effect activity about the Intolerable Acts. Also included within the document are response questions to assess student knowledge and learning. This is a perfect activity to complete in class with students or to assign for homework.
This product is an instruction set for creating a timeline project on events leading to the American Revolution. The timeline includes important events, visuals, and info about these events.
This document is a list of vocabulary words for a unit on the American Revolution and includes sections in which students can write the definition and also include a visual/picture/symbol for each word. The document is in Word format so it can be edited to fit your unit/chapter needs.
This one page document includes a three question exit slip for students to complete about individuals and philosophers of the Enlightenment period. The exit slip is copied and pasted three times on a single page for easy printing/copying/cutting to pass out to students.
This one page study guide includes key terms and ideas from a unit on Industrialization and Mass Production in the United States. This study is by no means comprehensive of everything from that time period but does provide many key terms and ideas from this period of history. The study guide could be edited to be shorter or longer depending on what is needed for each teacher to prepare their students. The study guide includes a key terms section in which students would look up definitions/ideas/examples and also a section with response questions that could appear on a test.
Chart provides the Implied Powers of the U.S. Congress. Word Document that can be modified or used as notes.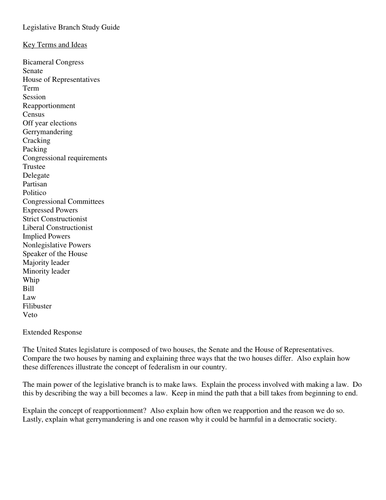 Study Guide over the Legislative Branch of U.S. government. This study guide includes key terms and ideas. It also has extended response questions for students to answer.
This test over Industrial Revolution and Mass Production covers a large period of time form the early 1700s to 1900s. The test is 25 multiple choice, 5 matching, and 3 extended response questions. This short test is good for a unit on Industrialization and/or Mass Production. The test also includes an answer document for easy grading. Includes the PDF and doc versions of the test.
Bundle includes Forms of Government Notebook, Study Guide, and Test. This bundle provides multiple days worth of material over the different forms of government.
This document includes 30 multiple choice questions and two extended response questions to use for a test or quiz over the forms of government. This can be made into a test with little editing or you can copy and paste what you like/need for your own quiz/test.
Presentation/notes over Democracy as a form of government. Good resource to use to introduce the concept of democracy in government. Designed for use in a U.S. government course. Only 3 slides.
This presentation includes slides about the various forms of government around the world.
This bundle includes lesson plans from American Government courses that are currently located in my store. The lesson plans include a blank daily template, Active Participation in Government, Discrimination and Segregation, Naturalization, Suffrage Lesson Plans. SAVE 50%
This one page document provides links to two short youtube videos about the current conflicts causing instability in present day Middle East. The document provides the links to the two videos and then questions about each of the videos. A task, asking students to create a visual is present at the end of the document.
This short, one page study guide is a good resource to use with students for review in a Mass Production/Industrialization quiz/test. The study guide includes a list of important terms/individuals/ideas that students can explain and define and also includes three extended response questions for students to answer.
This item includes items that could be used in an introductory chapter of American Government and/or a Forms of Government chapter. Included within this file is three powerpoint presentations (Forms of government, examples of governments, democracy), a project (Create your own Country), vocabulary list, assessment, and study guide for the assessment. These are great resources to use for an entire unit of study.
Chart used for notes when teaching about the roles of the U.S. President.
Bundle includes various resources about the three branches of government in the United States. These resources range from quizzes and study guides to research paper assignments. 8 resources total.
This bundle includes the Interest Groups Presentation and the Interest Groups Research Activity found in my store for a great discount. Also included are the "Thank You For Smoking" Response Questions and Active Participation in Government Lesson plan as they are both related to interest groups and the role of interest groups in the United States.
All included items are related to the U.S. Constitution that are found in my store. All are included here for a massive discount.
Included in this bundle are all of the resources about the rights and privileges of a U.S. citizen. The activities vary based on subject matter. Available for a big discount here!
This document consists of questions to be used after watching the 30 for 30 ESPN documentary "Broke" The film is an excellent resource to use in an Economics, Personal Finance, Financial Management, and or Financial Literacy course. The questions that are included pertain directly to the film, while encouraging students to analyze the film and the choices presented within it.