Project Education
This shop provides Social Studies resources from a classroom teacher at a low cost.
108Uploads
7k+Views
299Downloads
This shop provides Social Studies resources from a classroom teacher at a low cost.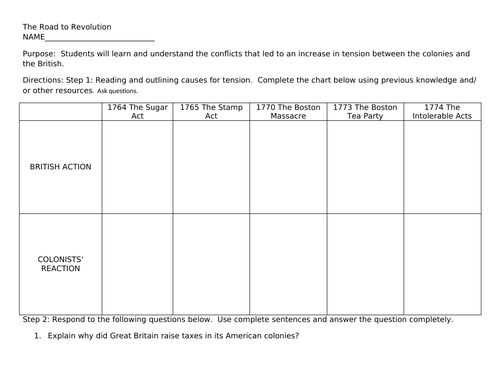 This handout includes a graphic organizer categorizing the actions of the British before the American Revolution and also the reactions of the American colonists in regards to the Sugar Act, the Stamp Act, the Boston Massacre, the Boston Tea Party, and the Intolerable Acts. The second page includes a cause and effect activity about the Intolerable Acts. Also included within the document are response questions to assess student knowledge and learning. This is a perfect activity to complete in class with students or to assign for homework.
This project is a great resource to use for many different age groups and subject areas. Students are tasked to create their own invention by describing, drawing, and finally creating a prototype to share with the class. The product includes a WORD version that can be modified and also a PDF version. Students will complete the following tasks when completing this project: Brainstorming an idea for a new invention. Diagraming/drawing their new invention. Creating a patent application. Creating a prototype of their invention to share with the class. The project is self-guiding but can be modified to fit your curriculum.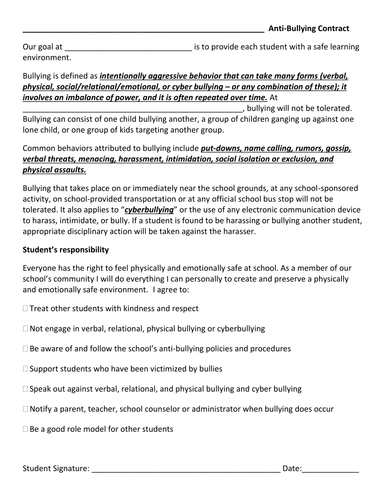 This product is an Anti-Bullying Contract that teachers can use in the classroom to discuss bullying, reduce bullying, and encourage students to behave appropriately in class. This resource includes blank spaces for students names and signatures. It is customizable so that teachers may add the classroom name or the name of the school. The resources could also be customized to include the signature of a parent. This is a good resource to use if bullying is a problem in your school because it can be utilized to hold students responsible for their actions.
This document consists of questions to be used after watching the 30 for 30 ESPN documentary "Broke" The film is an excellent resource to use in an Economics, Personal Finance, Financial Management, and or Financial Literacy course. The questions that are included pertain directly to the film, while encouraging students to analyze the film and the choices presented within it.
This product is an instruction set for creating a timeline project on events leading to the American Revolution. The timeline includes important events, visuals, and info about these events.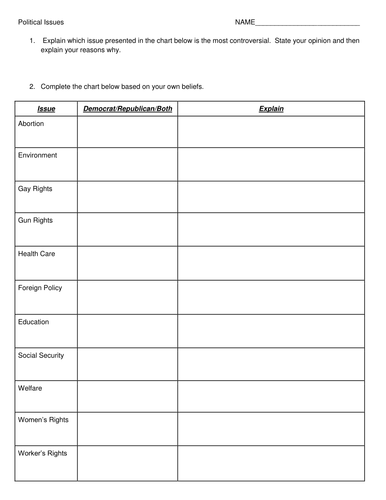 This document has students examine whether their beliefs align with Democratic values, Republican values, or both. They must analyze specific issues that are controversial and frequently debated in our society. A chart is used to plot students beliefs and they may analyze how those beliefs align with today's political parties in the United States.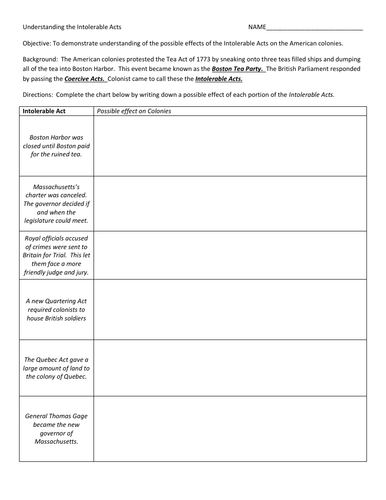 Handout includes graphic organizer organizing the aspects of the Intolerable Acts and how they affected the American colonies.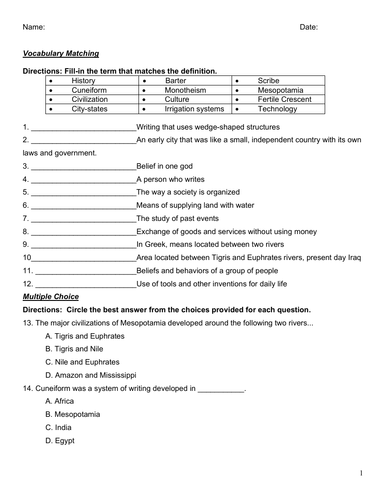 This comprehensive exam covers material learned in a unit about Ancient Mesopotamia. This test included matching, multiple choice, short answer, and extended response. This test was created for a high school World History course but could be used and modified to use in younger grades.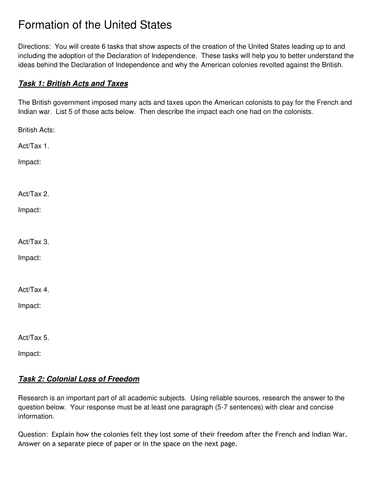 This product is a great resource to use for an American Revolution and/or Foundation of U.S. Government unit. Within this document, students will create 6 tasks that show aspects of the creation of the United States leading up to and including the adoption of the Declaration of Independence. These tasks will help students to better understand the ideas behind the Declaration of Independence and why the American colonies revolted against the British.
This poster is a PDF and can be used in a World History class. It was designed as a 18x24 inch poster but could be stretched to fit other sizes as well.
In this activity, students interview each other about careers that they may want to research and explore. This is designed as a partner activity in which students interview each other and record responses. The product includes a PDF and a WORD version of the document.
This poster is a PDF and can be used in a World History class. It was designed as a 18x24 inch poster but could be stretched to fit other sizes as well.
This product is a collection of youtube video clip links with questions that accompany each link related to the life and accomplishments of Henry Ford. This document includes questions about Ford's early life, assembly line, and legacy. This would be a great resource to use as review or to introduce the topic.
This product includes an information/direction sheet and rubric for a research paper about the National Parks in the United States. The research paper and rubric can be modified to fit the requirements of many different assignments and courses. For this assignment, students will choose a National Park (or be assigned one) and research many different aspects of that park including wildlife, attractions, landscapes, and many more.
This collection of American Government resources includes many activities, tests, quizzes, projects, presentations, and more over a wide variety of topics studied in American Government. This bundle includes 20 resources that can be found individually in my store. Topics covered include: Democracy, Forms of Government, Bill of Rights, Civil Rights, Interest Groups, Branches of Government.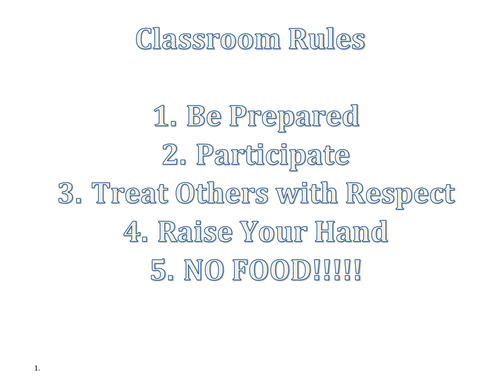 This product is a simple list of rules that apply to most classrooms. The list is already formatted in large print and ready for print. Students will find the list of rules easy to understand. A class list of consequences is also available for purchase.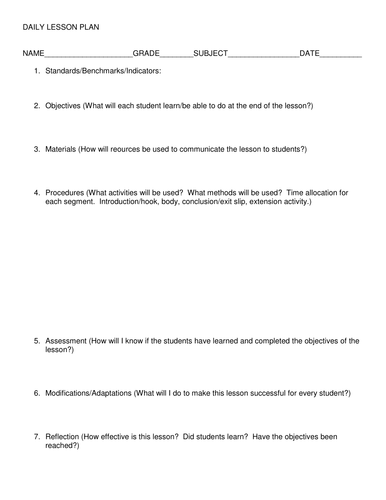 This is a lesson plan template to be used to create daily lesson plans. Perfect for all teachers and or college students.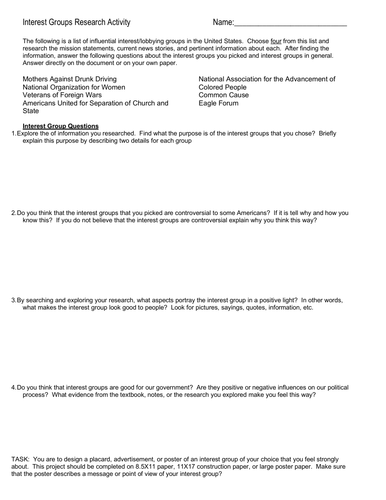 This research activity has students examine specific interest groups that operate within the United States. In this activity, students will choose an interest group to research and answer response questions about. The questions are thought provoking, and require the student to complete research about the group chosen. Websites of each interest group are listed within the document as well. At the end of the document is a TASK that has students create a political placard for the interest group that they are researching.
This Graphic Organizer is to be used to examine recent (or past) Supreme Court decisions. The graphic organizer is designed to examine three Supreme Court cases based on circumstances of the case, the question being asked, personal opinion on the case, and decision of the court. This document does not include any specific cases. It is designed to be used with cases of the student/teacher's choosing. This is a perfect document to use in class for notes of to organize student thoughts on specific cases.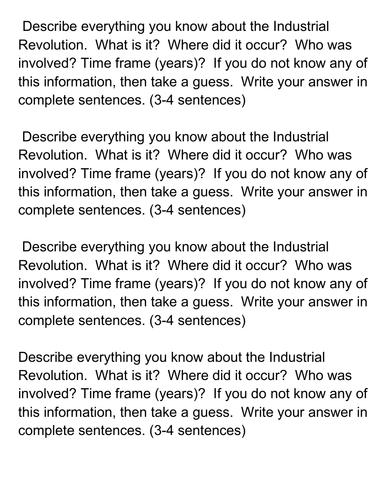 This document includes two extended response questions to be used in a unit on the Industrial Revolution. The two response are copied a pasted 3-4 times on each page for easy printing an cutting to pass out to students.