41Uploads
18k+Views
5k+Downloads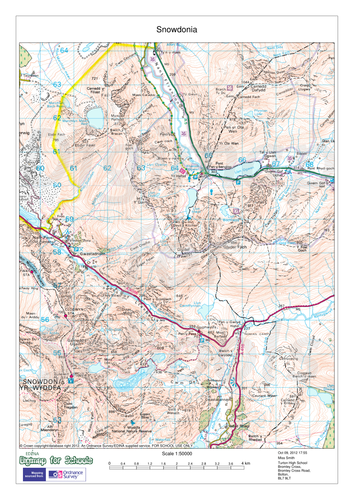 PowerPoint slides to discuss how to identify glacial feature on an OS map. Corrie, Arêtes, Pyramidal Peak, U-shaped Valley, Truncated Spurs.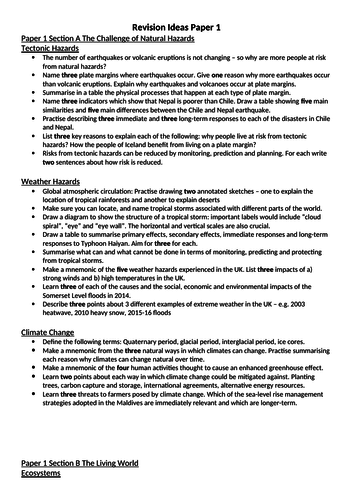 To be used as revision with pupils or it could be used as a homework task. You could give each child in the group one and then they swap it around once complete. Ideas include: • Make a mnemonic of the five weather hazards experienced in the UK. List three impacts of a) strong winds and b) high temperatures in the UK. • In one sentence state a) short term change and b) long term change to ecosystems. Practise writing a brief account of Avington Park lake restoration to illustrate positive changes • Write three questions about the environmental challenges in Bristol so that you could test a friend you have to know the answers too • Think of a favourite song and change the lyrics to remind you of the advantages and disadvantages of TNCs 54 revision ideas for Paper 1 - Natural Hazards - Chile and Nepal, Weather Hazards - Typhoon Haiyan and Somerset Levels, Climate Change, Ecosystems - pond, Tropical Rainforests - Malaysia, Hot Deserts - Thar Desert, Physical Landscapes in the UK, Coasts - Swanage, Medmerry and Lyme Regis, River - River Tees and Banbury. 61 revision ideas for Paper 2 - Urban Issues and Challenges - Rio de Janeiro, Urban Change in the UK - Bristol, The Development Gap, Nigeria a NEE, and Changing UK Economy, Resource Management, Energy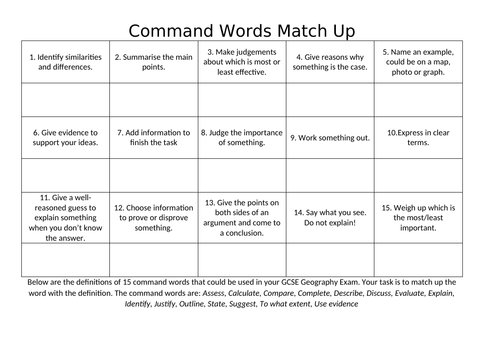 I have used this task at the start of a revision session with my KS4 pupils. Pupils have the definitions of the 15 main command words used by AQA and have to match up the definitions with the command words. Answers are included. PDF is purely a copy of the Word document. I have also included the command words which I have pupils stick in the front of their exercise books.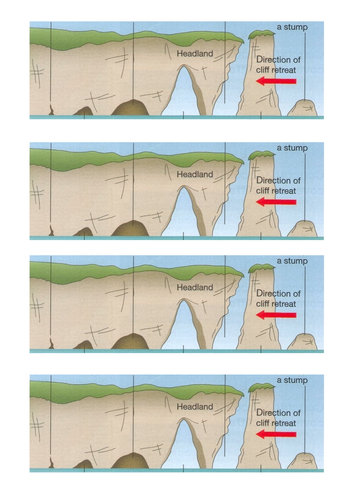 Lesson used with a mixed ability Year 7 class. Content Covered: Starter: Name these coastal landforms What is erosion? Pupils to jumble definition 4 types of erosion - pupils drawing sketches of the diferent types of erosion based on description. Formation of cave, arch, stack and stump - pupils to complete a back to back activity and then draw diagram with annotation into books. Exam style question - Explain the formation of a sea stack - with mark scheme Extra slides on headlands and bays.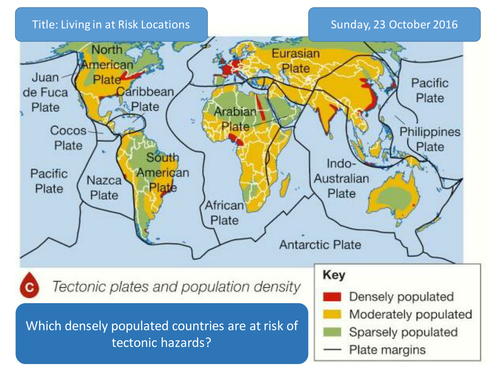 AQA GEOGRAPHY OXFORD TEXTBOOK NEEDED FOR THIS LESSON. Lesson following the AQA A textbook looking at how to reduce the risk during a tectonic hazard. Lesson using the textbook for higher pupils. For lower ability pupils, they can complete a fill in the method and if it is for earthquakes or volcanoes. Exam question and marks scheme. BONUS - Resources for Living with Tectonic Hazards looking at Iceland.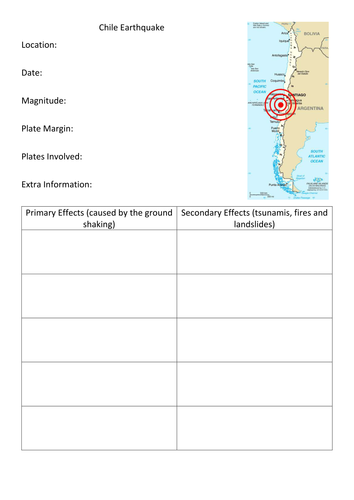 AQA OXFORD GEOGRAPHY TEXTBOOK NEEDED FOR THIS LESSON. Lesson comparing the primary effects, secondary effects, immediate responses and long term response to the 2010 Chile earthquake and 2015 Nepal earthquake. Starter - what do you already know about Nepal and Chile. Using indicators HDI and GDP what can we find out about these countries. Introducing new vocab. Videos demonstrating the effects of the earthquakes. Pupils are creating fact files about the two earthquakes using the textbook. Two exam questions for pupils to answer. Also looking at how the primary effects, secondary effects, immediate response and long term response to volcanic eruptions differ to earthquakes. Worksheet to colour code. Video to create a case study of Montserrat 1997. Random facts about our world that are displayed on my classroom wall to inspire pupils. I have them laminated and backed on different coloured paper and added a title "Did you know…" I frequently refer to them in lessons, for example when discussing the deepest hole ever dug, or the distance from Land's End to John O Groats. A display created using images of £2 coins and 50p asking pupils to think about what History do they have in their pocket. Images of: Battle of Britain Battle of Hastings Great Fire of London Magna Carta WW1 Suffragette movement Gunpowder Plot Victoria Cross NHS London Underground I got the images printed on colour and laminated and cut around them to display them.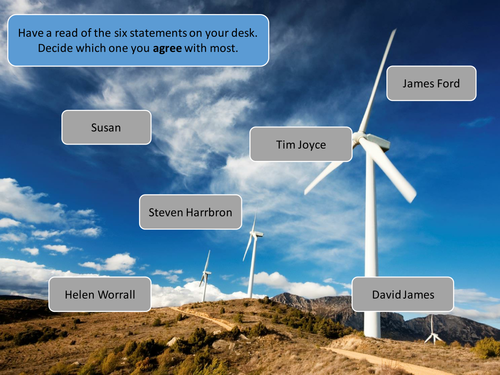 Starter activity using peoples opinion of wind power - who do you most agree with? Card sort activity / worksheet whereby information is categorised into facts and statistics surrounding wind power, advantages or disadvantages. Pupils evaluate if the UK should use wind power - written task Finish with an opinion line - pupils stand up/ post it note where they fit along the line. Lesson used with top set and middle set and bottom set Year 8 pupils in the topic of Resources. Additional SEN resources - colour code, facts statistics, advantages and disadvantages also a writing frame. Interative Geography Classroom Display based on the questions in this quiz: https://www.buzzfeed.com/robinedds/the-most-infuriating-geography-quiz-youll-ever-take?utm_term=.ha963BAKW#.aqOdLDMxW 19 questions in total and answers. Example Questions Include: Name a country that ends in the letter T Name a four letter country that is NOT in Asia Name a EUROPEAN country that contains a double letter Name a US STATE that contains just four letters Name a country that ends with an R Word document should be printed back to back. "Flip pages on the short edge" option I printed mine on card not paper I used velcro dots (from amazon) to secure the answers. Questions black font, blue border, answers on the inside, black font, green border.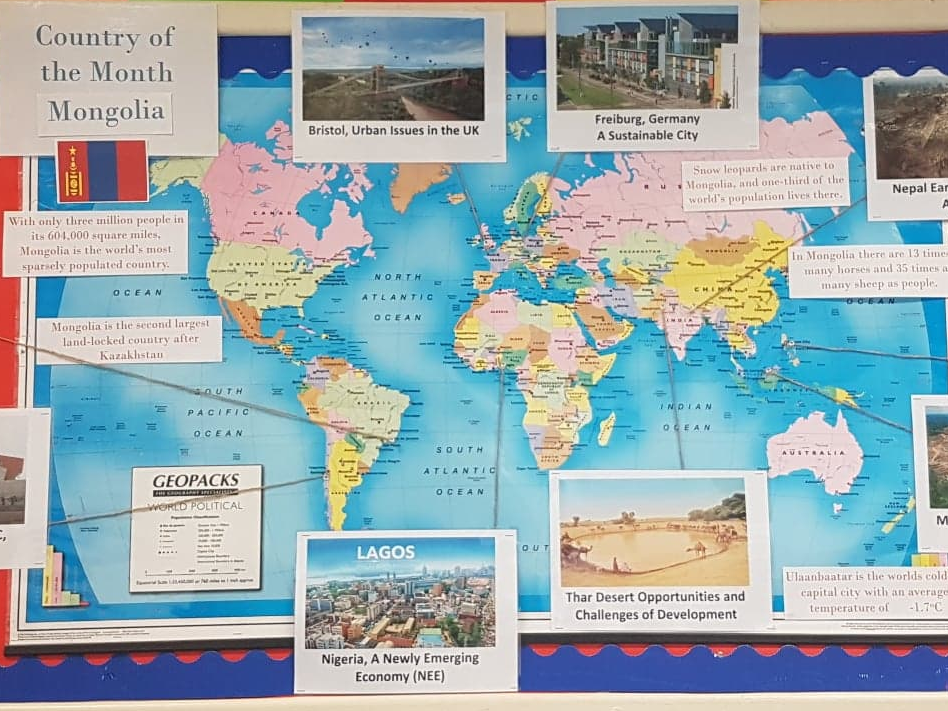 Classroom displays to inspire pupils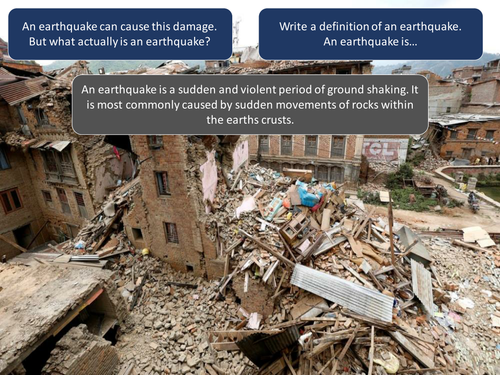 Resource to support the new AQA A GSCE Geography Course (start teaching in 2016) looking at topic 2.1 Tectonic Hazards - Distribution of earthquakes and volcanoes. PPT looks at What is an earthquake? Where do earthquakes occur? and Why do earthquakes happen at plate margins. What is a volcano? Where do volcanoes occur? and Why do volcanoes happen at plate margins?. Example of Chile Practise Exam Question Homework Task - North Anatolian Fault Worksheet - Map for location of earthquakes and volcanoes for pupils to describe and annotate.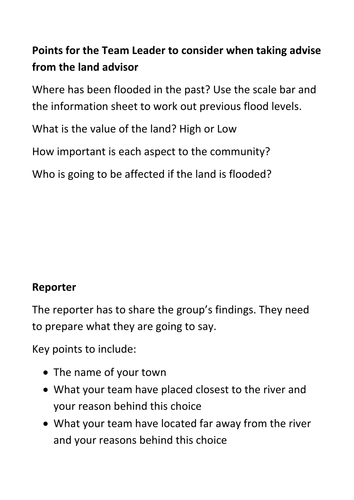 Decision making exercise looking at flood zoning. "Town Planners" Pupils are to decide where several aspects of the town should be built in relation to a river that has been known to flood. Pupils have to justify how they have planned the town. Used with a Year 7 mixed ability set. The river document was printed on A3 paper and pupils had to draw on the scale of past flood levels. They also cut and stuck their decisions around their town. Differentiation via the different roles involved - Team Leader, Land Advisor, Architect, Reporter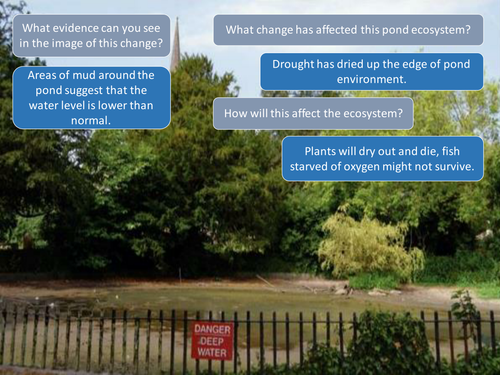 AQA OXFORD GEOGRAPHY TEXTBOOK NEEDED FOR THIS LESSON Lesson taken from pages 54 and 55 of the Oxford Texbook looking at how does change effect ecosystems. Definition grids of key terms used within each topic of the new GCSE course. I will be using as a starter activity to recap previous learning, or within revision lessons to ensure pupils know what key terms mean. They can either be printed or shown using a projector/smart board. Answers are included in the notes section of the Powerpoint. There are definition grids for paper 1 and paper 2 topics including: tectonic hazards, weather hazards, climate change, ecosystems, tropical rainforests, hot deserts, river landscapes, coastal landscapes, the urban world, urban change in the UK, sustainable urban development, the development gap, a newly emerging economy, the changing UK economy, resource management and energy management. This resource can be easily adapted if you study a different optional topic.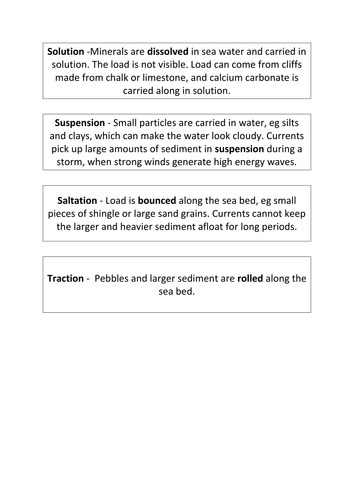 Lesson used with a mixed ability Year 7 Class. Starter: Sequence the formation of a sea stack. Main: How is material transported - Salutation, Traction, Suspension, Solution - pupils to draw diagrams into books and explain how the material is being moved. Longshore Drift - explain process, drawn into book. Plenary: What would happen if longshore drift continued? - linked to depositional features. Summary what has been learnt in today's lesson in 20 words.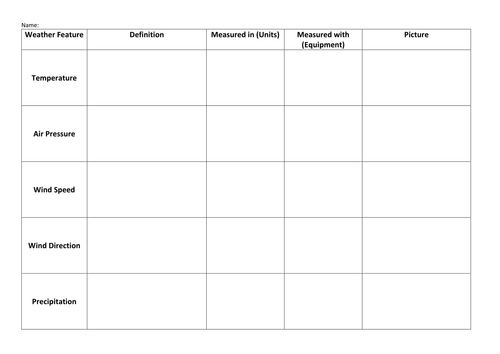 PowerPoint Slides to look at the difference between weather and climate - plenary activity of statements that relate to either weather and climate. Card sort activity to support different aspects of the weather and how we measure it - great to use if you don't have the equipment in school to demonstrate with. Used with a mixed ability Year 7 class. Very visual resources, fully animated.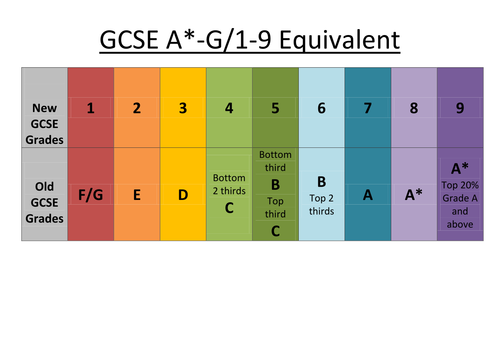 Poster to display in the classroom to make pupils aware of the changes to grades. What the old A-G grade equivalent is in the new 1-9. (I have it printed in A4 by my desk, and A3 around the room)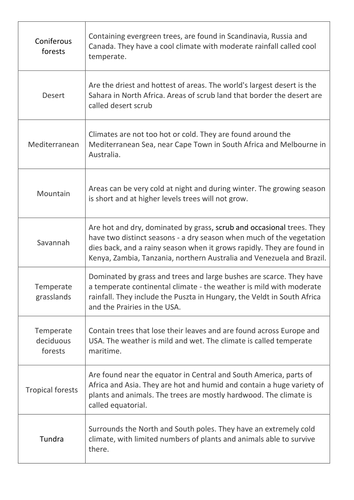 A biome card sort with coniferous forest, desert, mountain, Mediterranean, savannah, temperate grasslands, temperate deciduous forests, tropical forests and tundra