85Uploads
9k+Views
4k+Downloads
MFL and PSCHE resources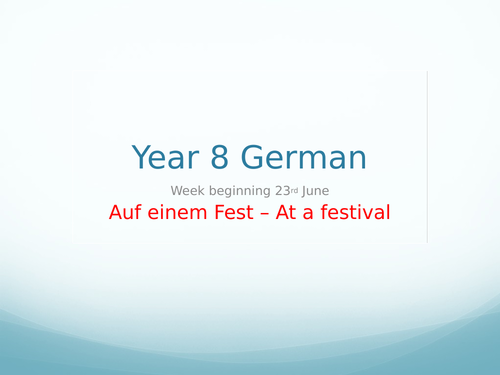 A sentence builder and activities leading to a paragraph of writing based on Auf einem Fest - Kapitel 4, Stimmt 2 Fairly basic for year 8 bottom to middle set Uses denn and perfect/imperfect- ich bin gefahren/ich habe gesehen/Das Fest war… Made in powerpoint as easier for pupils to send back in lockdown in my experience, could be moved easily to word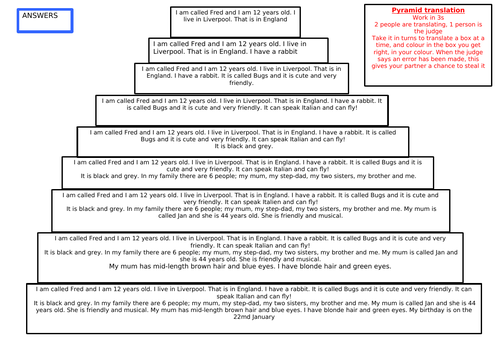 Pyramid translation activity - done in 3s to practise vocabulary recognition of chapter 2 stimmt 1, and to give students a model answer frame for their writing assessment on this unit I give this and the vocabulary pages at the end of the chapter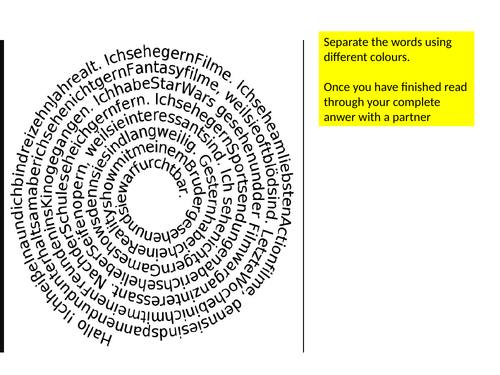 Spiral model answer that students must separate words in Same text then used as comprehension text and they must highlight answer in a wavy version of the text and answer in English Same text then used as a tangled translation Answer supplied Cover or homework for 2 lessons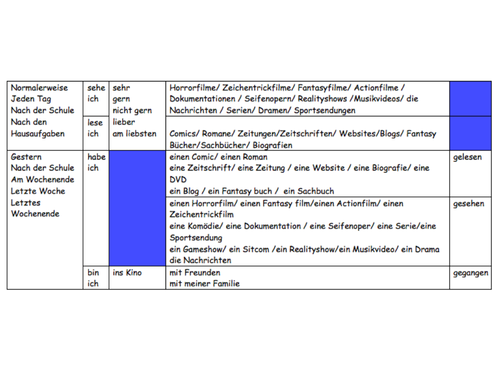 Activities and sentence builders to work on stimmt 2 chapter 2 includes: sentence builders, four in a row, gapped translation, tangled translation, trapdoor activity, make every square count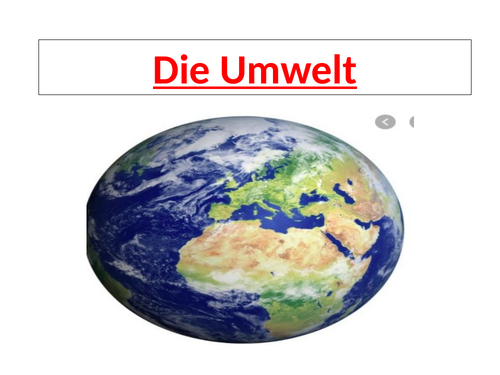 Goes with sentence builders - spot the mistakes, mind reading slide and delayed dictation on useful sentences on the environment, with a tangled translation Will hopefully save you some time!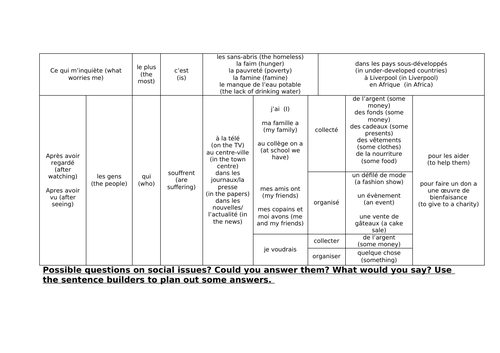 Social issues GCSE French Sentence builders, sample role-play and questions to consider Currently using with my year 11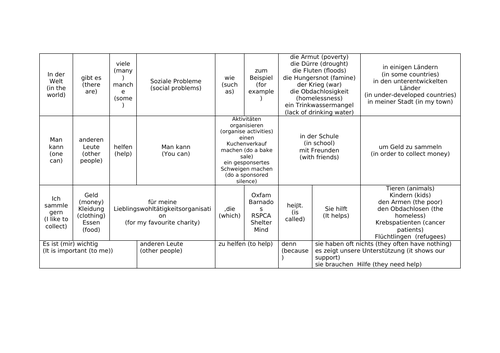 Sentence builders and questions/role play example and small recap translation task for GCSE German topic of Social Issues

Made as powerpoint to make it easier for students to complete and return in lockdown Short activities to consolidate the key elements of giving/asking for directions - based on Stimmt 2 chapter 4 Could copy and paste each activity onto a word document, if easier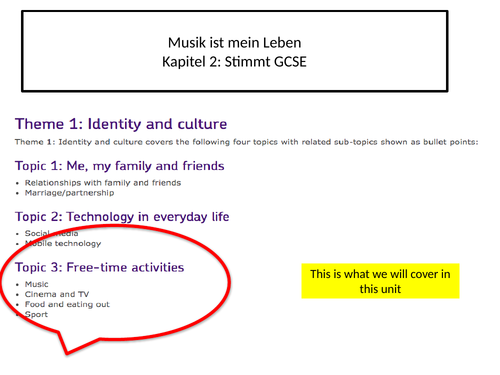 Range of activities for use in class on kapitel 2 of Stimmt GCSE Musik ist mein Leben - fit well as starting point for use with foundation book and/or retrieval /revision of things done in year 9 using Stimmt 3 before completing the higher book One pen one dice Gapped translation Sentence builder and other things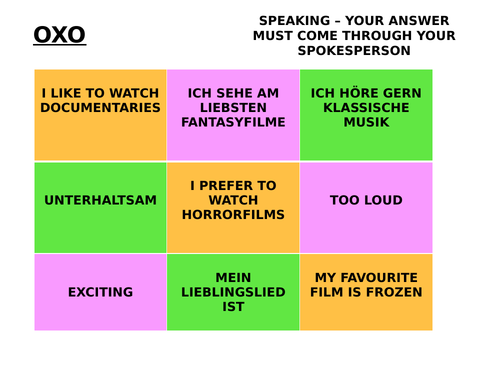 JIGSAW Translation, Game of slap to practise tenses, gapped translation to look at complex structures, 4 versions of same text to highlight changes and translate, one pen one dice, plus OXO games to practice the Filme und Fernsehen and music start to chapter Can be used as individual activities or can incorporate into lesson planning My students love these activities! x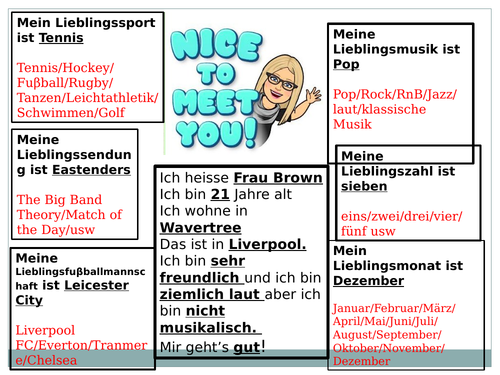 Revision template to make a poster on unit 1 Students translate the model and look at the options and do some sentence building using the red words They then either a) use template as retrieval task, what can you write, b) as an interview task they ask the questions and write a report on the person they have interviewed or c) use as a revision worksheet and complete with their book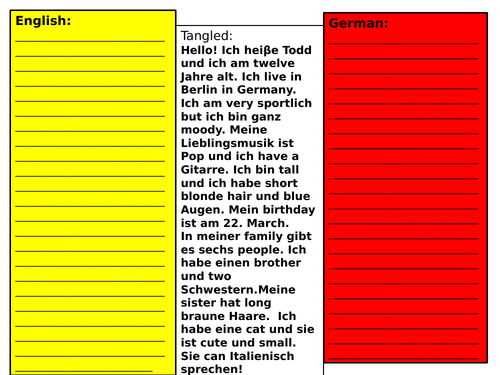 Based on vocabulary in chapters 1 and 2 of Stimmt 1 Descriptions, personal description, family, pets, birthdays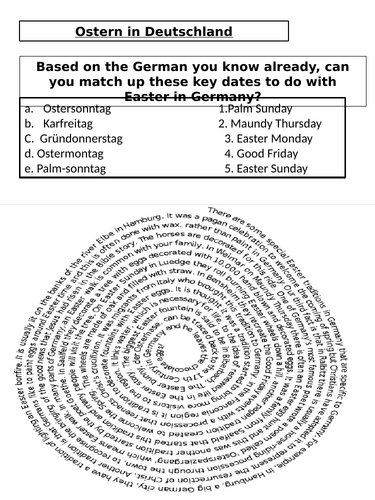 Word match up - using days of the week as known vocabulary Egg shaped text on easter traditions around Germany with 10 comprehension questions in English Egg template to decorate to show one of the traditions learned about Suitable for Key stage 3 - 1 lessons work approx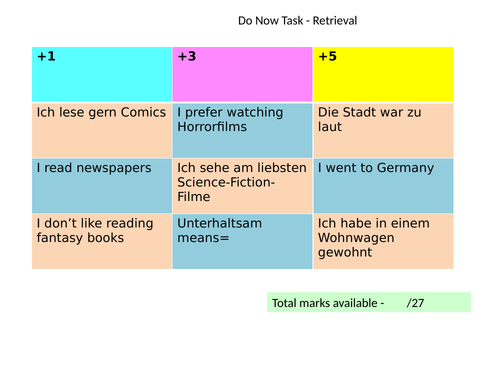 Range activities to support teaching from STimmt 2 - chapter 2, unit 4 3 retrieval tasks at start on films/books/tv shows - 1st could be used as do it now or homework task Bad listening task - changed transcript - changes and translation answer included Sentence builder Mind reading/delayed dictation and sentence stealer template match up, split the words, fill in the mising vowels and translate into German tasks - could be done in class, as cover or as homework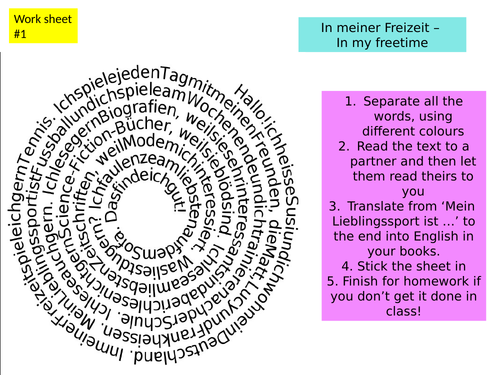 Spiral paragraph on books and opinions including where read students must separate words and then translate a section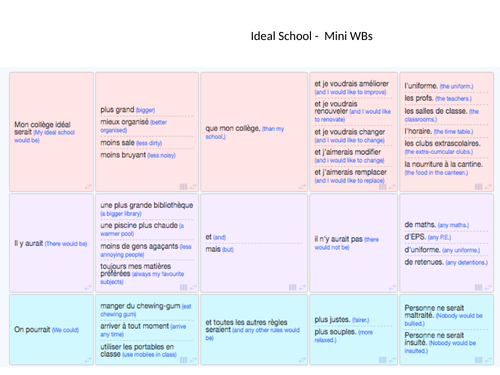 Sentence builder Activities such as gap fill, bad translation, jumbled sentence to re-order, templates for Conti sentence stealer, delayed dictation and mind reader and then tangled translation that touches upon earlier school uniform and location Good revision task for school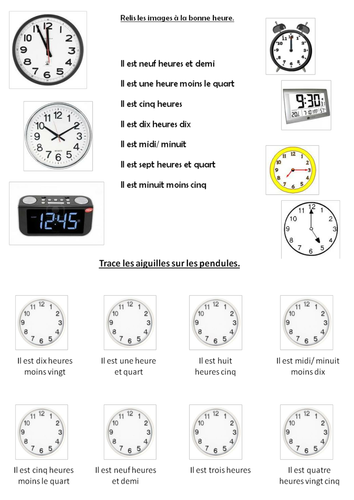 Resources made, and some collated such as avoir and metre activities and verb flower pdf, to help pupils exercise books have evidence of all work covered.

We use this for Euopean Day of Languages. We pur sweets in a jar and get pupils to guess the number of sweets in there using the Swedish word, The winner wins the jar and contents