CamBo's Shop
English teaching gone rogue into film 15+ years experience
12Uploads
2k+Views
1k+Downloads
English teaching gone rogue into film 15+ years experience

This is a free introduction to SPIES the Fritz Lang for Eduqs Film study - it is a support work book for the silent film section A Level exam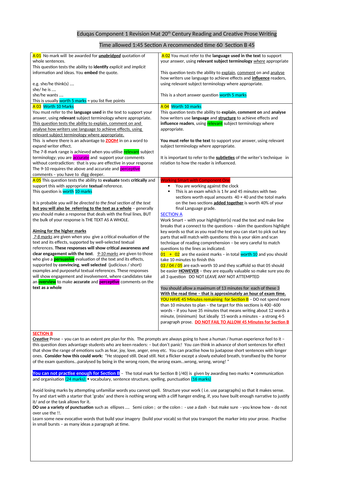 This is for students to revise expectations for Component 1. It reviews the marks awarded, the timings and the gritty specifics to Comp 1. This resource is only suitable for use with teacher guidance and is only accurate to GCSE after the Summer GCSE 2018. It is quite prescriptive with timings, and working smart with the question marks and Section B. It is an A3 format. Hope it helps.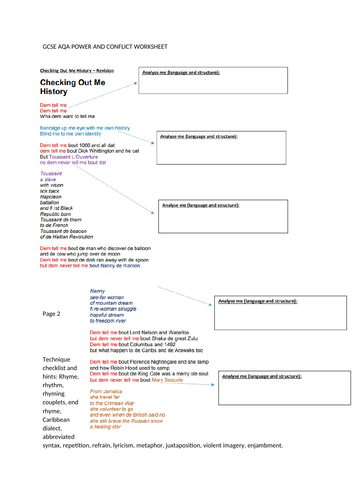 This is a quick half lesson worksheet for AQA power and conflict Agard's poem The worksheet reminds students to focus on key quotes - refresh analysis and to re-consider context. It is not a first wave introduction to the poem! The worksheet refers to a short youtube clip about ingrained racism ( Taikai Waititi's parody 2 minutes long) to help students to connect to higher order ideas about humour being used to deflect serious issues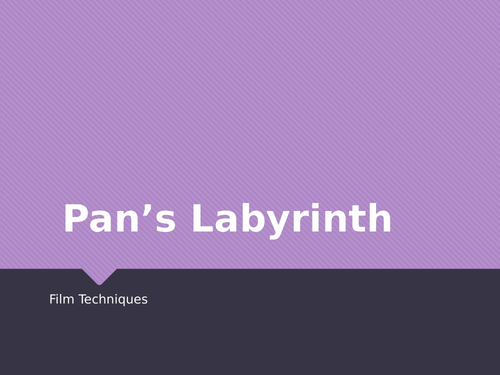 An introduction to Pans Labrynth by Del Torro For Eduqas board filming techniques Please use and modify suit your purpose

This is a student workbook which allows them to view and make notes and explore in depth the 'britishness' of the film The work would/should occupy about 8-10 lessons I print it single sided and encourage them to build on the reverse pages there on own ideas and story boards so it become a solid revision tool for them

The workbook is post June 2019 A Level exams: it focuses on Amy Winehouse Doco, and the rise of the digitl auteur in docomentary with some work on theory ( Moore and Longiotto ) The workbook has breaks down how the doco was put together, with theory and some history of the documentary post 1942. The PPTs focus on terminology, what pulling apart the documentary entails for an exam question. The second PPT looks at who Kapadia is: post winehouse, influences and statements he makes about the role of documentary - it should be a teacher led PPT, howeer, students could work through it online, producing long answer paragprahs to the questions -it will develop as stronger understanding of the director and purpose of AMY Updated November 2020

This is a 22 page workbook to accompany the film viewing of HURTLOCKER with the spcialist viewing information from the board included. Students found this very helpful for revision and consolidating the big ideas but this work does assume students have a grounding in the language of film It hass response sections but students should build from these writing prompt sections, the basic response to anticipated film questions

This workbook is 30+ pages to support A Level film study - for the Eduqas exams 2019 + . The workbook covers initial reactions to the film with some original reviews, it has sections on cinematograpy, props and costume, context and narrative, with a strong focus on Lee the auteur : celebrity auteur or 'sellebrity auteur'. It looks into Mookie: the hero or anti hero, and the complexity that Lee wrote, directed and starred in the film. There is a model scene analysis, and prompt for students to start their own. There are plenty of opportunities for students to record their own responses, and work alone, but this workbook is designed to be used with teacher support, and peer interaction. There are discussion prompts, questions to begin paragprah writing to build into essay responses that address that this film is part of Component A - a comparative study. ( Although this workbook is stand alone and does not assume which film it will be paired with) I like these books to be visually appealing so they look best when printed in colour. Please be respectful and do not put this work on line for your students. It is a word format so you can easily modify and insert your school logo etc., if you want. UPDATED 2020

UPDATED 20 AUGUST 2020 This is work book intended for A Level students ( film study) using the current curriculum for Eduqas (WJEC) board with the first exams 2019. ( I think it is impossible to teach spectatorship witihout acknowledging casting choices in light of#blacklives matter and the wake of #metoo) Update includes an extra page towards the end on more sound information The resource focuses on Spectatorship, but assumes that some spectatorship has already been taught. As this film has attaracted over 50!! PHD thesis - I have got this down to what I think is a manageable 25 pages ( just under 6,500 words) with some student interaction, but all the interaction comes back to what will be the key question focus for the 2019 - 2021 exams with this film - spectatorship. The key scenes I have targeted are the coin toss, and the motel scene post Moss death, with sections on camera, lighting, costumes, and of course the Coen's and Deakin. There are many themes one could chose - I have included Nihilism, religion , ageing, law and order, as they seem the most obvious and will I hope write up well in the exams. I have not done much focus on the acting because I have assumed that any teacher would easily identify that its realism, and method with the main three! I have left this as a word document - so you can alter adapt and personalise as you wish - or not if you choose - but I do ask that you do not distrubute this online.

This resource is aimed firstly for media, then film then English studies. There are three PPTs - the longest is aimed for Media/film, and the shorter two are more English and/or to run with the film viewing, stop start method The two worksheets are to support film viewing for any of the subjects as the teacher can select the emphasis The longer PPT has a reseach task, an end of module essay. Youtube markers are current as at 27/09/2020 I anticipate adding to this so please check in for updates in 2021

This is a workbook created for the Eduqas board current course ( first exam June 2019) Updated 2020 and added quick fire PPTs - great for revision! It covers the broad range of ideas with the film: context, history, aesthetics, auteur, cinematography, male gaze, gender bender. It has a suggested main essay question, short work tasks, and various stills from the film It is not per se a viewing log, but should be used before during and after viewing.

This is workbook for Winters Bone suitable for Eduqas A Level new curriculum 2018+ addition to resourcce revision PPT Feb 2020 This approximately 32+ pages - it is best used by being printed in colour. It has quite a bit of technical teaching for film - eg 3pt lighting, camera shot, costume. It is assumed that this film might be at the beginning of teaching A Level film and therfore introduces more techinical language. However, the prupose is to teach spectatorship and the work book is geared towards the Eduqas ( WJEC) a level A condition of purchase of thi resource is that it will not be shared on-line. It is supplied in word foramt so that you can personalise it.