Clickschool's Shop
Resources for KS3 and GCSE Computer Science and ICT
168Uploads
226k+Views
105k+Downloads
Resources for KS3 and GCSE Computer Science and ICT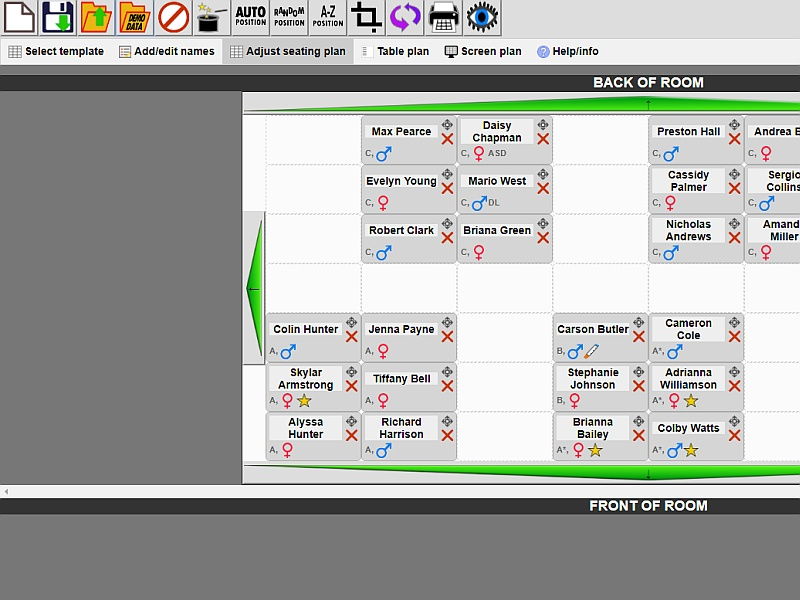 https://www.clickschool.co.uk/seatplan **LATEST**: Online seating plan generator - paste lists from SIMS or similar, group/distribute students, show/hide sensitive data, upload/download plans etc. NB No student data is transferred to the internet, it is all local within your web browser. Excel spreadsheet basic version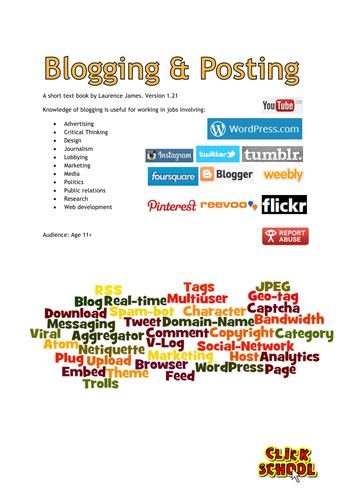 Inspire yourself or your students: gets you thinking about the impact of blogs - from making money, to freedom of speech etc. Content: Blogging terminology BASICS: Understand what a blog is Name different forms of blogs Explain the purpose of blogs Identify features of a blog Name blogging "platforms" Abide by e-safety rules when creating a blog INTERMEDIATE: Explain why people use blogs and how an organisation can benefit from blogging Explain the purpose of blogs Explain what makes a good blog, taking account social and legal implications Explore money-making opportunities for bloggers Understand how blogs are used for business and pleasure EXPERT: Explain what a spam bot does, and measures for combating them Critically evaluate the effectiveness of a good and not so good blog - suggesting and justifying possible improvements Use blogging as a tool to benefit YOU (reflective learner, share & develop ideas) Manage your very own blog responsibly 19 pages.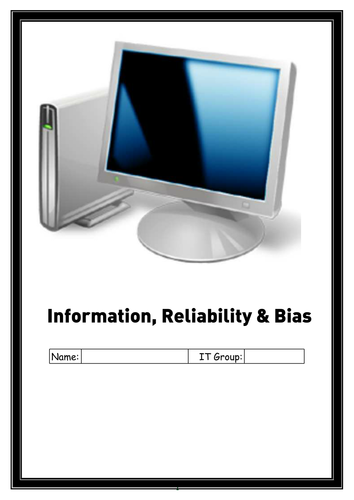 Information Reliability and Bias Worksheets Several to choose from... or use the lot.

Electronic worksheets designed for use by students. Tasks for varying abilities including programming algorithms in Python for the most able. The worksheets detail how the algorithms work (linear search, binary search, bubble sort) and how to code them using Python, followed by questions. Includes links to interactive self-marking quiz. These files are available as part of a bundle, covering computational thinking skills for KS3.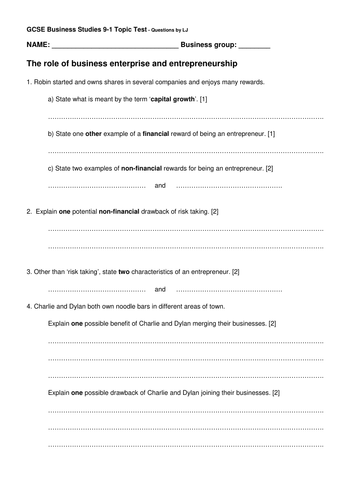 6 questions, 20 marks. A range of 'state', 'explain' and 'evaluate' questions.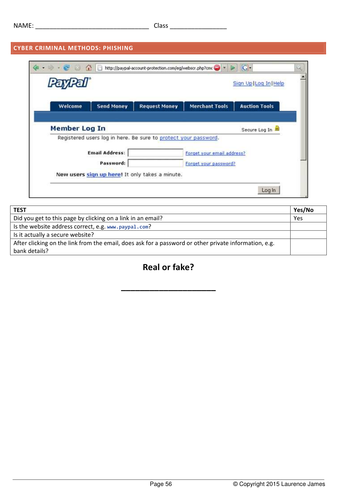 Worksheets: Phishing Health & Safety Act (Cloze) Data Protection Act (information) Copyright (matching activity) Computer Misuse (information) Business Ethics (comprehension) Cyberbulling (information) Workplace surveillance (methods, e.g. GPS, web monitoring, CCTV, RFID) (Comprehension, discussion) Cookies & Disabling Cookies (matching activity) Key logging Mobile phone triangulation Loyalty Schemes Cyber Wars (matching threats to description) Disciplinary procedures Countermeasures (- to cyber threats - matching activity) This is an extract from my Cambridge Nationals workbook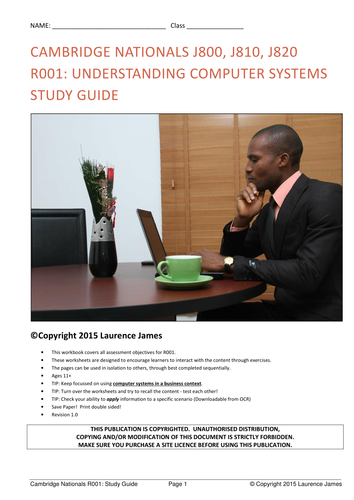 Cambridge Nationals in ICT R001 (J800, J810, J820): One site licence to create photocopies of a complete set of worksheets covering all assessment objectives: AO1: Understand how ICT can be used to meet business needs AO2: Working with information & data to meet specific business needs AO3: How ICT is used to support business working practices AO4: How legal, ethical, safety and security issues affect how computers should be used This concise publication has been created to encourage learners to interact with the contact based on various questions, matching and dragging é dropping activities. It also includes links to engaging videos Many pages are relevant to other courses of study, and can therefore be reused in the future. This publication includes an extremely helpful section about exam technique and some 'top tips' to help students pick up valuable marks.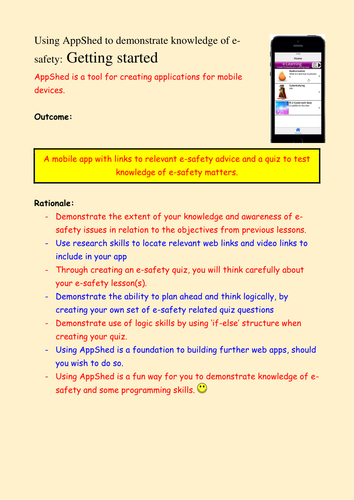 Two parts: A). E-safety research task encourages students to work in small groups to answer key questions about e-safety issues (radicalisation, cyberbullying, sexting, grooming, privacy, fake-news). 2. FIVE worksheets detailing how AppShed (free) can be used to create a mobile phone app to demonstrate understanding of e-safety issues, including how to create a multiple choice quiz. (No previous experience required!) Outcomes: 1. Be able to talk knowledgeably about a range of e-safety issues 2. Know the importance of inclusion 3. Be able to take steps to keep themselves online 4. Be able to know how to report issues.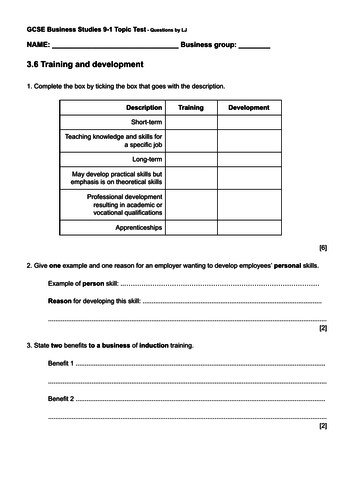 OCR Business Studies 3.6 Training and Development Topic Test and Answers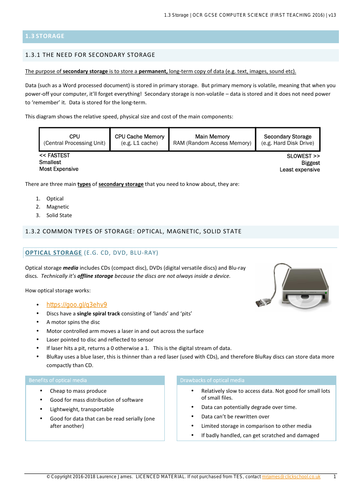 Get better value by buying this as part of my GCSE OCR Computer Science bundle.  The need for secondary storage  Data capacity & calculation of data capacity requirements  Common types of storage: optical, magnetic, solid stage  Suitable storage devices and storage media for a given application, and the advantages and disadvantages of these, using characteristics: capacity, speed, portability, durability, reliability, cost.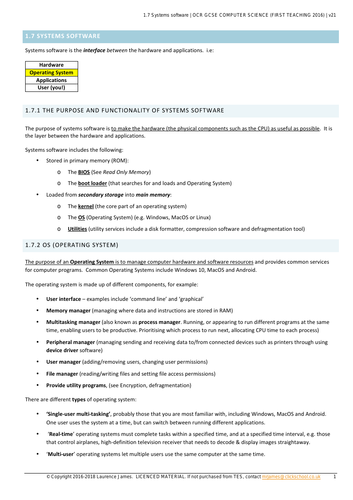 Get better value by buying this as part of my GCSE OCR Computer Science bundle.  The purpose and functionality of systems software  Operating systems: user interface, memory, management/multitasking, peripheral management and drivers, user management, file management, utility system software: (encryption, defragmentation, data compression, the role and method of backup – full & incremental)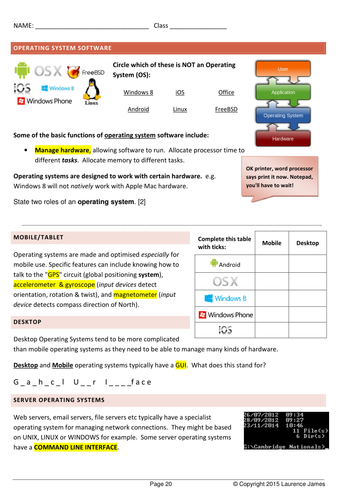 Worksheets (5 pages) about: - Types of operating systems - Utility software - Customisation - Software updates - Application software This is an extract from my Cambridge Nationals workbook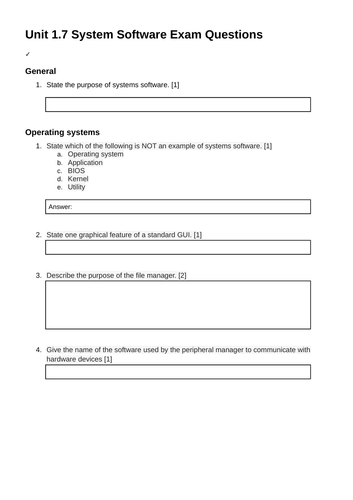 16 GCSE Examination style questions for OCR GCSE Computer Science unit 1.7 Question sheet Answer sheet 24 marks available.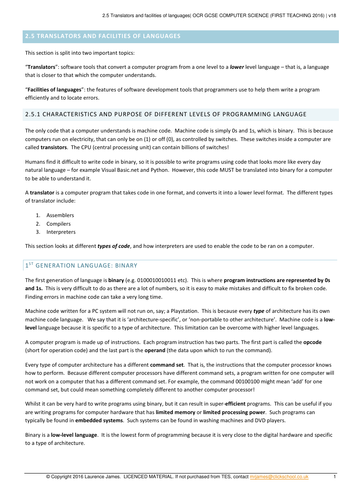 Get better value by buying this as part of my GCSE OCR Computer Science bundle.  Characteristics and purpose of different levels of programming language, including low level languages  The purpose of translators  The characteristics of an assembler, a compiler and an interpreter  Common tools and facilities available in an integrated development environment (IDE): editors, error diagnostics, run-time environment, translators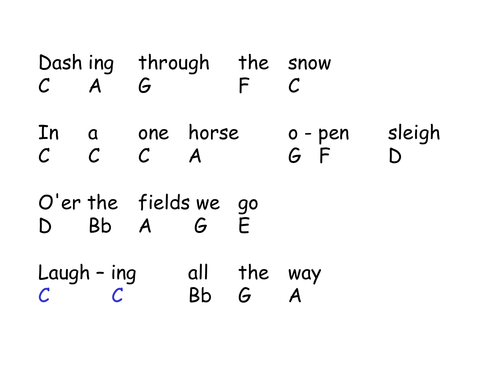 I first did this in 1997 (when I used to have a life!!), but it's still good fun to do today! Target age - Year 6 or 7, but I've also done this with older students too. Give students chime bars, jingle bells and a triangle to play along with the notes in the presentation...the test can sing along! Good fun. The backing track is just that - piano chords and bass. The tune is played and/or sang by students. I've also included a bonus track with ideas for how chime bars could be used with other traditional Christmas songs... Just one verse and chorus, but you can use 3 different playback speeds as they get better and better. The backing track is piano and bass only.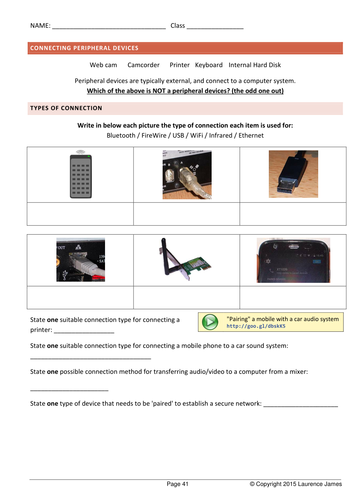 2 worksheets Extract from my Cambridge Nationals Workbook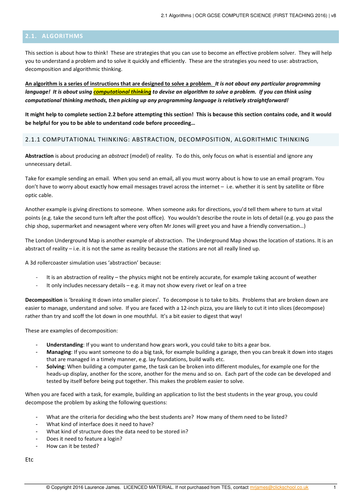 Get better value by buying this as part of my GCSE OCR Computer Science bundle.  Computational thinking: abstraction, decomposition, algorithmic thinking  Standard searching algorithms (binary search, linear search)  Standard sorting algorithms (bubble, merge, insertion)  Produce algorithms using: pseudocode, flowcharts  Interpret, correct or complete algorithms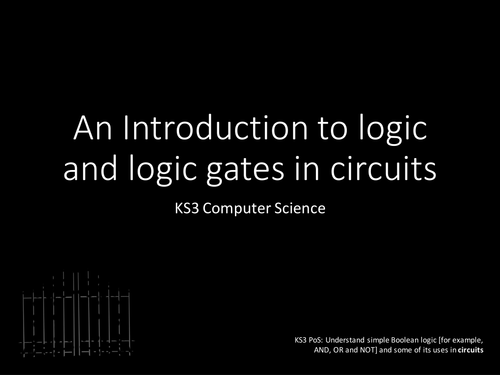 An introduction to logic gates KS3 PoS: Understand simple Boolean logic [for example, AND, OR and NOT] and some of its uses in circuits Know Electronic circuits are made up of logic gates Logic gates in modern circuits are made from transistors The names and symbols used to represent three basic logic gates (AND, OR, NOT) An example of a use for logic gates Understand Different combinations of inputs can alter the single output of a logic gate circuit Be Able To Given a scenario involving AND, OR and NOT, Apply understanding of logic gates to produce a logic gate circuit Apply understanding of logic gates to produce a truth table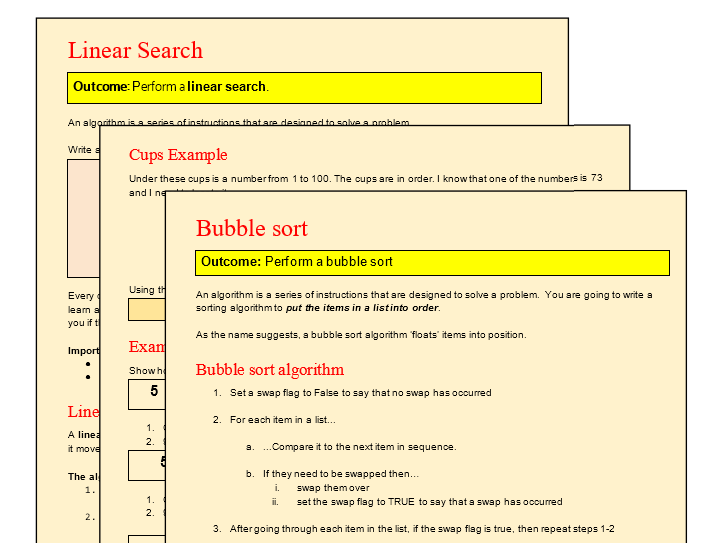 KS3 CT Computational Thinking 14 key worksheets designed to be completed electronically to teach some of the trickier aspects of the KS3 National Curriculum, including: 1. Linear search 2. Binary search 3. Bubble sort 4. Simple logic gates 5. Logic gate circuits 6. Representing numbers 7. Binary to decimal 8. Decimal to binary 9. -TBC 10. Binary addition 11. Text representation 12. Picture representation 13. Sound representation 14. Instructions 15. Instruction sets 16. (brief introduction to algorithmic thinking) Lots of editable explanations, tasks and activities for varying abilities.