Clickschool
Resources mostly for KS3 and GCSE Computer Science and ICT
94Uploads
314k+Views
136k+Downloads
Resources mostly for KS3 and GCSE Computer Science and ICT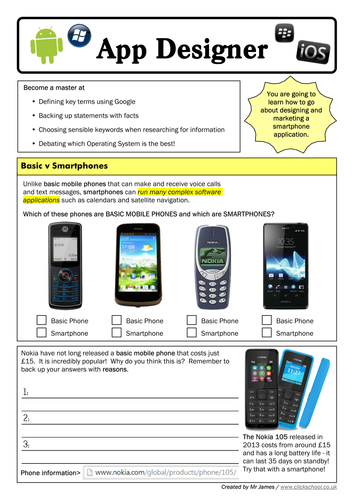 NEW AND IMPROVED!! UPDATED (version 3) 7 initial worksheets for students to make decisions about designing mobile apps. Focus on: operating system, understanding hardware features, research skills.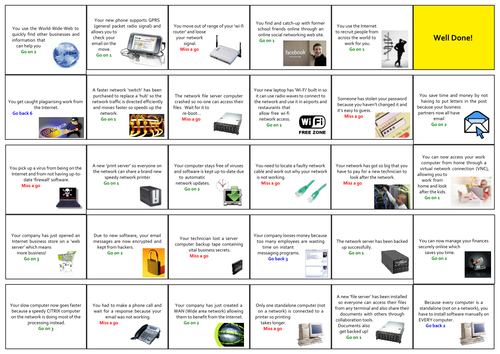 Network game to get students to consider benefits and possible drawbacks of networks (counters and dice not included!)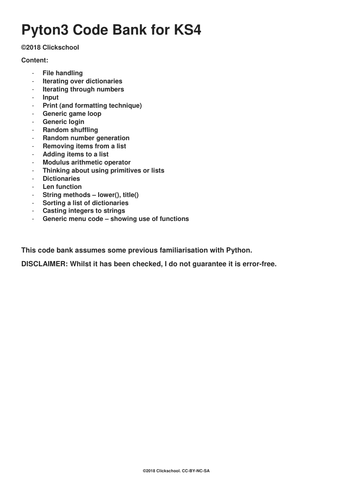 This 5* rated resource does NOT contain complete solutions for the NEA. But what it does contain are clearly presented code snippets, designed to help reinforce application of programming knowledge, helping students to understand code and create their own solutions without giving up hope, in a relatively short space of time. I've been programming, and teaching for a long time, and understand that some students can struggle to code. This one-stop shop aims to give students the confidence to work out their own solutions from this one easily-accessible reference guide. This resource shows how to complete tasks such as file handling; in the most straightforward way possible. File handling needn't be complicated. I've seen some trying to use SQL, CSV or JSON formatted data. This often leads to needless confusion amongst those just starting their programming journey. None of this is necessary. This resource shows you how to use simple code to manage files…and much much more. This resource helps students to have those 'eureka' moments as they piece together ideas and get to grips with programming (it can also help staff!) It is clearly presented and contains enough ideas to help students to feel good about being able to code their own solution. …Python3 code bank for KS4 Quick reference guide with adaptable code snippets… Covers… File handling Iterating over dictionaries Iterating through numbers Input Print (and formatting technique) Generic game loop Generic login Random shuffling Random number generation Removing items from a list Adding items to a list Modulus arithmetic operator Thinking about using primitives or lists Dictionaries Len function String methods: lower(), title() Sorting a list of dictionaries Casting integers to strings Generic menu code: showing use of functions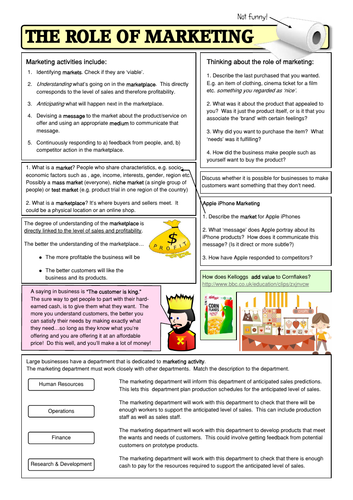 OCR GCSE Business Studies 9-1 The role of marketing, The purpose of market research 2x worksheet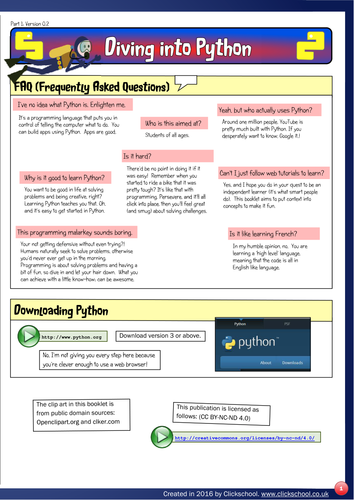 A compact booklet (designed to be printed as small as folded A4 into A5). Designed for 11-15 year olds to get them into programming Python. Some fun/interesting examples... Content: Downloading Python The IDLE Print Saving & Running Sequence Selection (I've been expecting you Mr Bond) Keyboard essentials (short cuts) Secret Message (IF selection,) Boolean Operators Truth Table Forever loop: Iteration For Loop (blast off!) Who is this guy? (nested IF) Introduction to Flowcharts Random number guessing game Ninja Python Turtle (for loop iteration) Shhh, Caesar Cipher Function Kim's Game (Variation) using a custom function and loading an external text file. Enjoy :-)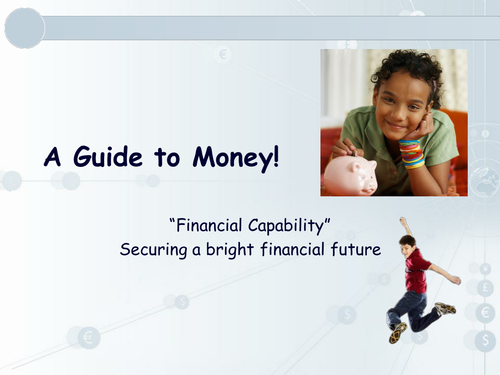 I put these together a long time ago, but are still relevant today - lots of financial matters to get thinking about.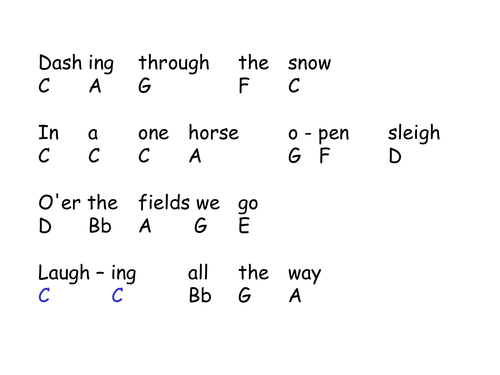 I first did this in 1997 (when I used to have a life!), but it's still good fun to do today! Target age - Year 6 or 7, but I've also done this with older students too. Give students chime bars, jingle bells and a triangle to play along with the notes in the presentation…the test can sing along! Good fun. The backing track is just that - piano chords and bass. The tune is played and/or sung by students. I've also included a bonus track with ideas for how chime bars could be used with other traditional Christmas songs… Just one verse and chorus, but you can use 3 different playback speeds as they get better and better. The backing track is piano and bass only.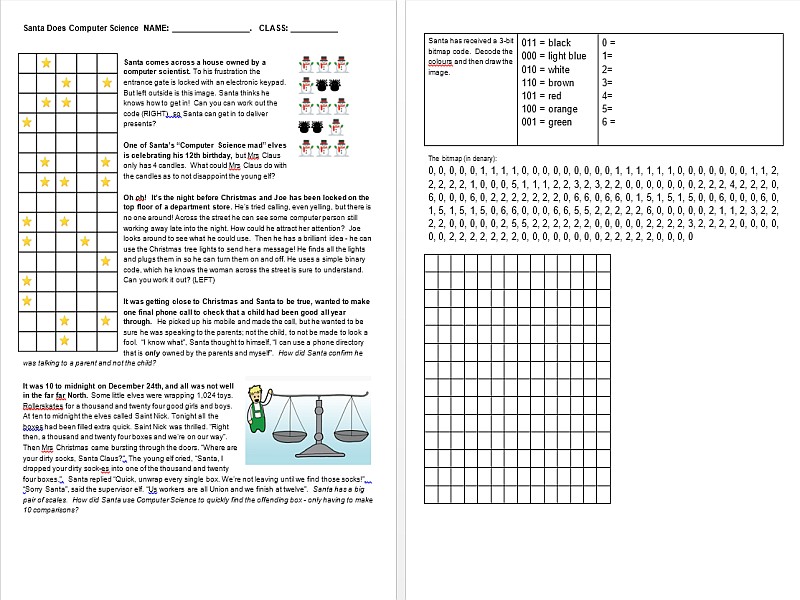 Santa-themed tasks: Binary, divide-and conquer and an encryption task. A number of the challenges have been borrowed. No computer required! Could be used as a competition. Some students might need hints.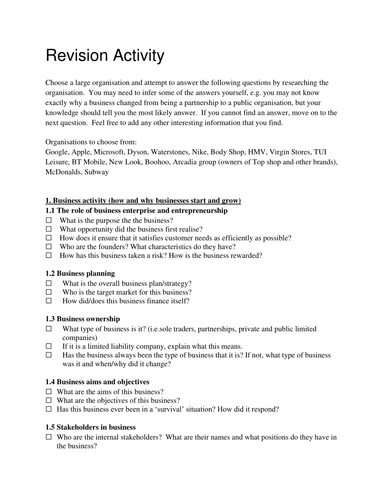 "Choose a large organisation and attempt to answer the following questions by researching the organisation. You may need to infer some of the answers yourself, e.g. you may not know exactly why a business changed from being a partnership to a public organisation, but your knowledge should tell you the most likely answer. If you cannot find an answer, move on to the next question. Feel free to add any other interesting information that you find. Organisations to choose from: Google, Apple, Microsoft, Dyson, Waterstones, Nike, Body Shop, HMV, Virgin Stores, TUI Leisure, BT Mobile, New Look, Boohoo, Arcadia group (owners of Top shop and other brands), McDonalds, Subway"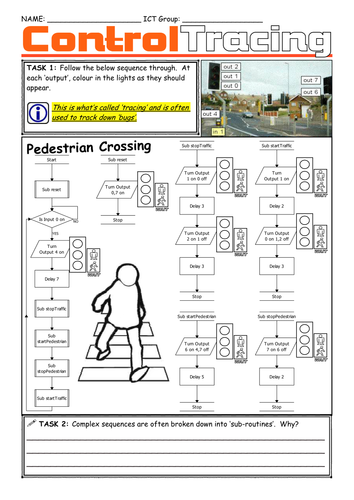 Students colour in the traffic lights as they trace through a flow-chart as they learn to understand sequences and sub routines.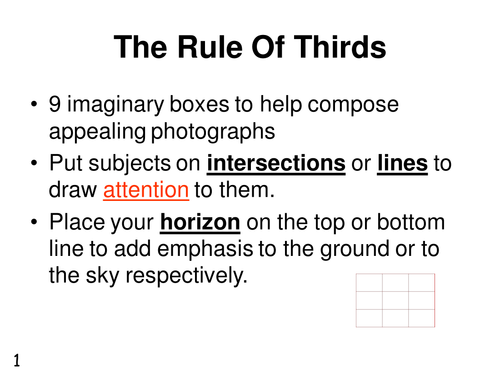 Short presentation to demonstrate the rule of thirds and other possible 'grids'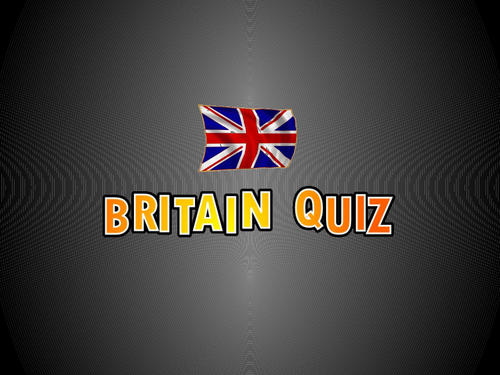 Made a long time ago, but I think they still look funky - especially the slide templates in the news quiz. Evidently the questions are now somewhat out of date!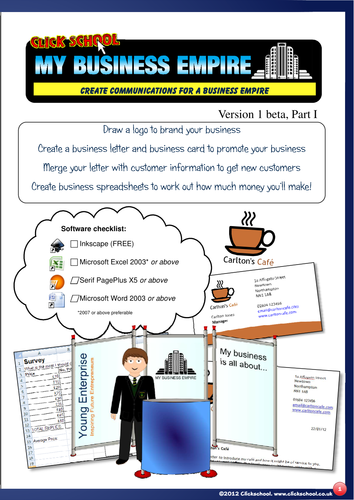 Develop enterprise skills in IT. Teaching students about the below concepts **always** works better when students have ownership over their own business idea. Trust me! A set of worksheets covering: Lovely Logos Lush Letters Beneficial Business Cards Mega Mail Merge Snazzy Spreadsheets Uses: Inkscape (Free) Excel Word Serif PagePlus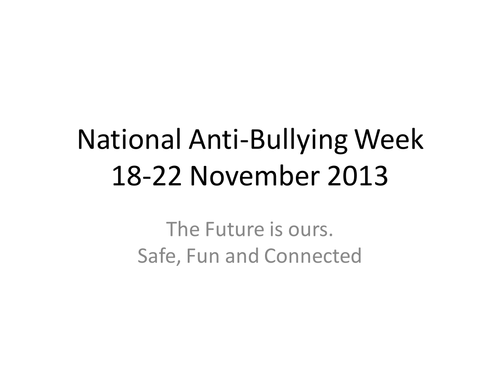 Created for 2013 but could be used or adapted for any year. A compilation of material for an assembly supporting an anti-bullying campaign - mainly focussed around cyberbullying.

A clear diagram to help explain how a network can be put together. A good discussion point for nodes, hubs, switches, routers, WAPs, NICs, Cat5e, fibre optics.