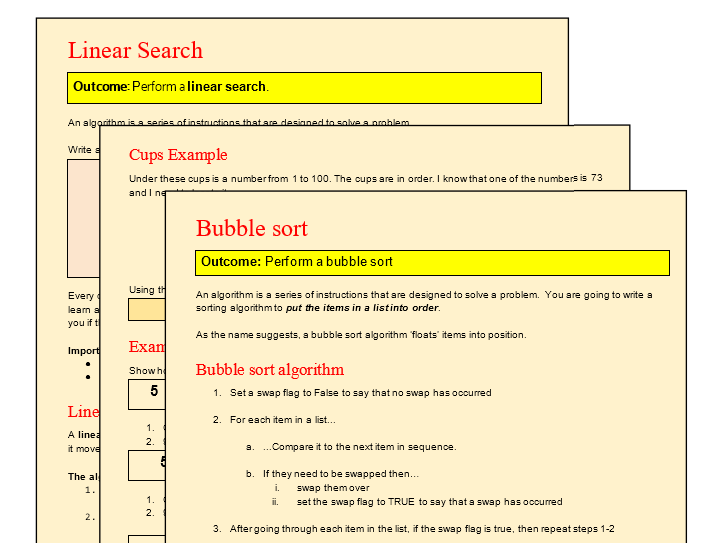 KS3 CT Computational Thinking 14 key worksheets designed to be completed electronically to teach some of the trickier aspects of the KS3 National Curriculum, including: 1. Linear search 2. Binary search 3. Bubble sort 4. Simple logic gates 5. Logic gate circuits 6. Representing numbers 7. Binary to decimal 8. Decimal to binary 9. -TBC 10. Binary addition 11. Text representation 12. Picture representation 13. Sound representation 14. Instructions 15. Instruction sets 16. (brief introduction to algorithmic thinking) Lots of editable explanations, tasks and activities for varying abilities.
Study resources for OCR Computer Science - the complete set! Over 150 pages, tailored to this GCSE course: 1.1 System Architecture 1.2 Memory 1.3 Storage 1.4 Wired and wireless networks 1.5 Network topologies, protocols and layers 1.6 System Security 1.7 Systems software 1.8 Ethical, legal, cultural and environmental concerns 2.1 Algorithms 2.2 Programming technique 2.3 Producing robust programs 2.4 Computational Logic 2.5 Translators and facilities of languages 2.6 Data representation +Handy revision section
What better way to learn about how bitmap graphics are created than to create a bitmap image! This editable Word document and can either be completed electronically, or printed and completed without need for a computer. (i.e. for homework). Outcomes:  Drawing of an image and written binary representation  Calculation of total pixels in an image  Decoding of RGB values Vocabulary: c Bit c Bitmap c Binary c Colour-depth c Pixel c Pixelated c Pixel density c Resolution c RGB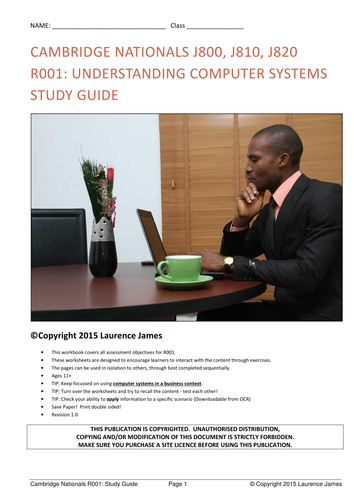 Cambridge Nationals in ICT R001 (J800, J810, J820): One site licence to create photocopies of a complete set of worksheets covering all assessment objectives: AO1: Understand how ICT can be used to meet business needs AO2: Working with information & data to meet specific business needs AO3: How ICT is used to support business working practices AO4: How legal, ethical, safety and security issues affect how computers should be used This concise publication has been created to encourage learners to interact with the contact based on various questions, matching and dragging é dropping activities. It also includes links to engaging videos Many pages are relevant to other courses of study, and can therefore be reused in the future. This publication includes an extremely helpful section about exam technique and some 'top tips' to help students pick up valuable marks.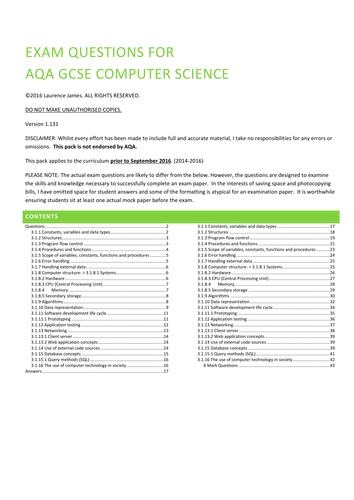 Thoroughly prepare your students for the Summer 2016 AQA GCSE Computer Science Exam. This download includes over 180 carefully thought out exam style questions (matches to the specification), along with separate answers. The perfect resource to use with your students to give them the confidence they need to secure success. Great for revision, assessment and teaching...and for getting top examination results! Covering the curriculum as follows: 3.1.1 Constants, variables and data types 3.1.2 Structure 3.1.3 Program flow control 3.1.4 Procedures and functions 3.1.5 Scope of variables, constants, functions and procedures 3.1.6 Error handling 3.1.7 Handling external data 3.1.8 Computer structure: > 3.1.8.1 Systems 3.1.8.2 Hardware 3.1.8.3 CPU (Central Processing Unit) 3.1.8.4 Memory 3.1.8.5 Secondary storage 3.1.9 Algorithms 3.1.10 Data representation 3.1.11 Software development life cycle 3.1.11.1 Prototyping 3.1.12 Application testing 3.1.13 Networking 3.1.13.1 Client server 3.1.13.2 Web application concepts 3.1.14 Use of external code sources 3.1.15 Database concepts 3.1.15.1 Query methods (SQL) 3.1.16 The use of computer technology in society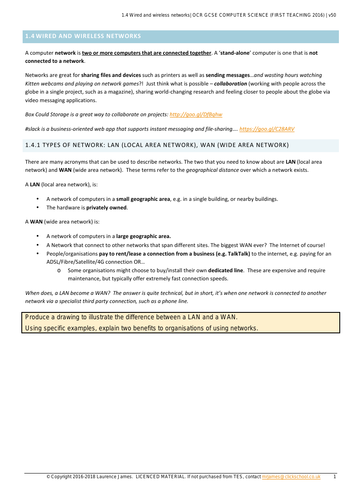 Get better value by buying this as part of my GCSE OCR Computer Science bundle.  Types of network: LAN (local area network), WAN (wide area network)  Factors that affect the performance of networks  The different role of computers in client-server and a peer-to-peer network  The hardware needed to connect stand-alone computers into a Local Area Network: Wireless access points, routers/switches, NIC (Network Interface Controller/Card), Transmission media  The internet as a worldwide collection of computer network DNS (Domain Name Server), hosting, the cloud  The concept of virtual networks.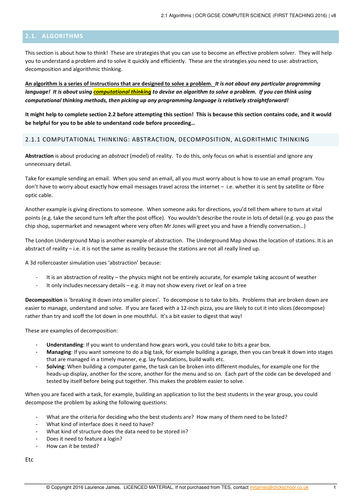 Get better value by buying this as part of my GCSE OCR Computer Science bundle.  Computational thinking: abstraction, decomposition, algorithmic thinking  Standard searching algorithms (binary search, linear search)  Standard sorting algorithms (bubble, merge, insertion)  Produce algorithms using: pseudocode, flowcharts  Interpret, correct or complete algorithms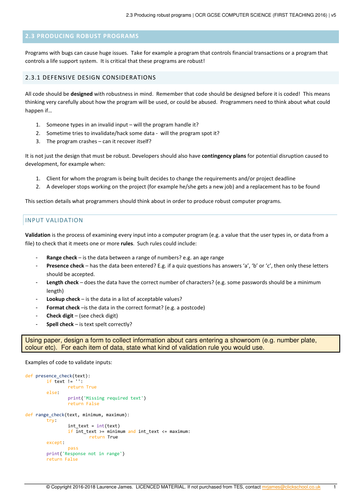 Get better value by buying this as part of my GCSE OCR Computer Science bundle.  Defensive design considerations: input sanitisation/validation, planning for contingencies, anticipating misuse, authentication, maintainability, comments, indentation  The purpose of testing  Types of testing: iterative, final/terminal  How to identify syntax and logic errors  Selecting and using suitable test data.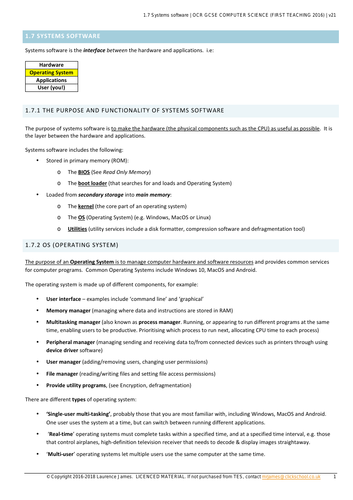 Get better value by buying this as part of my GCSE OCR Computer Science bundle.  The purpose and functionality of systems software  Operating systems: user interface, memory, management/multitasking, peripheral management and drivers, user management, file management, utility system software: (encryption, defragmentation, data compression, the role and method of backup – full & incremental)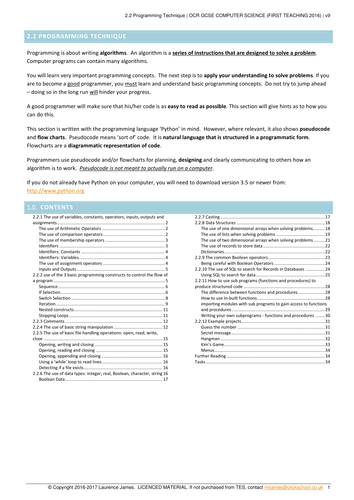 Get better value by buying this as part of my GCSE OCR Computer Science bundle. Suitable for teaching Python from the ground up - either for OCR GCSE as intended, or for any course of study requiring a good foundation in Python, Pseudocode and Flowcharts.  The use of variables, constants, operators, inputs, outputs and assignments  The use of the three basic programming constructs used to control the flow of a program: sequence, selection, iteration (count and condition controlled loops)  The use of basic string manipulation  The use of basic file handling operations: open, read, write, close  The use of records to store data  The use of SQL to search for data  The use of arrays (or equivalent) when solving problems, including both one and two dimensional arrays  How to use sub programs (functions and procedures) to produce structured code  The use of data types: integer, real, Boolean, character, string. Casting.  The common arithmetic operators  The common Boolean operators.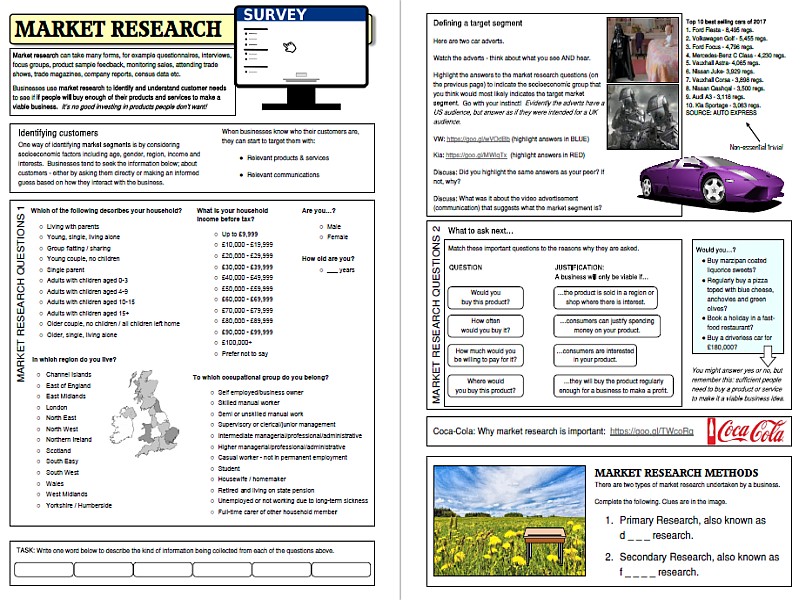 2.1.1 The Role of Marketing: What marketing involves, what is a market, why the customer is king, adding value, how the marketing department works with other departments. Reflecting on your own purchase. (1 page) 2.1.2 The purpose of market research: Defining a market segment - looking at this in relation to car advertisements. The importance of asking the right questions. Introduces primary and secondary research in name only. (2 pages)
3 worksheets, 4 pages in total Knowledge and a variety of questions including word jumbles, short answer, multiple-choice, fill in the gaps. References to actual or fictional businesses.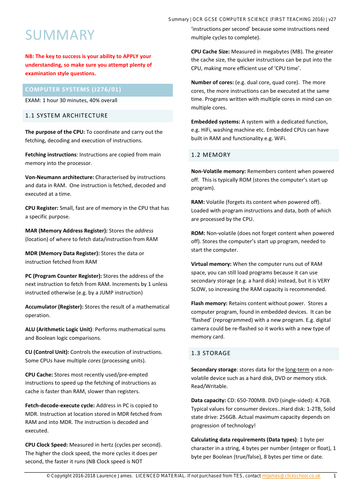 This is a concise summary of all of the concepts for the entire course. These make for good revision booklets. You can save money by buying this as part of my GCSE OCR Computer Science bundle package.
A list of possible content for a portfolio, supporting the production of a short film for a competition, including links to 'film school' videos.
12 page document 36 questions and answers, covering 2.2 Programming Technique. Students should answer questions on separate paper (saves photocopying) A range of questions for all abilities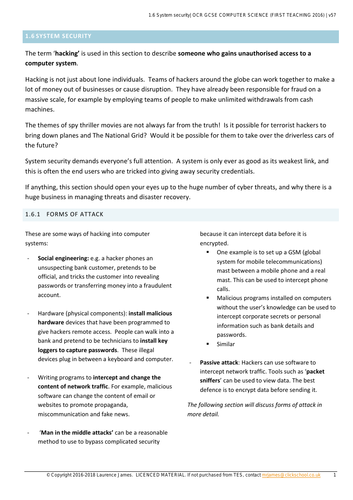 Get better value by buying this as part of my GCSE OCR Computer Science bundle.  Forms of attack  Threats posed to networks: malware, phishing, people/social engineering, brute-force attacks, denial of service attacks, data interception and theft, the concept of SQL injection, poor network policy  Identifying and preventing vulnerabilities: penetration testing, network forensics, network policies, anti-malware software, firewalls, user access levels, passwords, encryption.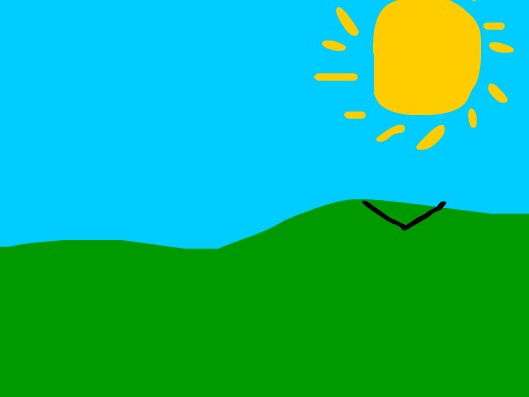 Learn how to apply motion tweens to get a bird to fly across the screen Included - Practical guide - Example Flash files
Teach students basic animation skills - using frame-by-frame animation to make a 'growing tree'. Included: - Practical guide - Example Flash file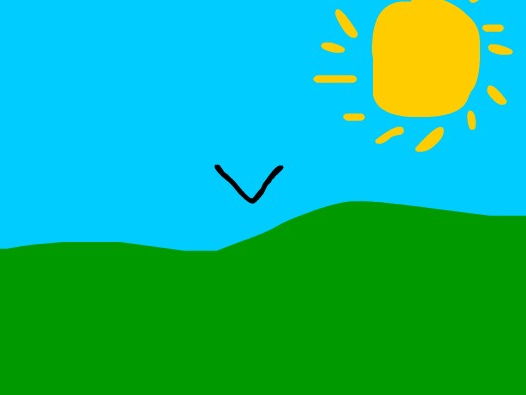 Learn the basics of adding and managing layers to create a flapping bird on top of a landscape. Included: - Short worksheet - Practical guide - Example Flash file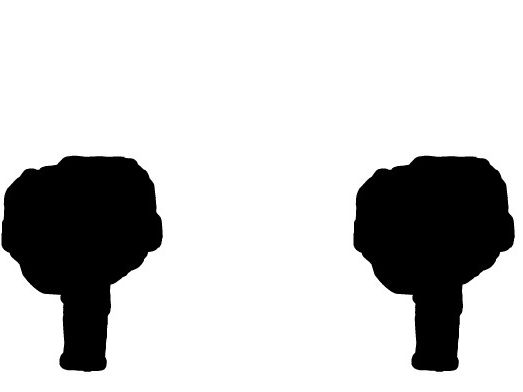 Learn the basics of animation - creating a growing tree, but this time using shape tweens. Included: - Practical guide - Example Flash files
An introduction to using Flash CS6. Mainly practical guides covering: 1. Frame-by-frame animation with blank key frames/onion skinning 2. Frame-by-frame animation with key frames 3. Creating and working with layers 4. Creating motion tweens 5. Creating shape tweens 6. Use of layers and motion tweens to create a dancing penguin!
Introduce animation to students How to create a simple frame-by-frame movie clip of a flapping bird. Included: worksheet, practical exercise, example Flash file
Using layers and tweens to make a dancing penguin! Included: - Practical guide - Example Flash file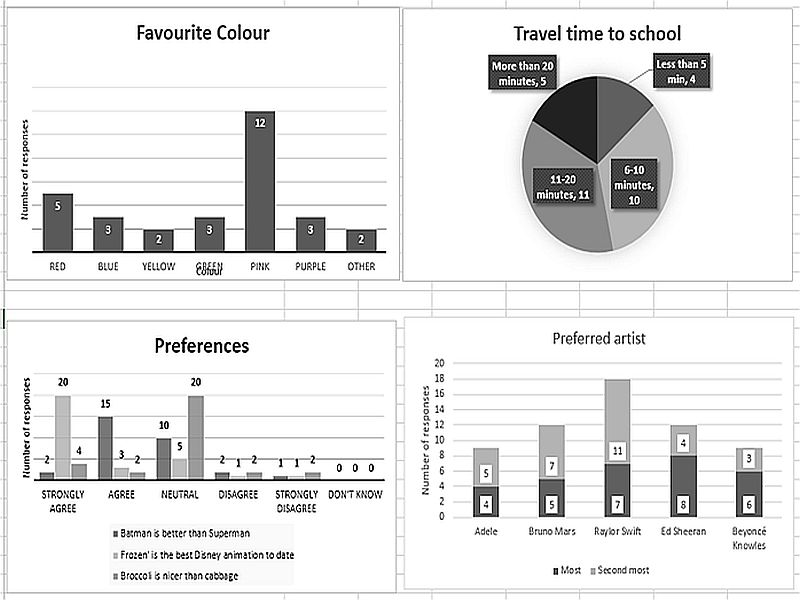 Charts for Business: Constructing black & white printer friendly charts for business studies Implemented using Microsoft Office 2013 A worksheet (8 pages) instructs students how to make well formatted graphs, suitable for printing. Covering bar/column/stack charts (with multiple series) and pie chart.