Clickschool's Shop
Resources for KS3 and GCSE Computer Science and ICT
168Uploads
230k+Views
107k+Downloads
Resources for KS3 and GCSE Computer Science and ICT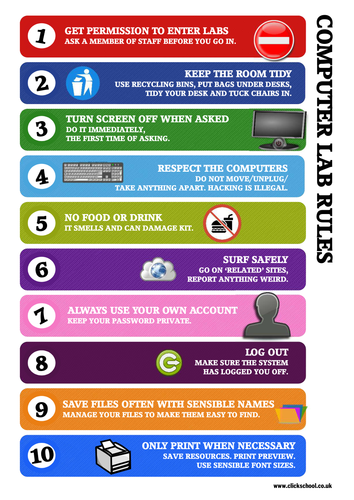 Computer/ICT Lab Rules Poster Version 1 Uses images from openclipart.org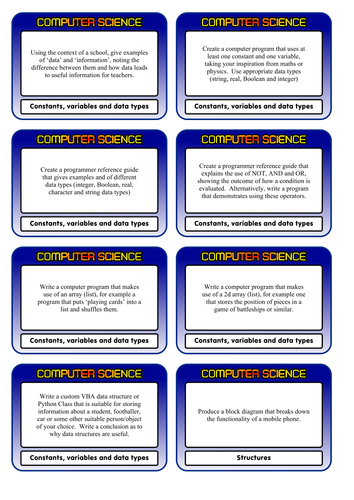 A selection of cutout challenge cards containing challenges linked to the AQA GCSE Computer Science syllabus.

An assembly drama/ideas for songs suitable for a class to perform, maybe Years 5 - 7. The assembly's message is that you don't have to be a superhero to be a hero. For copyright reasons, I cannot include the music, only the script and suggested music.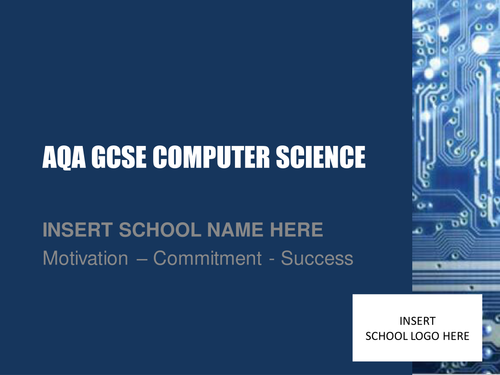 I couldn't find anything like this on AQA's web site, so I created my own, for use at options evening. Simply 10 slides outlining the course content. Feel free to add quotes and images of your own students on the relevant slide(s).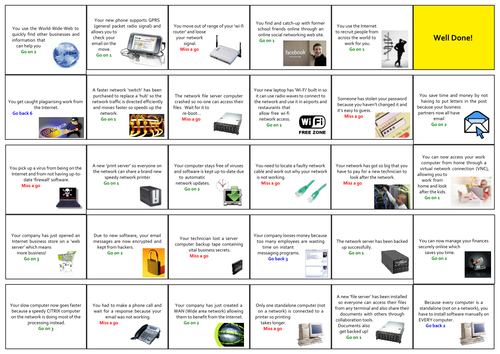 Network game to get students to consider benefits and possible drawbacks of networks (counters and dice not included!)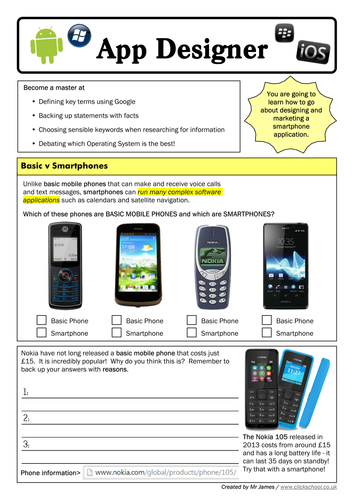 NEW AND IMPROVED!! UPDATED (version 3) 7 initial worksheets for students to make decisions about designing mobile apps. Focus on: operating system, understanding hardware features, research skills.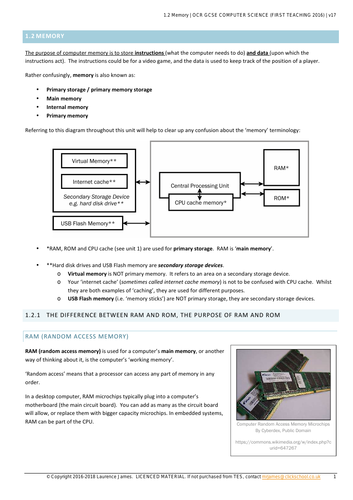 Get better value by buying this as part of my GCSE OCR Computer Science bundle.  The difference between RAM and ROM  The purpose of ROM in a computer system  The purpose of RAM in a computer system  The need for virtual memory  Flash memory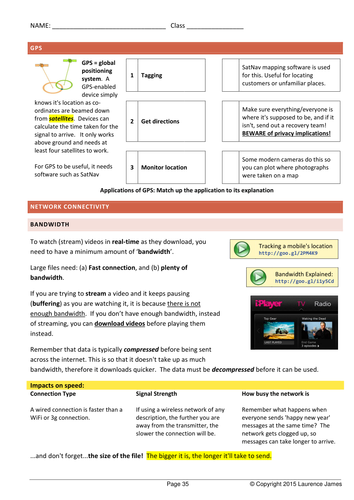 6 worksheets Extract from my Cambridge Nationals Workbook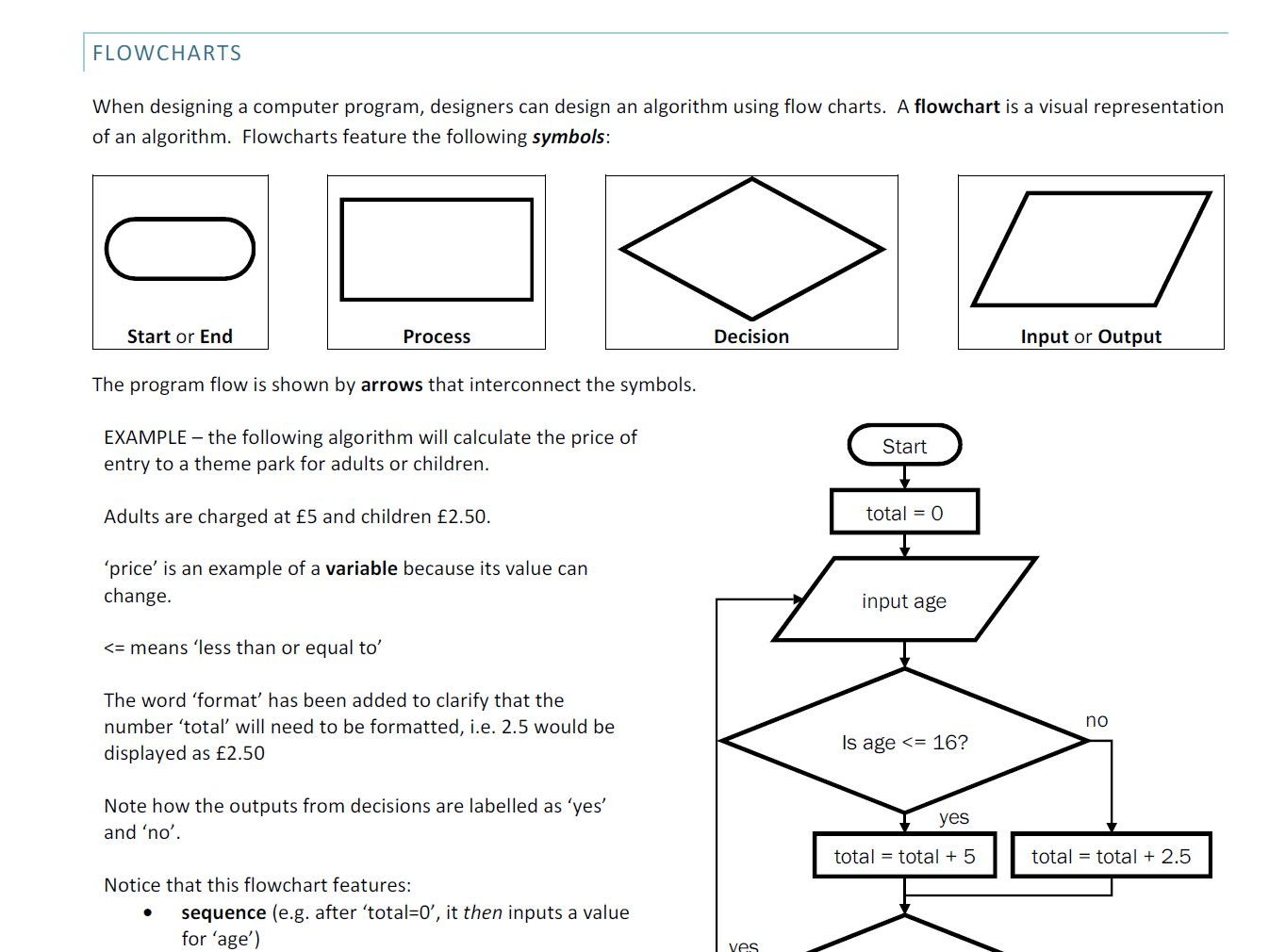 2.1 Algorithms 2.2 Programming technique 2.3 Producing robust programs 2.4 Computational Logic 2.5 Translators and facilities of languages 2.6 Data representation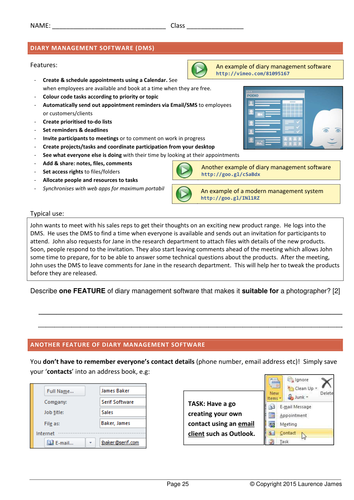 2.5 Pages Extract from my Cambridge Nationals workbook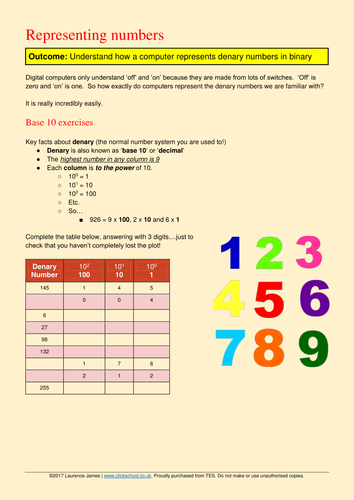 Part of KS3 Computational Thinking Series - worksheet explanations, tasks and activities - How numbers are represented - Binary to decimal - Decimal to binary - Binary addition - Text representation (ASCII, its limitation and Unicode), including ASCII name tag and Chinese name - Picture representation, including making artwork and converting it to binary - Sound representation, including comparing sound files These work in conjunction with my web-based self-marking multiple choice tests to check understanding, and also to my interactive binary activities.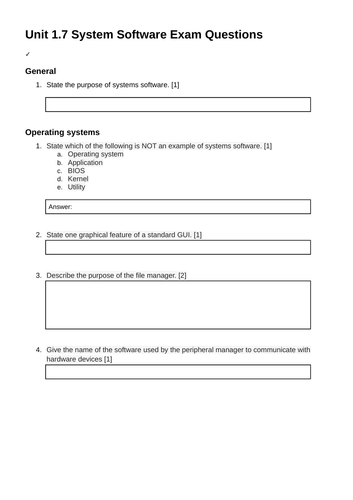 16 GCSE Examination style questions for OCR GCSE Computer Science unit 1.7 Question sheet Answer sheet 24 marks available.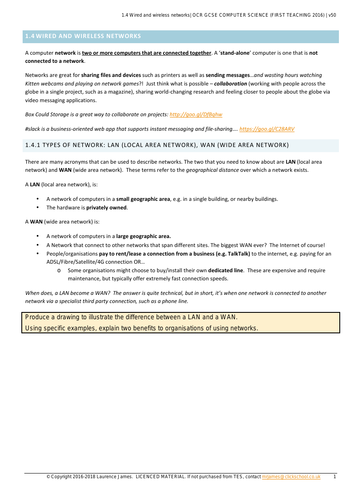 Get better value by buying this as part of my GCSE OCR Computer Science bundle.  Types of network: LAN (local area network), WAN (wide area network)  Factors that affect the performance of networks  The different role of computers in client-server and a peer-to-peer network  The hardware needed to connect stand-alone computers into a Local Area Network: Wireless access points, routers/switches, NIC (Network Interface Controller/Card), Transmission media  The internet as a worldwide collection of computer network DNS (Domain Name Server), hosting, the cloud  The concept of virtual networks.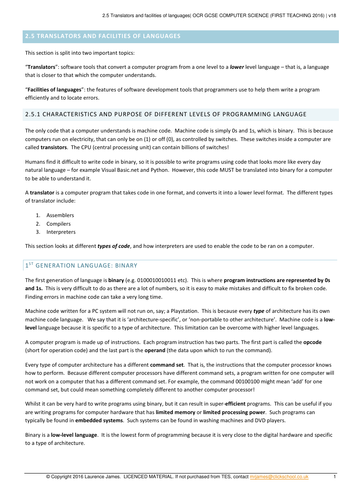 Get better value by buying this as part of my GCSE OCR Computer Science bundle.  Characteristics and purpose of different levels of programming language, including low level languages  The purpose of translators  The characteristics of an assembler, a compiler and an interpreter  Common tools and facilities available in an integrated development environment (IDE): editors, error diagnostics, run-time environment, translators

An introduction to using Flash CS6. Mainly practical guides covering: 1. Frame-by-frame animation with blank key frames/onion skinning 2. Frame-by-frame animation with key frames 3. Creating and working with layers 4. Creating motion tweens 5. Creating shape tweens 6. Use of layers and motion tweens to create a dancing penguin!

12 page document 36 questions and answers, covering 2.2 Programming Technique. Students should answer questions on separate paper (saves photocopying) A range of questions for all abilities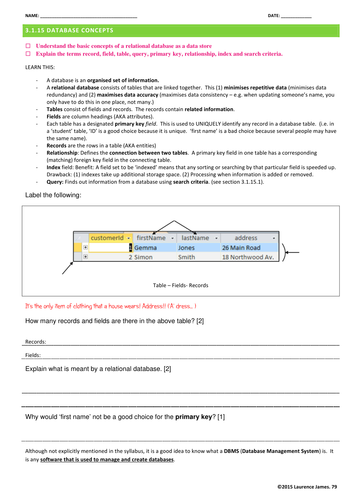 Extract from my AQA GCSE Computer Science workbook Database concepts Relational v Flat File Databases How basic SQL works (SELECT, INSERT, UPDATE, ORDER BY, WHERE, AND/OR) Databases practical - using Python to create a database and use SQL.