Clickschool's Shop
Resources for KS3 and GCSE Computer Science and ICT
168Uploads
220k+Views
103k+Downloads
Resources for KS3 and GCSE Computer Science and ICT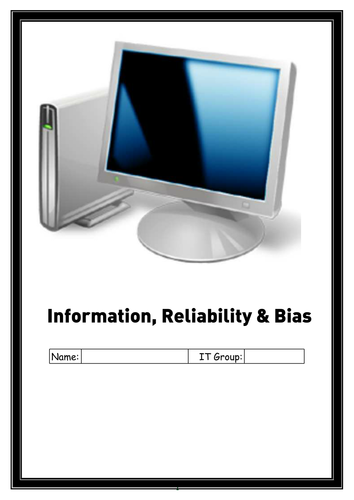 Information Reliability and Bias Worksheets Several to choose from... or use the lot.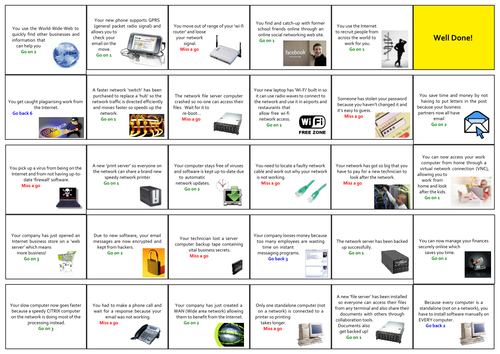 Network game to get students to consider benefits and possible drawbacks of networks (counters and dice not included!)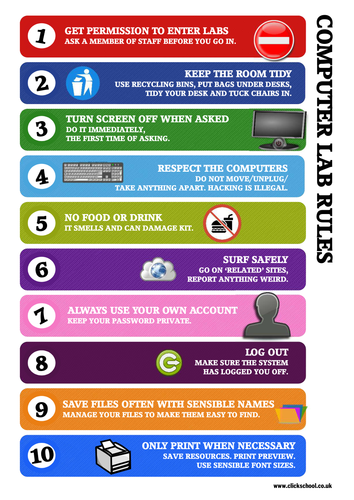 Computer/ICT Lab Rules Poster Version 1 Uses images from openclipart.org

An assembly drama/ideas for songs suitable for a class to perform, maybe Years 5 - 7. The assembly's message is that you don't have to be a superhero to be a hero. For copyright reasons, I cannot include the music, only the script and suggested music.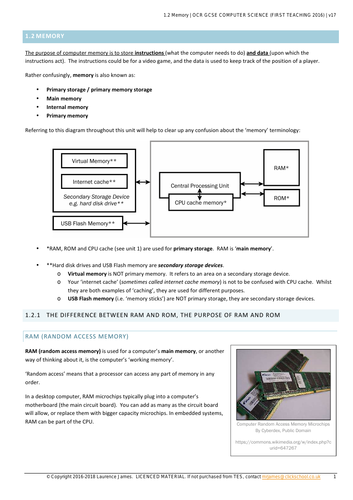 Get better value by buying this as part of my GCSE OCR Computer Science bundle.  The difference between RAM and ROM  The purpose of ROM in a computer system  The purpose of RAM in a computer system  The need for virtual memory  Flash memory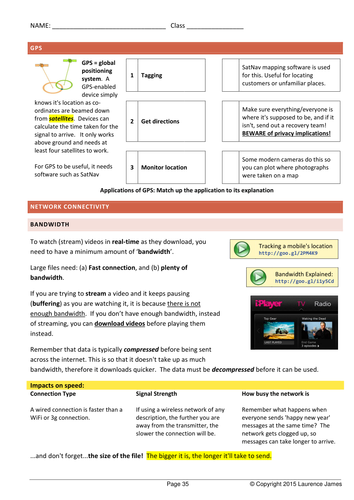 6 worksheets Extract from my Cambridge Nationals Workbook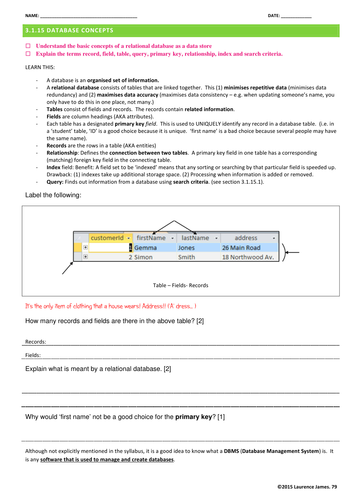 Extract from my AQA GCSE Computer Science workbook Database concepts Relational v Flat File Databases How basic SQL works (SELECT, INSERT, UPDATE, ORDER BY, WHERE, AND/OR) Databases practical - using Python to create a database and use SQL.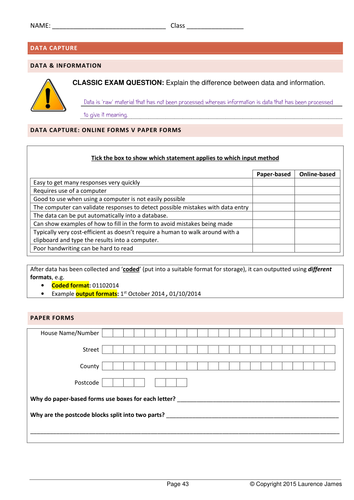 Extract from my Cambridge Nationals workbook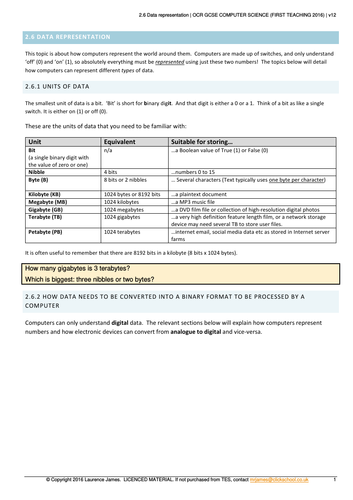 Get better value by buying this as part of my GCSE OCR Computer Science bundle. Units  Bit, nibble, byte, kilobyte, megabyte, gigabyte, terabyte, petabyte  How data needs to be converted into a binary format to be processed by a computer. Numbers  How to convert positive denary whole numbers (0–255) into 8 bit binary numbers and vice versa  How to add two 8 bit binary integers and explain overflow errors which may occur  Binary shifts  How to convert positive denary whole numbers (0–255) into 2 digit hexadecimal numbers and vice-versa  How to convert from binary to hexadecimal equivalents and vice versa  Check digits. Characters  The use of binary codes to represent characters  The term 'character-set'  The relationship between the number of bits per character in a character set and the number of characters which can be represented (for example ASCII, extended ASCII and Unicode). Images  How an image is represented as a series of pixels represented in binary  Metadata included in the file  The effect of colour depth and resolution on the size of an image file. Sound  How sound can be sampled and stored in digital form  How sampling intervals and other factors affect the size of a sound file and the quality of its playback: sample size, bit rate, sampling frequency. Compression  Need for compression  Types of compression: lossy, lossless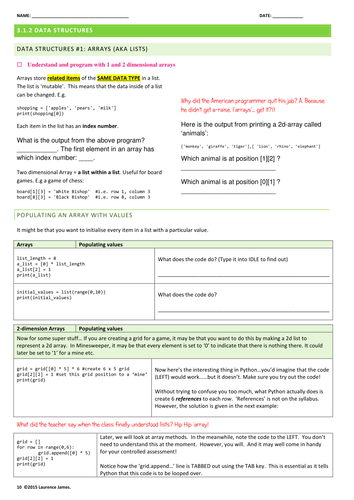 Questions and activities related to data structures in Python, an extract from my complete workbook publication.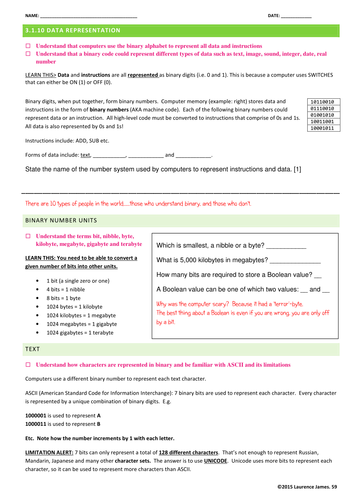 Suitable for KS3/4 Extracted from my GCSE AQA Computer Science Workbook Covers: Binary, Hex, representing text/images/sound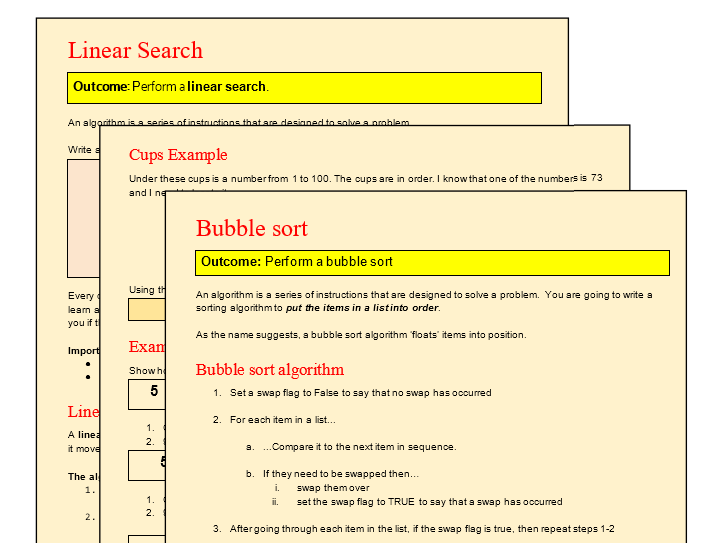 KS3 CT Computational Thinking 14 key worksheets designed to be completed electronically to teach some of the trickier aspects of the KS3 National Curriculum, including: 1. Linear search 2. Binary search 3. Bubble sort 4. Simple logic gates 5. Logic gate circuits 6. Representing numbers 7. Binary to decimal 8. Decimal to binary 9. -TBC 10. Binary addition 11. Text representation 12. Picture representation 13. Sound representation 14. Instructions 15. Instruction sets 16. (brief introduction to algorithmic thinking) Lots of editable explanations, tasks and activities for varying abilities.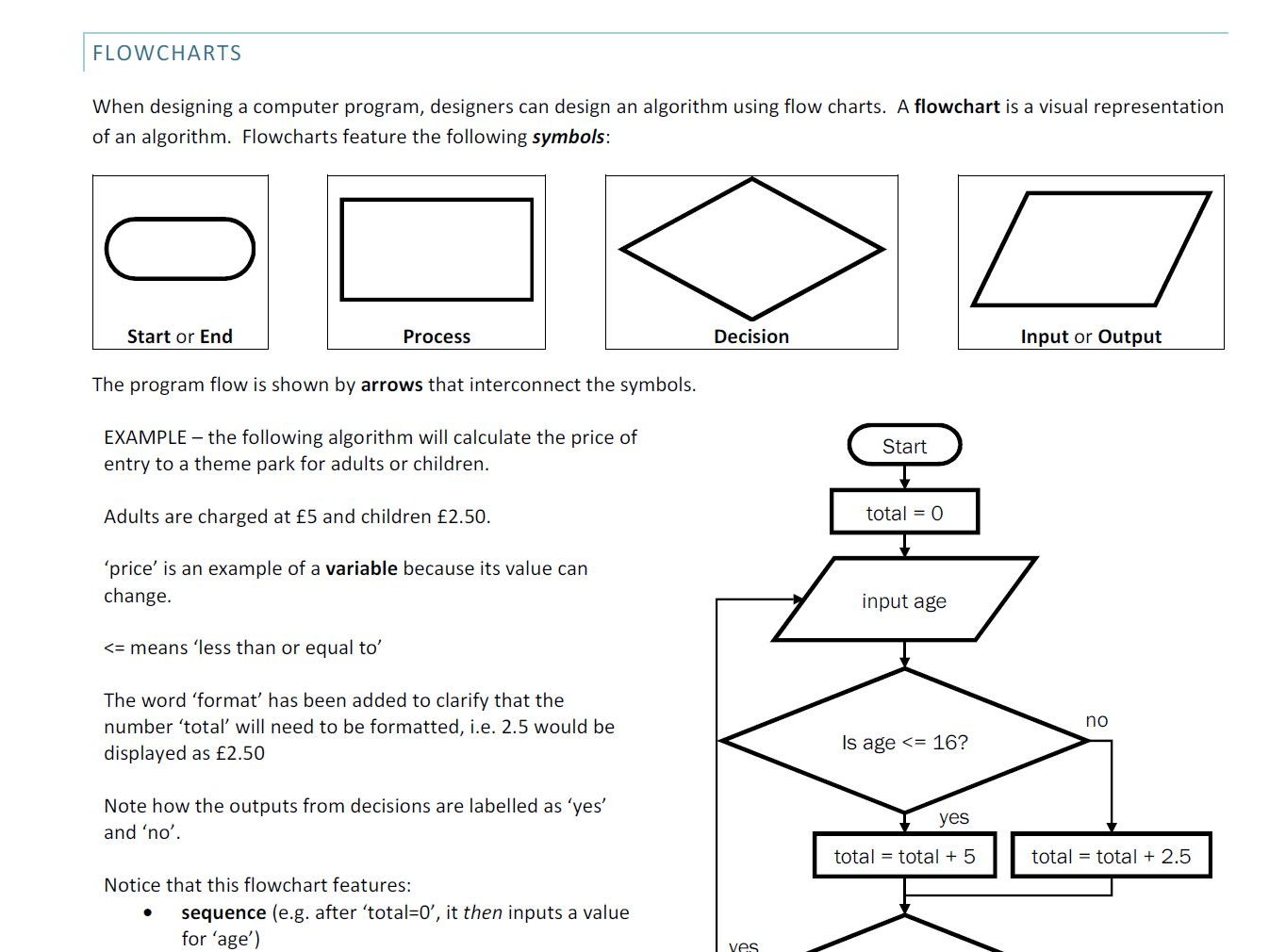 2.1 Algorithms 2.2 Programming technique 2.3 Producing robust programs 2.4 Computational Logic 2.5 Translators and facilities of languages 2.6 Data representation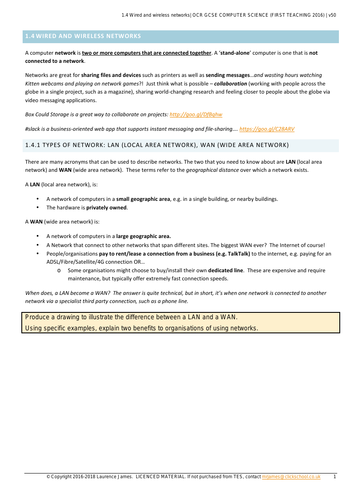 Get better value by buying this as part of my GCSE OCR Computer Science bundle.  Types of network: LAN (local area network), WAN (wide area network)  Factors that affect the performance of networks  The different role of computers in client-server and a peer-to-peer network  The hardware needed to connect stand-alone computers into a Local Area Network: Wireless access points, routers/switches, NIC (Network Interface Controller/Card), Transmission media  The internet as a worldwide collection of computer network DNS (Domain Name Server), hosting, the cloud  The concept of virtual networks.

An introduction to using Flash CS6. Mainly practical guides covering: 1. Frame-by-frame animation with blank key frames/onion skinning 2. Frame-by-frame animation with key frames 3. Creating and working with layers 4. Creating motion tweens 5. Creating shape tweens 6. Use of layers and motion tweens to create a dancing penguin!

A list of possible content for a portfolio, supporting the production of a short film for a competition, including links to 'film school' videos.

3 worksheets, 4 pages in total Knowledge and a variety of questions including word jumbles, short answer, multiple-choice, fill in the gaps. References to actual or fictional businesses.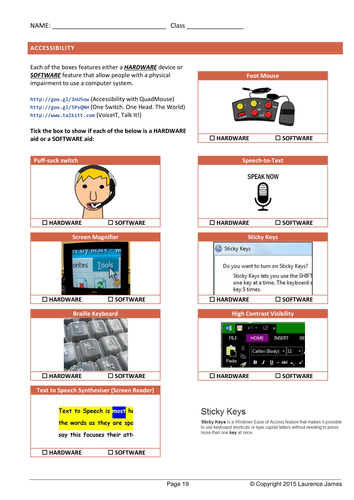 Worksheets: 1.25 pages Discover hardware and software devices to aid accessibility and how systems can be customised for different users. This is an extract from my Cambridge Nationals Workbook