Don Mac's Shop
English reading and writing resources at primary level
86Uploads
49k+Views
5k+Downloads
English reading and writing resources at primary level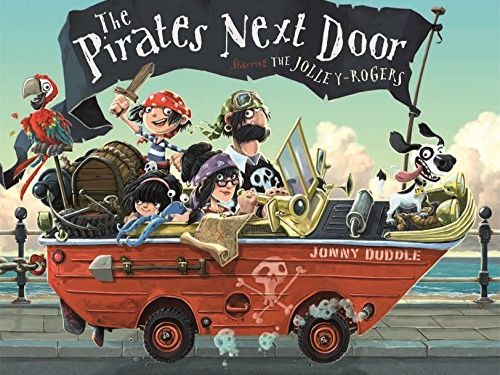 A Short KS1 Writing unit based on the popular children's picture book: The Pirates Next Door. The unit inspires quality, structured writing that meets the new KS1 writing KPis at Expected and Greater Depth Level The unit covers: Reading phase: inferring a character's thoughts and actions Writing with a clear purpose and viewpoint Organising related ideas into sections and paragraphs short openings and endings past tense regular and irregular verbs using capital letters for proper nouns I started this unit with drama - getting into the role of the villagers and focusing on their viewpoint. How were they feeling when the Pirates arrived in town? Why were most villagers angry? What did they think? say? Then they completed the reading inference speech bubbles for 2 different character viewpoints. (see example) Then I held a council meeting for the residents of 'Dull-On-Sea' and the children were given a format to record the 'notes of the meeting' From the notes- they used a structured letter template to create a letter to the council complaining about the Pirates' arrival. This was highly successful and created fantastic letters with clear viewpoints. The pack includes: 1x character though bubble recording sheet 1x example speech bubbles inferring a character viewpoint 1x template for council notes recording sheet 1x letter to council template/structured support sheet 1x word mat containing regular past tense verbs and character names from the book to support spelling. Powepoint for guided group work- exploring which phrases are preferable for persuassive writing. utube videolink for the audio book (free link via utube)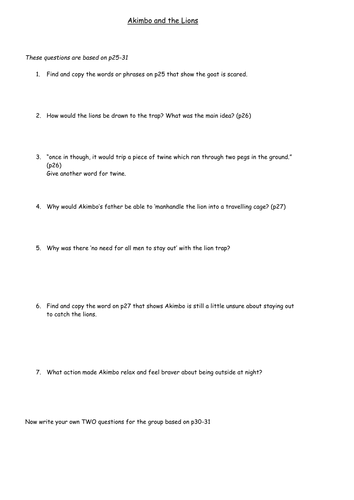 Akimbo and The Lions Reading Comprehension Tasks based on the NEW Reading Curriculum Lower KS2 4x comprehension sheets based on the novel. Aimed at Lower KS2 modelling the new curriculum standards.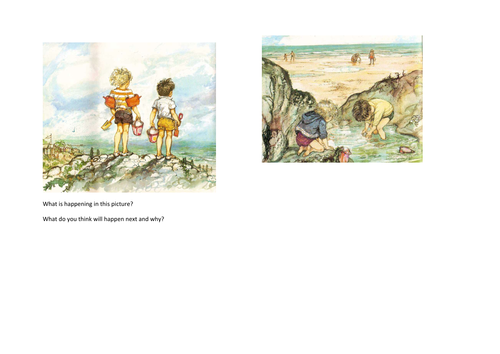 Reading Prediction task based on Shirley Hughes image of children at a beach rockpooling and exploring. Task requires children to interpret pictures and think of possible scenarios what will happen next? what are the dangers that the children could face and why?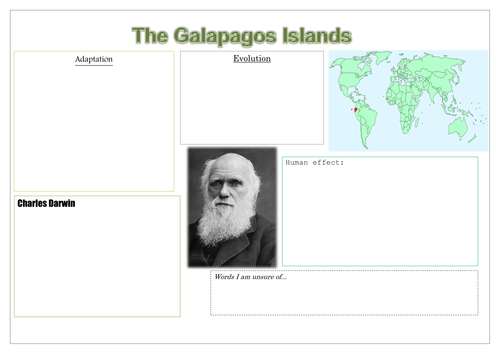 A worksheet for children to research Evolution and take notes from the bbc video 'The Galapagos Islands' presented by David Attenborough. A3 template with key headings for research that meets the requirements of the new Year 6 Science Curriculum topic: Evolution.

A short unit of writing inspired by an image from the Christmas Narrative 'Coming Home' by Michael Morpurgo (This years Waitrose Advert) featuring a Robin which migrates in search of food but faces dangers along the way. The unit of work uses the image to inspire children to learn about the migration of two species of migrating bird over the Winter period in Great Britain and understand their amazing journeys. Once the children have learnt about migration and facts about each bird, they can take notes and create an information page about their chosen bird. The resource pack includes: -a short powerpoint for the teaching unit (staring with an image of migrating birds from the book) -Facts sheet to cut up and give to children to read and present to others around the class (JIGSAW) (mixture of compound sentences and complex using cordinating and, or, but subordinating conjunctions when because that if ) -student note taking sheets for both species of bird 2 student templates for an information page about chosen Migrating bird I have trialled this with my own class and it has produced high quality information writing (a majority of which is at Greater Depth level) and the children were very interested about bird migration. Writing KPIs Cover: Subordinating and Cordinationg conjunctions Writing Statements Writing Questions Writing a range of sentence types Selecting relevant content Possible futher tasks: create bird seed balls (following and writing instructions) to provide food for the migrating birds over the winter)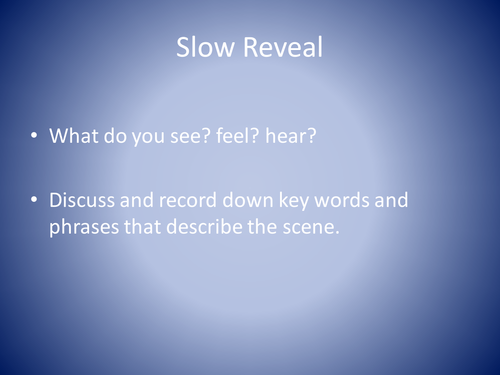 An introductary Powerpoint lesson to introduce The Sinking of the Titanic. Powerpoint includes: -Slow reveal artists impression of the disaster for children to enquire and discuss - promoting high quality Speaking and Listening - Information about the image - poem about the disaster