Don Mac's Shop
English reading and writing resources at primary level
86Uploads
49k+Views
5k+Downloads
English reading and writing resources at primary level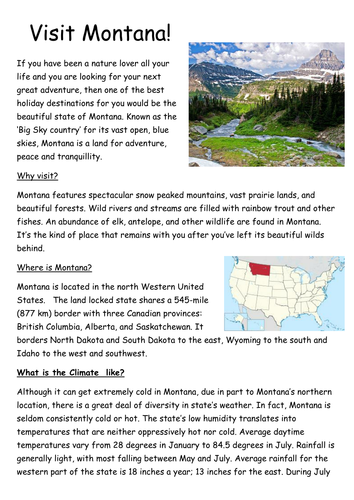 2 Resources to support a personal study on a US state, supporting the NEW Geography KS2 Curriculum. 1. An example Travel Guide Text based on the USA State of Montana. Aimed at higher end of expected level. 2. A planning format for students to plan each paragraph of own chosen US State (North America/South America) Students can research chosen state during lessons or for homework using planning frame. Meets many of the NEW English reading and writing KPIs - parenthesis, managing clause structures and manipulating for effect.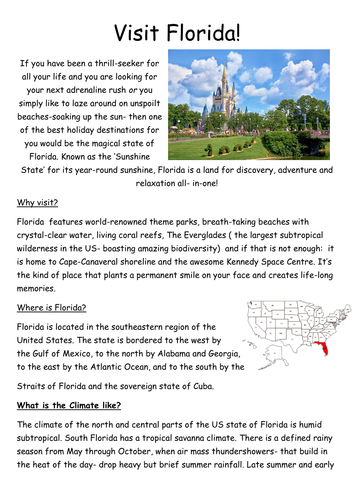 Travel Guide Writing Modelled on The Popular destination of Florida- Why Visit? Includes key elements of the NEW Geography KS2 Curriculum: Climate , North America Study, Location, Physical and Human Features and Key landmarks. 1 x written modelled guide based on Florida- Why Visit? 1x Student planner to research own state and provides Key Questions to direct the search and structure own guide. (modelled on teacher example) Writing covers the NEW English KPIs and aimed at higher end of expected standard/ Greater Depth. Features include: Parenthesis- Hyphens, commas, dashes and colons Subordinating Conjunctions Fronted Adverbials Balance of Pronouns for Cohesion Noun phrases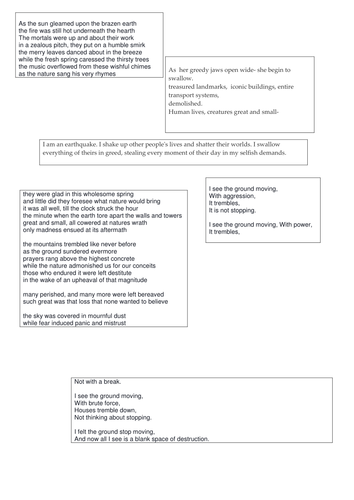 A selection of poems about earthquakes. Includes: similies, metaphors and personification.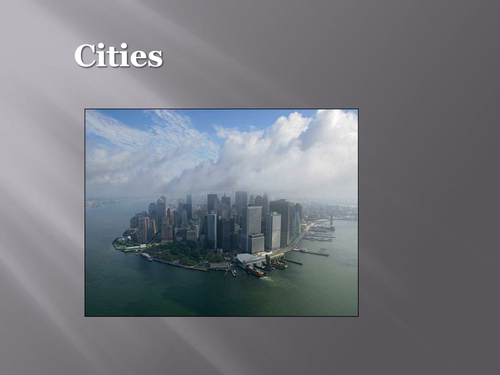 A unit of work based around present and future global cities. Powerpoint includes: images of present cities around the world Images of future city designs poem about Mumbai task design criteria to design own futuristic city pictures can be used as a gallery for speaking and listening (discussion) and to inspire own designs.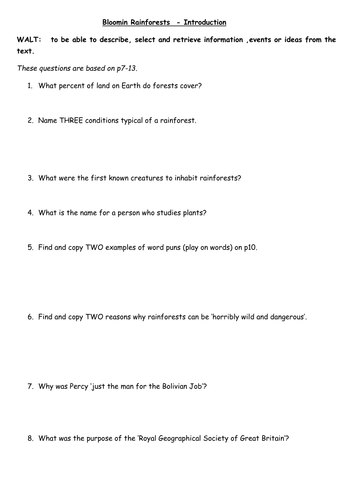 In depth Reading comprehension question sheets for guided or independent reading assessment. Aimed at upper ks2 - covering the NEW reading KPIs and based on the NEW SATs format. 6 sheets focusing on 6 areas of the book study. Questions related to Guided Reading Book: Bloomin Rainforests in 'Horrible Geography' series Range of genres covered in the book.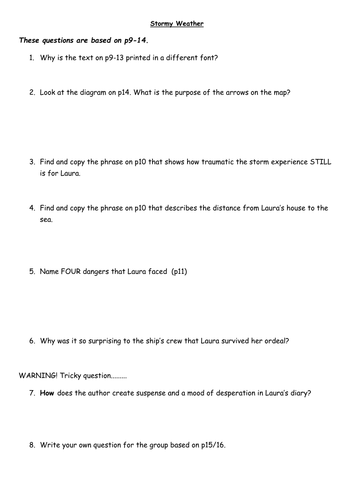 6 in depth reading comprehension sheets for independent or guided group learning. based on a range of sections from 'Stormy Weather' Horrible Geography Series. Questions modelled around the NEW style SATs questions- expected reading level and covers range of KPIs.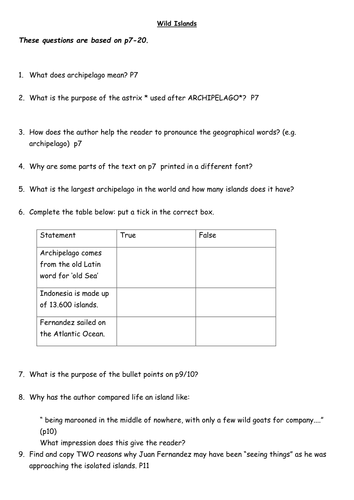 3x in depth Reading comprehensions based on Wild Islands Horrible Geography Series. Questions based on the NEW CURRICULUM KPI Standards for Upper KS2 Each Comprehension involves a task related to the text along with questions to elicit understanding.

A short unit of writing inspired by an image from the Christmas Narrative 'Coming Home' by Michael Morpurgo (This years Waitrose Advert) featuring a Robin which migrates in search of food but faces dangers along the way. The unit of work uses the image to inspire children to learn about the migration of two species of migrating bird over the Winter period in Great Britain and understand their amazing journeys. Once the children have learnt about migration and facts about each bird, they can take notes and create an information page about their chosen bird. The resource pack includes: -a short powerpoint for the teaching unit (staring with an image of migrating birds from the book) -Facts sheet to cut up and give to children to read and present to others around the class (JIGSAW) (mixture of compound sentences and complex using cordinating and, or, but subordinating conjunctions when because that if ) -student note taking sheets for both species of bird 2 student templates for an information page about chosen Migrating bird I have trialled this with my own class and it has produced high quality information writing (a majority of which is at Greater Depth level) and the children were very interested about bird migration. Writing KPIs Cover: Subordinating and Cordinationg conjunctions Writing Statements Writing Questions Writing a range of sentence types Selecting relevant content Possible futher tasks: create bird seed balls (following and writing instructions) to provide food for the migrating birds over the winter)