178Uploads
43k+Views
13k+Downloads
Fully differentiated lesson with 'how far do you agree' exam question and skills work at the end of the lesson. Pupils colour code the reasons William/Harold's tactics were better, they then analyse their leadership before considering whether it was luck/God's will that led to William winning the Battle of Hasting's.
Pupils will: Analyse a source to suggest what the relationship was like between Hitler and Stalin describe two reasons Hitler chose to invade Russia - guided questions on the PPT for support suggest what Britain should do - four options to engage pupils before they discover Churchill's speech as a response Explain why Stalin was able to beat Hitler - rank a worksheet and then explain one in detail. create a battle plan as if they are Hitler, what could they have done to beat Stalin? WALT: Evaluate the causes and consequences of Hitler's decision to invade Russia.Level 3: Identify what the relationship between Stalin and Hitler was like in 1941. Level 4: Describe the causes of the invasion of Russia. Level 5: Explain why Russia were able to beat Hitler. Level 6: Create a battle plan to try to overcome Stalin.
WALT: Investigate poverty in Tudor England. Level 3: Identify reasons people live in poverty today. Level 4: Describe reasons people lived in poverty in Tudor England. Level 5: Explain why categories were needed to cope with the poor and what those categories were. Level 6: Evaluate how fair these categories were, give reasons why.
Pupils will explore the invasion of Poland with the aim of creating a GCSE style narrative account in preparation for the skills needed at KS4. Pupils will: examine the Munich Agreement and hypothesise how peopl e would react to it Watch a video of the invasion and collect notes to be able to describe the invasion Put the events of the invasion into chronological order using visual prompts for support create a narrative account using a GCSE support sheet that allows development towards explaining why events lead to one another and cause change.
Fully differentiated lesson about the New Woman in Nazi Germany Students will: WALT: evaluate how far women's lives improved in the 1920s.Identify visual changes to women by 1925. Describe how areas of women's lives changed. Explain how society reacted to these improvements for women. Evaluate how far you agree with a statement. Students complete the screenshotted task before analysing a how far do you agree statement using a 'agree'o'meter'. Students are also given the opportunity to look at source work and analyse whether the changes were positive or negative for women.
Session designed to last one hour and includes everything for medicine 1250-1500 cross referenced with the first chapter of the Pearson textbook. Included is a worksheet for pupils to complete alongside the session. Pupils cover: causes of disease image starter key words theory of the four humours miasma theory different people that could treat you treating the sick hospitals the Black Death 1348-1349
This lesson covers: The Battle for Berlin Hitler's suicide Yalta Conference Pupils will: WALT: Explain why the Nazi's surrendered to the Allies and the importance of Yalta. Level 3: Identify what position Germany was in by 1945. Level 4: Describe the key events of the Battle for Berlin. Level 5: Explain how the Battle for Berlin lead to Germany surrendering to the allies. Level 6: Compare sources to analyse what the Big Three wanted at Yalta and how this would affect Germany.
Five sessions that cover revision for the Medicine Through Time unit. Each session comes with a worksheet for pupils to create that they can take home to revise from. Sessions include: Medieval medicine 1250-1500 Renaissance medicine 1500-1700 Early Modern medicine 1700-1900 Modern medicine 1900-2000 WW1 Medicine in the trenches (Historic environment) 1914-1918
This unit of work has been created to embed and develop skills required at KS4 within KS3 written responses. Skills developed include source work (Interpretations and sources) as well as narrative account, consequences, and PEEL paragraphs. Bundle includes lessons about: D-Day Defeat of France Hitler's defeat Invasion of Poland Operation Barbarossa Pearl Harbour The Blitz WW2 Dictators
WALT: Explain why the Axis forces were defeated at D-Day.Level 3: Identify hidden messages in US propaganda. Level 4: Describe the key events of the D-Day invasion. Level 5: Explain why Allied tactics lead to success. Level 6: Compare the Allies and German tactics to explain why the Allies won. Pupils analyse a source, follow a carousel to create the battle plan shown as the cover image, then read a source to compare British and German weaponry before creating a newspaper article about the invasion.
A bundle of fully differentiated lessons. Lessons build into a scheme of work for Paper Two Anglo-Saxon and Norman England. Pupils are given the opportunity to be supported through effective differentiation every lesson and challenged through tasks ranging up to a grade nine every lesson. There are a variety of WAGOLLs included to give pupils model answers to work from, all tasks are responded to through AFL and there are several longer written responses included to allow teachers to mark pupils written communication. I have included some revision sessions (labelled REVISION) as a bonus.
This lesson is set to help pupils revise content surrounding Hitler's rise to power in preparation for Paper 3 of the new edexcel specification (2016). Pupils will: Describe the Reichstag Fire Analyse the reasons he rose to power - differentiated Plan and answer (if time) a 20 mark interpretation question Analyse how useful a source is
WALT: Evaluate the importance of the revolt and why it failed. 1-2: describe why people were unhappy with William's rule. 3-4: Describe the key features of the revolt of the earls. 5-7: Explain how and why the rebellion failed. 8-9: Evaluate the success of Williams rule 1066-1075.
Pupils will: WALT: Examine challenges to the Weimar government by the left and right. Identify features of left and right wing politics. Describe the Spartacist Revolt and the Kapp Putsch. Explain why Germany was weak after the attacks. Analyse a source to explain why it is useful. Included is a fully differentiated how useful question including differentiated structure strips.
THIS FULLY DIFFERENTIATED LESSON HAS BEEN PLANNED TO FIT HALF WAY THROUGH THE WW1 MEDICINE UNIT (AFTER THE CHAIN OF EVACUATION) BUT WILL ALSO BE DELIVERED AS A REVISION LESSON AT THE END OF THE COURSE TO CURRENT EXAM CLASSES. I HAVE USED MY KNOWLEDGE AS A PAPER THREE MARKER TO CREATE A 'HOW TO GUIDE' FOR ANSWERING THE 8 MARK UTILITY QUESTION. WALT: explore the key skills needed to reach full marks on a how useful question. Recall the stages of the chain of evacuation. Describe how to structure a how useful question using the mark scheme. Explain how useful a source is to a historian enquiring about the chain of evacuation. Analyse our work using the mark scheme to identify successes and targets. task one: pupils put the chain of evacuation into order and describe each stage using key words only task two: pupils annotate a mark scheme, can be done under a visualiser, using the same method as the examiners of paper three (Judgement, analysis, knowledge) discussion with pupils about what key things mean within the mark scheme. task three: pupils annotate the sources in pairs, question prompts on the board to support less able (underline three key facts etc) before going over it on the visualiser task four: Pupils answer a how useful question in timed conditions - this can be marked or I have included a peer/self assessment activity where pupils mark their own work and improve it using colour coding and a full mark answer. i have included a worksheet summarising the chain of evacuation in case this is being used as a revision lesson rather than within original teaching - this may be useful for lower ability pupils within a normal scheme of work as well.
Designed to teach pupils the meaning of the word consequences - reflection of the command words for new specification at GCSE. Why were slaves treated brutally? How were they punished? What actions were punishable? Consequences of misbehaving.
Full lesson and homework. Pupils evaluate which wife Henry loved most by firstly completing a carousel activity that allows them to explore each wife and the reasons Henry divorced her before creating an extended writing piece (differentiated) about who he loved most. Homework: to write a letter to the Pope explaining why you want a divorce from Katherine of Aragon. WALT: Evaluate who Henry loved most. Level 3: Identify Henry's six wives. Level 4: Describe each of his wives and what happened to them. Level 5: explain why Henry divorced each wife. Level 6: Compare which wife was Henry loved most, give reasons why.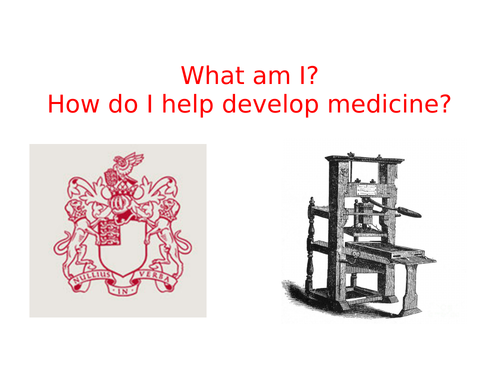 Session analyses continuity and change of causes, prevention and treatment of disease as well as important people/case study. Designed to last 40 minutes to an hour dependent on your group and the depth you go into.
Lesson to pair with who should be king homework. Who should be king homework - pupils have one each (3 claimants covered, Hardrada, Godwinson and William the Conqueror) Each profile includes: Why the individual wants to be king, problems with their plans, who they are and extension activity (an interesting fact about the individual). Support and differentiation: on the back of the worksheet it tells pupils who they are, their claim (strengths and weaknesses) and there are some websites for each individual at the bottom of the page. Pupils then use their research collaboratively to compare each other claimants and write a persuasive speech as to whom they think is the best choice.
Selection of homeworks to support pupils outside of their lessons, mixture of consolidating knowledge and exam questions. All fully differentiated to aid progress.