148Uploads
11k+Views
4k+Downloads
Five sessions that cover revision for the Medicine Through Time unit. Each session comes with a worksheet for pupils to create that they can take home to revise from. Sessions include: Medieval medicine 1250-1500 Renaissance medicine 1500-1700 Early Modern medicine 1700-1900 Modern medicine 1900-2000 WW1 Medicine in the trenches (Historic environment) 1914-1918
This revision bundle covers the content required to revise Paper Two of Early Elizabethan England (Edexcel 9-1). Sessions included in this bundle: Key people (Elizabeth, Walsingham, Mary QoS) Life and problems (poverty, education, entertainment) Plots against Elizabeth (Ridolfi, Babington, Throckmorton, Northern Earls, Armada) Exploration (Drake and Raleigh with exam practice) Full mock also included
Revision booklet with: Knowledge checker (RAG rated) input of knowledge for each section laid out appealingly tasks at the end of teach unit - 10 ideas of how pupils can revise, four key words to define and a quick quiz (answers in the back) source (strengths and weaknesses) table at the back of the booklet
Pupils explore the problems soldiers, nurses and doctors faced as well as analysing the advances in medicine that helped soldiers overcome problems like trench fever, shell shock and shrapnel wounds. Pupils analyse sources before completing a carousel and then making a leaflet advising a soldier about how best to protect themselves on the western front.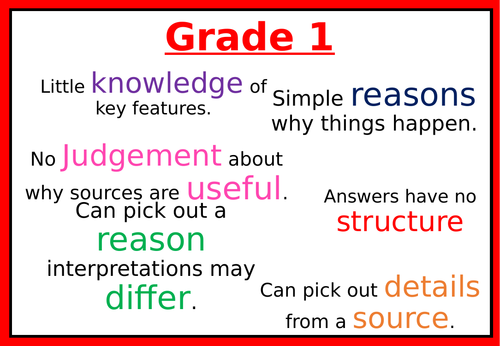 Display created to inform pupils what is required for the new specification. goes from 1-9, I used the specification grade boundaries to create this display, the wording for g8-9 was identical which is why this grade boundary has one page rather than two.
WALT: define bias and explain how it can lead to interpretations being different. L4: describe what bias is and how it can affect a source. L5: explain why interpretations differ. L6: apply bias to create a convincing piece of writing. Pupils develop their understanding of primary and secondary sources They then define bias and examine a commentary of a football game to explain why a Liverpool supporter has a different opinion to a Man United supporter. After this pupils are introduced to two different sets of sources about the Mayans (no prior learning needed) - one set explains how cultured the Mayans were and one explains how cruel they were, pupils are asked to write a sentence about the Mayan culture. They are then asked why their interpretations are different (they've examined different sources) to introduce the why are interpretations different GCSE style Q.
Lesson explores: Rebellion of Edwin and Morcar, Rebellion of Edgar Aethling, Hereward the Wake. Pupils work in groups of three to become experts about a topic before teaching each other, they then explore the outcomes of William's actions before planning an exam answer to an explain why question. WALT: Explain why and how people rebelled against William.1-2: describe why Saxons were unhappy with William. 3-4: Describe events of the three rebellions between 1068-71. 5-7: Explain why the rebellions failed. 8-9: Evaluate the consequences of the rebellions.
7 revision sessions focused around building skills towards the new GCSE content - narrative account, importance and consequences.
American West thinking quilt designed to provide pupils with the opportunity to make links between different events and consider their impact on the development of the American West. I have checked through both the Pearson textbook and revision guide to ensure that all key content is included in this A3 thinking quilt. Pupils first read the boxes and add a sentence to any that they are not sure of with the support of peers, revision guides or the teacher. They then colour code them based on catagories they could fit into such as 'law and order' and 'conflict with Plains Indians'. You can find the lesson that this thinking quilt is a part of here: https://www.tes.com/teaching-resource/revision-key-features-of-the-american-west-edexcel-9-1-11884964
Pupils explore Lanfranc's reforms before analysing an exam response to the 16 mark question on the Norman's paper. Pupils mark the answer using a simplified mark scheme before improving a paragraph and then writing their own about Lanfranc and whether his reforms made the king more powerful. Encourages pupils to familiarise themselves with PEEL paragraphs and focus on applying these skills and using words from the question to ensure their explanation is analytical enough for a level 3-4 answer.
This lesson covers the content required for Stresemann and recovery of Germany after the first world war for Paper 3 of the new Edexcel specification (2016). Pupils will explore both interpretations and source questions within this revision lesson. They will be provided with a worksheet that covers all of the steps Stresemann takes to ensure Germany is able to recover following the TOV. They can then take this home to support independent revision. Pupils will: analyse the Stresemann as our saviour source Highlight key changes made by Stresemann and explain why people did and didn't like them. Answer the two four mark interpretation questions and plan an explain why question.
This is a lesson aimed at KS3, it provides an overview of crime and punishment in Tudor times. Pupils complete a carousel around the room in order to analyse the punishments that people received for certain crimes. They then decide which punishments the criminals deserve (Anne Boleyn and Thomas Cromwell included) before comparing whether the Tudor justice system is fair with today's justice system.
Lesson that focuses on causes, conduct and consequences of Little Crow's war. Includes a card sort in which pupils categorise ideas into the three groups. They are then asked to explain, link and analyse with the final task.
two page document with key words for the unit on it - in line with Edexcel 9-1. I went through the Pearson textbook and included all of the key words from front to back of the textbook.
A lesson that explores the education system fully differentiated with AFL for each task. Pupils will: Identify what education is like today and why it is seen as valuable Describe why not everyone valued education in Elizabethan England Explain why attitudes changed Analyse the education system - was it fair? Compare the similarities and differences to education today.
Revision lesson based around building knowledge of government Acts and Treaty's Pupils create a timeline using either worksheets or carousel (both options included). They colour code key features and consequences so that it is easy to revise from. Time permitting, pupils can then write exam questions that relate to the information they have studied SAMS questions included as examples to talk through with the group. Homework could then be to complete one of these questions.
WALT: Investigate poverty in Tudor England. Level 3: Identify reasons people live in poverty today. Level 4: Describe reasons people lived in poverty in Tudor England. Level 5: Explain why categories were needed to cope with the poor and what those categories were. Level 6: Evaluate how fair these categories were, give reasons why.
A 10 minute task taken from a revision session I created to prepare pupils for Edexcel 9-1 American West unit.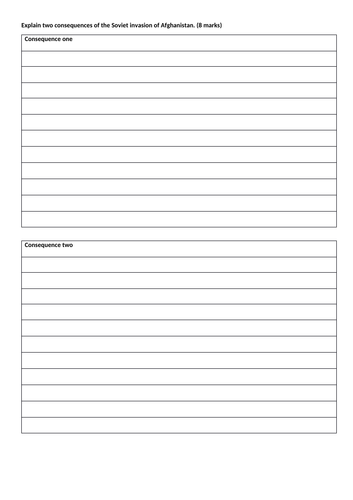 Full mock hitting as many themes as possible from throughout the course content.
Lesson to pair with who should be king homework. Who should be king homework - pupils have one each (3 claimants covered, Hardrada, Godwinson and William the Conqueror) Each profile includes: Why the individual wants to be king, problems with their plans, who they are and extension activity (an interesting fact about the individual). Support and differentiation: on the back of the worksheet it tells pupils who they are, their claim (strengths and weaknesses) and there are some websites for each individual at the bottom of the page. Pupils then use their research collaboratively to compare each other claimants and write a persuasive speech as to whom they think is the best choice.