This session covers Jenner, Pasteur, Koch, Nightingale, Cholera (Chadwick and Snow) And the Public Health Acts.
This lesson allows pupils to analyse the reign of Lady Jane Grey and come to a decision as to whether she should have been executed. Pupils make a facebook feed that explores the events running up to the execution in which they make statuses and create life events for characters like John Dudley and Catherine Parr. They then create a letter in which they argue why they should not be executed and what a better option would be.
Lesson explores: Rebellion of Edwin and Morcar, Rebellion of Edgar Aethling, Hereward the Wake. Pupils work in groups of three to become experts about a topic before teaching each other, they then explore the outcomes of William's actions before planning an exam answer to an explain why question. WALT: Explain why and how people rebelled against William.1-2: describe why Saxons were unhappy with William. 3-4: Describe events of the three rebellions between 1068-71. 5-7: Explain why the rebellions failed. 8-9: Evaluate the consequences of the rebellions.
This homework/revision activity is aimed at getting pupils to consider all of the content they have learnt over the course and get it onto one sheet. They then colour code progress, stagnation and regression to support with the explain why and how far do you agree questions. On the back of the sheet is a WAGOLL, instructions and some example questions for pupils to use to support their revision. Aimed for use with the purple revision guides (pearson) but can be easily adapted for pupils to do from memory, or other revision guides that your school are using.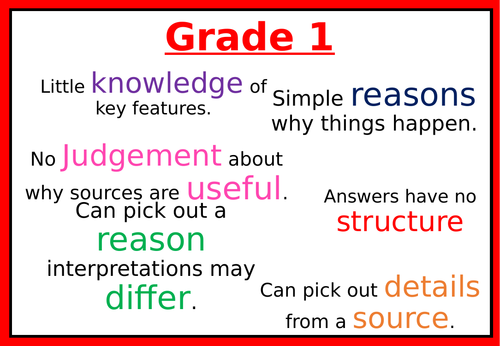 Display created to inform pupils what is required for the new specification. goes from 1-9, I used the specification grade boundaries to create this display, the wording for g8-9 was identical which is why this grade boundary has one page rather than two.
Pupils explore the problems soldiers, nurses and doctors faced as well as analysing the advances in medicine that helped soldiers overcome problems like trench fever, shell shock and shrapnel wounds. Pupils analyse sources before completing a carousel and then making a leaflet advising a soldier about how best to protect themselves on the western front.
This is a lesson aimed at KS3, it provides an overview of crime and punishment in Tudor times. Pupils complete a carousel around the room in order to analyse the punishments that people received for certain crimes. They then decide which punishments the criminals deserve (Anne Boleyn and Thomas Cromwell included) before comparing whether the Tudor justice system is fair with today's justice system.
Pupils explore Lanfranc's reforms before analysing an exam response to the 16 mark question on the Norman's paper. Pupils mark the answer using a simplified mark scheme before improving a paragraph and then writing their own about Lanfranc and whether his reforms made the king more powerful. Encourages pupils to familiarise themselves with PEEL paragraphs and focus on applying these skills and using words from the question to ensure their explanation is analytical enough for a level 3-4 answer.
PSHCE lesson that explores the Ofsted framework for British Values. Taught to year seven, fully differentiated with gap fills and challenge tasks. Pupils create a poster at the end to be displayed in tutor rooms so that you can show that they understand what BV are.
Bunting that includes command words for the new specification: identify, describe, explain, define, recall, evaluate, infer, compare, evaluate
Lesson that analyses the reasons for the Break with Rome and the impact this had on England, pupils explore the topic through video and a spot the difference task in which they consider the difference between a catholic and protestant church. Pupils are asked to consider why Henry himself did not become a Protestant. WALT: Explore how the Great Matter led to the establishment of the Protestant church. Level 3: Identify key words that we will use today. Level 4: Describe the Great Matter and the Break with Rome. Level 5: explain the difference between Catholic and Protestant churches. Level 6: Assess why Henry chose not to be christened as a Protestant.
Full lesson and homework. Pupils evaluate which wife Henry loved most by firstly completing a carousel activity that allows them to explore each wife and the reasons Henry divorced her before creating an extended writing piece (differentiated) about who he loved most. Homework: to write a letter to the Pope explaining why you want a divorce from Katherine of Aragon. WALT: Evaluate who Henry loved most. Level 3: Identify Henry's six wives. Level 4: Describe each of his wives and what happened to them. Level 5: explain why Henry divorced each wife. Level 6: Compare which wife was Henry loved most, give reasons why.
Introductory lesson for Henry the Eighth. Pupils compare reasons Henry is remembered as a good and a bad king to come to a conclusion as to how they think he should be remembered. Pupils also answer an interpretation question - training for the new GCSE reforms. WALT: Explore the type of king Henry VIII is remembered as. Level 3: Identify what makes a good king. Level 4: Describe the type of person Henry VIII was. Level 5: explain how features of Henry's personality made him a good king. Level 6: assess the main difference between two interpretations.
Lesson that introduces pupils to the concept of propaganda, pupils complete a carousel in which they analyse posters and how they would make them feel. They evaluate how likely they would have been to join the army and then analyse how useful a fictional soldiers account of why he joined the army is (preparation for GCSE edexcel how useful question).
Group lesson, pupils work in groups to analyse sources which help them decide who was to blame for the disaster - they annotate each source before moving onto the next. At the end of the lesson pupils are asked to evaluate who was most to blame, this task is levelled with different tasks for each attainment level.
Whole lesson, fully differentiated with worksheets. The final task asks pupils to compare answers against success criteria to mark and then improve two weak 16 mark answers,
Pupils evaluate the power of each country by analysing whether they have an army, money, empire and any other relevant information. They then argue why they think their country is the most powerful and get into a 'living line' from most to least powerful. They must then defend their decision. Leads into a lesson regarding long and short term causes of WW1 including the assassination of FF.
Complete lesson on the Battle of Little Bighorn including exam skills work around the 8 mark importance question - pupils are asked to mark and improve a model answer.
Whole lesson exploring the reasons for and impacts of the extermination of the buffalo. Includes carousel task and exemplar answers that pupils are asked to compare and improve.
Whole lesson covers the ghost dance and the massacre at wounded knee. Lesson fully differentiated with the opportunity for discussion as to why the Ghost dance would terrify white settlers and how they reacted to the massacre.
Lesson that analyses the causes, conduct and consequences of Sand Creek and Red Cloud. Includes opportunity for pupils to analyse the success of President Grant's Peace Treaty. Pupils complete a narrative account and work in pairs to gain information about the two events .