140Uploads
6k+Views
3k+Downloads
Revision booklet with: Knowledge checker (RAG rated) input of knowledge for each section laid out appealingly tasks at the end of teach unit - 10 ideas of how pupils can revise, four key words to define and a quick quiz (answers in the back) source (strengths and weaknesses) table at the back of the booklet
Five sessions that cover revision for the Medicine Through Time unit. Each session comes with a worksheet for pupils to create that they can take home to revise from. Sessions include: Medieval medicine 1250-1500 Renaissance medicine 1500-1700 Early Modern medicine 1700-1900 Modern medicine 1900-2000 WW1 Medicine in the trenches (Historic environment) 1914-1918
Indian Appropriation Act Indian Removal Act Indian Trade and Intercourse act All explored in detail within the lesson. Homework included (narrative account of early government actions)
Lesson that focuses on causes, conduct and consequences of Little Crow's war. Includes a card sort in which pupils categorise ideas into the three groups. They are then asked to explain, link and analyse with the final task.
This revision session is part of a series of sessions aimed at building pupils knowledge and understanding of the Anglo-Saxon and Norman England unit for Edexcel 2016 specification. As part of this session pupils will gain an overview of: Saxon society Edward the Confessor and the kings power Law and order Economy Power of the House of Godwin The Normandy Embassy The Revolt against Tostig 1065
This lesson is set up as a pupil led investigation, pupils explore the 'cave' to find as much evidence as possible before they run out of time. They then have to use they evidence they have been able to collect to work out what has happened to the Mayan ice mummmy - this lesson is part of a series of lessons that build upon use of sources, interpretations and finally a baseline assessment. These can be found separately or as part of a bundle in my tes shop. WALT: Investigate the mystery of the ice mummies to come to a conclusion.L3: identify questions historians need to ask in order to learn about the past.L4-5: describe key features of the ice mummies and explain what you can learn about the ice mummies from the sources and what clues might mean. L6: hypothesise what might have happened to the ice mummies. L6: Create a narrative account analysing the experiences of the Ice Maiden and how she felt.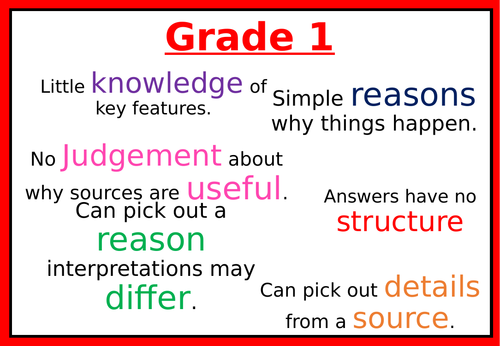 Display created to inform pupils what is required for the new specification. goes from 1-9, I used the specification grade boundaries to create this display, the wording for g8-9 was identical which is why this grade boundary has one page rather than two.
This revision bundle covers the content required to revise Paper Two of Early Elizabethan England (Edexcel 9-1). Sessions included in this bundle: Key people (Elizabeth, Walsingham, Mary QoS) Life and problems (poverty, education, entertainment) Plots against Elizabeth (Ridolfi, Babington, Throckmorton, Northern Earls, Armada) Exploration (Drake and Raleigh with exam practice) Full mock also included
Complete lesson on the Battle of Little Bighorn including exam skills work around the 8 mark importance question - pupils are asked to mark and improve a model answer.
Group lesson, pupils work in groups to analyse sources which help them decide who was to blame for the disaster - they annotate each source before moving onto the next. At the end of the lesson pupils are asked to evaluate who was most to blame, this task is levelled with different tasks for each attainment level.
Session covers the Western Front section of the Edexcel history 9-1 course. Pupils cover: features of a trench features of the main battles key medical problems key medical advances blood transfusions and x-rays (problems and solutions) following up a source
This scheme of work has been created to introduce and embed historical skills across KS3. Pupils explore key concepts such as chronology, bias, and interpretations before conducting their own investigation over a series of six lessons. The seventh lesson of the series can be used as a baseline assessment and is in line with the interpretation skills included in Paper 3 (edexcel 9-1).
stand alone lesson to celebrate the centenary of votes for women and to provide pupils with an overview of the subject. Pupils describe the two groups (suffragists and suffragettes) and will gain an understanding of the words militant and moderate. Pupils will also be able to explain why women were not allowed the vote and eventually gained the vote following WW1. Skills building section develops pupils ability to analyse interpretations.
American West thinking quilt designed to provide pupils with the opportunity to make links between different events and consider their impact on the development of the American West. I have checked through both the Pearson textbook and revision guide to ensure that all key content is included in this A3 thinking quilt. Pupils first read the boxes and add a sentence to any that they are not sure of with the support of peers, revision guides or the teacher. They then colour code them based on catagories they could fit into such as 'law and order' and 'conflict with Plains Indians'. You can find the lesson that this thinking quilt is a part of here: https://www.tes.com/teaching-resource/revision-key-features-of-the-american-west-edexcel-9-1-11884964
Session designed to last one hour and includes everything for medicine 1250-1500 cross referenced with the first chapter of the Pearson textbook. Included is a worksheet for pupils to complete alongside the session. Pupils cover: causes of disease image starter key words theory of the four humours miasma theory different people that could treat you treating the sick hospitals the Black Death 1348-1349
Bunting that includes command words for the new specification: identify, describe, explain, define, recall, evaluate, infer, compare, evaluate
Lesson that analyses the causes, conduct and consequences of Sand Creek and Red Cloud. Includes opportunity for pupils to analyse the success of President Grant's Peace Treaty. Pupils complete a narrative account and work in pairs to gain information about the two events .
Aimed at KS3 usually set this as a homework. Included: facebook profiles for Hardrada, William the Conqueror and Godwinson Each profile includes: Why the individual wants to be king, problems with their plans, who they are and extension activity (an interesting fact about the individual). Support and differentiation: on the back of the worksheet it tells pupils who they are, their claim (strengths and weaknesses) and there are some websites for each individual at the bottom of the page.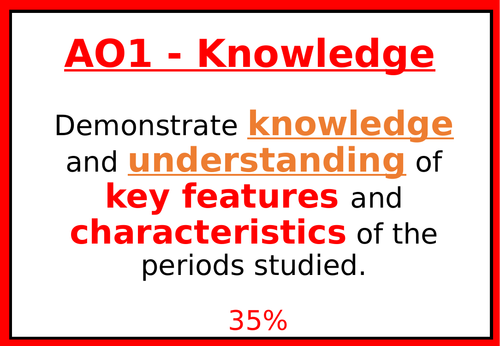 Grade descriptors taken from the Edexcel specification and created as a display for a classroom including the percentage of weighting for each skill pupils need to be successful in their examination. easily adapted to suit your needs.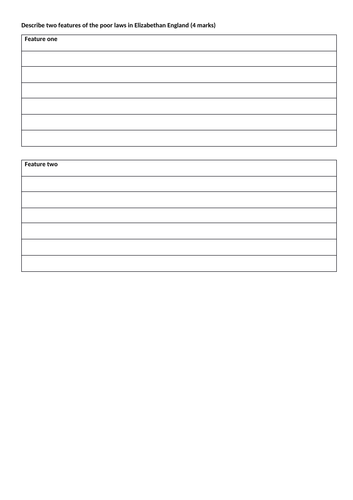 Full mock including questions that cover majority of themes throughout the course.