EBC Shop
French and Geography Resources based on Irish curriculum. Well-structured and easy to use! Please leave a review :-)
155Uploads
48k+Views
7k+Downloads
French and Geography Resources based on Irish curriculum. Well-structured and easy to use! Please leave a review :-)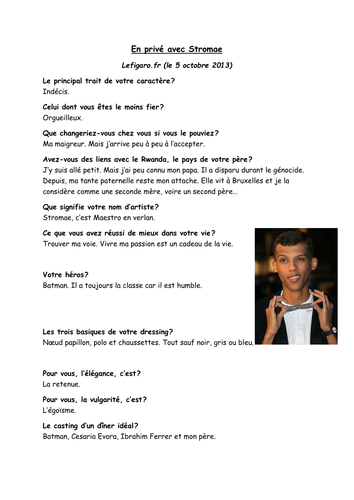 Five resources based on francophone artist Stromae. I use these resources in my Transition Year module and also with my ordinary level leaving cert classes. First is a worksheet and youtube link. Students watch an interview (in English) with Stromae and must note in English as many interesting points as they can. They then have to use the facts/info to make 8 sentences in French about Stromae (can be done individually or as a pair activity a good opportunity to use dictionaries). Listening activity in the form of a gapfill exercise using the lyrics of 'Formidable'. A word bank can be given to facilitate differentiation if needed. The next activity and worksheet are based on the song Papaoutai. Firstly, there is a listening activity where the lyrics (printed in the larger font) are laminated and cut up into small chunks of text. Students work together in groups to listen to the song and re-order the lyrics correctly. This listening task is followed with the worksheet which takes a closer look at the lyrics. Students are asked to find different types of words/grammar in the text (e.g. an infinitive verb, an adverb etc…), then have to catagorize positive and negative adjectives and finally have to translate some potentially new words from the lyrics. There are two lyric sheets here for both of the songs mentioned about that can be used for a sing-a-long class activity (Students love it!) . Final worksheet is adapted from an authentic text (le Figaro) and is a quickfire interview with the artist. Accompanied by English comprehension questions. Papaoutai resource can be purhcased separately from My Shop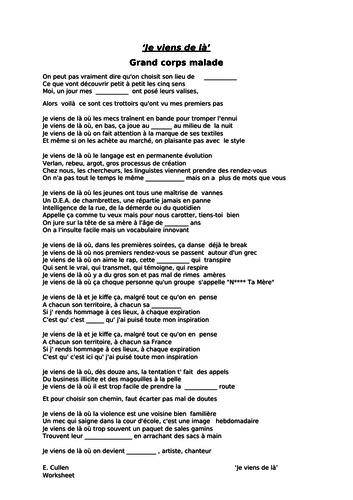 Three worksheets based on 'Grand Corps Malade. First worksheet is a biography about him and his life. Questions here are in English (to be answered in English). This can be a starter activity to introduce students to the artist. Second Worksheet is based on his song 'Je viens de la' and is designed as a cloze test. It also has a short translation activity and a grammar activity too which can be assigned for homework. Third worksheet is adapted from an authentic source (French online newspaper) and questions are in French (to be answered in French). This can be differentiated by changing the questions to English/writing easier questions. Again, this can be done in class or for homework. The three worksheets are designed so that the students are progressively challenged , starting quite easy and finishing with difficult questions to be answered in the target language. I use this study as part of my TY module.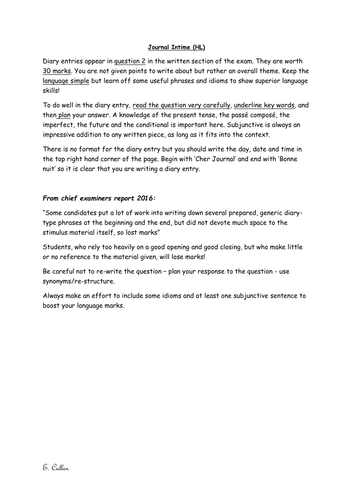 A 3 page word document based on the 'journal intime'/French diary writing. This writing task comes up in Irish Leaving Cert Exams, (OL and HL). This handout introduces students to the diary and lays out some useful phrases which can be used in most diaries e.g. Beginnings, endings, positive feelings, negative feelings and extra vocab. Also includes a small sample diary entry.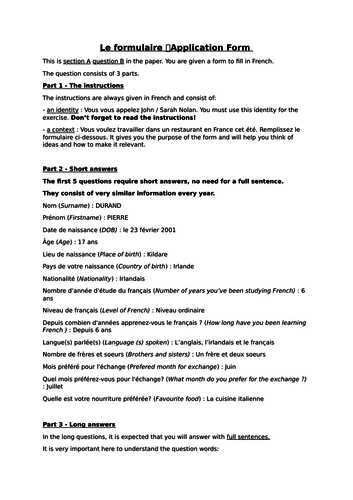 Detailed notes based on 'le formulaire'/filling in an application form- which appears in the Ordinary Level Leaving Cert exam. Includes notes on short and long questions and also translations of key question words.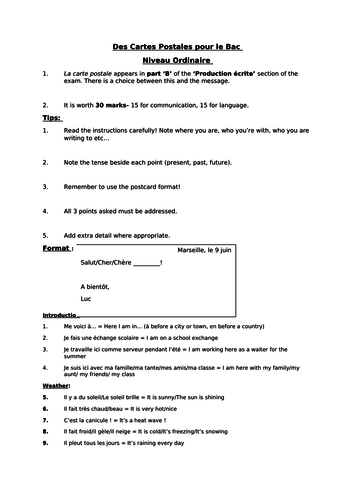 A notes handout based on the post card. Aimed at ordinary level leaving cert students. Includes lots of useful phrases for all aspects of postcard - when/how you arrived, weather, accommodation, food, feelings, activities etc… Activities are set out under three headings - Present, Past and Future. There is also a sample postcard. For a similar but less detailed handout on the postcard for Junior Cert students, see My Shop.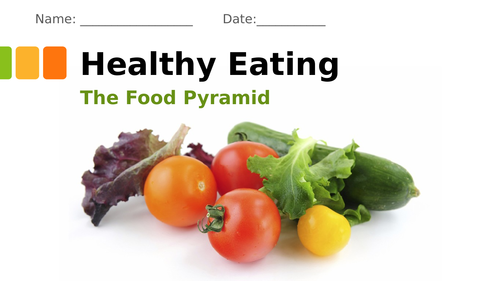 An introduction to the food pyramid and healthy eating. PPT has 12 slides with an activity at the end. Suitable for younger students as part of a personal care/social education lesson.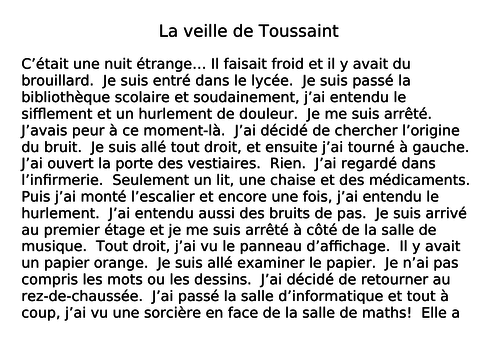 A short and simple French ghost story with accompanying translation and 'find the word' activities. Useful for final class before Halloween break.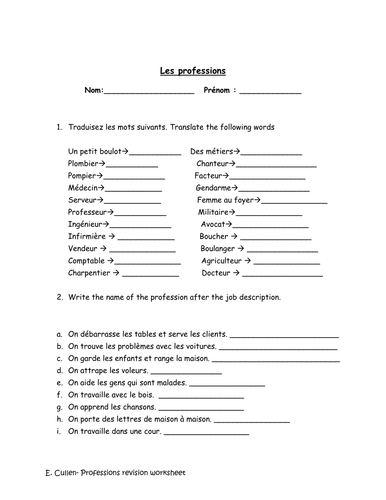 A one page word document worksheet based on the professions/jobs in French. Contains one translation exercise and one comprehension exercise. Could be used for HW, class task or exam.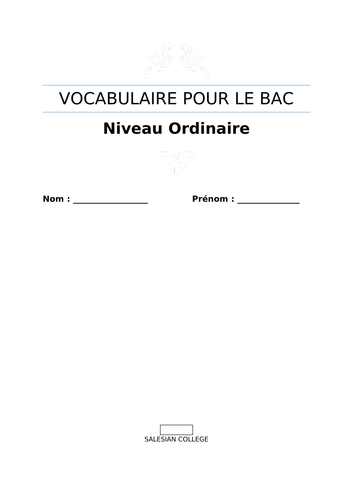 Complete vocabulary booklet for ordinary level senior students. Easy to use and well structured. It has 31 pages in total. All topics needed for the Leaving Cert are covered, from basics like the days of the week, food, directions, pastimes, holidays and animals etc… to more difficult topics like social problems. Each unit of vocab is presented in a grid over one /two pages. The French words are written in and there is room for the student to write in the English translation. Also includes a full page of useful verbs in the first person 'je' in the present, past and future tense. The pages are numbered for easy direction in class. *For a vocab booklet for Junior Cycle students or for a booklet with French and English words written in, see 'My Shop'.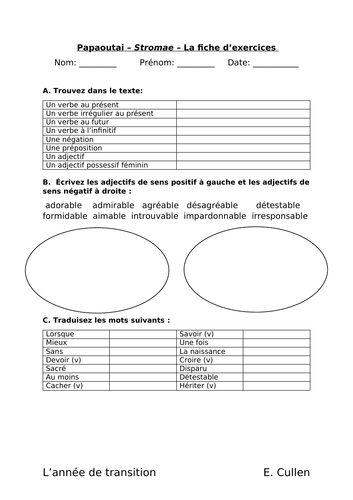 An activity and worksheet based on Stromae's song Papaoutai. Firstly, there is a listening activity where the lyrics are laminated and cut up into small chunks of text. Students work together in groups to listen to the song and re-order the lyrics correctly. Differentiation can be facilitated through the specific creation of groups here. Usually students need to here the song twice but of course, it can be played again if needed. This listening task is followed with the worksheet which takes a closer look at the lyrics. Students are asked to find different types of words/grammar in the text (e.g. an infinitive verb, an adverb, a possessive adjective etc…), then have to catagorize positive and negative adjectives and finally have to translate some potentially new words from the lyrics. The lyrics are also attached so that students have a copy each to analyze but the laminated lyrics can also be used and worksheet can be completed in a group. For a complete study on Stromae with five separate activities/resources, see My Shop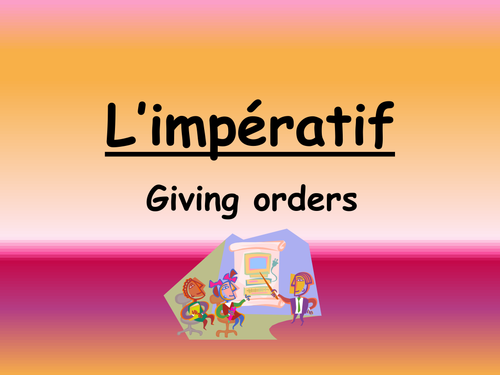 A 8 slide PPT which explains when and how to use 'l'imperatif'. Also includes a worksheet to recap or for homework.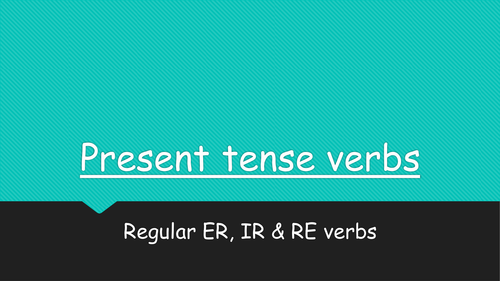 A 22 slide PPT which outlines when to use the present tense, how to conjugate regular ER, IR and RE verbs and gives a list of most common regular ER/IR/RE and irregular verbs. Comes ready to use with animations and transitions. Perfect for revision or initial teaching if taken section by section.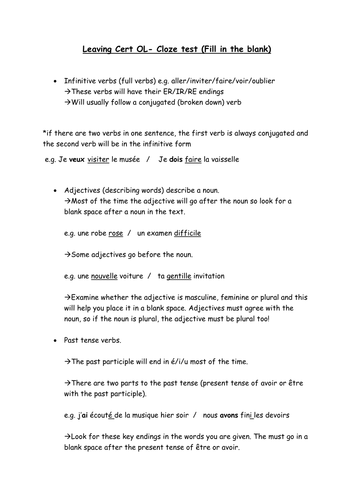 A detailed hand out based on the cloze test which appears in the Leaving Cert Ordinary Level exam. Includes some revision of key vocab and grammar which appears in this section. Also includes some hints on successfully completing this exercise.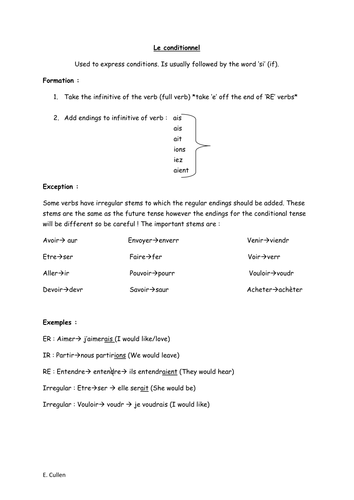 A two page hand out explaining when to use and how to form the conditional tense in French. Followed by a short 9 sentence exercise to put the rules into practice.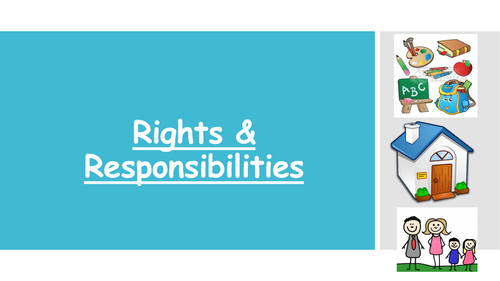 A 15 slide PPT based on the Irish CSPE curriculum and the 'Rights and Responsibilities' concept. Mentions Maslow's hierarchy of Human Needs, Human Rights and the UDHR. Also contains a Youtube link which leads to a video explanation of the UDHR. Contains a think-pair-share activity and lots of 'to do' slides which directs students to their textbook. These can be adapted to suit your class.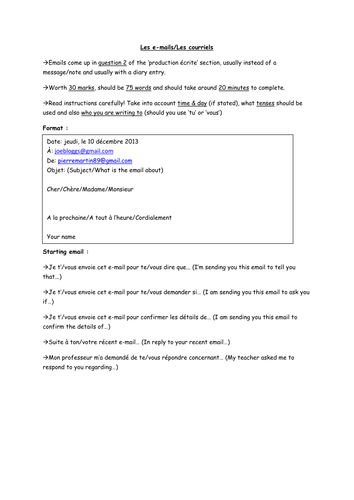 A 4 page word document based on email writing in French. Introduces email writing and lays out lots of useful phrases for tackling this kind of question. Phrases include a variety of tenses and are well laid out under headings. Also includes a sample email.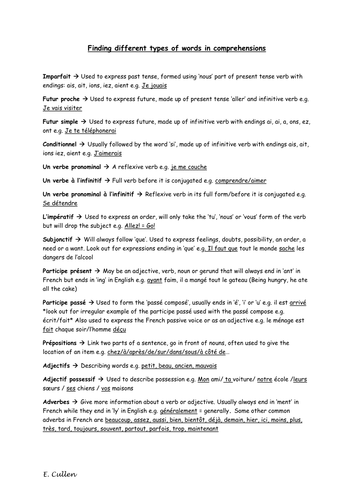 These two documents set out to help students with reading comprehensions. The first document lists key question words in French and English. The second document gives tips for finding different types of words in comprehensions e.g. a verb in the passé compose, an adverb, a feminine adjective, a verb in the conditional tense etc... These kind of questions always come up in HL leaving cert exams.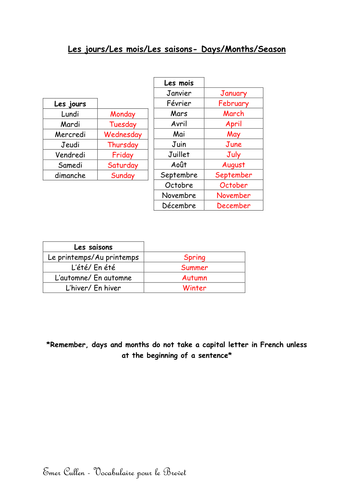 This is a very comprehensive and well structured vocabulary booklet for Junior Cert or Leaving Cert/GCSE French. It has 27 pages in total. All topics needed for the Junior Cert are covered (from days of the week, to food, directions, pastimes, animals etc…). Each unit of vocab is presented in a grid over one/two pages. The French words are written in in black and the English translations are written in in a different colour for each topic. Also includes a full page of useful verbs in the first person 'je' in the present, past and future tense. The key 'je' verbs for ordinary level French are highlighted but can of course, be amended. The booklet can be printed and put together to suit your preferences/class needs. This is a very easy and clear way of presenting or revising vocab and serves extremely helpful to the students. *For the same booklet, without the English translations, see 'My Shop'.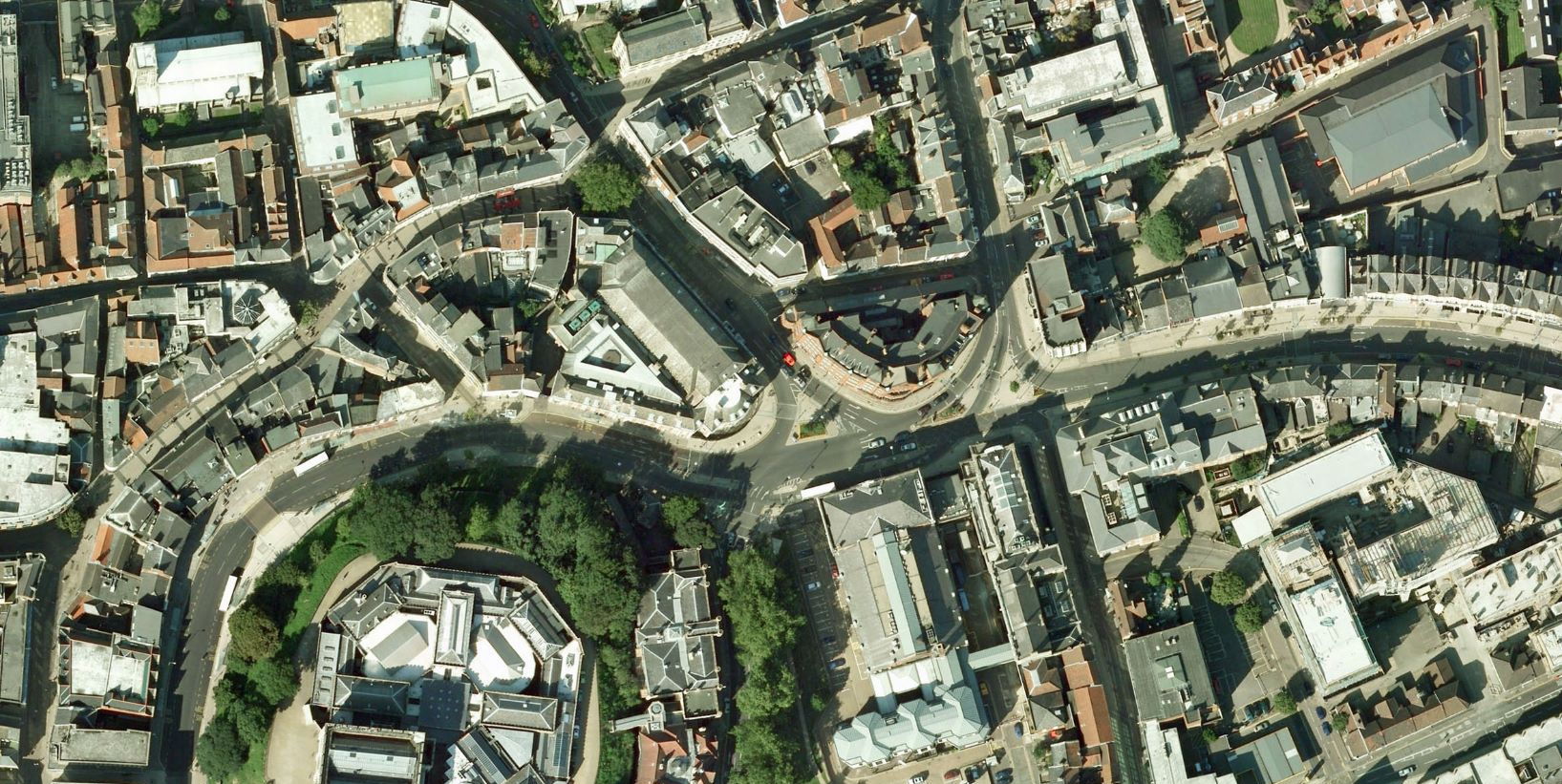 5 PPTs based on Aerial Photographs; 1. An introduction to the different types of aerial photos and an explanation on locating features on aerial photos 2. sketching Aerial photos 3. Settlement on aerial photos 4. Colour on aerial photos/determining land use/determining time of year 5. Economic activities on aerial photos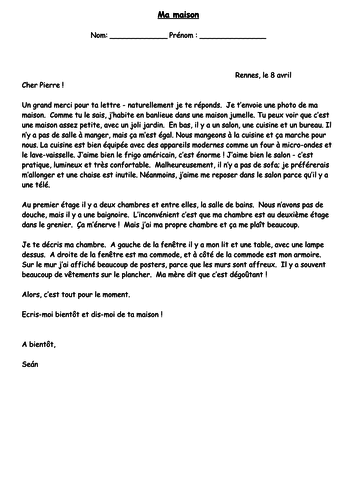 An 80 slide PPT based on 'Ma maison'. Aimed at HL Junior students or Ordinary level senior students. A different way to present key vocab. Each slide is colour coded (blue/pink/green) to convey the gender/number of the noun. Each slide also has a photo and a word. There are a couple of activity slides too e.g. write a paragraph about your house, work in pairs to orally describe the bedroom in the photo etc... Also attached is a comprehension with English questions which can be used at the end of the PPT presentation in class/for HW etc... For a more basic 'Ma maison' PPT suitable for junior students and for more worksheets on this topic, see 'My Shop'.