Emercullen's Shop
French and Geography Resources based on Irish curriculum. Well-structured and easy to use! Please leave a review :-)
133Uploads
22k+Views
3k+Downloads
French and Geography Resources based on Irish curriculum. Well-structured and easy to use! Please leave a review :-)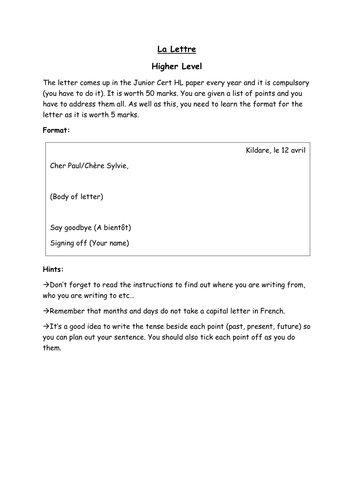 A word document which contains key phrases for the French Letter (Junior Cert standard). Phrases are under headings e.g. family, friends, the weekend, pastimes etc... so that they are easy to find. English and French are used for each phrase. This is a go-to handout for students when writing French letters and should cover the majority of content needed for Higher level and ordinary level. Could also be used to prep students for their oral exam as it covers most topics that come Up in the oral. Also attached is a short PPT to introduce the letter to higher level students. I print this out afterwards and give it to the students as additional notes. For an introduction to letter writing for younger students, see 'my shop'.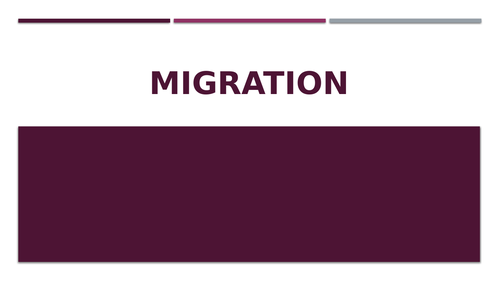 A 12 slide PPT which explains migration, individual migration, organized migration (using the case study of the Plantation of Ulster in Ireland), Push and Pull factors and barriers to migration. Also has a short video clip at the end to recap on the content. Slide 10 is a 'TO DO' slide with a recap question which is based on the Irish Junior Cert Exam. Slides 11 & 12 are 'HOMEWORK' slides which contain a short and long question to assess students' understanding of the topic. All questions are from the Junior Cert Paper but this can be adapted to suit your exam, textbook, class or can be deleted.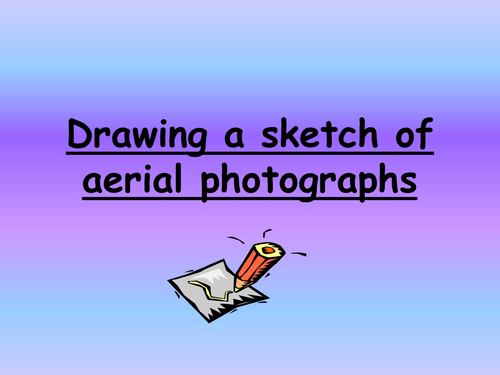 A short and simple PPT (8 slides) which explains how to sketch an aerial photograph. To buy this resource as part of an aerial photograph bundle, see 'My shop'.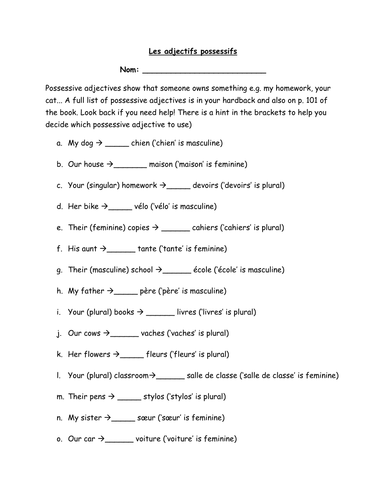 A lesson based on the possessive adjectives in French. Firstly, I use a word document which displays the possessive adjectives in an easy to follow grid. I copy this and distribute to students for their folder/hard back copy or alternatively, it could be projected and taken down. The second document is a word doc worksheet on which the students can practice what they've learned by filling the missing possessive adjective into each sentence. This is a starter worksheet and so, I have noted on it whether the noun is masc/fem'/plural. The final document is another cloze test that could be used for homework, in class or for an exam. Students must insert the correct possessive adjective in the blank space and then must translate each sentence from French to English.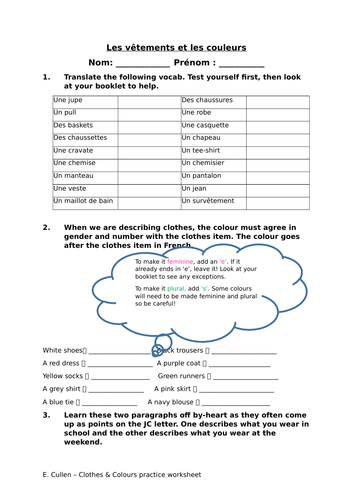 A 2 page worksheet based around clothes and colours in French. Will help students to learn the vocab. Includes translation exercises, reading/learning task & small written tasks using agreements. Could be used as a work sheet, homework or exam.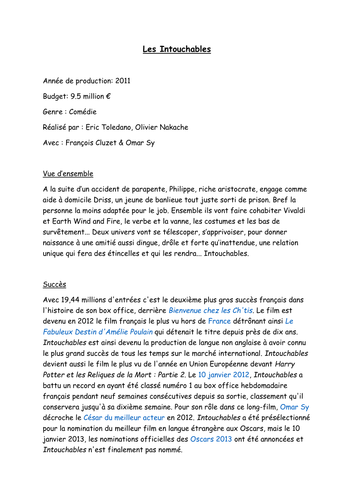 A comprehension worksheet based on the film 'Les Intouchables'. Comprehension put together using authentic online sources. Questions in French, to be answered in French.

A one page word document worksheet based on expressions with the verb 'faire'. Includes cloze test style exercise, translation task and an exercise in which students must make the sentences negative.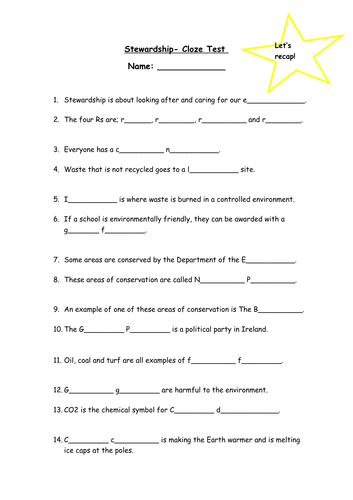 A cloze test based on the concept of environmental stewardship. Includes all the key words associated with the topic. Good as a homework exercise, recap activity or exam.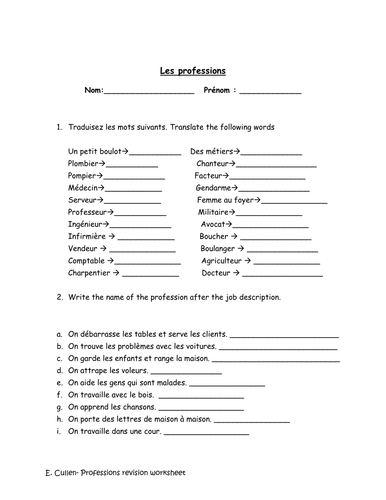 A one page word document worksheet based on the professions/jobs in French. Contains one translation exercise and one comprehension exercise. Could be used for HW, class task or exam.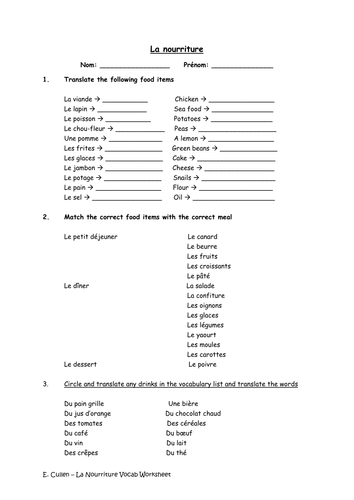 A two page worksheet based around the topic of food. Includes translating and matching exercises. Used food items, meals (breakfast, lunch and dinner) and also utensils (cup, plate etc...). Contains two short sentences about what the student eats for breakfast and dinner which are suitable or the Irish Junior Cert ordinary level exam but this can be adapted or taken out to suit your class.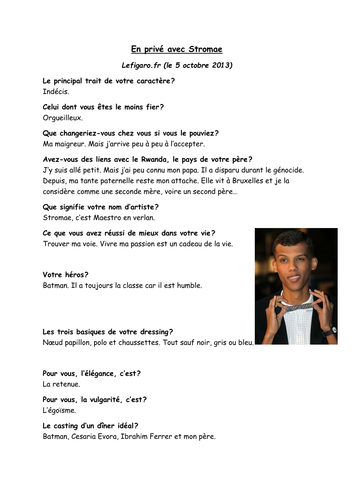 Four resources based on francophone artist Stromae. First is a worksheet and youtube link. Students watch an interview (in English) with Stromae and must note in English as many interesting points as they can. They then have to use the facts/info to make 8 sentences in French about Stromae (can be done individually or as a pair activity). There are two lyric sheets here too for a sing-a-long class activity (Students love it!) Final worksheet is adapted from an authentic text (le Figaro) and is a quickfire interview with the artist. Accompanied by English comprehension questions.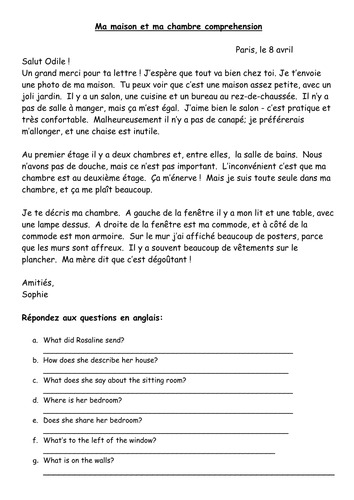 A short and simple comprehension with English questions based on the house/bedroom vocab. Structured as a letter in order to revise letter format and structure too. Useful for revising or studying vocab. Could be used for HW or in class.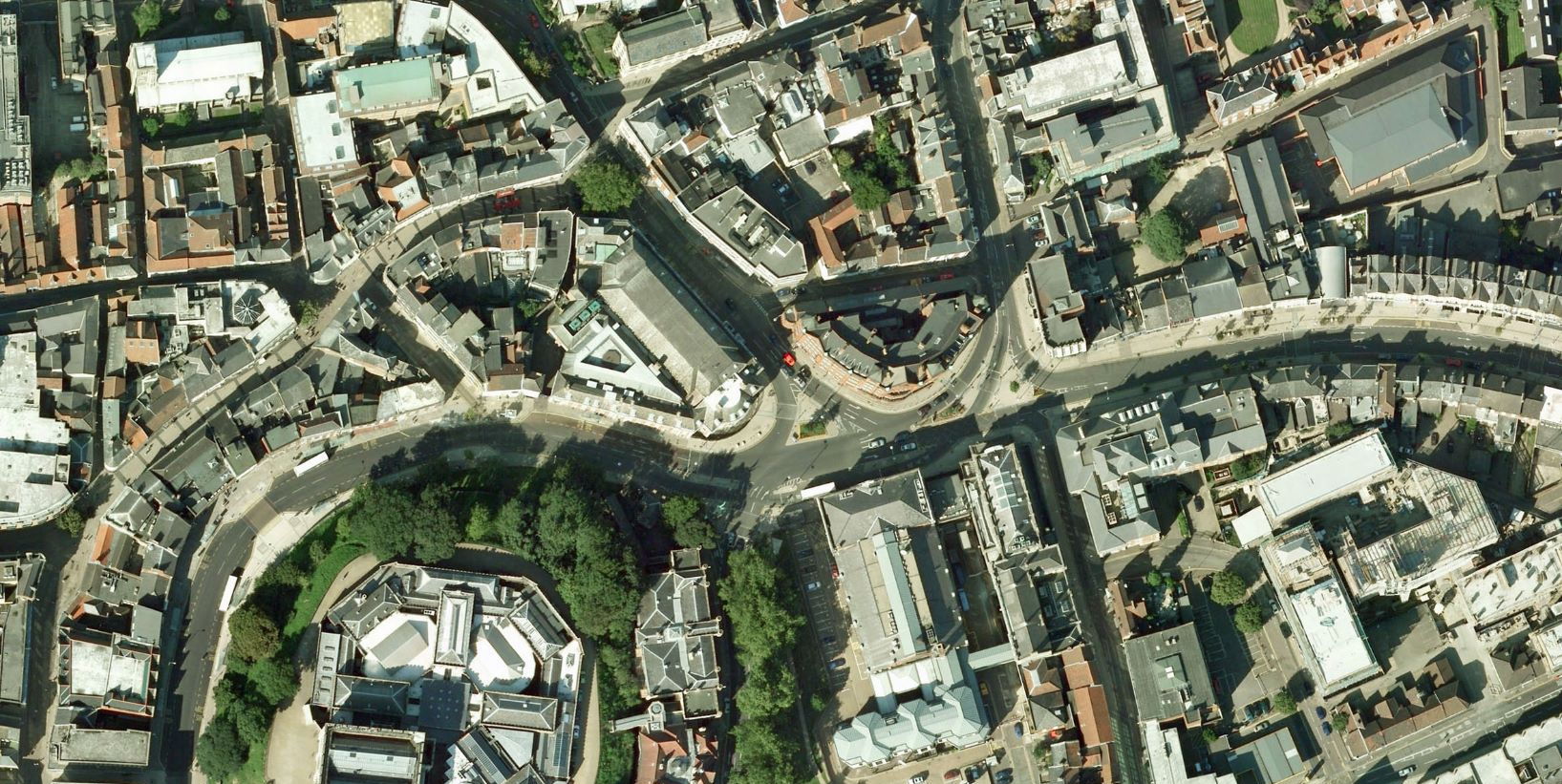 5 PPTs based on Aerial Photographs; 1. An introduction to the different types of aerial photos and an explanation on locating features on aerial photos 2. sketching Aerial photos 3. Settlement on aerial photos 4. Colour on aerial photos/determining land use/determining time of year 5. Economic activities on aerial photos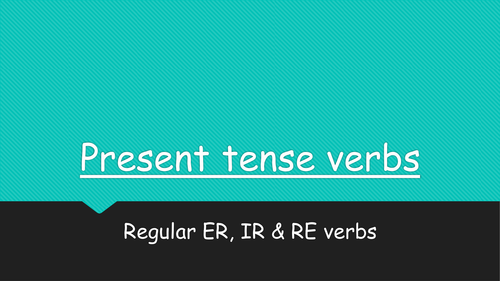 A 22 slide PPT which outlines when to use the present tense, how to conjugate regular ER, IR and RE verbs and gives a list of most common regular ER/IR/RE and irregular verbs. Comes ready to use with animations and transitions. Perfect for revision or initial teaching if taken section by section.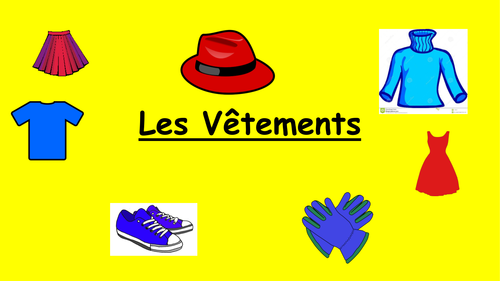 PPT presenting clothes/les vetements. Pink slides used for feminine nouns, blue for masculine and green for plural.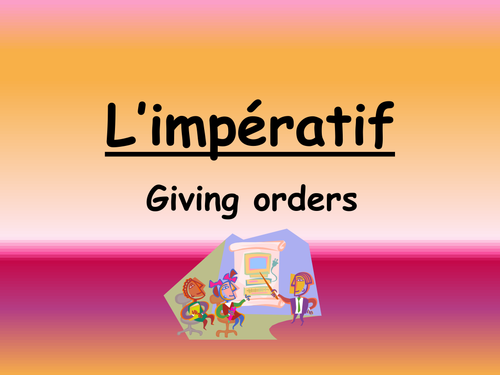 A 8 slide PPT which explains when and how to use 'l'imperatif'. Also includes a worksheet to recap or for homework.

A 15 slide PPT based on Dutch Polders. Aimed at Junior Cert geography students studying 'settlement'. Discusses how the polders were created and how rural and urban settlement was established. Last slide is a 'to do' slide which refers students to a worksheet. I can't attached the work sheet as it is from a book as it copyrighted.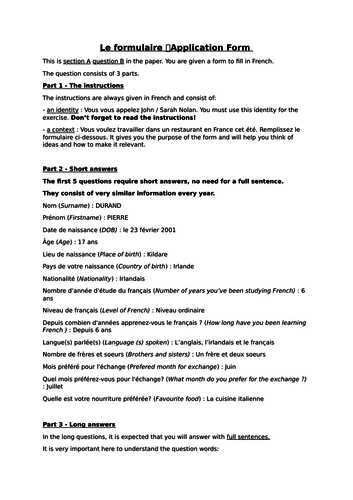 Detailed notes based on 'le formulaire'/filling in an application form- which appears in the Ordinary Level Leaving Cert exam. Includes notes on short and long questions and also translations of key question words.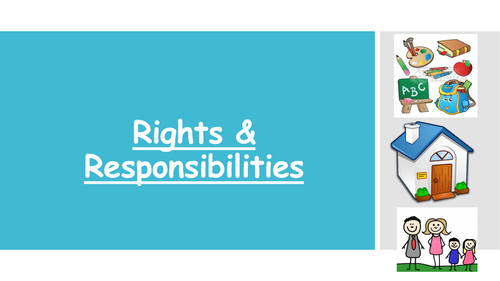 A 15 slide PPT based on the Irish CSPE curriculum and the 'Rights and Responsibilities' concept. Mentions Maslow's hierarchy of Human Needs, Human Rights and the UDHR. Also contains a Youtube link which leads to a video explanation of the UDHR. Contains a think-pair-share activity and lots of 'to do' slides which directs students to their textbook. These can be adapted to suit your class.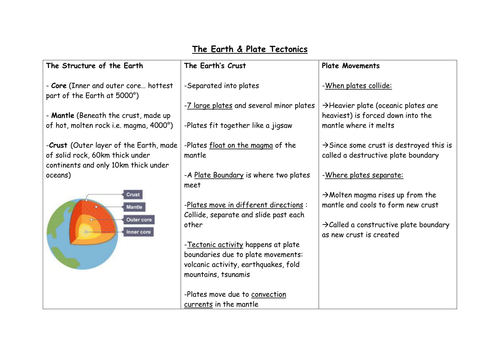 A two page word document which summarizes the structure of the Earth and explains plate tectonics and continental drift. Also includes a labeled image of the World's major plates. I made this to give to my 3rd year students as a revision hand out. For similar notes on volcanoes, earthquakes and fold mountains, see my 'shop' where you can buy these as a bundle.