EBC Shop
French and Geography Resources based on Irish curriculum. Well-structured and easy to use! Please leave a review :-)
162Uploads
66k+Views
10k+Downloads
French and Geography Resources based on Irish curriculum. Well-structured and easy to use! Please leave a review :-)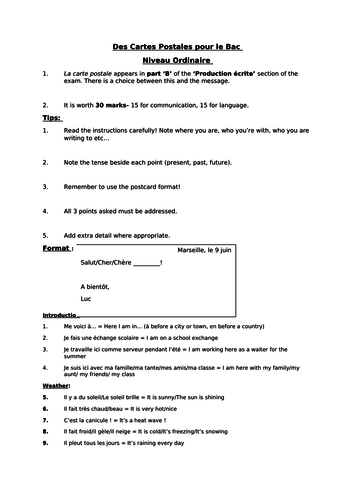 A notes handout based on the post card. Aimed at ordinary level leaving cert students. Includes lots of useful phrases for all aspects of postcard - when/how you arrived, weather, accommodation, food, feelings, activities etc… Activities are set out under three headings - Present, Past and Future. There is also a sample postcard. For a similar but less detailed handout on the postcard for Junior Cert students, see My Shop.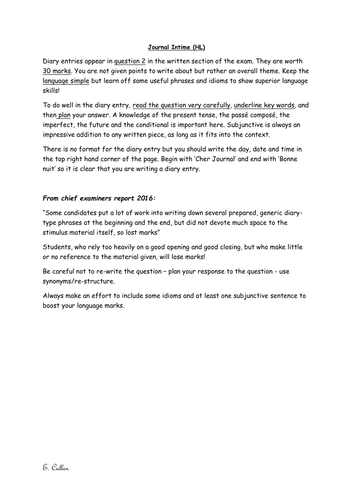 A 3 page word document based on the 'journal intime'/French diary writing. This writing task comes up in Irish Leaving Cert Exams, (OL and HL). This handout introduces students to the diary and lays out some useful phrases which can be used in most diaries e.g. Beginnings, endings, positive feelings, negative feelings and extra vocab. Also includes a small sample diary entry.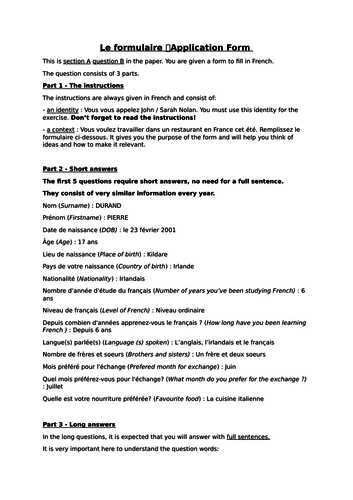 Detailed notes based on 'le formulaire'/filling in an application form- which appears in the Ordinary Level Leaving Cert exam. Includes notes on short and long questions and also translations of key question words.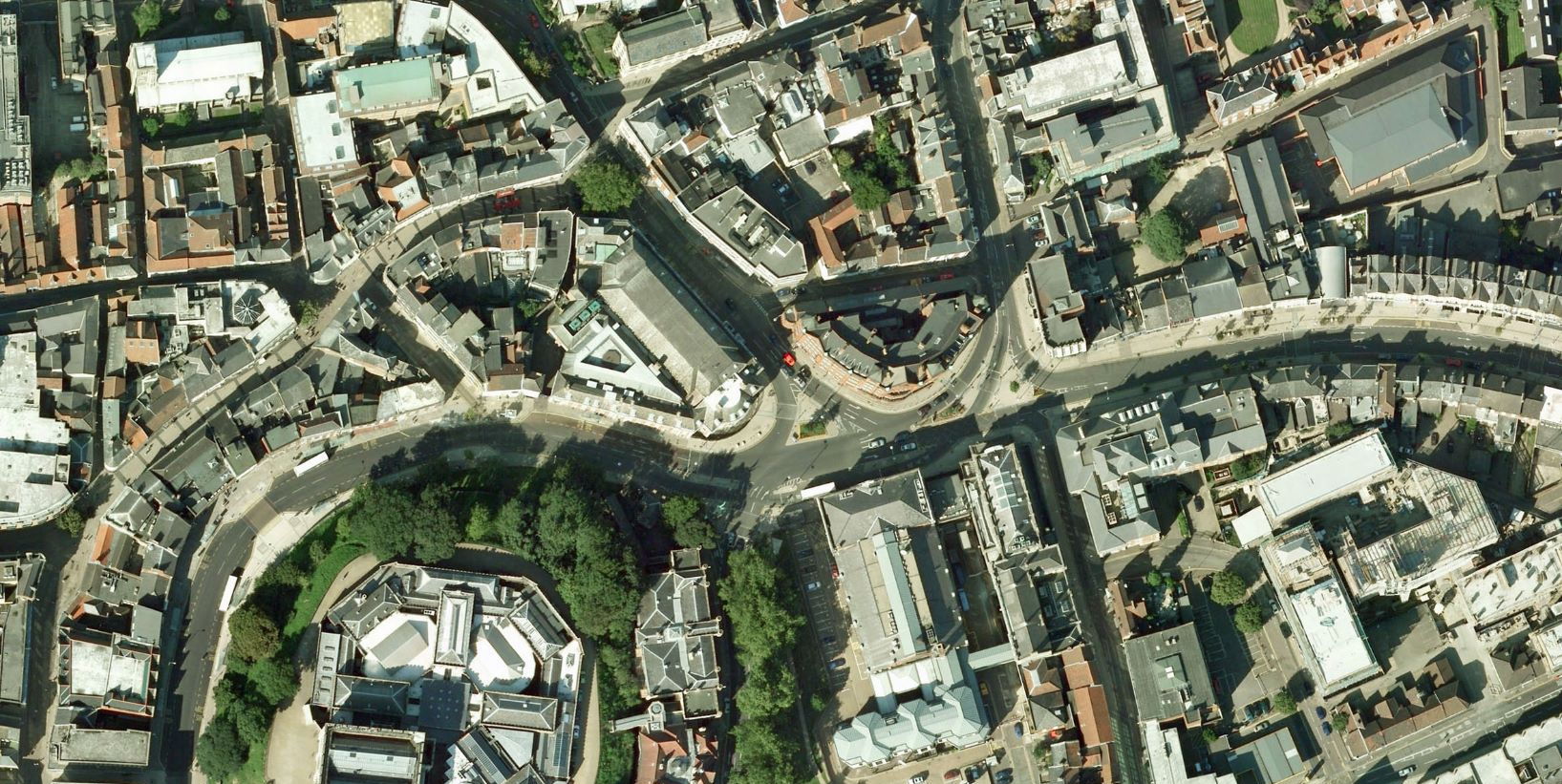 5 PPTs based on Aerial Photographs; 1. An introduction to the different types of aerial photos and an explanation on locating features on aerial photos 2. sketching Aerial photos 3. Settlement on aerial photos 4. Colour on aerial photos/determining land use/determining time of year 5. Economic activities on aerial photos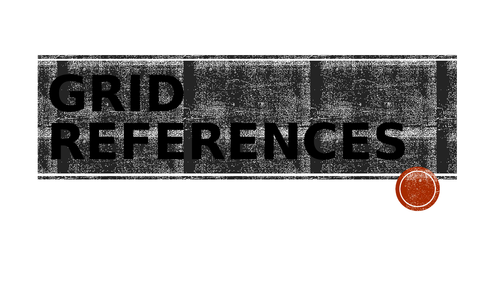 9 PPTs and a word doc activity. All based on OS maps. This is everything I cover with 1st year students (Year 7). A 13 slide PPT introducing OS maps, scale, the legend etc… A word document 'Cops and Robbers' Activity to get students using the legend A 16 slide PPT on measuring distance (Straight line & Curved Line). Include 2 YouTube links to online demonstrations. A 9 slide PPT on 4 figure grid references An 8 slide PPT on 6 figure grid references A 10 slide PPT on height on an OS map (colour, contour lines, sport heights, triangulation pillar) An 11 slide PPT on slope on an OS map (even slope, concave slope, convex slope) A 5 slide PPT on direction (N, S, E, W) A 13 slide PPT on sketching an OS map (Manageable, step-by-step guide with visual aids) An 8 slide PPT on reading the landscape on an OS map (relief, drainage and human landscape) Each PPT is colourful and well-laid out with transitions and animations already done. Lots of images & extracts of OS maps used as visual aids. Some PPTs contain 'to do' and 'homework' slides. These refer to the EDCO book 'Geoplanet' but can be changed to suit the book you use in your own class. *For More Geography resources and similar PPTs, see 'My Shop' .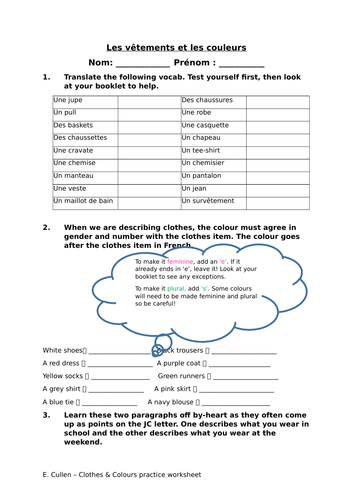 A 2 page worksheet based around clothes and colours in French. Will help students to learn the vocab. Includes translation exercises, reading/learning task & small written tasks using agreements. Could be used as a work sheet, homework or exam.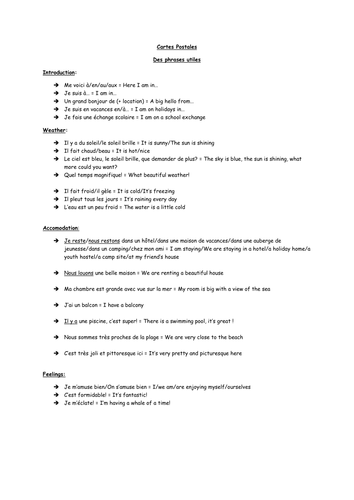 A 2 page handout on postcard writing in French. Well laid out and easy to follow. Different key phrases are laid out under headings e.g. accommodation, weather, present tense activities, past tense activities etc... A go-to handout for postcard writing. Perfect for Irish junior cert higher level and can easily be amended for ordinary level too.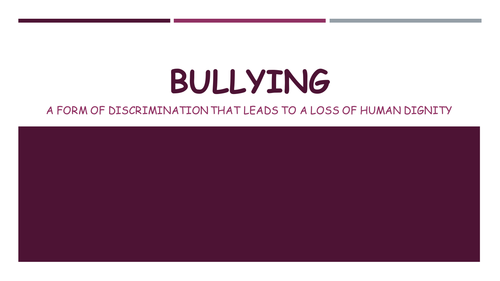 A short 7 slide PPT on 'Bullying'. Explains the different types on bullying and how it impacts human dignity. Contains a short cloze test where students need to insert key terms into a paragraph. Also contains a group activity where students can make a 'Anti-Bullying Charter'. Final slide is a homework slide which can be adapted to suit your class. All animations and transitions are in place.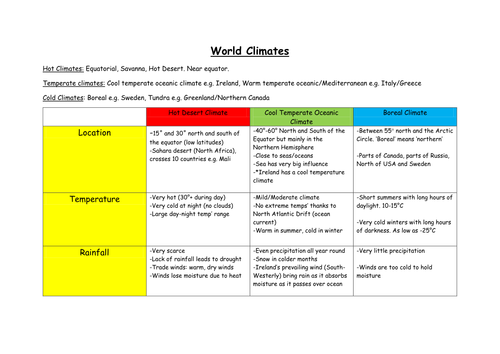 A 3 page word document which summarizes world climates with particular reference to hot desert climate, cool temperature oceanic climate and boreal climate. All information is presented in a comprehensive and easy to follow grid/graphic organizer. Also lists and gives a sample answer based on factors which influence climate. For full PPTs on each of the climate case studies notes above please see my 'shop'.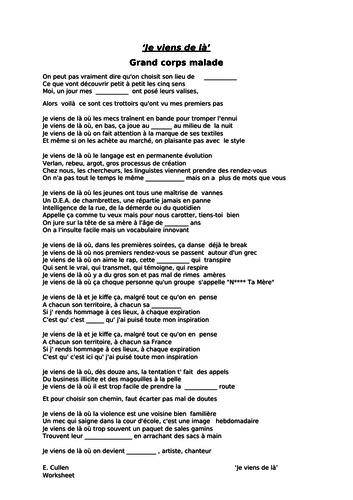 Three worksheets based on 'Grand Corps Malade. First worksheet is a biography about him and his life. Questions here are in English (to be answered in English). This can be a starter activity to introduce students to the artist. Second Worksheet is based on his song 'Je viens de la' and is designed as a cloze test. It also has a short translation activity and a grammar activity too which can be assigned for homework. Third worksheet is adapted from an authentic source (French online newspaper) and questions are in French (to be answered in French). This can be differentiated by changing the questions to English/writing easier questions. Again, this can be done in class or for homework. The three worksheets are designed so that the students are progressively challenged , starting quite easy and finishing with difficult questions to be answered in the target language. I use this study as part of my TY module.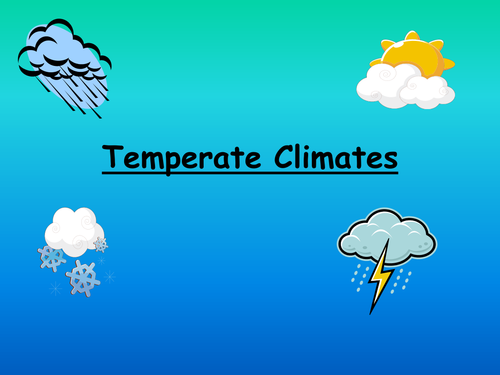 A 15 slide PPT with animations and transitions inserted. Explains cool temperate oceanic climates using Ireland as the reference country. Discusses location, temperature, precipitation, agricultural opportunities, vegetation and animals. Contains a 'to do' slide with 2 questions linked to factors affecting climate (see my shop for this PPT) and also has a 'debate' slide with two questions for discussion. This could be done as part of a think-pair-share exercise or as a whole class discussion/debate. Also attached is a short worksheet on the topic which could be assigned for homework or used as an exam.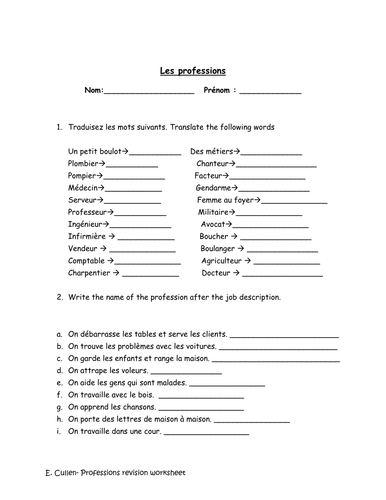 A one page word document worksheet based on the professions/jobs in French. Contains one translation exercise and one comprehension exercise. Could be used for HW, class task or exam.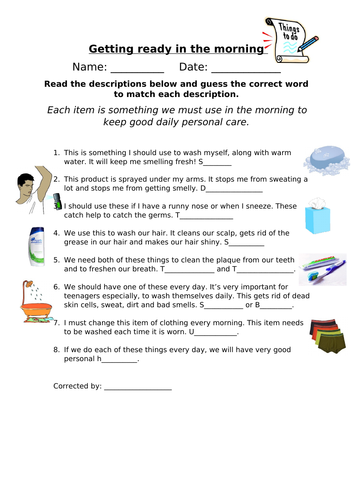 Two worksheets based around personal hygiene. One is a cloze test/ gap-fill exercise which discusses the different things we should do whilst getting ready for our day in order to have good personal hygiene. The 2nd is a Personal Hygiene Contract in which students can state 5 things they promise to do everyday in order to have good personal hygiene. I use these worksheets in my personal care/social & personal ed class with younger students and/or students with SEN.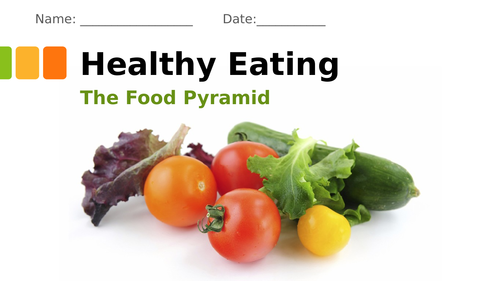 An introduction to the food pyramid and healthy eating. PPT has 12 slides with an activity at the end. Suitable for younger students as part of a personal care/social education lesson.

A PPT used for preparation for the French oral exam. Presented in a clear and colorful way. Questions and answers included. Can be used for ordinary level students and can easily be supplemented for higher level students.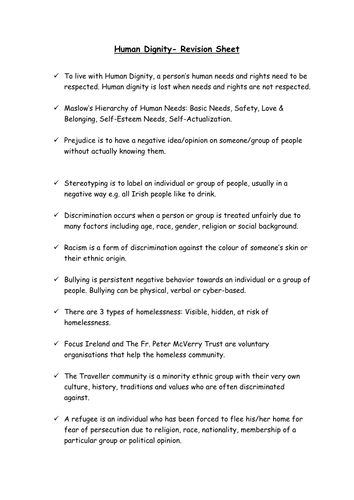 A 21 slide PPT based on the Irish CSPE curriculum. Discusses the concept 'Human Dignity'. Explains in simple terms; prejudice, stereotyping, discrimination, racism and disability. Some slides have hyperlinks which bring you to Youtube clips to further explain these key terms. One Youtube clip has been made into a class activity and the slide contains the link to Youtube video and questions which the students should answer. There is a think-pair-share discussion activity too and a graphic organiser attached for this. Also contains 'to do' and 'homework' slides which are based on the Irish CSPE textbook and workbook 'One World' by EDCO, but can be easily amended to suit your class. All transitions and animations are in place and the PPT is ready to use! Word document can be copied and distributed to help students study for exam. All key points and key terms are summarized.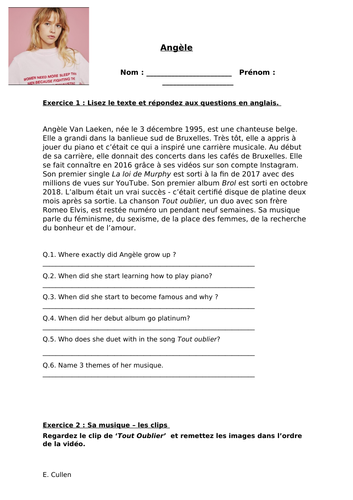 A worksheet based on Belgian singer/songwriter Angele. The worksheet begins with a short comprehension followed by English questions. This gives an overview of her life and how she got into music. Second exercise is based on her song 'Tout Oublier'. Students must watch the music video and put the images from the video in the correct order. Finally, there are selected words from the lyrics of the song and students must catagorize the words e.g. an adverb, a past participle, an infinitive verb etc… I use this resource with my TY classes as Angele is very current. Beware… Some of her music is explicit! Song chosen is OK for class. For more worksheets and activities on French music and film, see My Shop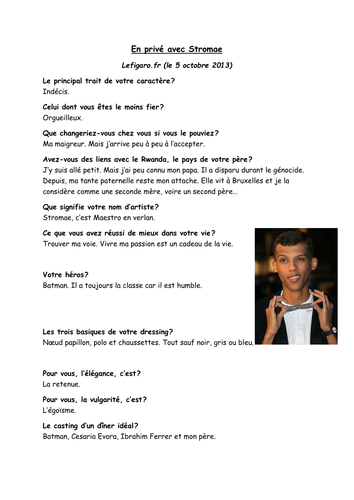 Five resources based on francophone artist Stromae. I use these resources in my Transition Year module and also with my ordinary level leaving cert classes. First is a worksheet and youtube link. Students watch an interview (in English) with Stromae and must note in English as many interesting points as they can. They then have to use the facts/info to make 8 sentences in French about Stromae (can be done individually or as a pair activity a good opportunity to use dictionaries). Listening activity in the form of a gapfill exercise using the lyrics of 'Formidable'. A word bank can be given to facilitate differentiation if needed. The next activity and worksheet are based on the song Papaoutai. Firstly, there is a listening activity where the lyrics (printed in the larger font) are laminated and cut up into small chunks of text. Students work together in groups to listen to the song and re-order the lyrics correctly. This listening task is followed with the worksheet which takes a closer look at the lyrics. Students are asked to find different types of words/grammar in the text (e.g. an infinitive verb, an adverb etc…), then have to catagorize positive and negative adjectives and finally have to translate some potentially new words from the lyrics. There are two lyric sheets here for both of the songs mentioned about that can be used for a sing-a-long class activity (Students love it!) . Final worksheet is adapted from an authentic text (le Figaro) and is a quickfire interview with the artist. Accompanied by English comprehension questions. Papaoutai resource can be purhcased separately from My Shop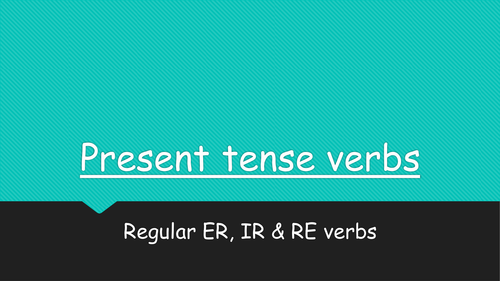 A 22 slide PPT which outlines when to use the present tense, how to conjugate regular ER, IR and RE verbs and gives a list of most common regular ER/IR/RE and irregular verbs. Comes ready to use with animations and transitions. Perfect for revision or initial teaching if taken section by section.

A complete study of Primary Economic Activities for the new Junior Cycle. An introduction to Primary Economic Activities for Junior Students. 7 slide PPT. Includes key terms, learning intentions, some short questions, images, HW and to-do slides. A 33 slide PPT on the Water Cycle (can also be adapted for Senior Cycle geog). Includes key terms, learning intentions, images, hyperlink to video clips and a 'water cycle' song on Youtube. A 16 slide PPT on a major irrigation scheme (The Aswan Dam). Includes key terms, learning intentions, images, YouTube clip (via hyperlink) and debate thoughts. A 17 slide PPT on fishing including reasons for overfishing and ending overfishing. Includes key terms, learning intentions, images, YouTube clip (via hyperlink) and to-do slide. A 25 slide PPT on farming, discussing inputs, processes, outputs, types of farms, problems with agriculture, sustainable farming, CAP etc… Includes key terms, learning intentions, images, YouTube clips (via hyperlink), activity slide (see next resource) and to-do slides. Inputs, outputs and processes to print/laminate for class activity mentioned in above PPT. Students work in groups to categorise the inputs/processes/outputs and primary economic activity jobs. A 27 slide PPT on forestry. Includes key terms, learning intentions, images, an embedded clip from National Geographic, to-do slides and plenty of summary questions. All HW/Activity/To-do slides refer to the 'Geography in Action' textbook and workbook/portfolio book. These can easily be adapted to suit your own textbook. To access hyperlinks, ensure you are in 'slideshow view' and click on the title of the slide - the cursor arrow should change to a little hand. This will bring you to Youtube.