147Uploads
126k+Views
108k+Downloads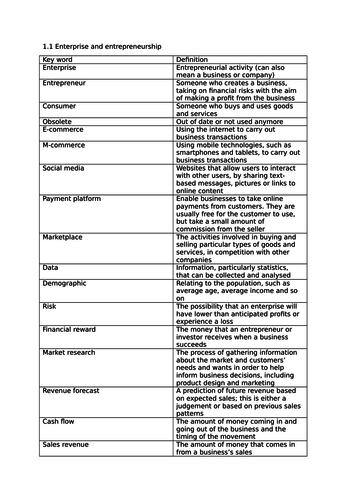 All key words into a glossary, sorted into the five topics . The font is OpenDyslexic - Free, OpenSource Dyslexia Typeface http://opendyslexic.org/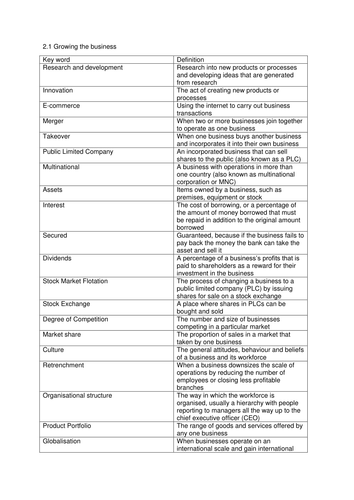 All key words into a glossary, sorted into the five topics. The font is OpenDyslexic - Free, OpenSource Dyslexia Typeface http://opendyslexic.org/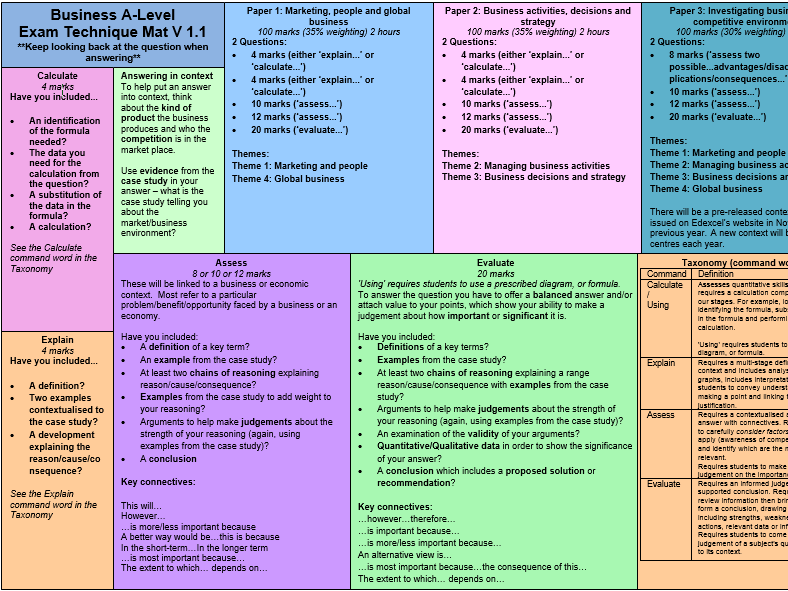 Designed to help students include everything they need when they write exam answers. Success criteria for every kind of question students might encounter in the exam. Current version: 1.2. Any suggestions/improvements/complaints please do comment and I will update it for future editions. Enormous inspiration credit due to this resource: https://www.tes.com/teaching-resource/gcse-business-exam-technique-literacy-mat-6425294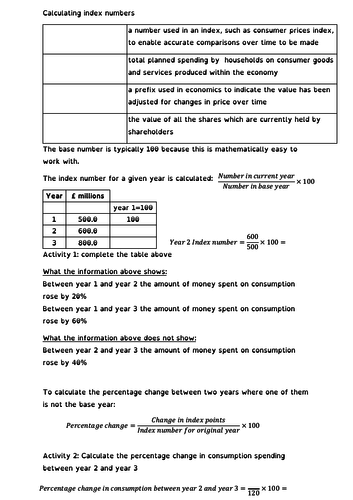 Complete lesson on Index numbers. Includes definitions that students work out deductively, calculations for the students to practice and some multiple choice questions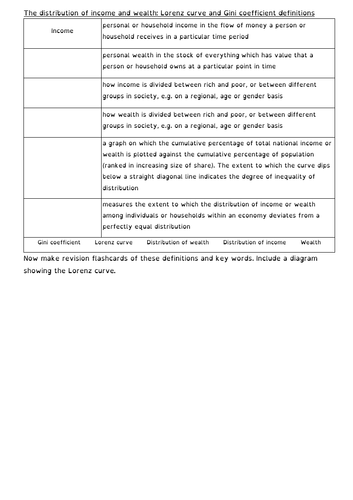 Complete lesson on the Lorenz curve and Gini coefficient. Includes 3 worksheets: glossery for students fill in drawing the Lorenz curve calculating the Gini coefficient Included in the slides is also a number of MCQs and 15 mark exam question from AQA A-level Economics with a suggested plan, sample student responses and mark scheme. Some of the font is in OpenDyslexic - Free, OpenSource Dyslexia Typeface http://opendyslexic.org/
Designed to help students include everything they need when they write exam answers. Success criteria for every kind of question students might encounter in the exam. Black and white versions in both .pdf and .docx file formats have been included. Currently version 1.6 - any suggestions/improvements/complaints please do comment and I will update it for future editions. Enormous inspiration credit due to this resource: https://www.tes.com/teaching-resource/gcse-business-exam-technique-literacy-mat-6425294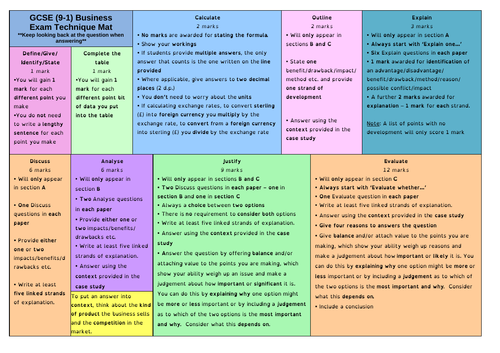 Designed to help students include everything they need when they write exam answers. Success criteria for every kind of question students might encounter in the exam. Both a colour and a black and white version have been included. Currently version 1 - any suggestions/improvements/complaints please do comment and I will update it for future editions. Enormous inspiration credit due to this resource: https://www.tes.com/teaching-resource/gcse-business-exam-technique-literacy-mat-6425294 Font is in OpenDyslexic font - Free, OpenSource Dyslexia Typeface http://opendyslexic.org/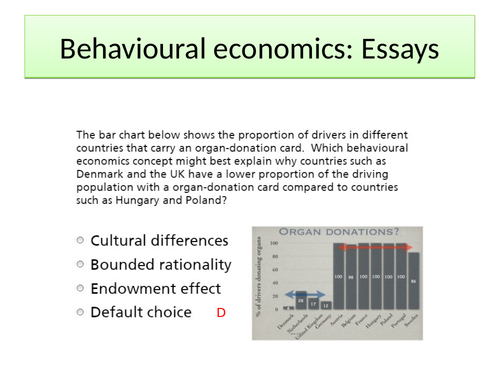 A lesson I've put together with suggested content and an essay plan for the paper 1 specimen 2014 essays on Behavioural economics. Traditional economic theory assumes that consumers make rational decisions that maximise their economic welfare, but behavioural economists disagree. Using examples to illustrate your answer, explain how anchoring and loss aversion can affect an individual's choices when deciding how to spend or save their income. [15 marks] The Government would like to improve the well-being of the population by encouraging people to adopt a healthy diet. Using your knowledge of both traditional economic theory and behavioural economics, assess alternative policies that the Government might adopt to try to achieve its objective. [25 marks] Any suggestions/improvements/complaints please do comment and I will update it for future editions. The font is OpenDyslexic - Free, OpenSource Dyslexia Typeface http://opendyslexic.org/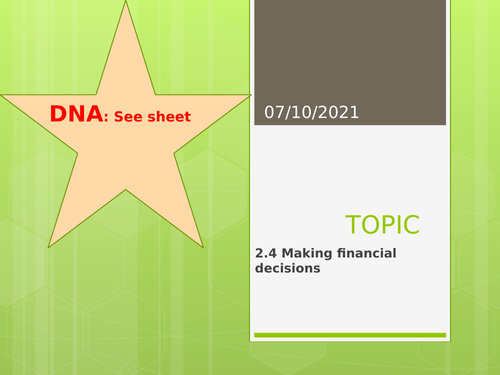 15 December 2020 - Updated! A complete set of work for Understanding business performance. Includes a powerpoint with some of the crucial answers. Some of the text on the presentation is in OpenDyslexic font - Free, OpenSource Dyslexia Typeface http://opendyslexic.org/
A topic tracker for the new Edexcel GCSE specification (2017). Questions are taken from Unit 3 papers. Questions are written in spreadsheet and sorted into the new GCSE (9-1) specification topic areas. Only questions which fit the mark numbers for the new specification have been included (1, 2, 3, 6, 9 and 12 marks). Any suggestions/improvements/complaints please do comment and I will update it for future editions. Includes: Sample assessment 2008 (old spec) Sample assessment 2010 (old spec) Summer 2010 (old spec) Summer 2011 (old spec) Summer 2012 (old spec) Summer 2013 (old spec) Summer 2014 (old spec) Summer 2015 (old spec) Summer 2016 (old spec) Sample assessment 2017 (new spec) Enormous inspiration credit due to this resource: https://www.tes.com/teaching-resource/updated-for-2014-edexcel-gcse-topic-tracker-6440793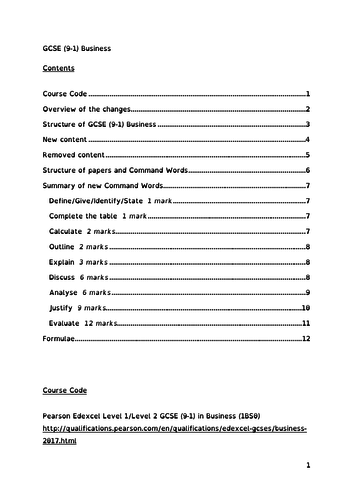 A guide to the new Edexcel GCSE (9-1) Business. I created it to hand out at parents evening. Font is in OpenDyslexic font - Free, OpenSource Dyslexia Typeface Contents: Course Code Overview of the changes Structure of GCSE (9-1) Business New content Removed content Structure of papers and Command Words Summary of new Command Words -Define/Give/Identify/State 1 mark -Complete the table 1 mark -Calculate 2 marks -Outline 2 marks -Explain 3 marks -Discuss 6 marks -Analyse 6 marks -Justify 9 marks -Evaluate 12 marks Formulae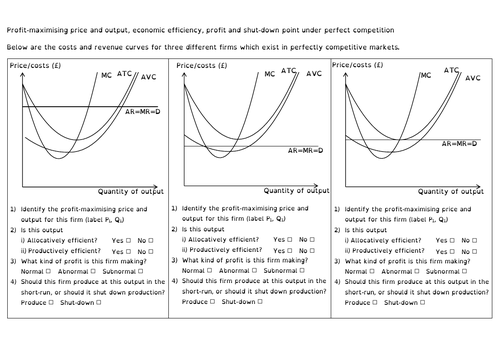 An exercise to identify profit-maximising price and output, economic efficiency, profit and shut-down point under perfect competition. An answer sheet is provided as well as the answers being included on the attached slideshow. The font is OpenDyslexic - Free, OpenSource Dyslexia Typeface http://opendyslexic.org/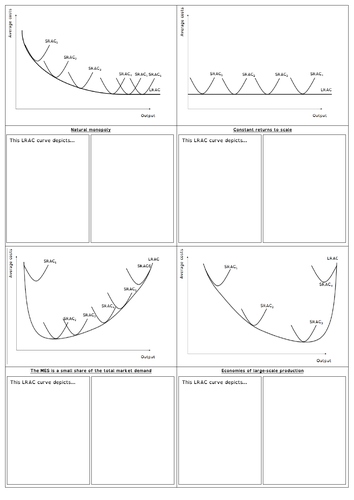 A3 revision worksheet on the impact of long-run average costs on market structures. Includes a set of suggested answers. The font is OpenDyslexic - Free, OpenSource Dyslexia Typeface http://opendyslexic.org/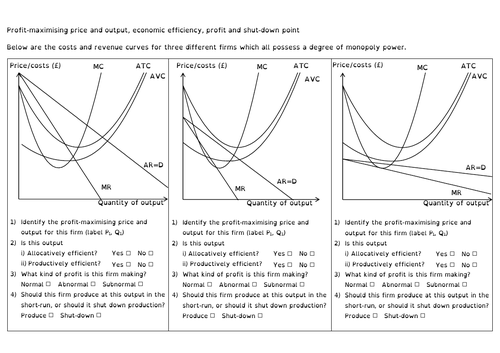 An exercise to identify profit-maximising price and output, economic efficiency, profit and shut-down point under monopolistisic competition. An answer sheet is provided as well as the answers being included on the attached slideshow. The font is OpenDyslexic - Free, OpenSource Dyslexia Typeface http://opendyslexic.org/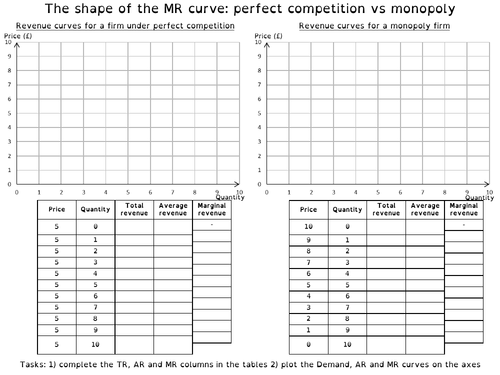 An exercise to explain the shape of the MR curves that firms face under perfect competition vs monopoly. An answer sheet is provided as well as the answers being included on the second slide of the attached slideshow. The font is OpenDyslexic - Free, OpenSource Dyslexia Typeface http://opendyslexic.org/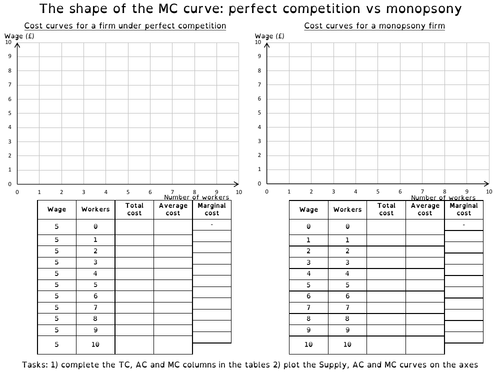 An exercise to explain the shape of the MC curves that firms face under perfect competition vs monopsony. An answer sheet is provided as well as the answers being included on the second slide of the attached slideshow. The font is OpenDyslexic - Free, OpenSource Dyslexia Typeface http://opendyslexic.org/
19/01/2016 - Updated to include hyperlinks to exam papers! 21/11/2016 - Updated to include June 2016 question papers! A topic tracker for the new Edexcel A-level specification (2015). All units of past papers included. Questions are written in spreadsheet and sorted into the new specification topic areas.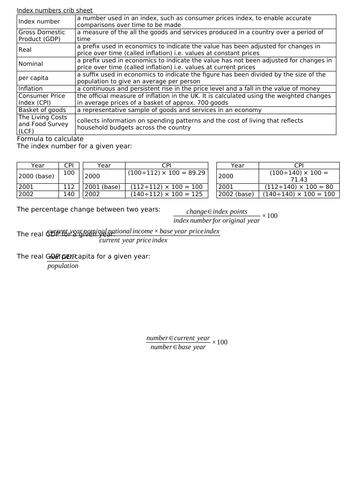 A crib sheet covering Index numbers for A-level Economics students Both .pdf and .docx file formats have been included. The font is OpenDyslexic - Free, OpenSource Dyslexia Typeface http://opendyslexic.org/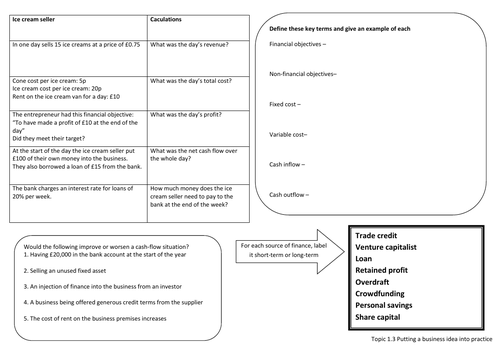 Useful for revising Edexcel GCSE (9-1) Business topic 1.3 Putting a business idea into practice Any suggestions/improvements/complaints please do comment and I will update it for future editions. The full set of Edexcel GCSE (9-1) Business revision knowledge organisers can be found below: Topic 1.1 Enterprise and entrepreneurship Topic 1.2 Spotting a business opportunity Topic 1.3 Putting a business idea into practice Topic 1.4 Making the business effective Topic 1.5 Understanding external influences on business Topic 2.1 Growing the business Topic 2.2 Making marketing decisions Topic 2.3 Making operational decisions Topic 2.4 Making financial decisions Topic 2.5 Making human resource decisions
Number triangles for all the formulas for A-level Business Studies. I cut the triangles up and get the students to fit them back together. Any other ways to use the triangles do feel free to comment.