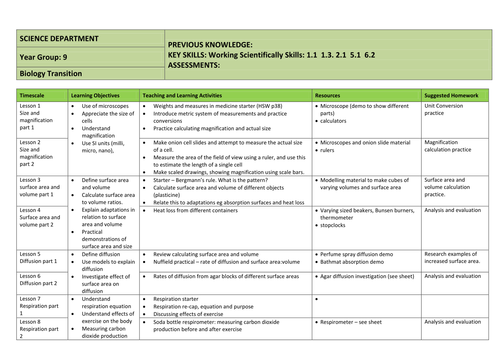 This scheme of work is designed to prepare students for the new science GCSE courses (first exams 2018). It will bridge the gap between key stages 3 and 4 by introducing some of the fundamental concepts in the biology course. The emphasis is on developing numeracy, literacy and practical skills through engaging activities rather than focusing on content which they will learn at GCSE. There are eight lessons, although each one includes a practical activity and can be taught over two lessons. The topics are: 1. Size and scale 2. Surface area and volume 3. Diffusion 4. Respiration 5. Food energy 6. Nervous system 8. Natural Selection The resources include - a scheme of work outlining each lesson and practical activity - PowerPoint presentations for each lesson - editable worksheets to support student learning - technician requirements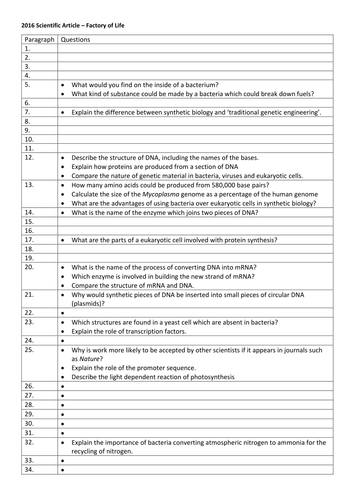 Some initial questions about the article. I get the students to write answers, although I'll probably make a mark scheme and upload it when I get a chance. The accompanying powerpoint has some links and images to get students thinking about the topics. Added 20/04/16: Two activity sheets based on the article and a glossary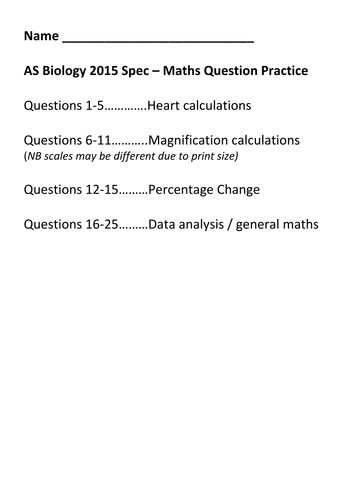 Calculation questions extracted from various exam papers (2008 and 2015 spec) for practicing the following maths skills: - heart rate calculations - magnification - percentage change - data analysis Answers included at the end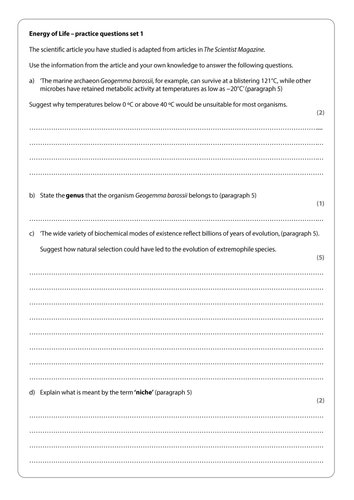 Two practice papers (31 and 34 marks) which can be used to prepare students for the exam. I've tried to anticipate the sort of questions which will come up, based on previous papers. I normally manage to guess quite a few. Mark schemes also included. Any feedback is appreciated - thank you and good luck.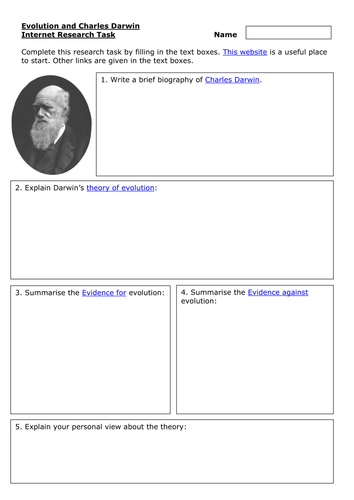 Simple web-based research task (includes links - hold down CTRL to open links in document)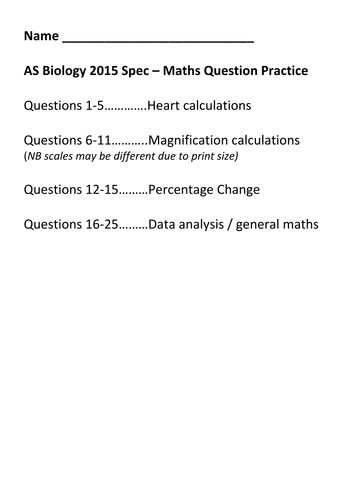 Calculation questions extracted from various exam papers (2008 and 2015 spec) for practicing the following maths skills: - heart rate calculations - magnification - percentage change - data analysis Answers included at the end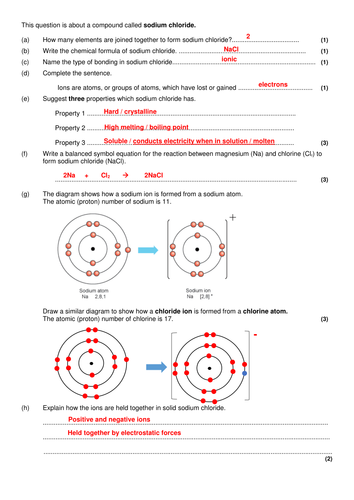 Question adapted from AQA GCSE exam questions, which reviews ionic bonding. 15 marks, starts easy and gets harder. Answers are included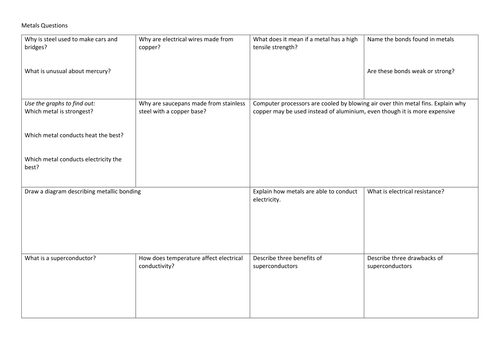 Posters can be printed and arranged around the classroom. Students get a copy of the worksheet and move around the classroom working independently. A perfect hangover lesson ;-)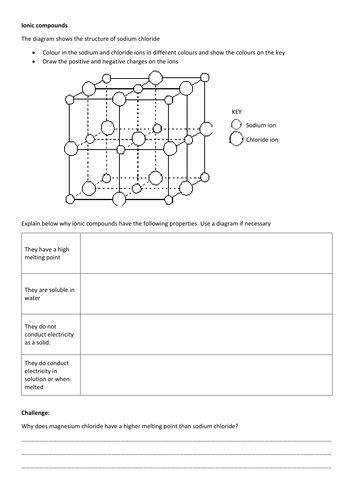 A worksheet covering structure and properties of ionic compounds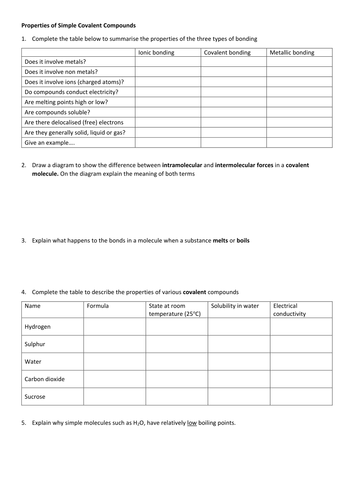 A worksheet comparing different bonding types and the properties of covalent molecular compounds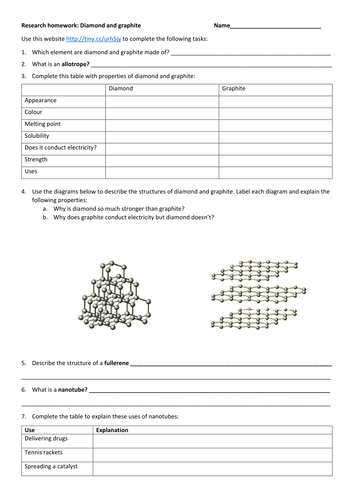 A websheet which can be HW or indpendent study. Students use the website link to answer questions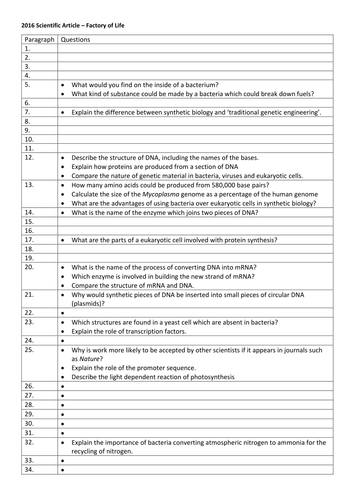 Some initial questions about the article. I get the students to write answers, although I'll probably make a mark scheme and upload it when I get a chance. The accompanying powerpoint has some links and images to get students thinking about the topics. Added 20/04/16: Two activity sheets based on the article and a glossary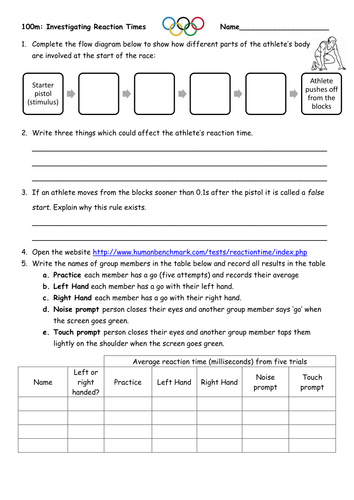 This is the first lesson of a unit to mark the 2012 Olympics. Each lesson focusses on an olympic event and links it to scientific concepts. I will upload as I write them! Lesson 1 is the 100m sprint and reaction times. The practical requires computers (ideally laptops - one per group) but can be done as a whole class activity with the IWB. One worksheet is to accompany the practical, the other is a homework activity on graphs and data analysis.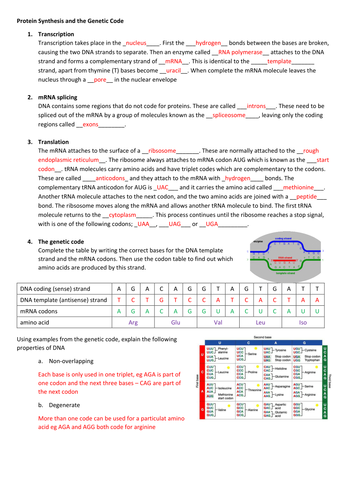 A worksheet for A level biology which summarises the processes of transcription, post-transcription modification, translation and the nature of the genetic code. Examples are given for the students to illustrate the role of the coding strand, template strand, mRNA and tRNA. Answers are provided on a separate sheet.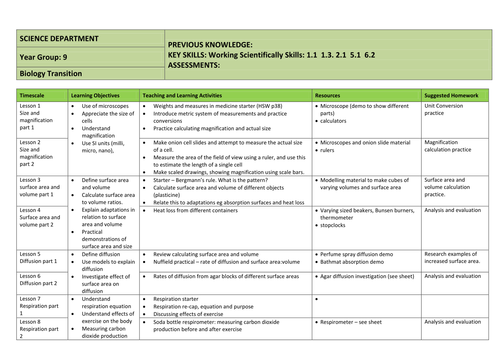 This scheme of work is designed to prepare students for the new science GCSE courses (first exams 2018). It will bridge the gap between key stages 3 and 4 by introducing some of the fundamental concepts in the biology course. The emphasis is on developing numeracy, literacy and practical skills through engaging activities rather than focusing on content which they will learn at GCSE. There are eight lessons, although each one includes a practical activity and can be taught over two lessons. The topics are: 1. Size and scale 2. Surface area and volume 3. Diffusion 4. Respiration 5. Food energy 6. Nervous system 8. Natural Selection The resources include - a scheme of work outlining each lesson and practical activity - PowerPoint presentations for each lesson - editable worksheets to support student learning - technician requirements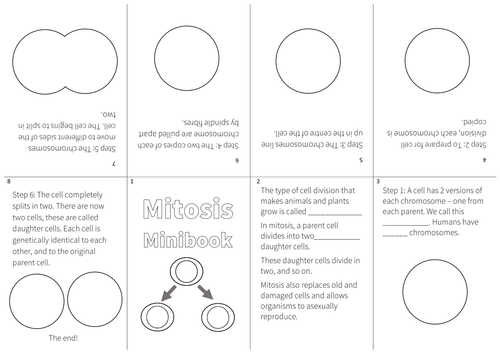 This makes a nice little 8 page book which summarises mitosis for GCSE. Students should complete the sheet first before folding. Students should fold and cut along the dotted line Follow the instructions in this video: https://www.youtube.com/watch?v=21qi9ZcQVto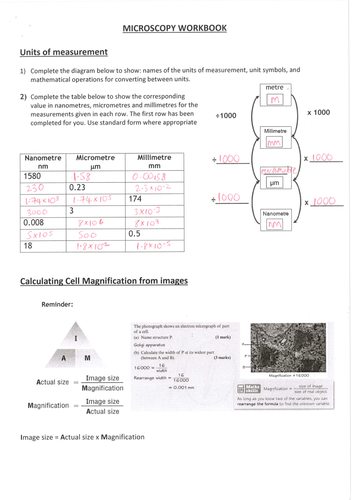 This is a workbook to help students practice calculate actual size and magnification. Answers included in separate document (NB there may be some errors - I was very tired!)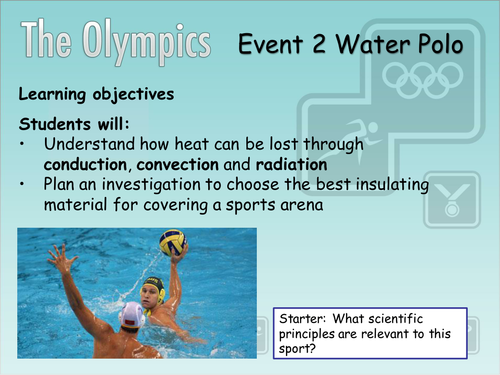 This lesson covers heat transfer and insulating through investigating the construction of the water polo arena.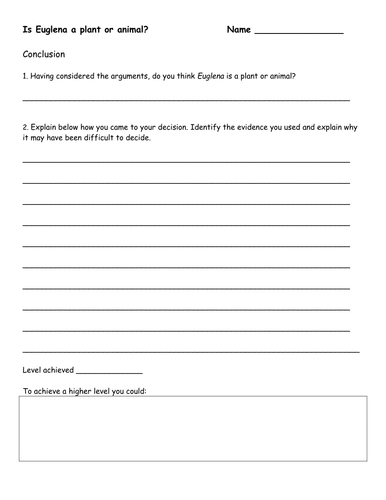 This activity develops argumentation skills. It is also a good summary of the differences between plant and animal cells and an introduction to classification.