Gary Whiting's ABC of ICT Shop
193Uploads
28k+Views
2k+Downloads

This digital planner is primarily aimed at those teachers who type faster than they write! However, I have continually used this with teaching staff that are struggling with the quality of their planning, monitoring, recording or reporting. It serves as the traditional 'teacher planner' in an easy to use format that can be amended to include your students and class names - this information can be directly imported form your School Management System (SIMS). I find this particularly useful at the end of the academic year when we are thinking about amendments that need to be made to programmes or study, schemes of learning or individual lessons. Information can easily be copy and pasted across classes in your planner if you teach parallel groups in a year group or into new programmes or study, schemes of learning or individual lessons as you evaluate the success of your teaching as an individual or department. As someone who monitors carries out Quality Assurance of several departments, this resource is fantastic at giving me instant access to staff's planning and assessment data. I have centralised this as a collaborative tool using Google Drive, allowing staff to access their planner on multiple devices, whilst providing me with a great overview.

This is a resource that goes through each of the formulae that students need to know for the course. It has an activity for them to practice each formula and apply it to a working situation. My students come back to this when they build any spreadsheet and can't remember how to do a certain formula.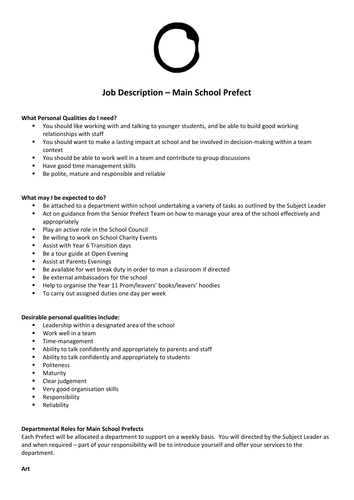 Job Descriptions and Application Forms for Prefect Roles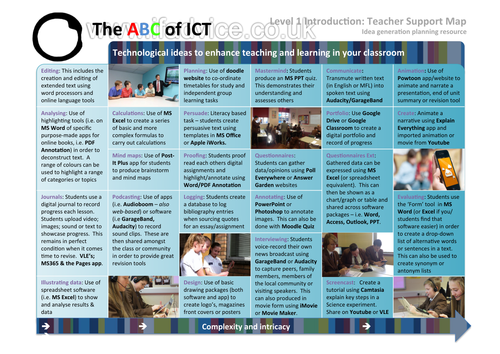 Use this resource to inspire you to incorporate ICT in your lessons. Each suggestion increases in complexity form left to right, using software from the modern school environment. Plenty of support material on my website to help you once you have identified the method that you want to incorporate into your planning. This is also an excellent tool to use with NQT, RQT or to inspire long-standing departments and colleagues to improve the quality and modernity of their planning.

The very best from gwhiting7 and his award winning GCSE ICT Resources, including: Workbook (usually £13.50) Individual worksheets on a range of topics (usually £2 each) Mind-maps (usually £4 each) Wordsearches/crosswords (usually £4 each) Fillable assessment forms (usually £3 each) Read my reviews - all top quality resources that can be used for KS3, 4 and 5.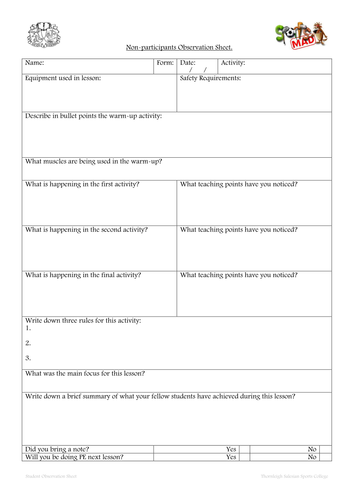 Maintain involvement and motivation of non(e)-participants by asking them to work through this worksheet.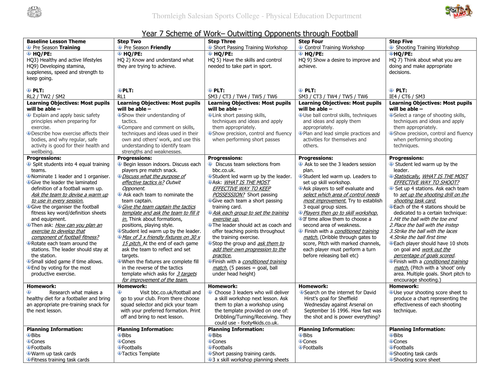 Year 7 Scheme of Work/Scheme of Learning - Football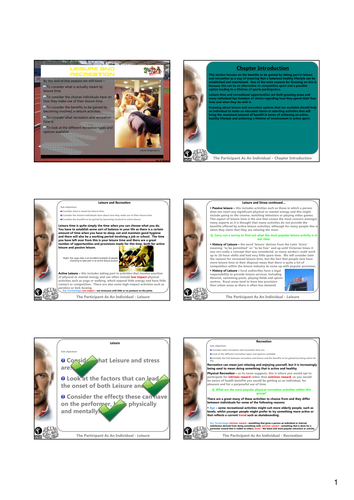 GCSE Revision for Leisure and Recreation These notes are to be used in conjunction with the official revision guide. I get my students to put a line through the sections/sentences that they are most confident with so that they can use them as flash cards.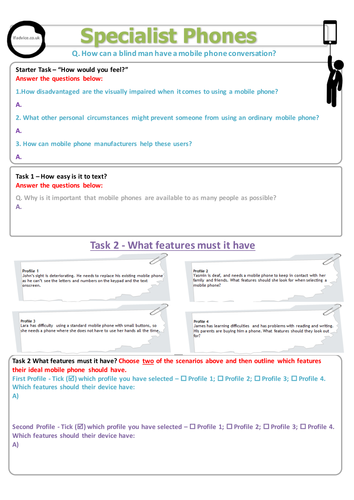 These worksheets cover the topics: specialist phones; connections; mobile phone usage (x2); responsible use; security; business phones and a summative lesson. I can supply accompanying PowerPoints on request free of charge, but I don't want to put these up here as I have worked on producing them with my colleague. These worksheets can be used as teaching and learning resources of as revision activities with individuals, small and large groups - targeting misconceptions through appropriate intervention.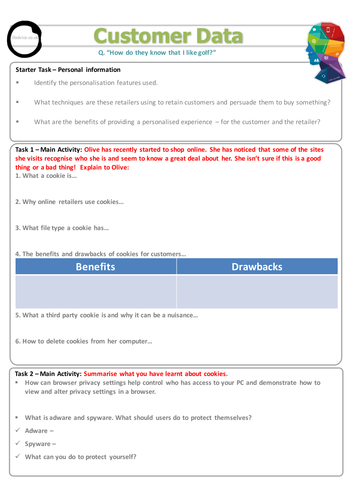 These worksheets cover the topics: customer data; data protection; online auctions (two worksheets for range of abilities); online banking; online shopping; risk and protection. I can supply accompanying PowerPoints on request free of charge, but I don't want to put these up here as I have worked on producing them with my colleague. These worksheets can be used as teaching and learning resources of as revision activities with individuals, small and large groups - targeting misconceptions through appropriate intervention.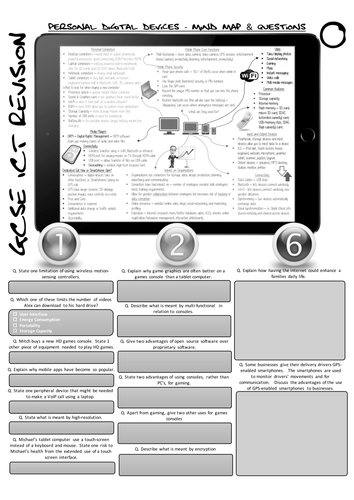 These resources are summary mind maps that can be used in isolation at the end of a topic or as a revision tool at the end of a course. They can be used appropriately as formative or summative activities. Each mind map has associated past paper questions and questions taken from, or inspired by the course workbooks and revision guide. I have confirmed with Pearson that i have permission to share these resources with other teachers and students. The topics include: Personal Digital Devices, Connectivity, Operating Online, Online Communities, Online Goods and Services & Issues. And questions are in three colour columns (1 mark - blue; 2 marks - orange; 3/6 marks - purple). I tend to use these resources for group work tasks where students get a series of points for the methods that they have used to work out the answers. The resources are printed/designed for A3 and students get 3x the marks for knowing the answers without the use of mind-map or research. 2x the marks for using the mind maps and 1x the marks for utilising online research methods to work out the answer. Going through the solutions is done via the medium or a walking-talking exam. At the end of the session, I photograph and e-mail a copy of the completed questions to the class and individuals take home their own blank copy of the activity sheet to work on and target their own misconception or gaps in knowledge. I have also added a black and white version in order to save on printing costs for colleagues. UPDATE: Amended questions for Online Goods and Services 2. UPDATE 2: Now included is a simple spreadsheet to document team progress.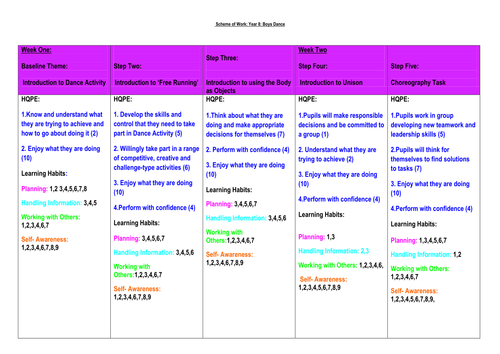 Year 7 or 8 Boys Dance Scheme of Work/Scheme of Learning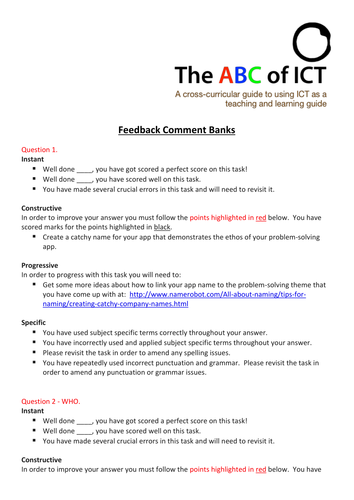 According to Professor John Hattie, feedback has the biggest impact on learning. However, the written feedback that we provide is often rushed (in a bid to finish marking that pile of books!) It is also a common trait that we don't teach our students how to use the feedback that we provide. So with this method, I tend to concentrate on writing quality feedback and at the start of the year, following my first written feedback, we work on how to use this information to inform and progress our learning. As a result, this is a document type that I use on a daily basis in school. The concept involves writing a set of statements that can be used to feedback on a piece of work. I tend to write the statements/comments at the same time as I write each of the tasks as this allows me to think of all of the possible outcomes that a student will produce. The feedback for each task is provided in four ways: Instant: this is the feedback that the students look for straight away. It very quickly establishing 'how well' they have done/ Constructive: this part of the feedback outlines exactly what the student has done well and what they need to develop. I simply 'copy and paste' the whole statement into the feedback box and colour code it appropriately. Students are now used to looking into this section in order to ascertain the specifics of where they have achieved/no achieved. Progressive: this is essentially an extension task for the student to follow. I often differentiate these pase on the 'Constructive' section. It takes the form of a link to a website; a video lecture or an activity. Sometimes these are assessed online - i.e. a Moodle Quiz or Educanon Assessment. Specific: this section focuses on the school or subject priority. For example, Literacy is high profile in our school environment so I will often tailor comments in this section to be around Literacy and quality of written answers.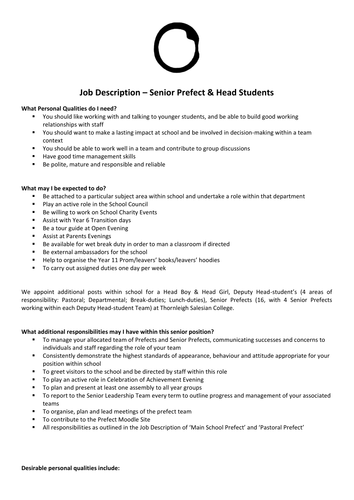 Head Student and Senior Prefect Application Form and Job Description.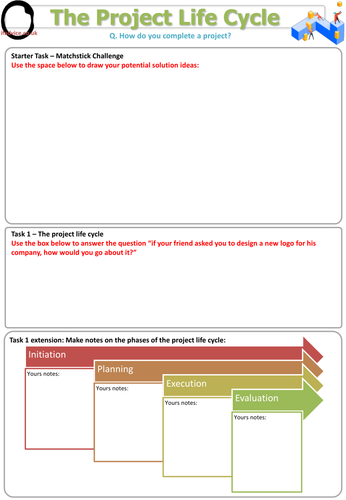 Please find available a presentation and associated worksheet to evidence student progress in Module 1, Activity 1 - The Project Life Cycle. I will be adding more lessons as and when produced and a course booklet when I have finished preparing every lesson (this could take some time though). Each presentation also contains 6-7 'Chunking' words to familiarise students with subject specific terminology. These can be assessed in subsequent lessons - I use a Moodle quiz function on my subject page to do this. i also have a Moodle course that will fully support the delivery of this qualification - please email me for more details.

This is a 6 team league which enables students to work independently during in-class activities (where teams are assigned points for a variety of activities or contributions to learning) or for sports activities. During PE lessons, I use this with large groups who self-manage their fixtures and results, allowing me as the teacher to target my interventions and teaching points with better quality differentiation and fault analysis.


Spheroball is a great programmable tool to introduce programming to students. It can be operated using a plethora of free and paid apps and there is a huge amount of support online for teachers and students. I use the attached race track when delivering this unit in either Computing or Creative Design lessons. Students design obstacles to feature around the track which is printed on our poster printer - the pixel size of this image are huge in order to maintain the high print quality.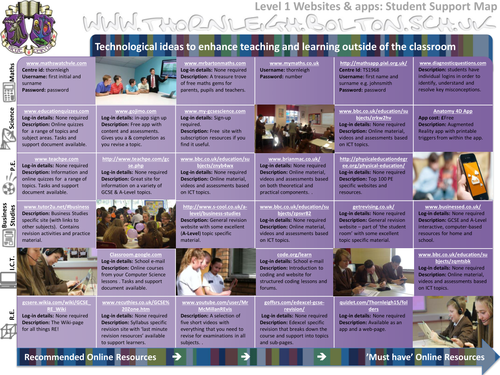 A cross-curricular list of key websites that are promoted and used by my Year 11 students.