Gary Whiting's ABC of ICT Shop
193Uploads
32k+Views
2k+Downloads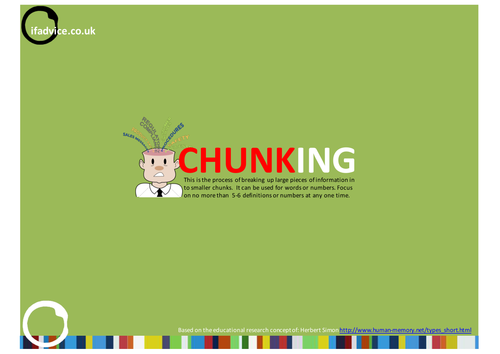 I have used 'chunking' as a revision method for a long period of time in order to get students to 'learn and remember' the key terminology that needs to be recalled during examinations. Chunking is the process of breaking up large pieces of information in to smaller chunks and I use it over a short period of time, to get students to concentrate on the recall of keywords right before their examination periods. The attachment is used over the last two weeks of examination preparation - students are given one page to learn and recall over a two day period. I then used diagnostic tools to test the students ability to recall the information given a variety of different stimuli questions. Used in conjunction with the mind maps (found on TES), these compact the information that students struggle to retain from the mind map framework.

The very best from gwhiting7 and his award winning GCSE ICT Resources, including: Workbook (usually £13.50) Individual worksheets on a range of topics (usually £2 each) Mind-maps (usually £4 each) Wordsearches/crosswords (usually £4 each) Fillable assessment forms (usually £3 each) Read my reviews - all top quality resources that can be used for KS3, 4 and 5.

This is a resource that goes through each of the formulae that students need to know for the course. It has an activity for them to practice each formula and apply it to a working situation. My students come back to this when they build any spreadsheet and can't remember how to do a certain formula.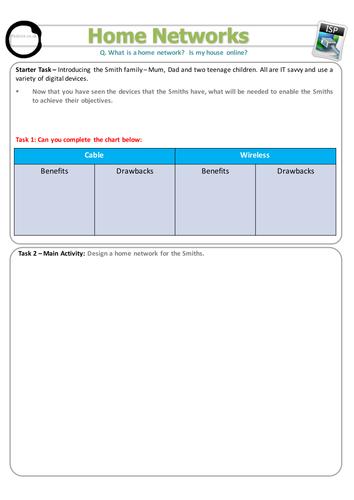 These worksheets cover the topics: home networks and a summary section to 'mop up' any missing topics from the specification. I can supply accompanying PowerPoints on request free of charge, but I don't want to put these up here as I have worked on producing them with my colleague. These worksheets can be used as teaching and learning resources of as revision activities with individuals, small and large groups - targeting misconceptions through appropriate intervention.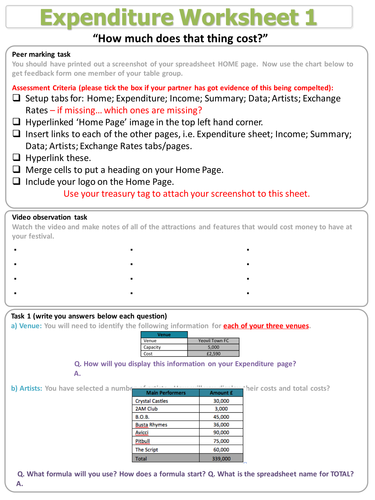 Spreadsheet Lesson 1 (Follow 'ThornleighSalesianCollege' to access Aurasma This is a series of worksheets that I have used teaching ICT and Computer Science throughout KS3 and GCSE ICT. Please note that the 'follow' is the account that we use within school - every department uses the same account, therefore the students only have to 'follow' one channel and the triggers will automatically be picked up.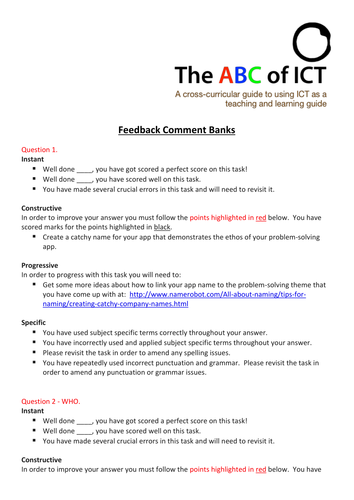 According to Professor John Hattie, feedback has the biggest impact on learning. However, the written feedback that we provide is often rushed (in a bid to finish marking that pile of books!) It is also a common trait that we don't teach our students how to use the feedback that we provide. So with this method, I tend to concentrate on writing quality feedback and at the start of the year, following my first written feedback, we work on how to use this information to inform and progress our learning. As a result, this is a document type that I use on a daily basis in school. The concept involves writing a set of statements that can be used to feedback on a piece of work. I tend to write the statements/comments at the same time as I write each of the tasks as this allows me to think of all of the possible outcomes that a student will produce. The feedback for each task is provided in four ways: Instant: this is the feedback that the students look for straight away. It very quickly establishing 'how well' they have done/ Constructive: this part of the feedback outlines exactly what the student has done well and what they need to develop. I simply 'copy and paste' the whole statement into the feedback box and colour code it appropriately. Students are now used to looking into this section in order to ascertain the specifics of where they have achieved/no achieved. Progressive: this is essentially an extension task for the student to follow. I often differentiate these pase on the 'Constructive' section. It takes the form of a link to a website; a video lecture or an activity. Sometimes these are assessed online - i.e. a Moodle Quiz or Educanon Assessment. Specific: this section focuses on the school or subject priority. For example, Literacy is high profile in our school environment so I will often tailor comments in this section to be around Literacy and quality of written answers.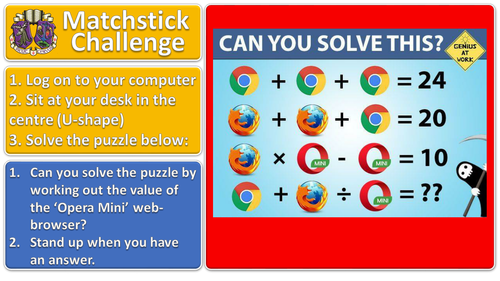 Matchstick Challenge #4 lesson starter for ICT or maths (or any subject!)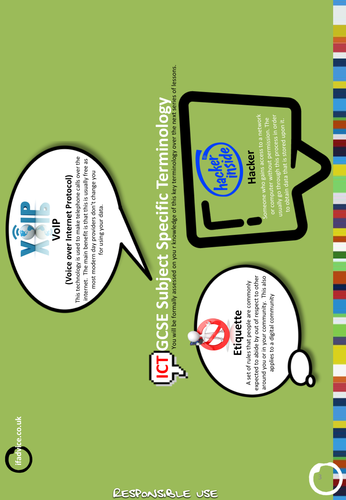 GCSE ICT Key Terminology Poster 3 - used around the classroom to help students learn the key terminology related to each topic covered.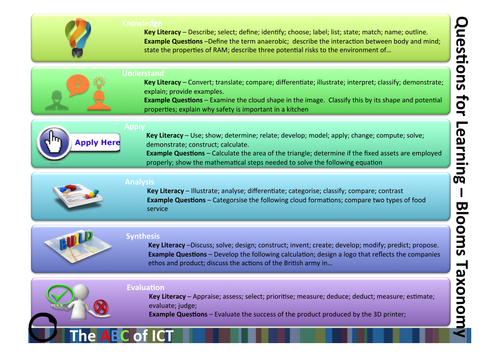 Questions for learning - Bloom's Taxonomy starter sentences, keywords and suggested questions.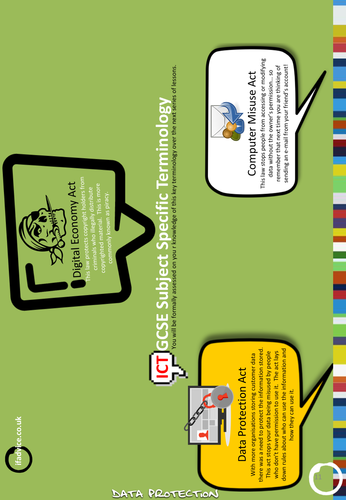 GCSE ICT Key Terminology Poster 11 - used around the classroom to help students learn the key terminology related to each topic covered.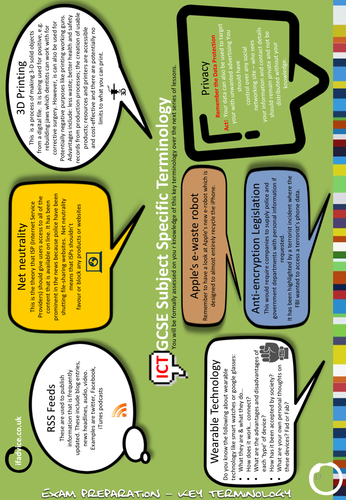 GCSE ICT Key Terminology Poster 17 - used around the classroom to help students learn the key terminology related to each topic covered.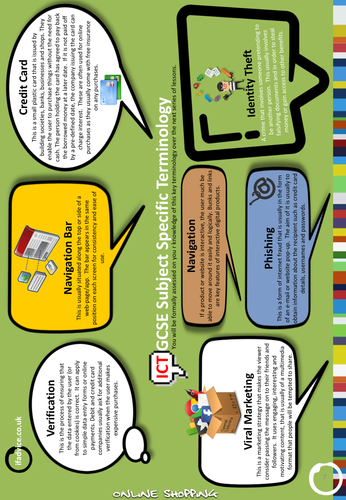 GCSE ICT Key Terminology Poster 7 - used around the classroom to help students learn the key terminology related to each topic covered.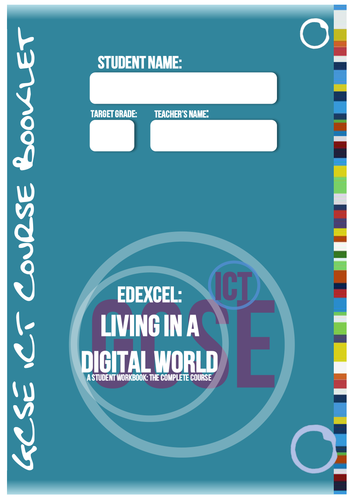 This course booklet contains all of the: - worksheets - chunking/terminology activities for each lesson - homeworks - associated mind map and revision activities - revision activities - literacy activities - differentiated word searches and crosswords I issue each student that I teach with this booklet and we work through it with the associated PowerPoints. The booklet starts with a specification checklist and a PLC activity for each unit of work. Each lesson starts with the associated chunking/terminology and then features lesson content and an associated home task (past paper of exam-style questions). I work through these one lesson at a time and test the terminology/chunking knowledge in the next lesson (usually a practical or CAB lesson). At the completion of each teaching block, student create their own mind map. At the end of the course are some revision activities and high quality mind maps. This is the complete document for teaching the Edexcel GCSE ICT theory components. This document last my classes for two years.