Language Resources by Nina
Full time teacher since 2003. I specialize in fun readings and worksheets.
954Uploads
296k+Views
11k+Downloads
Full time teacher since 2003. I specialize in fun readings and worksheets.
This 3-page file includes: ~An easy reading whereby students of German can learn how to order food naturally in a restaurant. The reading contains a glossary of new food vocabulary including popular German dishes. ~A worksheet with 7 reading comprehension questions in German based on the reading. ~Answer key. Activity idea: after reading have the students "role play" going out to eat in a German restaurant by writing their own script to perform for the class or hand in for homework using the new vocabulary. Level: beginner Editable word doc.
Great easy reading in Spanish. One friend writes another a postcard from their vacation. Afterwords students are encouraged to write their own postcard either in class or for homework from a Spanish-speaking country.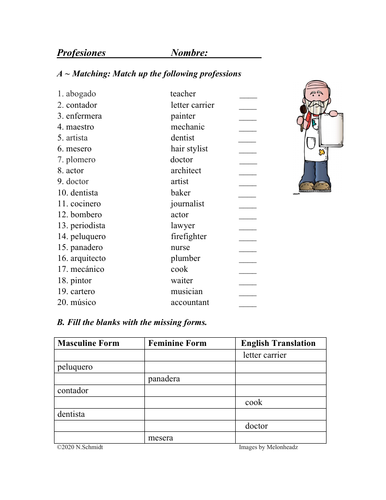 This worksheet includes two parts to help your students get comfortable with professions in Spanish: matching 20 professions (English to Spanish) completing a chart with the missing male/female/English forms of 8 professions Answer key included.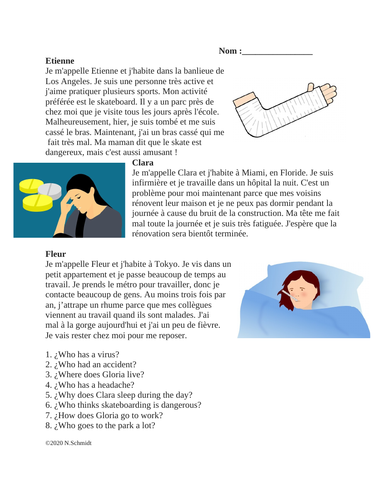 This short French reading describes three young peoples experience with various accidents, illnesses and pain. One person has a virus, one person had an accident skateboarding and broke his arm and one person has a headache. Ideal for students to review health vocabulary. The reading is followed by 8 comprehension questions. Answer key included. Editable word file. Includes the following vocabulary: fièvre cassé le bras me fait très mal infirmière un hôpital ma tête me fait mal je suis très fatiguée un rhume j'ai mal à la gorge j'ai un peu de fièvre me reposer
German Gap Fill Game to help students with talking about activities and when they occur. Students must conjugate verbs into the present tense and ask each other at what time a certain person does a specific activity. Great to get students talking!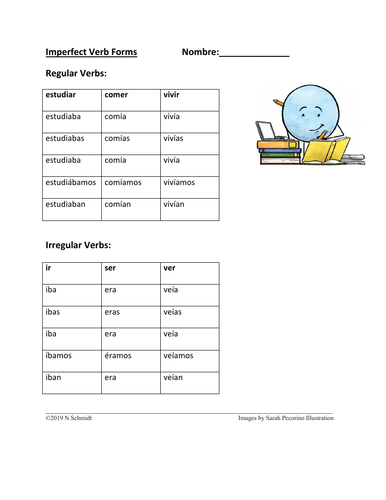 This 4-page file includes: ~A handout that includes imperfect tense verbs in 2 categories: regular forms irregular forms ~Two blanks sheets for students to fill in the missing forms for practice. NOTE: There are two versions of the handout, with and without the 'vosotros' form.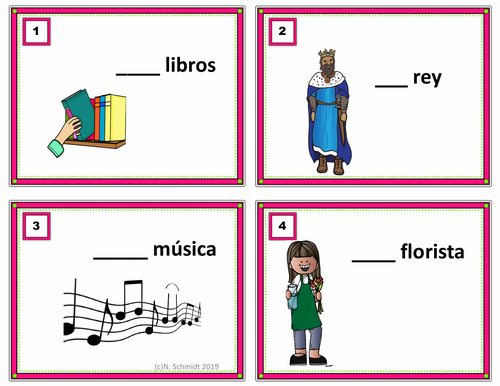 This 10-page file includes: ~24 task cards on Spanish Gender Review (6 pages x 4 cards per sheet) ~4 extra cards for your own ideas ~Recording sheet ~Answer key Can be used alone or in pairs, orally or in written form!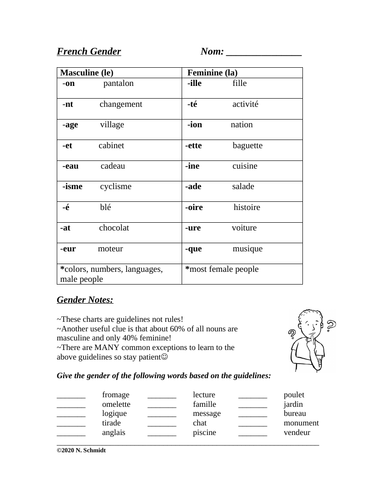 This handout includes a short chart to help students determine gender in French. Also includes 20 practice questions. Answer key included. Level: French I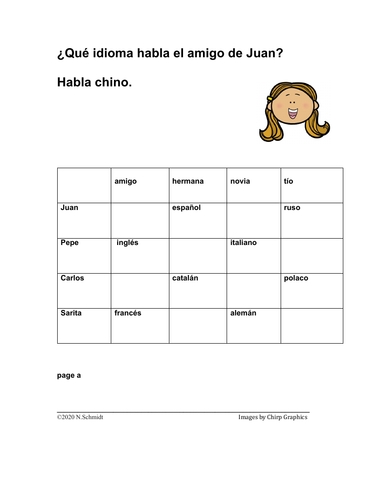 Get beginner students talking with this simple game! Students work in pairs to fill in the information missing from their sheet by asking and answering simple questions. This game reinforces: basic word order, the third person conjugation of verbs, possession with de and languages. Game takes approximately 10 minutes to play so great for warm-up, bell-work or end of class activity. Instructions included.
Handy chart to help students of Spanish with tricky to say letters: qu, j, g, h, ll etc.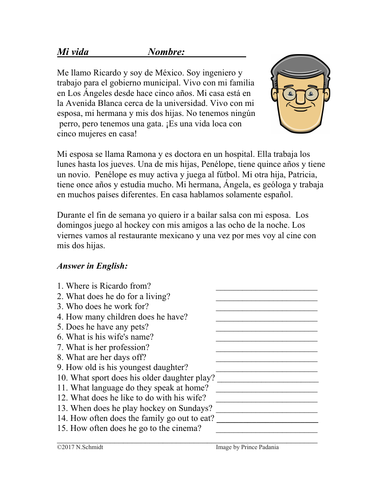 This reading features a lot of common vocabulary from first-year Spanish and is about a man originally from Mexico and his new life in the U.S. with his family. The reading is followed by 15 reading comprehension questions in English. Level: Beginner Answer key included. Ideal to review: family, hobbies, time expressions and present tense verbs!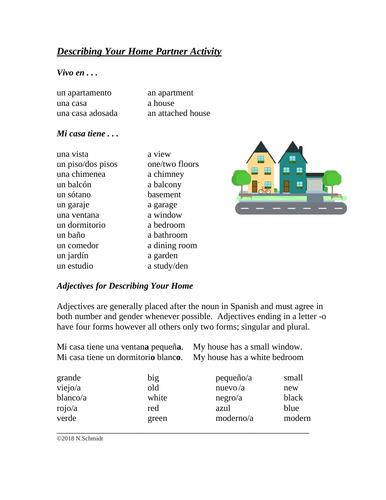 This handout includes all the vocab you need to get students describing where they live! Grammar focus is on adjective/noun agreement. Activity idea: Have students draw out a plan of their home and label the rooms for homework. This can be handed in for marking or students can be put in groups of two to discuss their homes in Spanish. Editable Word file.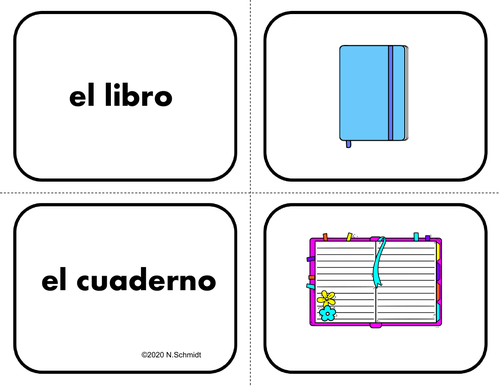 This 17-page file includes: ~26 common words for around the school and school supplies in Spanish. The file may be use digitally or you can print out on card stock and have students play go fish, or a memory game where they match the word with the pictures. ~1 blank page for your own ideas ~An English-Spanish glossary of all 26 words ~A worksheet with the English words for students to write in the Spanish equivalent for review or as a quick quiz Includes the following vocabulary: book = el libro notebook= el cuaderno pencil = el lápiz pen = la pluma student = el/la estudiante bathroom = el baño chalk = la tiza backpack = la mochila teacher = el maestro chalkboard = la pizarra computer = la computadora school = la escuela clock = el reloj calculator = la calculadora library = la biblioteca paper = el papel folder = la carpeta scissors = las tijeras cafeteria =l a cafetería desk = el pupitre tablet = la tableta ruler = la regla stapler = la grapadora sharpener = el sacapuntas whiteboard = la pizarra blanca marker = el marcador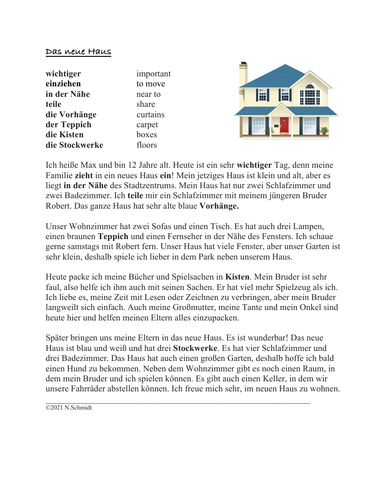 This 3-page file includes: ~A German reading on a family who is moving house today. The reading includes a lot of descriptions about the current and future house including rooms, furniture and household items. Reading includes a glossary of new vocabulary. ~A page with 6 reading comprehension questions based on the reading and a short homework assignment. ~Answer key Level: present tense only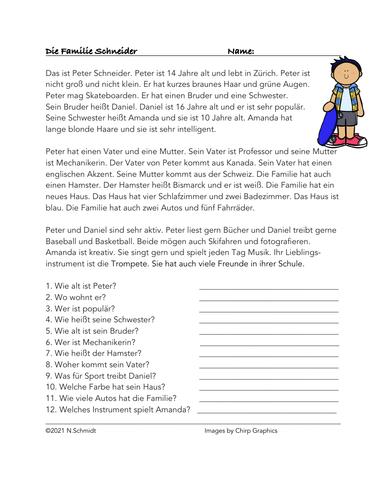 This 3-page file includes: (100% in German) ~A simple German reading including 20 German English cognates for beginner students to learn to recognize them. The story talks about all the members of the Schneider family their likes and dislikes, appearance, hobbies etc. The reading includes 12 comprehension questions. ~The same reading but with the cognates highlighted for context. ~Answer key Level: present tense only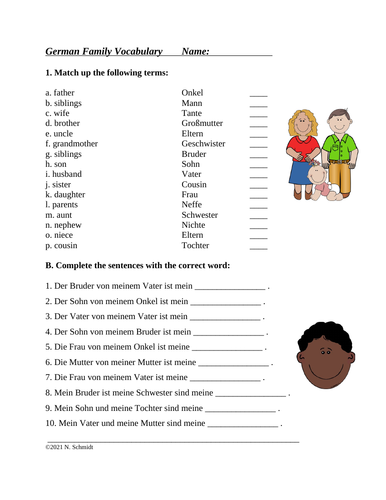 This worksheet contains matching and short answer questions to help students review German family vocabulary. Level: Beginner Editable word file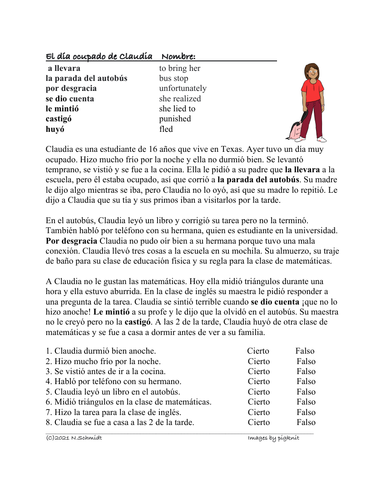 This 3-page file includes: ~A reading about Claudia's busy day that includes 25 irregular third person irregular verbs. Reading includes a glossary of new vocabulary. ~The same reading with the verbs highlighted to see in context. ~Answer key. Level: Intermediate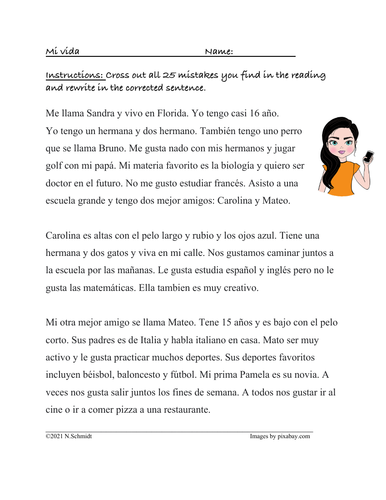 This Spanish reading includes 25 mistakes for students to correct! Includes conjugation mistakes, missing accents, noun-adjective agreement errors and more. Level: Beginner Answer key included.