Poneill278's Shop
A Full time BTEC Lvl 2/3 Media Teacher . IB Film. Passionate about their subject.
90Uploads
5k+Views
858Downloads
A Full time BTEC Lvl 2/3 Media Teacher . IB Film. Passionate about their subject.

A great Film Christmas Quiz. There are a couple of film examples and characters in the quiz that you may need to adapt dependent on student age-as i created this for sixth formers, hence the price of only £2.00-Enjoy !

Variety of lessons an resources with questions and activities to assist students complete Unit 5.

An informative PPT Resources with clear explanations and visuals of Microphone Types and the Science of sound.

Great introduction for learners, starter activities, keywords and homework activity included.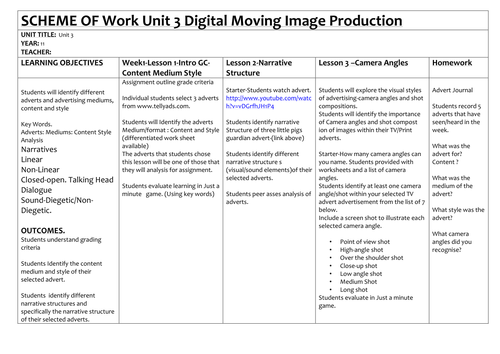 SOW-for new btec media studies.

Great intro int representation of youth in Film and TV.

A great Film Genre theory worksheet/whole lesson/Homework-resource that has been tried and proved in assisting with a 95%+ first time Pass Rate. Save yourself some time and purchase this great little resource Enjoy Mr O'Media

A great value bundle with SOW and a variety of lessons Enjoy Mr O'Media

An excellent, engaging collection-Unit of work, each lesson with starters, learning aims/journey tasks and a variety of student writing frame Enjoy this WHOLE Unit of Work Mr O'Media

Great value, a variety of FULL PPT lessons to guide students through Unit 4/10 of pre production. Full PPT lessons Writing frames Templated

An introduction to the conventions of Film Noir . Recommended Film Texts Activities.

NEW BTEC Lvl 3 Lesson Unit4/10.- (SPEC)-Lessons complete. Production-Finance-Budgets-Location Filming-Regulation.

BTEC Level 2 Unit 2: Planning and Pitching a Digital Media Product Lesson 1-Mind map lesson with engaging activities, starters,Main, videos,models...EVERYTHING THAT YOU NEED !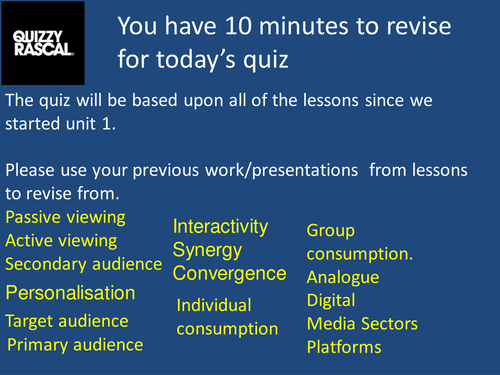 Excellent revision resource for Media students. Mock exam Questions and Answers Key Words definitions and theory covered Accessible and differentiated ppt. Enjoy

Promote learners listening and speaking skills with this engaging lesson. Planning and Pitching Unit 2 Creative Media Production. Full Lesson Starter Main Evaluation Writing Frame and Models Student accessible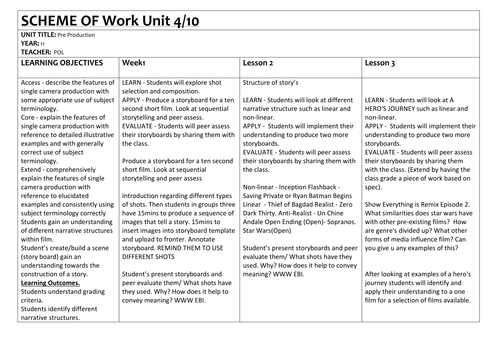 SOW for Unit 4/10 Btec Lvl 3.

Engaging Resource that introduces learners to Narrative styles, codes and conventions. Full lesson Starter-Hyperlinks Videos-Main Task-Keywords-Writing Frames and Templates. Enjoy.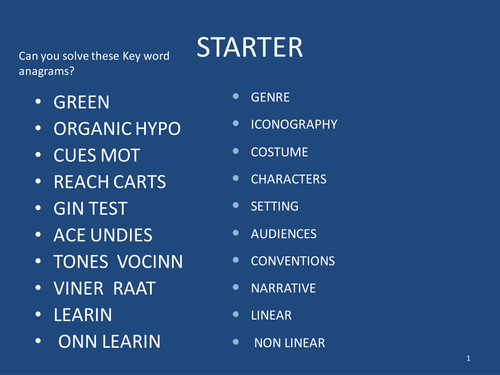 Whole Lesson explaining Film Narratives with clear student accessible PPT. Starter Activities and Linked videos Prepared Activities Enjoy !

A great introduction to Photo shop, for Unit 5 btec lvl 2 Publishing