MrOMedia's Shop
A Full time BTEC Lvl 2/3 Media Teacher . IB Film. Passionate about their subject.
100Uploads
12k+Views
2k+Downloads
A Full time BTEC Lvl 2/3 Media Teacher . IB Film. Passionate about their subject.

Engaging Resource that introduces learners to Narrative styles, codes and conventions. Full lesson Starter-Hyperlinks Videos-Main Task-Keywords-Writing Frames and Templates. Enjoy.

Great value, a variety of FULL PPT lessons to guide students through Unit 4/10 of pre production. Full PPT lessons Writing frames Templated

Great resources to introduce learners to the regulatory body OFCOM. Starters-Main-Resources and Evaluation

A variety of GAMING based lessons, save some time and snap up this great value bundle . Thanks MR O'MEDIA

An engaging and informative lesson that covers a variety of Media representations-(Film-Media Advertisements-Publishing). Ideal for IB Film Students

An excellent series of lessons, inclusive of starters, activities, mains, templates, writing frames and Keywords.

A tested lesson that has gained student engagement. Starter, main and plenary all included. I hope that it helps. Links to interactive BBFC website where students can rate their own trailer

Hopefully this saves you some time variety of different bits made as cheaply as possible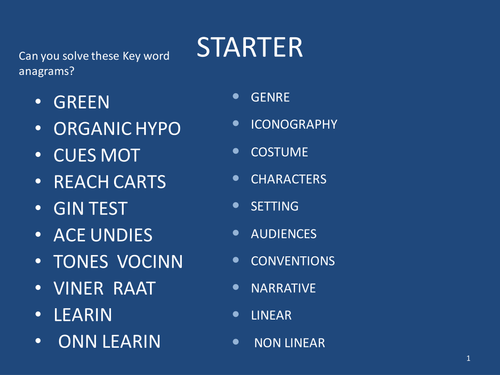 Whole Lesson explaining Film Narratives with clear student accessible PPT. Starter Activities and Linked videos Prepared Activities Enjoy !

NEW BTEC Lvl 3 Lesson Unit4/10.- (SPEC)-Lessons complete. Production-Finance-Budgets-Location Filming-Regulation.

New BTEC Lvl 3 media Script writing less-Starter-Main Task and structure of scripts.

Variety of lessons an resources with questions and activities to assist students complete Unit 5.

Excellent full lesson resource-Starters and Main, engaging activities, prepared models and writing frames, clear grading criteria, save your self some time and purchase this great value resources.

A great full lesson, inclusive of starter, main and student activities, Enjoy !

A great PEGI Regulatory Body worksheet/whole lesson/Homework-resource that has been tried and proved in assisting with a 95%+ first time Pass Rate. Save yourself some time and purchase this great little resource Enjoy Mr O'Media

An introduction to the conventions of Film Noir . Recommended Film Texts Activities.

https://www.youtube.com/watch?v=gLNtTCbUtts Watch and like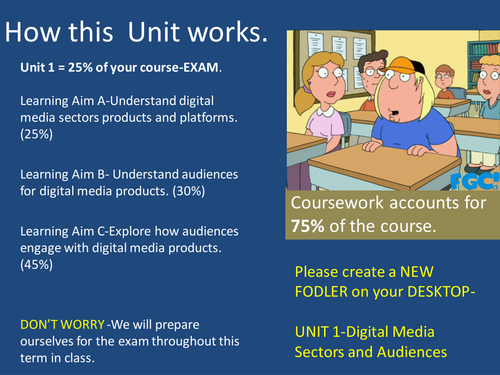 Hopefully an unbiased engaging lesson for pupils that discuss both the POSITIVE and Negative impact of gaming. Enjoy !