MrOMedia's Shop
A Full time BTEC Lvl 2/3 Media Teacher . IB Film. Passionate about their subject.
95Uploads
8k+Views
1k+Downloads
A Full time BTEC Lvl 2/3 Media Teacher . IB Film. Passionate about their subject.

An engaging full lesson that explains the importance of logo design, history and media theory attached. Starter-Evaluation. Great student feedback as opportunity for students to engage and create a variety of Logo Designs

A PPT lesson with Starters, Key words and questions that link directly to Assessment Criteria. Great first lesson.

Reserach guide lesson with starters and question/activity that support students. Thanks Mr O'Media

Great resources to introduce learners to the regulatory body OFCOM. Starters-Main-Resources and Evaluation

A great follow on lesson with starters, extended questioning, examples of campaigns and an evaluative/peer feedback task. Save yourself some time and download, good lesson tried and testers Thanks Mr O'Media

Engaging Resource that introduces learners to Narrative styles, codes and conventions. Full lesson Starter-Hyperlinks Videos-Main Task-Keywords-Writing Frames and Templates. Enjoy.

Full lesson, starter, main and structure to present a successfull pitch

A great variety of resources for any Media Teacher. Enjoy this great bundle at a great price.

Excellent full lesson resource-Starters and Main, engaging activities, prepared models and writing frames, clear grading criteria, save your self some time and purchase this great value resources.

Full lessons -Starters and Main Activities for Unit 3 Planning a Television advertisement.

Great value, a variety of FULL PPT lessons to guide students through Unit 4/10 of pre production. Full PPT lessons Writing frames Templated

A great intro into writing an article, starters activities, tasks and lots of links for english and literacy.

A great Lesson/Worksheet, that can be used for Homework as well Key words example Theory and Illustrative examples to support main task included.

An introduction to the conventions of Film Noir . Recommended Film Texts Activities.

An introductory lesson that introduces learners to the different writing/script techniques. Student accessible guide.

Identifying Strengths Weaknesses of Ideas through SWOT analysis. Starters, activities main and evaluation inclusive. Writing frames, grading criteria also provided.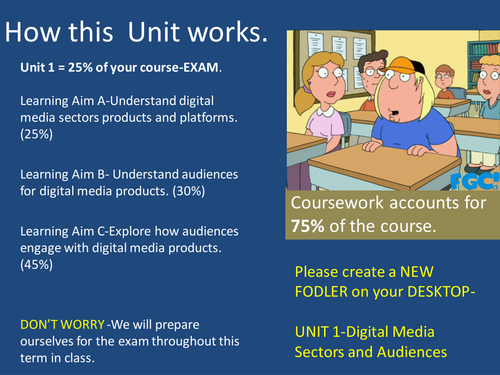 Hopefully an unbiased engaging lesson for pupils that discuss both the POSITIVE and Negative impact of gaming. Enjoy !