MrOMedia's Shop
A Full time BTEC Lvl 2/3 Media Teacher . IB Film. Passionate about their subject.
99Uploads
10k+Views
2k+Downloads
A Full time BTEC Lvl 2/3 Media Teacher . IB Film. Passionate about their subject.

Complete Bundle with Full SOWs-Lessons-Variety of PPT(Full Lessons). Great Value for money

Full lessons -Starters and Main Activities for Unit 3 Planning a Television advertisement.

Variety of lessons an resources with questions and activities to assist students complete Unit 5.

The Ultimate Revision Bundle, tried and tested with 90% + Student Pass rate. GReat Value. Full Detailed SOW PPT LEssons REvision Quiz KeyWord Game Keyword Spelling

A great value bundle, with a variety of PPT lessons, full of engaging resources. Highly Reccommended.

An introductory lesson that introduces learners to the different writing/script techniques. Student accessible guide.

New BTEC Lvl 3 media Script writing less-Starter-Main Task and structure of scripts.

An excellent series of lessons, inclusive of starters, activities, mains, templates, writing frames and Keywords.

A great introductory lesson for students to engage within the importance of logo designs and their importance within media. Full lesson Starter Main Student Activities Key Words Evaluation (plenary)

Save yourself some time and money, great bundle resource discout.

Something that i made that helped my class in understanding how to answer a higher mark question, simple but has proven to be successful in gaining higher Merit grades.

A detailed SOW for Btec Lvl 2 Unit 1 Exam Revision-Excellent results 90%+ Pass rate for learners. Straters .Main Activties. Homework-Detail included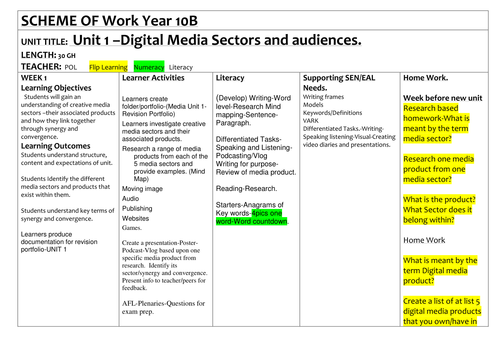 Full SOW 8 weeks of lessons all EXAM content covered-(starters-main-plenary) included in detail with Hyperlinked video resources. Excellent results from an engagingly designed scheme of work with 100% student pass rate for 3 consecutive years.

Just a quick summary of Macbeth Key words…I'm going yo make some more…perhaps for each character with more detail…Key quotes. What would people like please?